On a hot day in May I set out to visit most of Astoria's historical spots and found most of them. I began at the LIRR station in Woodside and went north, west and south. My intention was to circle back to the Woodside LIRR but the humidity and a slight strain in my side from my camera bag turned me back a bit before I was able to do it. Still, I got 8 miles in — which feels more like 12 when it's 88 degrees. Got to get acclimated to this, since it'll be the rule till mid-September. I had hoped to make Astoria Park and perhaps Astoria Village (more of it seems to disappear every year) but those alone are worth a separate page.

Steinway Mansion makes an impressive sight, approaching it from 41st Street walking north from 19th Avenue. While it once stood in open fields in sight of the Steinway piano factory in North Astoria, today it stands out in a thicket of manufacturing and warehouses, a full block away from any residential buildings. I'm fascinated with the old place, which really should be known as a historic touchstone for Queens and for New York City. Instead, since its recent sale by the family that owned it for decades, it's been hemmed in by brick warehousing, though it looks better from 41st Street than it has for a while, since the present owners have done some landscaping and cut down some of the trees that obscured it from 41st Street.
The mansion was built as a country home by optician Dr. Benjamin Pike in 1856, and was occupied by Pike's widow for 10 years after his death in 1864. In 1874 William Steinway was running the piano manufacturing, having newly established it with his father and brothers in Astoria a few years earlier.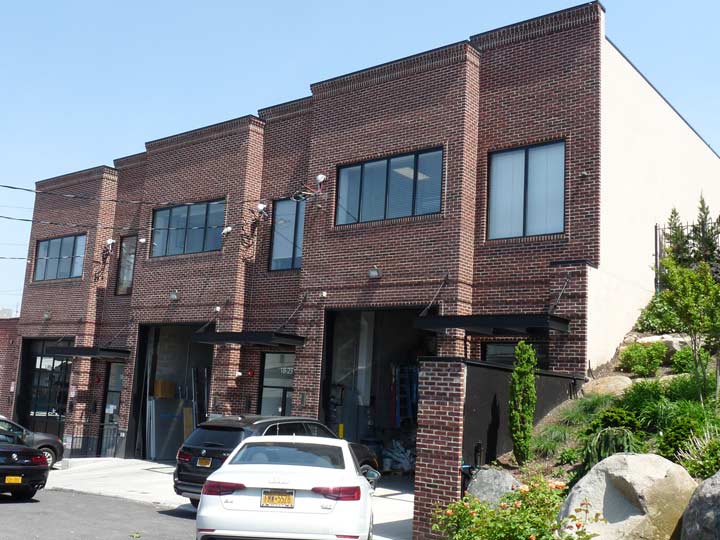 The Steinway family owned the mansion for the next fifty years, until selling to Turkish immigrant Jack Halberian, who divided it into boarding rooms for renters. Jack's son, Michael, inherited the house and partially restored it to former magnificence. Michael passed away in early 2011, and his heirs did not feel confident they could maintain the 27-room mansion, and subsequently put it on the market. The new owners have kept the building intact (as forced to do by the Landmarks Preservation Commission) but have otherwise filled the acreage with brick warehouses, like those shown here.
The Modern Art Foundry on 41st Street across from Steinway Mansion is a historic foundry founded by John Spring in 1932 and operating continuously to the present, and is still owned by the same family. Some say the building is a former Steinway Mansion stables, but I have no documentation to that effect. Among the sculptures produced by the foundry are the Hans Christian Andersen memorial in Central Park and two statues of George Washington by Donald De Lue.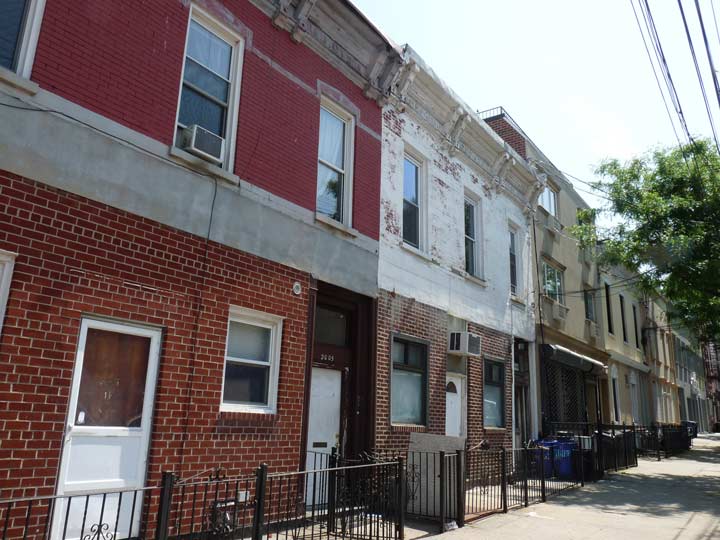 Steinway Street between 20th Avenue and 20th Road contains several buildings that were in existence when the area was still the Steinway Village company town. The east side of the street was once home to such businesses as the Ralph Paul German apothecary; Frank Krayer Crockery and Lamps; Theodore Stein's Hall and Summer Garden; Conrad's General Market; the George Bier Bakery; the Charles Setzer saloon; and E. Baker Hardware. The buildings exist but have been converted to mostly residential.
The west side of Steinway Street was once home to the Daimler Motor Works. Gottlieb Daimler was an early auto manufacturer from Germany, who teamed up with William Steinway to build then-new gasoline engines as part of a new partnership, Daimler Motor Works. However, just a handful of automobiles were produced here, with most of the motors installed on ships and for other uses, and the factory was sold off within a few years. Undaunted, Gottlieb Daimler continued to build his business in Stuttgart and it became a multinational corporation still in business today, partnering with Mercedes Benz and Chrysler.
This simple frame dwelling on the NW corner of Steinway Street and 20th Road was once the post office of Steinway Village.
This very unusual arrangement on 21st Avenue between Steinway and 41st Streets came about when a developer sliced two separate Steinway Model Homes in half to build a new building in between them. The developer must have purchased all of the properties and divided the buildings in this manner — a very strange solution.
Artwork on Ditmars Boulevard hair salon, east of Steinway Street. Ditmars Boulevard, which stands in for 22nd Avenue in Astoria (as Bay Parkway stands in for Brooklyn's 22nd Avenue) is the main shopping drag in north Astoria. Ditmars Boulevard was named in honor of Abram Ditmars, first mayor of Long Island City, NY who was elected in 1870 (the city became a mere neighborhood when Queens became a part of Greater New York). His ancestors were German immigrants who settled in the Dutch Kills area in the 1600s. Variations of the Ditmars or Ditmas family name appear on street maps in various NYC boroughs.
Steinway Reformed Church, Ditmars Blvd. and 41st Street, was built in 1891 as the Union Protestant Church but likely switched monikers after piano man Henry Steinway donated a pipe organ. It's likely Steinway also built the church as a place of worship for the workers in his factory — he already had built workers' housing two blocks away on 20th Avenue between 41st and 43rd Streets (seen in Part 1). To this day, the Steinway name is still appended to the church.
These attached homes on 41st Street south of Ditmars Blvd. may be brickfaced under the siding and thus, may resemble the Steinway Workers' Housing further north on 41st.
Enveloped by foliage in spring and summer, PS 84 (The Steinway School) on 41st between Ditmars and 23rd Avenue, is among Queens' largest and most handsome public grade schools. It was designed by prolific NYC schools architect C.B.J. Snyder and opened in 1905. Additional information on the building is difficult to ferret out on the internet, much like other NYC public schools.
23rd Road, a slanted route running between Steinway street and 42nd Street just north of Astoria Boulevard/Grand Central Parkway, is a remnant of a former village called East Astoria, seen here on maps from 1873 and 1915.
On today's map, Flushing Avenue survives as Astoria Boulevard North, a service road for the Grand Central Parkway, and Steinway Street is still Steinway Street. The other streets, which meet the grid at an angle, have disappeared, except for Nassau Avenue which is now 23rd Road, and Sound Street, which is a narrow one -block lane that nonetheless is rather busy as it brings traffic to the 44th Street Bridge crossing the GCP. The dotted line on the 1915 map is today's huge elevated viaduct that brings passenger and freight trains over the Hell Gate Bridge.
As you know, the Hell Gate Bridge is closed to pedestrians, as is the case with most very large NYC bridges that cross rivers (though the nearby Triboro Bridge has a pedestrian/bike lane). Walkers can, though, get "up close and personal" with its incredible approach ramp that runs through North Astoria. When it was built from 1914-1917, nuclear bombs were unknown, but it certainly appears as if it could survive such a blast (though it wouldn't). There's tons of metal supported by dozens of concrete-clad pylons. It dramatically crosses streets of north Astoria, as here on Steinway Street, and west of here, the ramp is carried over local streets by dramatic archways.
A large Greek mythology-inspired mural appears on the Hell Gate approach pylon on the west side of Steinway Street, featuring Medusa and an angel that looks like Bette Midler (though angels were not featured in Greek myths). The mural was done by Ecuadorian immigrant Lady Pink (Sandra Fabara) and friends in 2012. As is well-known, Astoria for decades has been home to Greek Americans.
The pylon on the east side of Steinway Street bears an Egyptian theme which is also fitting because northern Steinway Street is home to Middle Eastern immigrants, especially from Egypt.
Northern Steinway is also home to several meat wholesalers like this one, it's a fascinating area.
In this photo from the 1920s we are looking west at the intersection of Astoria Boulevard (left) and Woolsey Avenue (24th Ave) on the right, with Steinway Street cutting across through the center of the photo. A lone stoplight was enough to control traffic. In the 1930s, everything in the photo was obliterated when the Grand Central Parkway was built as the approach road to the Triboro Bridge.
I obtained this shot from the Steinway Street bridge over the GCP, looking south toward Astoria Boulevard South. When the GCP was built, its service roads were named Astoria Boulevards North and South.
The Eye of Horus regards patrons of the Egyptian-themed Mombar restaurant on Steinway Street, operated by Alexandria-born Moustafa El Sayed since 2000. Mombar is a stuffed sausage; other delicacies include "lamb cheek, bone marrow and the Egyptian fava purée called foul." [NY Times] Check out the interior decor.
I was unable to get a definitive answer to what the objects hanging from the awning are, but I gather they are decorative lanterns used during the Ramadan observance. Help me in Comments if you know the answer.
I checked Cinematreasures.org to see whether this building at 25-95 Steinway, near 28th Avenue, was a former theater. It certainly appears to be one, with its glazed terra cotta exterior, but I came up empty on the search, though Astoria had multiple movie theaters on Steinway Street, none of which survives.
Though New Corvington lampposts are usually installed in flocks, this is the only one in the vicinity of the intersection of 28th Avenue and Astoria Boulevard. It is tricked out with a "mini mast" sidewalk lamp, common elsewhere but not in these parts, and a NYPD surveillance device.
A sampler of apartment buildings, in differing styles, along 28th Avenue and 33rd Street. Astoria is well-known for wide-ranging styles of residential architecture.
The Italian society of St. Rocco, 28th Avenue and 37th Street. The Feast of St. Rocco is celebrated each year in Astoria. Rocco, also known as Roch, was invoked by sufferers from the bubonic plague in the middle ages. His story is told on this FNY page.
A pair of doorways on 33rd Street with original metalwork.
Queens' Broadway runs from the East River waterfront to the heart of Elmhurst at Queens Boulevard and Grand Avenue. It was constructed over the decades in different sections, with a center section built along with the IND subway in Woodside in the 1930s joining two mush older sections in the west and east. In Elmhurst, Broadway is the eastern extension of the old Hellgate Ferry Road, pieces of which exist today as Newtown Road and Woodside Avenue.
About a decade ago, Broadway received a set of retro Triborough Bridge lampposts, the first time the design has been used for local streets after first appearing in the 1930s on the Triboro Bridge. In Queens, Jamaica Avenue and Ditmars Boulevard have received sets, while in the Bronx, Hunts Point Avenue and a couple of other roads have them. I imagine the Department of transportation will install them in the three boroughs served by the Triboro, but to my knowledge, Manhattan hasn't yet.
Today noticed by no one but me, this pair of splintered wooden shields on a stoplight at Broadway and 33rd once pointed the way to a long-gone Presbyterian church.
Gleason's, On Broadway near 34th, now appears to have closed down. I like to think it was named for Patrick "Battle Ax" Gleason, the mayor of Long Island City on three separate occasions when it was an independent city in Queens County before annexation with Greater New York in 1898.
Coincidentally I had been thinking that Lockwood Style, next door, was named for Astoria's former Lockwood Street, but Lockwood Street is now 30th Street; 33rd, the closest street here, was Rapelje, named for a Dutch family that settled in the area early on.
These handsome red, white and blue signs, designed by artist Richard Deon, working with the cooperation of NYC's Public Art Fund, first appeared in Astoria / Long Island City and Sunnyside in the early 1990s along a seven-mile route. the signs are approximately two er, feet in diameter and are accompanied by smaller signs pointing to local highlights. The route runs along Vernon Boulevard (a sign at 9th Street is shown here), 44th Drive/Thomson Avenue, 43rd Street, 35th Avenue, 36th Street, Broadway, Crescent Street and 31st Avenue.
The Quinn-Morisco Funeral Home, 35-20 Broadway, is one of the tallest buildings in this neck of Astoria, It is also home to FNY's affiliate organization, the Greater Astoria Historical Society, which presents programs and exhibits about and relevant to Astoria and the rest of New York City, as well as a voluminous collection of artifacts, books and atlases.
There are a number of former Child's Restaurants remaining in NYC such as this one at Broadway and 36th Street. Child's Restaurants peaked in the 1920s and 1930s, and William Childs lost control of the company after a revolt from investors after he imposed his own vegetarian preferences on the menu. Child's became the Hotel Corporation of America in 1955 and was acquired in 1961 by the Riese Organization, which today operated restaurant chains like T.G.I. Friday's and Applebee's.
This building at Broadway and 37th Street was resurfaced a couple of years ago. In the 1930s, it was the same building where Chester Carlson invented the Xerox copier. The story is here in FNY.
Late in the afternoon is not a good time to photograph the Most Precious Blood Catholic Church on 37th Street just south of Broadway, but the 1932 church designed by Henry McGill and Talbot Hamlin is significant because it's one of the few Art Deco churches in NYC, especially prevalent in the tower. The interior is worth a look if you are around and are able to get inside.
For many years the original neon sign on this liquor store blazed forth on Broadway between Steinway and 38th Streets. However, in 2016 the neon tubes were removed, with the original letterforms left intact, and replaced with LED lamps that alternate from white to red to green.
The Moose are loose in Queens. The Loyal Order of Moose are a service and fraternity organization founded in 1888 by Kentuckian Dr. John Henry Wilson. By 2013 there were over a million members in the U.S., Britain, Canada, and Bermuda, as well as 400,000 in the Women of the Moose. Presidents Theodore and Franklin Roosevelt, Warren G. Harding and Harry Truman have been members, as well as many well-known showbiz and sports figures like Danny Thomas, Billy Martin and Arnold Palmer.
In Queens, there are currently two Moose lodges, on Grand Avenue and 72nd Street in Maspeth and 118th Street near 87th Avenue in Richmond Hill, but a former lodge at Broadway and 41st Street in Astoria, seen here, is a neighborhood standout, with its arched windows and terra-cotta detailing.
If you're stuck for reading material, hie on over to the Broadway Thrift Shop between 41st and 42nd Streets.
You wouldn't think so but Doyle's Corner, Broadway and 42nd Street, one of those Irish bars you think has been around since Creation, makes a killer cheeseburger. Plenty of 5-star reviews at the link.
For quite awhile, I was puzzled by the inscription on the handsome brick building at Broadway and 44th Street, "L.I.C. T.V. 1875" but some research revealed it has nothing to do with television: it is the Long Island City Turn Verein, or LIC Gymnastic Association, a sort of precursor to today's Jack LaLanne or Lucille Roberts. From the Long Island Turners website:
On June 8, 1875 eight individuals met and organized the Long Island City ?Turn Verein at Koch's Hall, N.E. Corner of Broadway and 9th Avenue [today's 38th St] in Long Island City, N.Y. for the sole purpose of introducing and furthering German Turnerism (which embraces the philosophy of building a "Sound Mind in a Sound Body" fostered by Friedrich Ludwig Jahn in Germany). The society's purpose was to educate its membership physically and mentally through gymnastic exercises and by encouraging use of the German language.
The present building was constructed in 1928 and sold in the mid-1970s. The society is now based in Nassau County, hence the name Long Island Turners.
I've never been in Lavelle's Admirals Club, Broadway off 46th Street, but I'm fascinated with the tiny exterior and classic neon "Bar" sign.
Time to kick it in the head for the day! I'm entering the subway at the 46th Street station. Evidence that the G train once ran the route is here. In 2010, the G was trimmed back to the Court Square station, but extended down to Church Avenue, because of the M train's reroute onto the Broadway line.
Check out the ForgottenBook, take a look at the gift shop, and as always, "comment…as you see fit."
6/3/18