The humidity in the Northeast in the summer of 2018 has been unrelenting, it's like South Carolina, Georgia, Florida, etc. Nevertheless I've been at it even more than ever, walking, bicycling, though my next gym visit will be my first. If I had to do that three times a week, it would be like a prison sentence. So, I've been getting outdoors. Between November and March I am by a hot radiator, though I do a fair share of Forgottening — I don't like the cold wind in my face, my eyes drip like a tap.
I hadn't been through Jackson Heights for awhile, and though the housing in the landmarked blocks, developed by the Queensboro Corporation in the early 20th Century is a sight to behold, Jackson Heights features Queens' most relentless grid, resembling the street layout of midtown Manhattan. I went from the Willets Point #7 train north along Flushing Bay, into little-visited (at least by me) East Elmhurst, into Jackson Heights and finally, after 7 miles in dead horse humidity, ended at 61st Street where I caught a LIRR train back home, but not before rewarding myself with a burger and fries at Ottomanelli's on Woodside Avenue, among the borough's best.
GOOGLE MAP: FLUSHING TO WOODSIDE
With little fanfare, work has been competed on rehabilitation at the Flushing-Main Street LIRR station, which had been in the works since 2012. It's the last station in Queens on the Port Washington branch to receive major overhauls; what held it up was eminent domain disputes with adjoining businesses. Still, the station is quite small and had little to work with, though major alterations have been made which include the placement of ticket machines (protected from weather by the RR overpass) on Main Street, two new staircases which front on Main Street, and the construction of two elevators on the east and westbound sides.
Though the 40th Road entrance to the westbound side has been retained, an additional staircase to Main Street was constructed.
The station got a pair of new elevators (the westbound platform elevator can be seen behind the staircase) and new signage, railings and Light-Emitting Diode lamps have also been installed.
The new construction is in stark contrast with the original 1913 RR overpass over Main Street, which is in need of a paint job. The North Side RR arrived in Flushing in the 1860s and ran at grade, with wagon and cart traffic controlled by crossing gates, for its first few decades. As Flushing and northern Queens gradually became urbanized after the Queensboro Bridge was opened in 1909, most grade crossings on the Long Island Rail Road (which had absorbed the North Side) were eliminated by placing them on trestles or in open cuts.
In tandem with the Flushing Main Street rehab, sidewalks on both sides of Main have been expanded between 40th Road and Roosevelt Avenue (where there is a #7 train terminal), and a slight narrowing of the Main Street road surface.
These changes help quite a bit. However, on my wish list would have been a direct connection between the #7 and the LIRR, but such a connection always exists at Woodside, with, of course, separate fares. I would also have built an overhead staircase to connect the east and westbound sides of the LIRR, as exists at Little Neck and Bayside. Trackwork often forces trains to run on the opposite track, and an overhead stair would make switching much easier. No room for a wheelchair ramp, though, which is probably why they can't do it. The new elevators help, depending on how fast they can get there when the train is coming.
When I worked at the Queens Times Ledger, the mistake was made so often that Willets Point is at the Mets-Willets Point #7 (and LIRR) stations that it became accepted wisdom and the errors were never corrected. In truth, Willets Point is actually at Fort Totten, several miles to the northeast! It is named for Charles Willets, an early landowner where the fort, later established in 1857, is today.
In the 19th Century, Willets Point Boulevard was laid out to connect West Flushing (now Corona) across the Flushing River to its titular point in Bayside. However the bridge was never built and so, the road exists in two pieces. The subway and RR stations are named for the Boulevard. The older station sign gets it right. Today, the Flushing portion of Willets Point Boulevard remains the centerpiece of the vanishing Iron Triangle…
Since the 1940s, the sliver of territory between 126th Street, Roosevelt Avenue, and Willets Point Boulevard has been home to auto repair, transmission, tire shops as well as a few other unrelated businesses such as spice wholesalers. New York City has been trying to evist them for decades, refusing to repair streets or install sewers, meaning that Willets Point Boulevard is still flooded days after rain.
Many businesses have accepted buyouts and moved to other parts of town, while others are still fighting to remain. FNY had a guest post by French journalist Alexis Buisson in 2008 that illuminates their plight.
Some of the Iron Triangle streets west of Willets Point Boulevard have been cleared out as businesses vacate. These wrecked, ruined streets will likely remain like this for years.
Citifield, which faces the Iron Triangle across 126th Street from the Iron Triangle, has been the home of the New York Mets since 2009. The building also is home to Met offices, so the parking lot is fairly busy during the season even when the Mets are away. I was unaware, though, that Citifield is home to other retail businesses, like this one.
Peeking through the East Gate, I glimpsed the Shea Bridge which is above the center-right field fence. Here are hung nine banners marking the Mets' postseason appearances in 56 years (since 1962) that include two World Series victories. In that span the Yankees have appeared in the postseason 27 times and have posted seven World Championships; the two teams have different incomes and philosophies. I remain a Mets fan.
Looking across Flushing Bay to the west end of Flushing itself, which by the bayshore is lined with concrete plants, tow pounds, Department of Sanitation yards, construction firms, and a massive Home Depot.
McFaddens was conceived as the postgame drinking establishment at Citifield. I was only there once after a game. The music was so loud, I could barely hear my companions. The drinks and food were fine. But I haven't been back. What can I say? I'm 60, I want to relax after the game.
The Flushing Bay Promenade is apparently rather new, stretching along the by north of Citifield and east of the Grand Central Parkway. The Parks Department webpage says it was conceived in the 1980s, so I'll take that on face value. My visits here have been rather infrequent and there's a reason for that. Coming north from the Iron Triangle, it's relatively inaccessible, cut off by an iron fence at Northern Boulevard. I had to walk along pedal-to-the-metal traffic before finding an opening to grant me entry.
The fenceposts are interesting, arranged by alphabet with flora and fauna species, two alphabet letters per post designed by artist Gregg LeFevre. You can play a game with the kids: see if they can guess the plant and animal species at the next post as you walk along the promenade. "Queen bee" is a copout, though, they could have used quagga.
There are a pair of very strange looking rain shelters in the promenade that to me look like Sister Bertrille's hat in the Flying Nun 60s TV show. You may have heard of these as the "Candela structures" since the Parks Department named them for Spanish architect Felix Candela, who worked quite a bit in waterside projects. However, they were originally designed for the World's Fair by architect Peter Schladermundt.
I have the full story on this FNY page, which describes how Uni-Watch's Paul Lukas and architect Kirsten Hively finally got to the bottom of their origin.
They seem rusted and are beginning to crack, and could use some TLC.
The World's Fair Marina is named for the 1964-65 World's Fair that took place just to the south in Flushing Meadows-Corona Park (the Fair Theatre on Astoria Boulevard in Jackson Heights was named for its 1939-40 predecessor). It has a restaurant and yacht docking. While there I noticed this fine gilded fellow. Who is he? Priapus, perhaps?
A number of spots on the Flushing bayshore are marked with bright pink tape. My guess is that these are shallows where sand bars lurk underneath, and scullers in the bay should not approach.
There are two pedestrian bridges across the Grand Central Parkway from the Promenade, one at 31st Drive and another at its north end at 27th Avenue. The walkways have long had davit, or curved-shaft, lampposts, and now the Grand Central Parkway has received a full set of them (they have also turned up on streets, such as Houston Street and Columbia Street in Brooklyn).
The Grand Central was built as one of Robert Moses' earlier Queens-Long Island parkways, connecting the Triboro Bridge with mid-island in the mid-1930s. At the Nassau border, it changes its name to the Northern (State) Parkway. It's called the Grand Central since it turns east where it meets the Jackie Robinson Parkway and Van Wyck Expressway and from thence, bisects the borough.
Ditmars Boulevard at 27th Avenue. The name Ditmars, or Ditmas, appears more than once in the NYC street directory. The Bronx has a Ditmars Street in City Island, there's a Ditmas Avenue in Kensington, namesake Ditmas Park and Brownsville, Brooklyn; and here in Astoria, Ditmars Boulevard, named in honor of Abram Ditmars, first mayor of Long Island City, NY who was elected in 1870 (the city became a mere neighborhood when Queens became a part of Greater New York). His ancestors were German immigrants who settled in the Dutch Kills area in the 1600s. Ditmas Avenue was laid out in the late 1800s and during the 1910s, during Queens' big changeover to a consistent street numbering system, many busy roads were renamed Boulevard, and Ditmars was one of them.
Until the 1920s or so Ditmars Boulevard ended at Hazen Street, but in the 192os it was extended east and southeast along Flushing Bay to Astoria Boulevard. In the 1930s, Glenn Curtiss Airport, later renamed for Mayor Fiorello LaGuardia, was built on landfill on the old North Beach amusement area. In the 1930s the Grand Central Parkway was built parallel to Ditmars Boulevard.
On the present Queens map, Ditmars Boulevard stands in place of 22nd Avenue in Astoria. Coincidentally, Brooklyn has no 22nd Avenue, either; its place is taken by Bay Parkway, even though the BMT Culver (F train) elevated on McDonald Avenue's Bay Parkway station stubbornly persisted in subtitling it 22nd Avenue until a short time ago.

if you look at a map East Elmhurst is actually north of Elmhurst, but why quibble. In general, it stretches from Roosevelt Avenue north to LGA and from 90th Street east to 114th. According to the Encyclopedia of New York it was developed in 1905 as a "neighborhood of frame houses". Like Elmhurst it contains a series of alphabetized street names: Butler, Curtis, Ericsson, Gillmore, Humphreys, McIntosh, and Kearney (A, B, F, J, L are skipped and K is out of place). It's one of the few real African-American enclaves in northern Queens west of Flushing Meadows-Corona Park. Willie Mays, Ella Fitzgerald and Malcolm X have lived here.
Though its streets are populated by frame houses on individual lots, East Elmhurst has some unfinished qualities. There is the occasional lack of a sidewalk, and there are some undeveloped rocky, weedy lots. And, sewer openings are oddly placed, extending into the middle of the sidewalk as here.
I'm always happy to find these — smaller versions of the scrolled iron masts that used to hold fire alarm indicator lights. There are still a few dozen larger versions of these to be found in the Bronx, Brooklyn, and Queens; I've never seen one in Manhattan or Staten Island. They are true relics of the early 20th Century. All were decommissioned over a decade ago when the lights were mounted on top of street lamps in the form of small red dots. This one can be found at 27th Avenue and Curtis Street.
Speaking of fire alarms, the rarest variety you will see around NYC is the newest model first introduced in 1972 which has a streamlined stainless steel exterior. I don't think the city made much headway in installing them, and after a while decided to let the older fixtures remain and service those. Many around town have been decommissioned in the age of cell phones from which you can dial 911 in an emergency. One of them was painted all red, but that wasn't the normal procedure.
A sampler of East Elmhurst homes along 27th Avenue.
A triangle of unbuilt-upon land at 27th Avenue and 100th Street.
At Astoria Boulevard and 97th Street is an extraordinary sight: St. Gabriel's Church, and the accompanying LaSalle School, are set way, way back from the boulevard, creating a huge lawn. The cornerstone indicates the church was built in 1940, but the parish is apparently older: the Belcher Hyde atlas shows a church here in 1927, with the same extra-wide setback from the boulevard. The parish was indeed established in 1923.
The former parish school is now the East Elmhurst Community School but not everything from its former existence as a parochial school has been stripped from the building. The juxtaposition of the religious icon with a Fallout Shelter sign is interesting, on 97th between Astoria Boulevard and 31st Avenue.
Jackson Mill Road is one of Queens' stranger routes. It runs generally east-west from 32nd Avenue and 97th Street east to 87th Street. Another piece goes generally north, from 95th Street NW to 94th, across 24th Avenue. Unlike other old roads in the area such as the ancient Trains Meadow Road, it has survived in most part because of private property built on it but also because it was home to a former trolley route — and some of the old tracks are still visible. I have the whole story on this FNY page. Yes, there was a former mill belonging to the Jackson family, and this road and Jackson Heights take their names from it.
Junction Boulevard and 94th Street could be considered the west edge of Corona, so it's appropriate that Intermediate School 227 (what we used to call "junior high") has been named the Louis Armstrong School for Satchmo, one of jazz/pop's greatest trumpeters and goodwill agent for six decades. Tim Payne's murals here were first painted in 2009; Armstrong was a Corona resident from 1943 until his death in 1971, and his home has since been converted into a popular museum honoring his life and work.
A rambling house I've always coveted to some degree, Jackson Mill Road at 93rd Street.
This lengthy building at 32nd Avenue and 92nd Street is actually a community Protestant church, hence the parking spaces and fence.
I'd like to work in the Department of Transportation sign shop, so if anyone knows a guy what knows a guy, I'm all ears. This sign, and a couple of others along 32nd Avenue, give the impression of a slapdash job done in haste. The numbers (which are clearly on a painted-over older sign) aren't properly vertically centered, and are badly kerned. And, horrors! The "ST" is in Helvetica, not Highway Gothic! What is this, Manhasset?
Jackson Heights is justifiably envied for its massive apartment houses built by the Queensboro Corp., but me, I'll take the shady side streets, attached brick dwellings with front yards.
St. Joan of Arc was Jackson Heights' first Roman Catholic church, established in 1920. The present church building at 35th Avenue and 83rd Street was dedicated in 1950.
If you've done time in grade school, you know the story of Joan of Arc: guided by heavenly voices only she could hear, she led French resistance to England in the Hundred Years' War. Yet she was betrayed by the French and was executed at the stake by the English in 1431. She was canonized as a saint in 1920.
The Community United Methodist Church of Jackson Heights is perhaps the oldest church building in the Queensboro Corporation development. The church was founded in 1916, and this handsome Tudor Gothic edifice at 35th Avenue and 81st Street was built between 1922 and 1923.
It seems to be the height of redundancy and a complete waste to post TWO maroon landmark street signs at one corner in Jackson Heights. What's the Department of Transportation up to? And what the heck are the little numbers after each letter in the sign? This calls for a bit of sleuthing.
It's all because of Jackson Heights resident Alfred Butts, the inventor of a popular board game. In the 1940s Butts, an architect by trade, created a new word game combining the features of anagrams and crossword puzzles, calling it "Criss Cross Words," and shopped it around to game and toy manufacturers without success. Finally, Butts got a boost from Criss Cross Words fans Mr. and Mrs. James Brunot, who decided to manufacture and market the board game themselves. Renting an abandoned schoolhouse in Dodgington, Connecticut, they hand-manufactured the games, stamping out letters on wooden tiles. Word gradually spread about the new game and orders gradually increased; Macy's placed some orders. The renamed Scrabble®, now distributed by Hasbro, became America's second most popular board game, second only to Parker Brothers' Monopoly®. There are professional Scrabble players and Scrabble leagues; Stefan Fatsis' 2001 book "Word Freak" describes the lives, trials and tribulations of people who know what words have a "q" not followed by a "u".
The Department of Transportation, not usually known for whimsical humor, posted this tribute to Butts during the early 1990s. T, A, E, N, and U carry a one-point value, while H and V are good for four points. In Scrabble, point values go up the rarer the letter in English usage; Q and Z earn ten points.
A monolithic Art Deco-era apartment house, 35th Avenue and 74th Street.
Here's one of Queens' best-kept secrets. You can access it via a driveway at 35th Avenue at 75th Street between an animal hospital and a Chinese restaurant…
Walk right in past a selection of garages and back doors to businesses on 35th Avenue…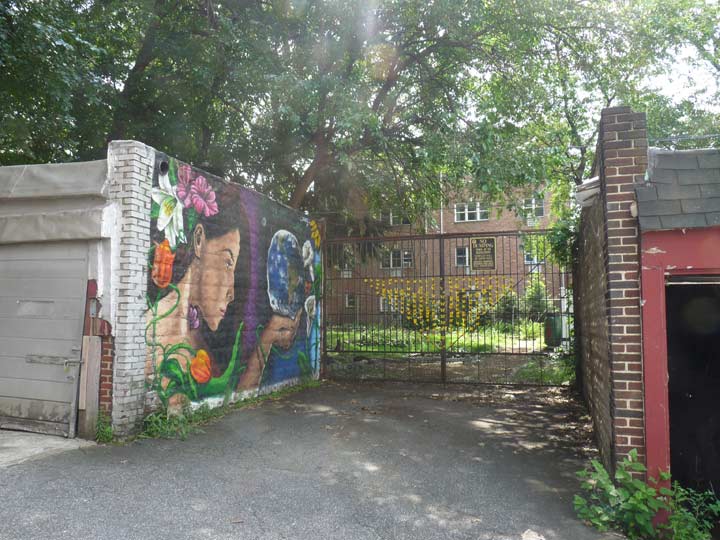 …up to a mural depicting a young woman holding a miniature planet earth, and walk up to the gate which is festooned with yellow ribbons, and peer inside.
This is the ancient burial ground of the Leverich family. William Leverich emigrated to Newtown in 1663 from England and the burial ground was once part of the settlement belonging to his son Caleb. He built his homestead in 1670 and it stood until 1909. Though headstones were recorded by historian James Riker in the 1890s, all of them have disappeared by now and the cemetery has not accepted any burials since 1870, the Leverich family having dispersed decades ago. The name is still prominent on this 1909 Queens map of the Jackson Heights area, however.
Thomas Leverich, a family descendant living in Connecticut, researched and wrote this lengthy treatise on the burial ground's history. The New York City Cemetery Project has more information and maps.
After years as a dumping ground, the Jackson Heights Beautification Group has cleaned up the space of debris and planted the flowers and flora you see there today.
Leverich Cemetery is not the only remnant of the former tenancy of the Leverich family in these parts. A short street, Leverich Street, angles southeast between 35th Avenue and 35th Road. There are a few buildings on the street that appear to be older than the rest, along with an apartment building named for Andrew Jackson.
Leverich Street was here before any of the other gridded streets were. It appears on this 1909 map of the Jackson Heights-Woodside border. The dotted line is roughly where the Connecting Railroad and Brooklyn-Queens Expressway are now. Leverich Street was originally a dead end emanating from the now-vanished Trains Meadow Road. On today's map the grid is fully fleshed out, with Broadway and Roosevelt Avenue, a major transit hub making an "X" south of Leverich.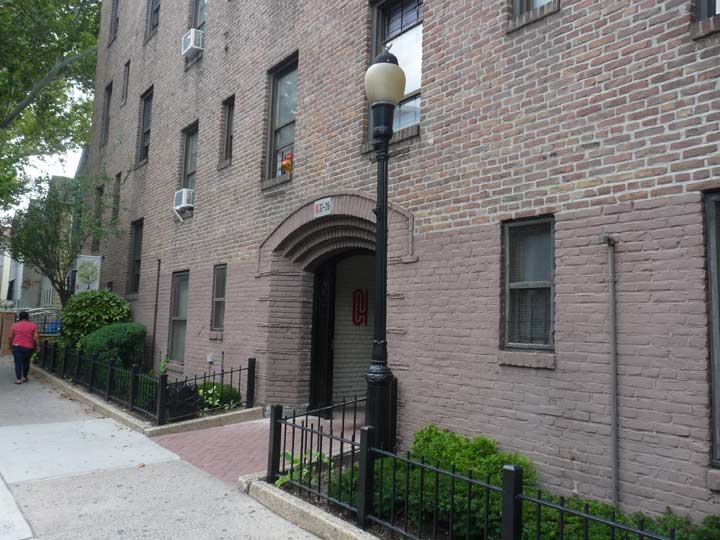 The various Cosmopolitan Houses complexes in Woodside and Sunnyside are instantly recognizable from their arched entrances and Type B park posts lighting the entrances.
A former Child's Restaurant branch at Roosevelt Avenue and 64th Street, now home to a cell phone store and a drugstore. Child's are recognizable by their seahorse and other sea-life terra cotta ornamentation.
With that, it was time for the train at Woodside station after lunch…
Please help contribute to a new Forgotten NY website
Check out the ForgottenBook, take a look at the gift shop, and as always, "comment…as you see fit."
8/12/18