This week's FNY page takes its name from the classic Hank Williams country song and the 1997 David Lynch film noir. The idea came in a flash of inspiration — there are a number of roads in NYC that go for lengthy stretches without interruption whatever, a cross street or a stoplight. Before about a dozen years ago, I'd have had to visit all these locations, scatted in 4 of 5 boroughs (Manhattan has none that I can tell) but, now, through the magic of Google Street View, I can screenshot them pretty easily. For that reason I'll be upfront about it and leave all the Google ID and time stamps on the photos. It'll be one of those rare FNY pages (except the ones by Gary and Sergey) that I didn't take any photos at all.
To be sure — there are plenty of parkways and expressways that go uninterrupted for miles, but I'm not talking about those here; I'm referring to local streets that go without interruption. As a rule, you'll find them in relatively depopulated areas, but there re exceptions to that rule. Without a doubt, I'm going to miss a few. Let me know in Comments, and if I get enough, I'll do a Part 2.
Bronx
Surprisingly enough, the Bronx has the lion's share of uninterrupted roadways. No doubt there'a a way to measure exactly the mileage from point to point when you use Google Maps, but I've forgotten how. When you mention Jerome Avenue to Bronxites, they usually think of the Jerome Avenue that lives under the Woodlawn El that carries the #4 IRT train. Jerome Avenue is shrouded by that el all the way from River Avenue and East 168th Street all the way to the last stop at Bainbridge Avenue and Woodlawn Cemetery (except a run on its own right-of-way when Jerome Avenue takes a brief curve at the IND yards near Bedford Park Boulevard).
However, there's a lengthy run of Jerome Avenue between that last stop and its northern end where it feeds traffic to the Major Deegan Expressway at East 233rd Street; here it runs between the cemetery and the Mosholu Golf Course, which is in the eastern section of Van Cortlandt Park. The only interruption is the entrance road to the golf course.
Woodlawn Cemetery also serves to separate Webster Avenue from the street grid. In perhaps the Bronx's longest section of uninterrupted streets, Webster Avenue runs from East Gun Hill Road all the way north to East 233rd Street. Webster Avenue is flanked by the cemetery and by the Bronx River Parkway; even before the Parkway was built in the early 20th Century, the Bronx River itself ran east of Webster Avenue, cutting it off from the Williamsbridge and Wakefield neighborhoods to the east.
Three of the Bronx's longest streets have uninterrupted stretches. East and West Tremont Avenue can be said to run all the way from the Harlem River on the west, in Morris Heights, all the way east and southeast to Schurz Avenue at the East River in Schuylerville, named for the former fort now a part of the State University of New York.
East Tremont Avenue's straightaway occurs between Unionport Road and Purdy Street, forming the north end of the Parkchester housing development. On the north side are the railroad tracks carrying Amtrak trains to New England.
Riverdale is nestled along the Hudson River between Spuyten Duyvil on the south, Yonkers in the north and Van Cortlandt Park. With its curving, quiet lanes, spectacular views of the New Jersey Palisades and spectacular estates, it seems more a part of its neighbor to the north, suburban Westchester. The New York Times real estate section seems to agree: it has famously listed Riverdale separately from the rest of the Bronx for years. Yet, Riverdale has been a part of New York City since 1874, and the numbered street system that begins with East 1st Street in the East Village extends to Riverdale's city line at the Yonkers border at the highest numbered street in the series, West 263rd Street.
Palisade Avenue runs in two major pieces in Riverdale, from Edsall Avenue under the Henry Hudson Bridge north to Spaulding Lane along the south end of Wave Hill, and again from West 254th north to West 261st. I'm picturing that northern section here, since it's more "countrified" than the southerly section, without shoulders or sidewalks. Along this stretch there are driveways to various schools, as well as the entrance to semiprivate Sigma Place, but it's mostly a straightaway.
You'd never know you're in the Bronx when driving up Shore Road, which is a northeast extension of Pelham Parkway east of its spaghetti intersection with the New England Thruway and Hutchinson River Parkway. Shore Road keeps going and going through the east end of Pelham Bay Park, bridging over the Hutchinson River and rushing past the Bartow-Pell Mansion until attaining a truly uninterrupted stretch between the mansion and the Bronx-Westchester line. One of NYC's secrets is that if you turn left on Roosevelt Avenue once within Pelham Manor and continue west, you'll re-enter NYC briefly, as the avenue curves into NYC! FNY has the scoop here.
I'm showing Orchard Beach Road and City Island Road together because they pretty much do the same thing — the connect Shore Road with Orchard Beach and City Island respectively, running unimpeded through a considerable amount of Pelham Bay Park territory.
Brooklyn
Brooklyn's only "unimpeded" local street is Flatbush Avenue, which has a pair of straightaways. Between Kings Plaza and the Belt Parkway and again from the Belt Parkway over the Marine Parkway Bridge, Flatbush Avenue does not intersect any other street. Here, it runs past the main offices of Floyd Bennett Field; it flanks NYC's first municipal airport and an unnamed area flanking Dead Horse Bay and Bottle Beach, a former landfill.
Constructed on the site of Barren Island and additional landfill, Floyd Bennett Field was New York City's first municipal airport. The airport is located in the southern part of Brooklyn between Flatbush Avenue and Jamaica Bay, and was completed in 1930 ( a smaller airfield, Barren Island Airport, had been there since the mid-1920s) and dedicated by Mayor Jimmy Walker. The airport initially had only two perpendicular runways. The terminal building was topped by an air traffic control tower and featured modern innovations such as underground tunnels extending from the basement to the ramp area. This allowed passengers to comfortably walk from the terminal to their aircraft in any weather. A barber shop, weather room, pilot's lounge, passenger lounge, and restaurant were also part of the modern terminal (by the nascent airline industry standards).
Several miles north of here, there's another uninterrupted stretch of Flatbush Avenue between Grand Army Plaza and Ocean Avenue, where it bisects Prospect Park and the Brooklyn Botanic Gardens.
Queens
Perhaps Queens' longest uninterrupted roadway is Cross Bay Boulevard between 165th Avenue in Howard Beach and 6th Road in Broad Channel; it's bridged over parts of Jamaica Bay and run past the Jamaica Bay Wildlife Refuge (I really should get down there again as I haven't explored it in about a dozen years). After serving as Broad Channel's main drag, it's bridged over Jamaica Bay again via the Addabbo Bridge until reaching the Rockaway peninsula. The entire road was constructed in 1925 as a means of connecting the peninsula with Broad Channel and the rest of Queens. Cross Bay Boulevard is a southern extension of Woodhaven Boulevard south of Liberty Avenue.
In 1883 developer Frederick W. Dunton bought up a lot of real estate north and south of what is now the Hollis LIRR station in eastern Queens at what is now the intersection of Hollis Avenue (then Old Country Road) and Farmers Avenue (now Boulevard) and, after some reflection, decided to name his new developments for his hometown, Hollis, New Hampshire. Today's neighborhood of Hollis (immortalized by RUN-DMC in "Christmas in Hollis" was originally surrounded by Hollis Park Gardens, Hollis Terrace, Holliswood, Hollis Manor, and other celebrations of the southern New Hampshire villa. Over time, some of the Hollises have been renamed but you can still find the original Hollis, south of Jamaica Avenue, as well as hilly Holliswood and Hollis Hills.
Hollis Court Boulevard originally ran in a straight line between eastern Flushing southeast to Jamaica, but the construction of Cunningham Park as well as the Long Island and Clearview Expressways split it into three sections. The "Court" was added to the road's name likely to class it up a bit as new housing was springing up along its route.
Adding to the overall confusion, the section of Hollis Court Boulevard between 73rd Avenue and 86th Avenue on the east side of Cunningham Park was renamed "Hollis Hills Terrace" in the 1970s, separating the Flushing and Queens Village stretches of Hollis Court Boulevard.
Pictured is the straightaway of Hollis Hills Terrace within Cunningham Park between 73rd and Richland Avenues, where it passes beneath a Motor Parkway overpass. The Motor Parkway was originally built by William K. Vanderbilt in 1908 and extended into Queens in 1926, serving as an auto parkway until 1938; subsequently it became a pedestrian path and bikeway.
Rockaway Point Boulevard runs west along Fort Tilden and the semiprivate region of Roxbury west to Breezy Point, intersected only by Beach 193rd Street. In 2010, Sergey entered the private world of Roxbury and Breezy Point, the "Irish Riviera."
The grounds of Fort Tilden have been reclaimed by nature since its decommissioning in 1974. Former streets now ramble through thick shrubbery…
Roxbury is bound on three sides by public parkland, and the Rockaway Inlet to its north. It is one of the three communities affiliated with the Breezy Point Cooperative, which runs the gated communities of the peninsula's tip. The public parkland is the Gateway National Recreation Area, and any private lands inside the park are designated as inholdings. This includes Roxbury, Rockaway Point and Breezy Point.
The neighborhood was founded in the early 20th century by Irish immigrants as a bungalow colony on a peninsula full of bungalows. While most bungalow colonies were replaced with housing projects and empty lots, the huts of Roxbury became year-round, kept their Irishness, and continue to prosper in their isolation.
The south end of Brookville Boulevard in Rosedale between 147th Avenue and Rockaway Boulevard is isolated indeed, a busy auto, truck and bus route running through the marshes of Hook Creek Park with no sidewalk or shoulder. This is the only north-south route connecting Rosedale with Rockaway Boulevard east of Guy Brewer Boulevard; east of here, Rockaway Boulevard plunges south past Meadowmere and into the Five Towns area of Nassau County. Springfield Lane also intersected Rockaway Boulevard, but that junction was severed in the 1970s.
It's also a very old road. On this 1852 Queens atlas except I've circled the junction of Brookville and Rockaway Boulevards; back then, Brookville Boulevard was called Fosters Meadows Road and ran through a Queens County farming village of the same name.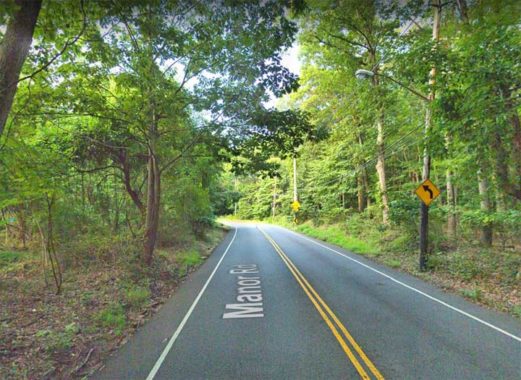 Staten Island
While the north end of Manor Road, Staten Island, runs through moderately populated Castleton Corners and past the Manor Road Armory, it beginnings were decidedly rural as it was named for the Manor Farm, one of the city's leading equestrian centers. Manor Road retains a suburban aspect until south of Brielle Avenue in Willowbrook, where it assumes a completely rural appearance, running past the Pouch Boy Scout camp and the private Ohrbach Lake, zigzagging its way south to Rockland Avenue at Latourette Park. No sidewalks on that uninterrupted run.
Rockland Avenue itself has a lengthy unimpeded straightaway in the Bloodroot Valley and Greenbelt Nature Center between Forest Hill Road and the High Rock Park area, twisting and turning with a Jersey barriered median.
I'm showing Olympia Boulevard and Slater Boulevard together, since both run through open straightaways in the New Creek Bluebelt in Midland Beach on Staten Island's south shore. Midland Beach is well populated, but there are some marshy areas were most building is impossible such as around New Creek. Some other roads make their way across the marshes, but these are the two primary examples.
During the early 20th Century, Midland Beach, which roughly runs between Seaview Avenue, Father Capodanno Boulevard, Hylan Boulevard and Miller Field, a former military airbase, was thought of as a seaside resort, and the bungalows were only occupied during the summer. A series of fires and the onset of pollution that rendered South Beach unswimmable for a time doomed the amusement parks and resorts, though some of the funfairs did hang on into the 1960s.
Amazingly there have been three Richmond Hills in NYC in three different boroughs. In Manhattan, Richmond Hill was the estate of Aaron Burr, Vice-President and assassin; it's now occupied by the Charlton-King-Vandam Historic District. Queens' Richmond Hill centers along Lefferts Boulevard south of Forest Park and contains some of Queens' richest deposits of Victorian-era architecture.
In Staten Island, Richmond Hill is the hilly area north of the Richmondtown Restoration, traversed by twisting, turning Richmond Hill Road; locals call it Snake Hill. Here it's pictured on its straightaway between Forest Hill and Richmond Roads, where there's no sidewalk or shoulder, treacherous for pedestrians and bicycles that have to use it.
Richmond Terrace runs along the Kill Van Kull on Staten Island's north shore, past former gypsum mills and boatbuilding factories. FNY walked its entire length about a dozen years ago.
At its western end, between Holland and Western Avenues, Richmond Terrace straightaways for about a mile past Mariners Marsh Park. Mariners Harbor and Howland Hook are neighborhoods in Staten Island that stretch along the Kill Van Kull (separating Staten Island from New Jersey) between the Bayonne Bridge and the Arthur Kill north of Forest Avenue. Mariners Marsh is a newly-minted nature preserve in the far western corner of the island. It is a marsh and a wooded swamp (unless rain has been absent for several days, the ground is always muddy) and, while nature-lovers can glimpse dozens of species of flora and fauna, there's something here for the urban artifact aficionado, as well. Mariners Marsh had a former life as an iron foundry and Downey Shipyard between 1907 and 1931. The wooden parts of the buildings are long dearly departed, but the concrete sections are still lying around like animal carcasses. Monument Swamp is cleverly named for the concrete hulks of the old foundries.
In 2018, Mariners Marsh Park was closed for "environmental review" but I hope it reopens this year.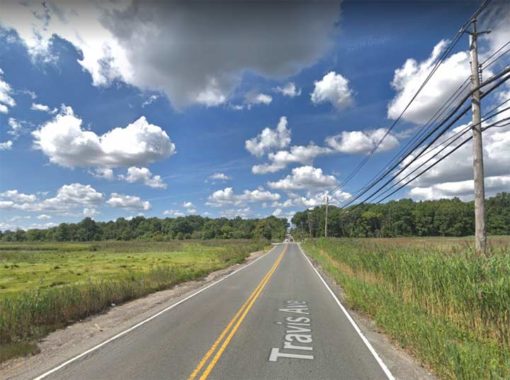 Travis Avenue plunges unimpeded through the William T. Davis Wildlife Refuge between Mulberry Avenue and Victory Boulevard. I remember bicycling this stretch in 1977 when the MTA ran "bike buses" between Bay Ridge and Fingerboard Road — basically regular buses with the seats removed. I regularly used the service and roved all over the island on my bicycle. Few others did, however, and the bike bus was discontinued after one summer.
The 814-acre Davis Wildlife Refuge, named for the great Staten Island naturalist and entomologist, was New York City's first such sanctuaries, and was established by Davis in 1933, in the heart of the Depression. The park is about equal in size to Central Park.
Much of the enclosure is a salt marsh that provides a rich milieu for flora and fauna…over 100 bird species can be found here including sharp-tailed sparrows, ducks, wading egrets, barn, great-horned and short-eared owls, many hawk varieties, as well as snapping turtles, crabs and muskrats. The Refuge features a nature trail entered at Travis Avenue near Mulberry Avenue, and accommodates canoeists in the broad Main and Springville Creeks.
Check out the ForgottenBook, take a look at the gift shop, and as always, "comment…as you see fit."
3/23/19