This week's FNY page takes its name from the classic Hank Williams country song and the 1997 David Lynch film noir. The idea came in a flash of inspiration — there are a number of roads in NYC that go for lengthy stretches without interruption whatever, a cross street or a stoplight. Before about a dozen years ago, I'd have had to visit all these locations, scatted in 4 of 5 boroughs (Manhattan has none that I can tell) but, now, through the magic of Google Street View, I can screenshot them pretty easily. For that reason I'll be upfront about it and leave all the Google street IDs on the photos. It'll be one of those rare FNY pages (except the ones by Gary and Sergey) that I didn't take any photos at all.
To be sure — there are plenty of parkways and expressways that go uninterrupted for miles, but I'm not talking about those here; I'm referring to local streets that go without interruption. As a rule, you'll find them in relatively depopulated areas, but there re exceptions to that rule. Without a doubt, I'm going to miss a few. Let me know in Comments, and if I get enough, I'll do a Part 3.
Brooklyn
Green-Wood Cemetery was established in 1838, and Brooklyn's street grid was laid out and built around it. In 1862, a steam railroad called the Brooklyn, Bath and Coney Island Railroad was constructed by future NYC mayor Charles Godfrey Gunther between Green-Wood and Coney Island, mostly along a plank road that became today's New Utrecht Avenue. Eventually a large trolley and subway yard (the 36th-38th Street Yard) was built southeast of Green-Wood and east of 39th Street; the trolley facilities were converted to buses, with the current Jackie Gleason Depot opening in 1984.
36th Street and 37th Street proceed relatively uninterrupted along the south side of Green-Wood Cemetery, with the bus depot and train yard separating the two streets from the neighboring Sunset Park grid. 36th Street runs two blocks east from 5th Avenue, takes a brief zag as the cemetery border is irregular, one block along 7th Avenue, then a lengthier straightaway on 37th Street to Fort Hamilton Parkway, with the only intersection the north end of 9th Avenue where a stop on the West End BMT subway (D train) is located in a 1915-era station house that was recently remodeled (seen here on this FNY page).
Columbia Street runs southwest from Atlantic Avenue where it meets the Brooklyn-Queens Expressway and is a main drag in Cobble Hill, the west end of Carroll Gardens, and extends into Red Hook, running through the Red Hook Houses and past Red Hook Park. South of Halleck Street on the south end of the large Ikea furniture complex, things get a little weird as Columbia Street runs uninterrupted for about a mile on a peninsula that forms a breakwater between Gowanus Bay and Erie Basin. The lengthy section is lined with bus parking, an NYPD lot for impounded vehicles, and various industrial sites. A pedestrian/bike path facing Gowanus Bay accompanies the road.
Brooklyn's Furman Street runs along the East River waterfront for about 3/4 mile between Atlantic Avenue and Fulton Street, but in that long stretch intersects with only a couple of streets in between: Joralemon St. and tiny Doughty Street (three, if you count a dead-end stub of Montague). Brooklyn Heights is called thus because most of it overlooks the East River on a steep cliff; two parallel streets, Columbia Heights and Furman, are atop the cliff and at the bottom of it, respectively.
For most of the 20th Century the story of Furman Street was also the story of the New York Dock Company, which operated a carload operation along Brooklyn's waterfront from Brooklyn Heights all the way south to Red Hook. Carfloats containing railroad cars would be floated across NY Harbor from New Jersey, bringing goods to three separate freight terminals: Fulton, Baltic, and Atlantic. Brooklynites watching from the Promenade would take in this busy activity looking down on Furman Street. The dock buildings above would be taken over by light industry in the intervening years to the present.
Furman Street also fronted passenger ferry lines in the 19th Century, and later international shippers and passenger lines such as Royal Netherlands, the Wilhelmsen Line, the Colombian Line, and the W.R. Grace, Munson, Nippon Yushen Kaisha, and Isthmian Lines.
In the late 1940s Furman Street's aspect would completely change as the cantilevered Brooklyn-Queens Expressway was built atop it, with the top layer on the cake given over to the Brooklyn Promenade, which opened in 1950. Sixty years later, Brooklyn Bridge Park was extended down Furman Street's west side, replacing the old NY Dock buildings and all traces of the surface railroad that connected the buildings.
Furman is poised to see more changes, as plans call for a temporary BQE to rise above it while the current BQE and Promenade are rebuilt.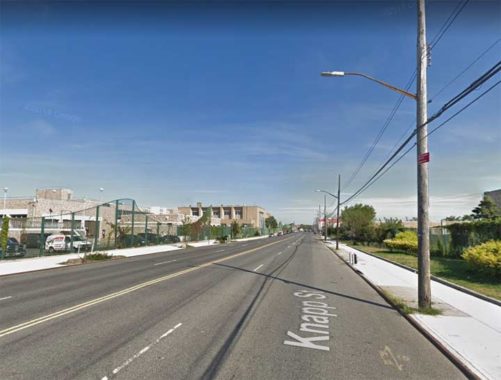 Knapp Street is the easternmost of a passel of north-south named streets in Sheepshead Bay, which in general run from the diagonal Gerritsen Avenue south to Emmons Avenue, which runs bayside. The streets take the place of numbered streets east of Nostrand Avenue, which stands in for East 30th Street. They have names because the numbering system follows the Gerritsen Avenue diagonal, proceeding east from that avenue, as well as a southeast angle in the grid south of another diagonal, Flatlands Avenue. The streets are named for now-forgotten early 20th Century real estate developers.
Knapp Street is the widest of the bunch, and along with Batchelder, is the only uninterrupted named street in the sequence. The lengthy uninterrupted stretch runs between Avenue Y and Voorhies Avenue and has only ben there since the 1970s, when the Coney Island Wastewater Treatment Plant was built in the roadbed of Avenue Z. The pungent odor pervades the region especially in the warm months. How did the local City Councilman and residents ever agree to having it built amid a residential neighborhood?
Ocean Avenue, which literally runs south from Prospect Park to the Atlantic Ocean (along with its compadre to the west, Ocean Parkway) shows up on Kings County maps as early as 1873, when it was in the planning stages before the rest of the overall grid was plotted out. It takes the place of East 20th Street in the grid, and is lined nearly without exception by multifamily apartment houses, some of which boast exceptional design; there's an occasional church, as well.
Ocean Avenue runs along the east end of Prospect Park for about a mile or so between Flatbush and Parkside Avenues, with the exception of an intersection with Lincoln Road, which enters the park. Its isolation came about because Ocean Avenue also runs west of the open cut for the Brighton subway line, on which today's B and Q trains run. The subway began life as the Brooklyn, Flatbush and Coney Island Railway, a steam railroad that began service in 1878. 
Running through East Williamsburg and its titular neighborhood, Maspeth Avenue is an odd curio that appears in two separated sections of about equidistant lengths in Brooklyn and Queens, interrupted by Newtown Creek. Beginning at the confluence of Metropolitan and Bushwick Avenues, Maspeth runs past Cooper Park and the old Greenpoint Hospital before becoming one of NYC's lengthiest dead ends past Vandervoort Avenue. It's nonetheless heavily trafficked by trucks entering and leaving the East Williamsburg Industrial Park, which has always been a Creek-side industrial area serving Brooklyn Union Gas and its successors, Keyspan and National Grid.
If you travel far enough east on Maspeth, you'll see a fenced-off intersection with Varick Avenue, still sporting its old Belgian block paving. This section of Varick has ben on private National Grid property for many years.
Maspeth Avenue was formerly a planked toll road bridged over Newtown Creek and extending east to the heart of Newtown at Queens Boulevard and Broadway. While the bridge disappeared in the 19th Century (its abutments are till there) and it was rerouted on the Queens side, you can still trace its path on the remaining Maspeth Avenue in Queens and the east end of Grand Avenue east of its intersection with Flushing Avenue just west of Mount Olivet Cemetery.
Some time ago, the Department of Transportation gave in to common practice and placed "Poly Place" street signs on the formerly nameless, but busy, stretch of road running from 7th to 14th Avenues, wedged between the Dyker Park Golf Course and Dyker Park itself and the grounds of the Veterans Memorial Hospital. On its own bus stop signage, though, the MTA still stubbornly calls this Cropsey Avenue, which really begins at 14th Avenue.
On turn-of-the-century maps, this road is marked Franklin Avenue, though it hasn't been known by that name for over 100 years. Until relatively recently, the "original" Poly Place ran for one block south of Poly Prep between Battery and 7th Avenues, but in the 1980s the U.S. Army annexed that section and made it part of Fort Hamilton. Later, the lengthier section of road was then named Poly Place.
Queens
The wide, median-ed 164th Street is the widest of Queens' numbered streets, rumbling south from Flushing Cemetery to the Grand Central Parkway; south of that, it gets narrower. It has a brief uninterrupted straightaway that separates Kissena Park from the Kissena Park Golf Course.
Francis Lewis (1713-1802) was a Welsh merchant who emigrated to Whitestone, then part of Flushing, in 1734. In the 1750s he entered politics, serving as a member of the New York Provincial Congress, and was later elected as a delegate to the NY Continental Congress in 1775. His mansion was destroyed by the British the following year, aware he supported the patriots' cause. Lewis was the ony signer of the Declaration of Independence from Queens County and is alos remembered by Brooklyn's Lewis Avenue.
In the 1930s, when Cross Island Parkway was under construction, an already-extant road named Cross Island Boulevard was renamed Francis Lewis Boulevard. The road was extended south of Jamaica by renaming a number of previously-existing roads.
South of Horace Harding Expressway (the LIE), Francis Lewis Boulevard enters the west end of Cunningham Park and runs on a number of straightaways, intersected only by 73rd Avenue and Union Turnpike before entering the semiprivate Holliswood neighborhood south of Grand Central Parkway.
Linden Place runs between Northern Boulevard at Flushing Town Hall north past the Whitestone Expressway, where it runs through one of Queens' largest undeveloped areas, the marshy remains of Flushing Airport.
Flushing Airport was opened in 1927 as Speed's Airport (named for former owner Anthony "Speed" Hanzlick). It became the busiest airport in New York City for a time. However, North Beach Airport opened in 1939 and, as LaGuardia Field, it quickly took business away from the older airfield. During World War II Flushing Airport was used by the Civil Air Patrol to operate target towing & tracking missions; two CAP pilots were killed in 1943 during tow target & tracking exercises.
As the neighborhood around the airport was gradually built up, the airport became a liability. By the 1970s it was used mainly by skywriting planes and as a blimp port. A fatal crash into a neighborhood house in 1977 convinced locals that it should be closed, by 1984 the airport ceased operations. These days, it's basically a huge expanse of weeds and rusted remains, surrounded by miles of chain link fence. Mill Creek winds through the vast expanse and the area is quite marshy.
In the 1990s, distribution plants for the New York Times and US Postal Service were constructed on former airport property along the Whitestone Expressway. At around the same time, a large shopping mall was built on 20th Avenue just north of the old airport (because of that, I didn't include 20th Avenue on this page, as it has plenty of entrances and exits despite not intersecting with a street grid).
For nearly 20 years, Linden Place and 23rd Avenue, which run through the former airport, were open only to emergency vehicles and largely reclaimed by nature. Flushing Airport itself was full of relics from when it was active, including old hangars and sheds with rusted fire engines. Around 2010 all the detritus was cleared out, and Linden Place and 23rd Avenue were rebuilt and repaved, but both still run on empty straightaways through what is now empty territory.
Northern Boulevard, coterminous with US Route 25A for most of its length, is one of the longest roads in NYC under one name, as it rumbles from Queens Plaza to the Nassau-Suffolk County border at Cold Spring as Northern Boulevard, a distance of over 30 miles. Route 25A continues through Suffolk County under a number of other names to Orient Point on the north fork of Long Island.
Once it gets east of the Queens-Nassau line, Northern Boulevard enjoys some lengthy distances without an intersection, but it does have one notable straightaway in NYC, at the north end of Alley Pond Park between the Cross Island Parkway and Alameda Avenue. There is a stoplight or two along this stretch to allow traffic into the Alley Pond Environmental Center, some auto repair joints, a restaurant and a driving range, but hit the lights just right and you can blast straight through.
Normally, I'd leave out the various roads in both LaGuardia and JFK Airports, as they're not part of the overall NYC street grid and are administered by the Port Authority and not the Department of Transportation. Most aren't really walkable, though I have been known to enter LGA in East Elmhurst to get to the wondrously Art Deco Marine Air Terminal.
That's not to say I'm not curious about these roads, since they do have street signs that are quite distinct from the usual NYC green and whites. I'll try to get photos of a few on a future foray.
Pan Am Road runs east from the southernmost extension of Lefferts Boulevard between Bergen Basin and the AirTrain track to 130th Place — all within the airport. It's named for the defunct Pan American World Airways, founded in 1927 by Juan Terry Trippe (1899-1981) and at first served cities in the North and South American continents before expanding service worldwide. Its iconic building on Park Avenue north of Grand Central bore its logo at the roofline for many years. The Pan Am commercial flight era ended in 1991 but there is still a historical foundation dedicated to the famed airline.
Review Avenue is a lengthy stretch of road running mostly uninterrupted on the south side of Calvary Cemetery in Blissville. It's also protected from any impediments between 37th Street and Laurel Hill Boulevard by the freight tracks of the Long Island Rail Road Montauk Branch.
The mighty Kosciuszko Bridge, which most New Yorkers pronounce "Koskee-OS-ko" but in Polish is actually closer to "Ko-SHOOS-ko" is the second bridge in the region (joining the Pulaski Bridge connecting McGuinnes Boulevard in Brooklyn with Jackson Avenue in Queens) named for a Pole who fought with the patriots during the Revolution, Andrzej Tadeusz Bonawentura Kościuszko. 
The first K Bridge replaced the small truss Penny Bridge connecting Meeker Avenue and Laurel Hill Boulevard in 1939. Since its main approach was originally on Meeker Avenue (the Brooklyn-Queens Expressway was built much later) it was at first known as the Meeker Avenue Bridge.
The current K Bridge replaced the 1939 span in 2017, though work is now undergoing on its twin span due to open in 2020 — with that bridge containing a pedestrian and bike path. The 1939 bridge had a walkway that was quickly sacrificed to roadway expansion.
As for Review Avenue's name, it's long been speculated. Most likely it is named for funeral processions en route to the cemetery that are 'reviewed' by locals on the side of the road, or less likely, spectators in the cemetery could "review" ships passing down the Creek.
Rockaway Freeway begins and ends at Beach Channel Drive on the Rockaway peninsula, albeit with several miles in between. On older maps, the curved stretch between BC Drive and Beach 108th Street is labeled Wainwright Court, named for the 18th Century developer, and Google Street View adheres to this view, although the NYC Department of Transportation calls it the west end of Rockaway Freeway. This is mostly a no-man's land peppered with gas stations and an electric generator. It ends at Beach Channel Drive and Regina Avenue in Far Rockaway.
For most of its length, Rockaway Freeway runs underneath the elevated trestle built for the Long Island Rail Road in 1942 and used by the MTA subway system, mostly for the A train, since 1956. It's the only road in NYC called a "Freeway"; there are currently two Turnpikes. Because many of the cross streets are blocked by it, it has many a straightaway and the cars are usually pedal to the metal. I've been so fascinated with Rockaway Freeway over the years, I dedicated a complete FNY page to it.
You don't think of Roosevelt Avenue running through unimpeded territory, as for most of its length under the Flushing Elevated (#7 train) it's in some of Queens' most concentrated and crowded neighborhoods, from Woodside to Jackson Heights to Corona. Yet, here it is as it is bridged over the Flushing River. Between the Grand Central Parkway and College Point Boulevard, it's intersected only by 126th Street (soon to be called "Seaver Way," exits and entrances to Citifield, and Willets Point Boulevard which runs through the mostly abandoned Iron Triangle. Thus, it works up a pretty decent straightaway as it crosses the river.
Roosevelt Avenue, named for Teddy Roosevelt, was created in the early 1910s as an extension of Greenpoint Avenue to run beneath the new elevated railway that was being built. East of Jackson Heights, it assumed the path of already-existing streets.
Staten Island
Two major roads link Staten Island's southeast shore communities of Arrochar, South Beach and Midland Beach –Hylan Boulevard, which I generally avoid in my walks since there, it's an endless parade of honking cars, fast food joints and shopping malls, and Father Capodanno Boulevard, which bruits its way through nothingness for most of its length, from Lily Pond to Midland Avenues. Father (Vincent) Capodanno Boulevard was named for a Staten Island priest who won a posthumous Medal of Honor for his actions under fire during the war in Vietnam in 1967. I'm old enough to remember when it was called Seaside Boulevard.
Though there are a number of stoplights that control access to some catering halls and the Ocean Breeze Athletic Complex, Capodanno Boulevard is met by no cross street between Sand Lane and Seaview Avenue, a distance of about two miles.
If Staten Island has a badlands, it's in the little-known "community" of Chelsea, which has few residents these days. Many are unaware that Staten Island has, or had, a community called Chelsea, which was established as Prallstown in the 17th Century after the Prall family, for whom Prall's Island, now a nature preserve, in the Arthur Kill waterway is named. Prallstown was also called Peanutville because the locals would sell peanuts to people crossing the ferries between the island and New Jersey, none of which survive today.
Chelsea Road zigzags from South Avenue north through Saw Mill Creek Marsh and is bridged over the creek itself. The road runs north to Bloomfield Avenue in Bloomfield, which was once home to the vast GATX oilfields. The site was once considered as the site for a NASCAR racetrack, but community opposition as well as badly maintained roads that flood frequently scotched the plan. As Nathan Kensinger reports in his fascinating essay, the wetlands, formerly a dumping ground, is slowly being restored to a natural state. With all the recent hoopla about Amazon building an office complex in Hunters Point, the company already has a NYC foothold here, as Amazon has already constructed an 855,000-square-foot warehouse on Bloomfield Avenue.
Meredith Avenue, which is without a sidewalk for much of its length, runs from "downtown" Travis north across the West Shore Expressway to South Avenue in Chelsea. It's named for early property owner William T. Meredith, as is the wilderness area Meredith Woods. The only time I ever walked this route, likely Staten Island's most isolated route, I noticed some crows circling overhead. Or were they buzzards?
Meredith Avenue runs all the way to the Arthur Kill waterfront, where you'll find a Roto Rooter office as well as an asphalt plant. The West Shore Plaza shopping mall, including a Modells and a Chuckie Cheese, interrupts the isolation near Meredith and South Avenues. You'll also find a trampoline and paintball park.
Speaking of isolated wildernesses, River Road issues from Chelsea Road in Bloomfield and runs through Saw Mill Creek Marsh across freight tracks to a power plant. The road is so isolated that the Department of Transportation doesn't bother to light it, and marks it with one street sign. The tracks connect the Arlington Yards in Mariners Harbor to a transfer station south of Travis and north of Fresh Kills Park.
South Avenue is aptly named as it runs from Mariners Harbor southwest to Chelsea, getting less and less populated as it goes. There's a lengthy straightaway between the Staten Island and west Shore Expressways with just one or two intersections, but a number of entrances and exits to the Corporate Park of Staten Island and the adjoining Teleport, built in the 1980s.
The complex is run by entrepreneurs/hoteliers Lois and Richard Nicotra; a route within the corporate park is called… Lois Lane.
Check out the ForgottenBook, take a look at the gift shop, and as always, "comment…as you see fit."
3/31/19