Restricted by the Covid crisis, or the Great Infection, In May and June, only camera foraging I did was in the neighborhoods surrounding my home in Little Neck, so that pretty much meant Little Neck, Douglaston and Bayside. Beginning in June I expanded things into northwest Queens, with a Long Island Rail Road ride to Woodside, and then in July, I resumed operations in Manhattan. And, during the week the N train is running like a Swiss watch: usually the MTA is loath to run it express in Manhattan, but these days I can get it at Queensboro Plaza and be in Brooklyn in half an hour, so I have roved about in Sunset Park. A NYC Ferry ride also took me to DUMBO recently.
Today, though, I was thwarted when weekend trackwork shenanigans resumed on the #7 train and crowding ensued. I'm not yet ready to risk my health with subway crowds, and thus I aborted today's scheduled mission to Williamsburg, returned home and took a bike ride instead; I'll do Williamsburg during the week, if a miracle doesn't happen and I'm called in for work someplace, at home or away.
In recent weeks I've been covering colonial-era Queens roads that have remnants today, such as Laurel Hill Boulevard and Old Bowery Road (Celtic Avenue). Today, though, I'll be talking about a colonial-era route in western Queens that is actually mostly intact and follows the same route it did in the 1700s. It goes under a variety of names today, but then it was colloquially called Hellgate Ferry Road.
I'l return again to the 1852 Dripps atlas of Queens County, since it gives an excellent rendering of the old roads before the rest of the street grid was built over the next few decades. I've marked the course of Hellgate Ferry Road in red and its present names in black.
I exited the LIRR at Woodside and walked west on Woodside avenue and Newtown Road west to Astoria Square: Newtown Avenue at 21st Street. A later trip took me east on Woodside Avenue as far as Broadway: I will cover that walk on another FNY page.
Newtown Road isn't named for the neighborhood where it is, but for the town it runs to; Newtown, a former division of Queens County, is now roughly the neighborhoods of Elmhurst, Middle Village, Maspeth and Glendale.
Like a number of NYC streets that run aslant the overall grid, Newtown Road is one of the older roads in the area. It's an Indian trail that became the main road to early Astoria settler William Hallett's farm in the mid-17th century, and to the treacherous Hell Gate, the East River crossing to Manhattan. Its eastern stretch ended in the heart of Newtown, now Elmhurst, and was called Hurlgate, or Hellgate, Ferry Road; and later named for the town through which it passed, becoming Woodside Avenue. The road twisted and turned, to avoid topography like hills and swamps. It was once the sole road between the East River and the heart of Newtown, still the heart of Elmhurst at Broadway and Queens Boulevard.
Heading west on Roosevelt Avenue toward Woodside Avenue. The Beerkeeper proudly displays American and Irish flags. In the 20th Century, Woodside, much like Woodlawn in the Bronx, was an enclave for Irish immigrants; though Irish account for only 6% of Woodside residents today, a legacy is the many Irish bars found in the area and in neighboring Sunnyside.
The MTA has installed a metallic canopy under the elevated and above Roosevelt Avenue. This is in response to bolts, screws, pipes and other debris that had been falling onto the avenue, damaging automobiles but fortunately, not injuring anyone as yet, under the 105-year-old structure (as of 2020).
A commenter (see below) says this canopy is due to the infrastructure being sandblasted and painted.
Woodside and Roosevelt Avenues meet at a tight V, with the small park and sitting area called Carl R. Sohncke Square, named for a WWI Woodsider killed in action.
The NYC Parks entry for Sohncke Square has a capsule Woodside history:
The surrounding neighborhood of Woodside, called "Suicide's Paradise" by the colonials for its harsh environment, was settled in the late 17th century by Joseph Sackett. Between 1830 and 1860, the area grew and became home to mansions owned by John Kelly, William Schroeder, Gustav Sussdorf, and Louis Windmuller, all men from Charleston, South Carolina. Woodside's moniker comes from a correspondence written by John Andrew Kelly to his son, John A. F. Kelly, entitled "Letters from Woodside," inspired by the unending run of trees visible from his writing desk. The younger Kelly, publisher of The Brooklyn Times, printed the letters for the enjoyment of the paper's readers. Laid out in 1869, Woodside exists today as a patchwork of industrial, commercial and residential areas.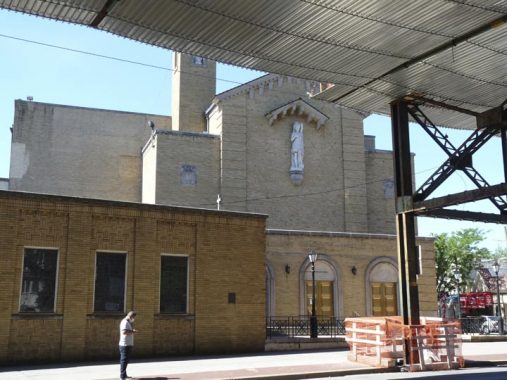 St. Sebastian's Church at Roosevelt Avenue and 58th Street was founded in 1894, with its first services held at the Woodside firemen's hall at 39th Avenue and 58th Street in a building that still stands, though heavily altered. Two years later its first proper church building was constructed at Woodside Avenue and 58th Street at the former address of a prominent early Woodsider, John Kelly; that building was later replaced by the parish school, which is still standing. A gilded plaque commemorates St. Seb's parishioners who perished in "The Great War."
The current church building was once used for much more secular activities: it is the former Loew's Woodside Theater, a vaudeville and movie palace. It was "converted" in 1952. President Bill Clinton visited St. Sebastian in November 1998 to stump for Chuck Schumer in his successful bid to unseat incumbent Senator Al D'Amato that year.
The parish namesake, St. Sebastian, is usually portrayed as a youth who has just been shot with arrows. According to Catholic tradition, Sebastian was indeed a martyr under the 3rd Century Roman emperor Diocletian, but he was healed of his wounds from the arrows and was later beaten to death with clubs. If at first…
St. Sebastian's, like many other Catholic parishes, has built the equivalent of a small town surrounding it. The original rectory, or priests' residence, still stands on 57th Street near Woodside Avenue across from a 1960s-era parish center. The rectory preserves the first church building's bell. The original school building from the 1920s is at Woodside Avenue and 58th Street.
Leaving Roosevelt Avenue, but here's an entire FNY series on it.
An Ionic-columned monument at Woodside Avenue and 57th Street commemorates Woodsiders who perished in the Vietnam War between 1960 and 1975. Hey, who's that in the reflection?
Will the Afghanistan and Iraq wars that began in 2001 beget any major memorial monuments or plaques?
Windmuller or Doughboy Park is actually the largest park in either Sunnyside or Woodside and is located in a hilly, irregular plot on the border between the two neighborhoods between Woodside Avenue, 39th Road, 52nd Street, 39th Drive, and PS 11 (Kathryn Phelan School). It is located on the former Windmuller farm.
Originally titled "The Returning Soldier," the statue is perhaps better known for its pedestal inscription "Lest We Forget."
The monument was commissioned by the Woodside Community Council at a cost of $5,000. Its granite pedestal was designed by C. N. Kent. The sculptor Burt Johnson was born in Flint, Ohio, and lived for a time in Flushing, Queens. Johnson studied with sculptor James Earle Fraser and Louis Saint-Gaudens, brother of the renowned artist Augustus Saint-Gaudens. Johnson received many public commissions from coast to coast, and he also created the doughboy statue for the Flanders Field Memorial (1929) in Manhattan's Dewitt Clinton Park.

Unlike more active war memorial figures, Johnson's depiction of the doughboy portrays a somber World War I soldier, with a downcast bandaged head, holding his helmet in front and his gun to the side. The sculptor's health was failing as the piece was being completed, and he supervised the final work from his wheelchair.
Woodside residents remember that even before the statue was erected local soldiers gathered here at the "mustering ground" before departing to fight in World War I. Ten men who left from this site did not return as they made the supreme sacrifice and gave their lives for their nation. The statue was dedicated on Memorial Day in 1923. The ceremony included music by St. Mary's Military Band, a rendition of the "Star Spangled Banner" by the children of P.S. 11, the doughboy's unveiling by Gold Star Relatives, and blessings by ministers from St. Paul's and St. Sebastian's Churches.
In 1928, the American Federation of Arts selected the Woodside Doughboy as the best war memorial of its kind. In 1990, the Woodside Doughboy benefited from an extensive conservation, and in 1995 and 1998 the site was upgraded with new plantings and fencing. The improved statue and park remain a neighborhood focal point, where, since the dedication in 1923, community members have gathered at the monument each Memorial Day for patriotic ceremonies. NYC Parks
The evocative Doughboy is a haunting rendition of a man who has survived where his friends didn't.
Dueling dedications: opposite corners at Woodside Avenue and 56th Street are named for prominent Woodsiders: Edward Fowley (1926-1999) a Korean War veteran who founded an orphanage for abandoned children while serving there; back in Woodside, he raised funds for the Woodside Veterans Memorial (see above) and was President of The Woodside Senior Assistance Center; and Alice Cardona (1930-2011), director of the Puerto Rican Association for Community Affairs and cofounder of Atrévete, a voter registration and political participation program. Info: Oldstreets
A sampler of ancient Woodside Avenue houses along its curve between 55th Street and Barnett Avenue.
At 39th Avenue, itself a colonial-era route (Dutch Kills Road, later Middleburg Avenue) Woodside Avenue curves north. Here it runs along a dry patch between two formerly swampy areas.
A rather unusual apartment building at Woodside Avenue and 39th Avenue, with a deli on the ground floor, but only two windows on the 39th Avenue side.
This massive Tudor building at Barnett and Woodside Avenues is too massive to get into a single photograph. It hosts TSBA Controls (Thomas S. Brown Associates), New York based corporations specializing in the distribution, design, installation and service of automatic temperature controls and building management systems, according to its website.
The building was constructed in 1923 as the Latham Litho (Printing) Company, once planned as the centerpiece of an industrial park that would include worker housing.
Far Rockaway native fashion designer (mainly shoes) Steve Madden (1958- ) has an office on Barnett Avenue opposite the former litho company building. He served three years in the clink for stock manipulation, money laundering, and securities fraud from 2002-2005. His fashion company earned $475M by 2006.
I liked 38-29 Woodside Avenue as it still has its original door and decades old gold leaf for the address.
Woodside Avenue is overpassed by two railroad trestles. This one carries all branches of the Long Island Rail Road (the Port Washington branch splits off east of the Woodside station). Accompanying it on its north side is the extremely narrow 38th Avenue, once called Rowell Avenue.
I've written about the old NY & Queens RR trolley terminal at Woodside Avenue and Northern Boulevard so many times (it was the subject of the first published Forgotten NY page in March 1999) it must be reaching critical mass.
It was built in 1896 to serve the New York and Queens Railroad Company, which was formed that year when the Steinway Railway Company and Newtown Railroad Company sold out to a delegation of Philadelphia investors interested in building a trolley line in Queens.
The towers could be seen for miles. The railway building contained the largest car barn in Queens and serviced trolley cars from Flushing, College Point, Jamaica and Long Island City. In its day, it was every bit the transportation hub that the current Jamaica LIRR station is. The coming of the Independent Subway system, along with the advent of motorized buses, spelled doom for the NY & QCR, along with other trolley companies citywide. On September 5, 1937, the final trolley rolled down Northern Boulevard.
The trolley barn and its clock were slated to be torn down in the mid-1980s, but preservationists saved it. It serves a role in the Tower Square shopping mall. Currently the former trolley barn awaits a tenant; for many years, a Pizza Hut occupied the ground floor.
A second railroad trestle passes Woodside Avenue at 37th Road. This one is double-tracked and carries Amtrak trains en route for the Hell Gate Bridge and the upstate suburbs and New England. The white building, now home to a laundromat, was another building associated with the NY & Q.
At the north end of Woodside Avenue at Northern Boulevard is the apartment complex called The Woodside Houses.
The Woodside Houses in Queens has 20 six-story buildings with 1,358 apartments housing an estimated 3,442 people. Completed December 30, 1949, the 22.3-acre complex is between 49th and 51st Streets, 31st Avenue and Newtown Road. NYCHousing Authority
There are also original elegant blue and white tin directional signs, as well as artwork depicting jazz greats such as Billie Holiday and Glenn Miller arrayed along the ground floor.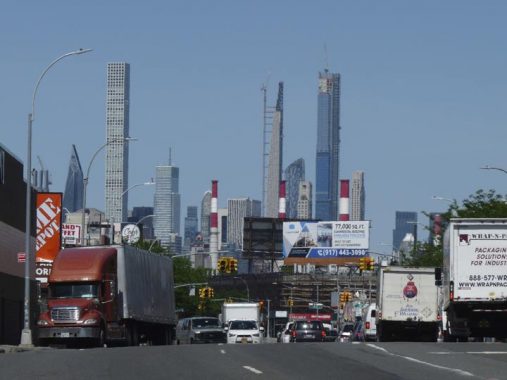 Looming, or presiding, depending on your point of view, over the western end of Northern Boulevard are a group of very tall, newly constructed residential towers that rival One World Trade Center for Manhattan height supremacy. These towers are located in the West 50s between Park and 6th Avenues.
The old Hellgate Ferry Road continues past Northern Boulevard, but under a different name: Newtown Road. Auto traffic cannot proceed directly from Newtown Road to Woodside Avenue; autos must first dogleg onto Northern Boulevard and wait for traffic lights to continue between the two roads.
Once past the Woodside Houses, Newtown Road encounters Queens' Broadway, where there is an entrance to the IND 46th Street station. It is part of the local tracks belonging to the Queens Boulevard Line. In Astoria and Woodside, express trains run on a straightaway under Northern Boulevard while locals loop along Steinway Street and Broadway. The two branches meet west of the 65th Street station, and after an express stop at Roosevelt/74th, all tracks travel east under Broadway and then Queens Boulevard to terminals in Forest Hills, Jamaica Hills and Jamaica.
The yellow sign on the post tells subway riders of the new policy of shutting service between 1 and 5 AM, so that workers can clean station surfaces during the Covid Crisis. However, ridership levels will seemingly determine if service ever returns to overnights, a NYC subway practice since inception of service in October 1904.
West of Broadway, Newtown Road is one-way (heading east toward Northern Boulevard).
At Newtown Road and 46th Street we find some older buildings that have odd angles. This is the last remnant of an old village called Middletown (likely called because it lay between old Astoria and Newtown) instituted in the 17th Century. In 1721 one of Queens' first schools was located here at the confluence of Newtown and Old Ridge Roads. British and Hessian troops marched by the school during the American Revolution. A century later, some schoolboys found a cache of gold coins worth $840 in its walls, likely hidden during the Revolution.
Today, the school is long gone, but Old Ridge Road still exists in the form of a curving driveway behind the green house on the right (46-02 Newtown Road) in the above Gallery (as always, click on the photo for a larger view). Another piece can be found between 37th and 38th Avenues and 29th and 30th Streets, and an old house is still turned to face the now-disappeared road on 33rd Street south of Broadway.
Newtown Road intersects 31st Avenue at 43rd Street, creating a complicated intersection with six separate triangles. Large apartment buildings were constructed facing the intersection.
A grouping of older residences at Newtown Road and 42nd Street. They have been streamlined a great deal over the years; here is how they appeared in 1940.
Powhatan Democratic Club, 41-05 Newtown Road. The sign looks much the same as it did in 1940. The political club is now officially known as the Powhatan and Pocahontas Democratic Club. Chief Powhatan (approx. 1547-1618), whose actual name was Wahunsenacah (spellings vary since the Native American tribal leader of course did not spell his name in English) was a leader of the Powhatan faction of an alliance of Algonquin people living in what is now the Tidewater area of Virginia; Powhatan and his daughter, Pocahontas, were encountered by British settler Captain John Smith in 1607.
Established in 1900 or 1901 (the sign and the website give different dates) the Powhatan is one of the oldest extant political clubs in the country. The building itself goes back to 1907 or so, according to the Newtown Pentacle's Mitch Waxman, then writing for Brownstoner.
Newtown Road and 41st Street. Northwest and western Queens has some of the city's most attractive residential housing on the city, at least on the exteriors, with rows of yellow-bricked attached housing, located mostly in Astoria and Ridgewood. Some, but not all, were built by Gustave X. Mathews with bricks from the Balthazar Kreischer kilns in southwest Staten Island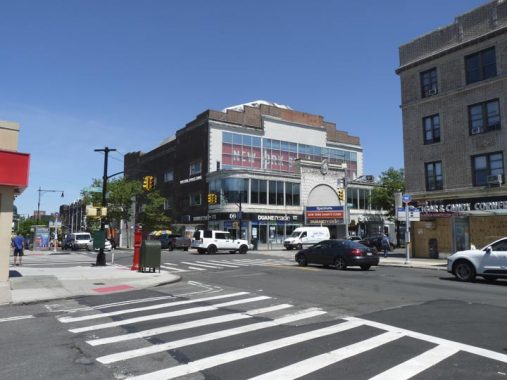 Between Newtown Road and 30th avenue, the Hellgate Ferry Road's former path runs west along 30th Avenue to just past 33rd Street. 30th Avenue is one of my favorite east-west routes in Astoria, as it hosts a lively retail sector.
The former Loew's (pronounced incorrectly as Low-ee's by New Yorkers) Astoria Theatre stretches on 30th Avenue, fronting on Steinway Street, rear-ing on 38th. The Astoria opened in November 1920 by the Loews organization as a 2750-seat, one-screen, one-auditorium venue that, like most theaters of its time, was also home to musical and vaudeville acts. It survived as a theater until fairly recently, closing on December 26, 2001 as the United Artists Astoria Sixplex. Home to a Duane Reade drugstore and a gym chain now, it's still quite recognizable as a former theater, with its grand arched entrance and marquee still intact.
Some apartment buildings have names above the door, and sometimes, the names give clues about former street names. Grand Court, 30th Avenue and Steinway, was built when 30th Avenue was still Grand Avenue
There's a roundabout connection between Hellgate Ferry Road and Queens' present Grand Avenue, which commences at Broadway and Queens Boulevard, eventually crossing Newtown Creek into Brooklyn. See the FNY 30th Avenue link.
I keep saying it but…
I haven't been in Queens Comfort yet but one of these days, I will probably visit, budget allowing. So-called comfort food is my kind of thing –the lunch menu features pulled pork, various burgers, waffles and chicken, tater tots and gravy, a Southern-type menu. Reviewed fairly decently. The only objection I have is that they apparently don't carry Coke or Pepsi. I was dismayed when I heard they had to vacate their old location on 30th Avenue east of Steinway Street, but I see they have relocated here at 36-18 30th.
Dominie's Hoek takes its name from Hunters Point's original name. The region was originally settled when a tract of land was awarded to Everard Bogardus, a Dutch Reformed minister (dominie), in 1643. "Hoek" in Dutch means "place" or "locality" and the word can be found in Brooklyn names like Red Hook and Varkens Hook ("place where pigs are sold"). Dominie's, on 30th Ave. between 34th and 35th Streets, is apparently similarly inspired.
Hellgate Ferry Road breaks northwest from 30th Avenue and 33rd Street, with the branch called Newtown Avenue. Since it runs diagonally to the grid, unusual building angles are the result.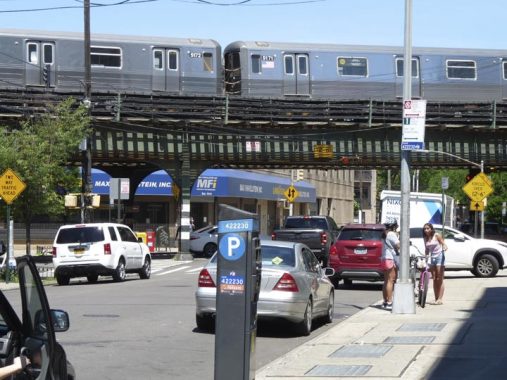 The Astoria elevated (N/W trains) runs above 31st Street at Newtown Avenue. The line, which opened in the late 19-teens, celebrated its centennial by receiving new state of the art stations beginning in 2017.
Newtown Manor, large Deco apartment house at Newtown Avenue and 27th Street.
Across the street, old and new Astoria meet at a modest two story house and the high rise Newtown Tower. Zager and Evans would like the address, 25-25 Newtown Avenue.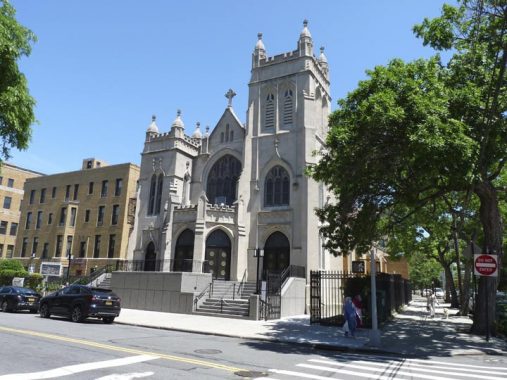 At Crescent Street, filling the block north to Astoria Boulevard., is Our Lady of Mount Carmel Church, which calls itself the "Mother Church of Queens County." It's one of the borough's oldest Catholic parishes, instituted in 1840. The present white limestone structure dates to 1873 with a 1916 enlargement. Other handsome buildings in the Mt. Carmel complex include the parish rectory and the Young Women's Leadership School of Astoria. The parish was founded further west in Astoria Village, and the parish churchyard can still be found at 21st Street and 26th Road; the grounds are known as the "Irish Famine Cemetery" since so many Irish immigrants fleeing the 1840s potato famine now rest there.
In polyglot New York City, masses at Mount Carmel are held in English, Czech, Slovakian, Italian, Spanish and Vietnamese. Interestingly, Vietnamese uses Roman letters, with plenty of accents, in its orthography.
Disappointingly, many Catholic parishes have not had the financial footing to keep their schools open. When I was a kid, this wasn't the case since in the Boomer years, classes were overflowing with as many as 50-60 children per class. This was no problem for the nuns, who augmented the discipline youths received at home. We were well behaved, and learned the material.
Mt. Carmel's school (far left) is now The Young Women's Leadership School of Astoria.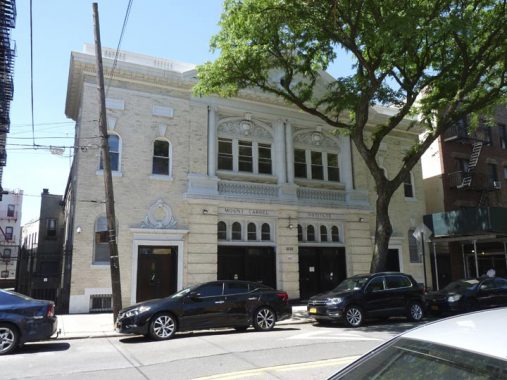 One of the most perfect buildings in Queens, Mount Carmel Institute on Newtown Avenue between Crescent street and 23rd was built in 1909 [Francis J. Berlenbach, arch.] It was once the parish hall of Our Lady of Mount Carmel Church (see above) but today it functions as a concert venue.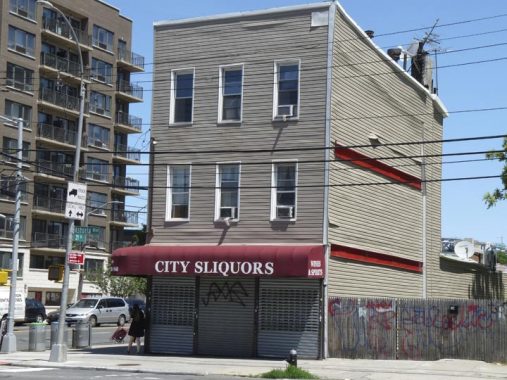 A clever liquor store sign at Astoria Boulevard where it meets Newtown Avenue and 21st Street.
At Astoria Square (Astoria Boulevard, 21st Street, 27th Avenue and Newtown Avenue) is one of Astoria's more distinctive buildings, the former L. Gally Furniture store.
In 1889 L. Gally established a furniture store and built this handsome four-story brick building in the western "V" formed by 27th Avenue and Astoria Boulevard. The furniture store lasted just a few decades, but this distinctive building with its cupola, now overshadowed by a high rise on the opposite side of Astoria Boulevard, has "nonetheless persisted." It has been nicely restored within the past decade. It's called Astoria's Flatiron Building, but the actual Flatiron Building should be called Manhattan's L. Gally Building — it preceded it by 12 years.
I'll kick it in the head at this point, but Part 2, Hellgate Ferry Road east to Elmhurst, is coming.
Check out the ForgottenBook, take a look at the gift shop, and as always, "comment…as you see fit."
9/20/20