During the summer, I did something a bit different — I took NYC Ferry to DUMBO in Brooklyn, which I had always accessed with the F train. I think I mentioned at the time that I'd be doing it more often but talk is cheap and I haven't gotten around to it more frequently. Part of the reason is that it's just a bit arduous for me, since to get to the nearest NYC Ferry from way out in Little Neck, I take the #7 to Vernon Boulevard and catch the boat from the Hunters Point South ferry stop. I wish one could be added in Little Neck at Virginia Point—it would be a short walk from FNY Headquarters. It's not such an outlandish idea given today's walk from Soundview to Pelham Bay, since NYC Ferry runs a route from Wall Street all the way to Soundview.
These days it's rare that I explore a NYC area I haven't yet plumbed but that's exactly what I did in April 2019, when I got the boat and rode up the East River all the way to Soundview. Only the NYC Ferry route to the Rockaway Peninsula takes longer than the ride's 53 minutes.
Flickr album: East River Ferry
GOOGLE MAP: EAST RIVER, SOUNDVIEW TO PELHAM BAY
I don't have time to talk about everything I saw on the ferry ride to Soundview, but I went under some of NYC's most storied bridges, saw new Manhattan and Brooklyn developments on both sides of the East River, checked out the Roosevelt Island tram in action, and took a peek at Gracie Mansion, probably the best view of it any New Yorker who doesn't actually work there gets.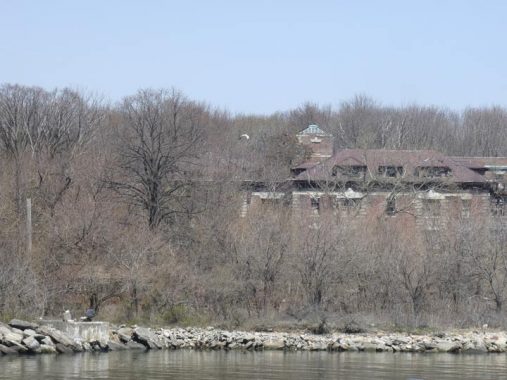 I was actually excited to get a look at North Brother Island, home to a number of former asylums and hospitals, the wreckage of one is visible here. North and South Brother are in the East River, east of Port Morris, Bronx and west of Rikers Island. The Brothers are officially off limits.
The islands were first sighted by Europeans in the early 1600s. In 1614 they were claimed for the Dutch West India Company by Captain Adriaen Block, but remained undeveloped for the next two hundred years.
New York City operated Riverside Hospital on North Brother beginning in 1885. In that era, NYC placed typhus, TB, cholera, yellow fever and smallpox victims on North Brother and Blackwell's (now Roosevelt) Islands. Riverside was subsequently expanded to accept more and more patients from waves of disease plagues in 1886, 1892 (smallpox), 1893 (typhus), 1903 (TB) and 1916 (polio). Mary Mallon, a housekeeper and cook who carried typhoid (a bacterial disease causing high fever and acute diarrhea) but was unaffected by it, had spread the disease to estimated hundreds, causing anywhere from three to 50 deaths; she resisted capture and eluded investigators off and on between stints at Riverside between 1907 and 1915. In that year the City Board of Health declared her a public menace, and she was sent to North Brother for the remainder of her life. She worked in the hospital laboratory and was occasionally allowed to briefly travel to the mainland. She died in 1938.
More from North Brother Island on this FNY page.
One thing you discover when you're on the ferry: the boat runs at a good clip and the breeze is pretty fresh, even on what seems to be a calm day. Hence, it's hard to get a good shot of anything unless you're geared up with a tripod and a viewfinder. I had neither, so this is the best shot of North Brother Island I could manage.
NYC Ferry leaves you off at Clason Point Park, which sits at the south end of Soundview Avenue at a spit of land on the East River where there are two inlets, Westchester Creek and the much shorter Puglsey's Creek.
Europeans have occupied Clason's Point since 1646 when it was called Cornell's Neck when a Thomas Cornell obtained a patent from Dutch governor Willem Kieft. Cornell was a member of John Throckmorton's colony east of here (it's called Thog(g)s Neck these days) that was decimated by a Native American revolt in 1643. For several decades the land was owned by the Willett family (Willett's Point, Queens, is across the East River, where the family also had holdings). Isaac Clason purchased the land in 1793 and his name has been attached to it since.
There's been a public park at Clason's Point since the 1880s, when an amusement park was founded that lasted into the 1930s. In those days there were also numerous gambling houses and saloons; one, operated by the Kane family, featured a singing daughter named Helen, the inspiration of the Betty Boop cartoon character.
Clason's Point remained undeveloped into the early 20th Century, seen on this 1905 map. Clason's Point Road was the only land route in; its name was changed to Soundview Avenue in 1916.
To this day, it's unclear at what point the East River becomes Long Island Sound. My thinking is, at the Throgs Neck Bridge, but that's quite arbitrary because that bridge has been in place only since 1962. Others may think it's at the point where the strait widens considerably between Sands Point in Nassau and New Rochelle in Westchester. In any case the Sound was considered to get this far west in 1916, hence the name Soundview for the avenue and the neighborhood.
Another map from 1905 with more detail. This one shows the grid pattern the city had in mind for the area. The city partially succeeded in getting it built but only some of the names stuck. Interestingly, O'Brien and Patterson Avenues were going to be eastern extensions of East 150th and 151st Streets, but that didn't happen.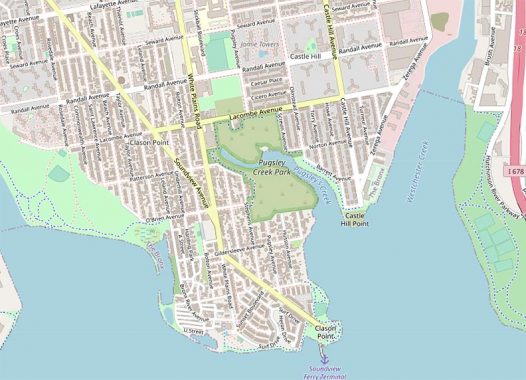 Hagstom, in particular, had a difficult time representing Soundview-Clason's Point correctly in its hand drawn editions, following real estate developers' wishes for the area, but today's Openstreets (above) and Google Maps are the most reliable. West of White Plains Road, the grid was never developed in Harding Park. In the 1980s, the Bronx gained a Sunset Boulevard in a new development.
Sergey Kadinsky has more on Clason's Point here.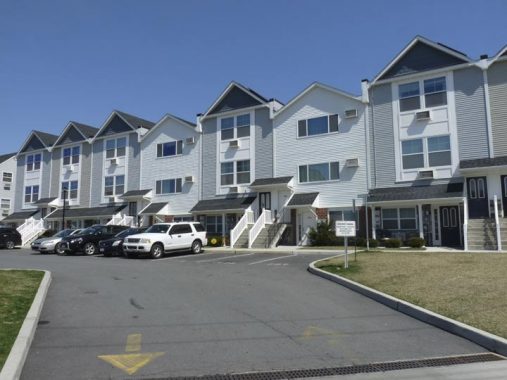 This development of attached homes, which went up around 2015 on a wedge of land defined by Soundview and Cornell Avenues and Westchester Creek, is named Kane Park after the old Kane saloon.
Clason's Point is built on swampy ground, and many of its houses are bungalow-type, no more than two stories high. Sometimes sidewalks are still missing, as here at Gildersleeve and Stephens Avenues.
Pugsley Creek is a short waterway diverging from Westchester Creek in Clason's Point a bit north of the East River. It winds a bit overground as far north as Patterson Avenue. Since 1989, it's been the centerpiece of Pugsley Creek Park, to which the Parks Department has added parcels until as recently as 1999. The park is mainly undeveloped, but there's a public trail along its west end as far north as Lacombe Avenue.
The Siwanoy Indians called Clason's point "Snakapins." One translation is "place of two waters"; Westchester and Pugslay Creeks diverge nearby.
Pugsley Creek Park and Pugsley Avenue aren't named for the pudgy Addams Family caharcter played by Ken Weatherwax, but for a 19th Century landowning family. Pugsley Pizza (one of my favorites for the fare and also the ambience), on East 193rd near Fordham University, was originally located on Pugsley Avenue.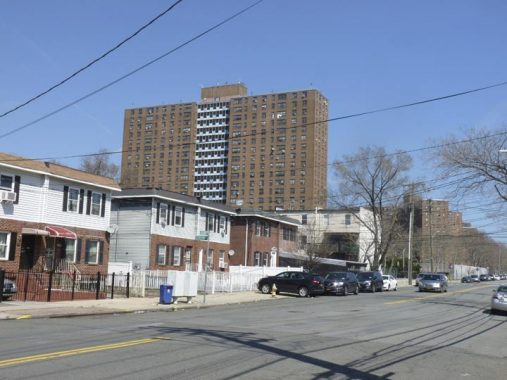 Castle Hill Houses were built by the NYC Housing Authority in 1959, and they occupy a superblock defined by Lacombe, Olmsted, Seward, Cincinnatus and Havemeyer Avenues. Castle Hill Avenue bisects the development.
The project has some interesting lampposts…
The Roman Catholic St. John Vianney and Protestant Fellowship Covenant Church face off across Castle Hill Avenue at Homer Avenue. John Vianney is one of the least elaborate Catholic church buildings I've seen around town. The parish was founded in 1961 and has combined with two other nearby Catholic parishes.
We're getting into the southern end of Castle Hill here. There's a theme on some of the east-west streets: classical Rome and Greece. When Solon Frank developed the area in the first decade of the 20th Century, he imparted a classical theme, naming streets for Homer, Virgil, Cicero, Cincinnatus and Caesar.
I liked this row of brick houses with peaked roofs on Castle Hill and Turnbull Avenues. The north side of Turnbull was developed after World War II.
#1000 Castle Hill Avenue, a.k.a. #2201 Bruckner Boulevard, harbors some classic neon liquor store signs. Note that the name of the store is not displayed on the sign; no doubt, the store is named, but all locals need to know is that they can get what they need here. Many liquor stores around town have venerable illuminated neon signs; there's no need to change them, as long as they still work and get the job done.
PS 36, completed in 1901, bears evidence of the street system of the old town of Unionport, absorbed by the Bronx in 1895 and then into NYC in 1898. "Avenue C" appears on the Castle Hill Avenue side, 8th Street on the Blackrock Avenue side and 9th Street on the Watson Avenue side.
Unionport, laid out in 1851, was among the first towns in the Bronx to adopt a grid street system, and streets were named simply, by alphabet for north-south streets, by numbers east to west. Avenue A is now Zerega Avenue, Avenue B is now Havemeyer Avenue and so on. Its name seems to have something to do with the navigability of the adjoining Westchester Creek, and at one time it was hoped that a major port could be built here.
In the 19th Century, the road that became busy Castle Hill Avenue led to the estate of Gouverneur Morris Wilkins which he had named Castle Hill; eventually mapmakers decided to give it that name.
Church Triangle (or Church Square) is defined by Castle Hill Avenue, Watson Avenue and the Cross Bronx Expressway (before the 1950s, an eastern extension of East 177th Street). Since 1925, it was featured a cylindrical monument topped by a brazier-like structure commemorating area WWI casualties. The square is likely named for Holy Family Roman Catholic Church at Castle Hill and Watson Avenues.
I traveled east on Haviland and then north on Havemeyer, which may be the only NYC intersection with two streets beginning with HAV. Here's a sampler of some of the older buildings at Havemeyer, Gleason and Ellis Avenues. Time, and successive ownership, have stripped the details away from some of these buildings, as you can see in the Municipal Archives here and here.
What do Havemeyer Avenue in Castle Hill and Domino Park in Williamsburg, Brooklyn have to do with each other? German immigrant Wilhelm Havemeyer arrived in America in 1799 and established the W. & F.C. Havemeyer sugar refining company with his brother Frederick and moved it to Williamsburg in 1859. The company became Domino Sugar in 1900 and the Brooklyn refinery continued to operate until 2004, even after its acquisition by a British company in 1988. Over the past few years the site has been redeveloped as a residential complex, office park and public park with most of the older buildings torn down.
Wilhelm Havemeyer's son, William Frederick Havemeyer, was a three-time NYC Mayor and built a mansion in Throg(g)s Neck, hence his presence in the street maps in Castle Hill.
New and old street signs at Havemeyer and Ellis Avenues. Illustrative of my theory that despite common sense, the Department of Transportation prefers to let sun bleached signs remain in place while replacing readable ones with new signs. The city's street sign replacement project (employing upper and lower case type) is now a decade old, but apparently the funds have not been found to complete it.
Some decently preserved dwellings on Havemeyer between Ellis and Newbold Avenues. You can see what they looked like in 1940 here.
Heading east now on Westchester Avenue under the Pelham Bay Park-bound el, here's some well-executed street art.
Westchester Avenue is a very old road; according to the late great Bronx historian John McNamara in History in Asphalt, it was first traced in the colonial era as a path from the Morris family estate to the town of Westchester, whose seat is now called Westchester Square. Until 1874 all of the Bronx was located in Westchester County; it became part of NYC in sections, with most of the Bronx west of the Bronx River annexed that year, east of the Bronx River in 1895 (City Island the following year). The whole territory became the Borough of the Bronx when Greater New York was created in 1898, and finally, the Bronx became a county on its own in 1914.
Westchester Avenue was graded from Coles' Boston Road (now Third Avenue) to the town of Westchester in 1867, when it was known as the Southern Westchester Turnpike (to differentiate it from Westchester Turnpike proper, now followed in great part by US Route 1). Sometime before the turn of the century, as the area gradually urbanized, the name was changed to Westchester Avenue and the tolls were removed.
Westchester Avenue is long enough to support two separate elevated trains, the Wakefield-bound #2 and 5 and the Pelham Bay Park-bound #6.
A flock of the short lamps I call Brownies for their paint color under the el on Westchester Avenue. We're in a transitional period with most NYC lamps going over to LEDs, and a variety of lamps can still be found on these posts including their original "New Gumballs" which conceal a Holophane sodium vapor bucket lamp. These poles have also proven versatile enough to support street signs and fire alarm indicator lamps while they were still being serviced.
A decommissioned fire alarm, opposite Glover Street at the parking lot of Middle School 194, from early in the 20th Century. The FDNY has left many of these in place in case the alarms ever need to be reinstalled.
This sign, likely from the 1970s, points east on Westchester Avenue at Zerega Avenue. Not sure if there's a municipal lot around here.
St. Peter's Church
St. Peter's at Westchester Square is a country church in what is now a decidedly urban area. It was built in 1856 and designed by Leopold Eidlitz when this was an isolated country village along the Southern Westchester Turnpike, and then rebuilt in 1877 after a fire by the architect's son, Cyrus. St. Peter's has existed as a parish since 1693 and this is the third church building to exist on this site. The old St. Peter's Parish House, now no longer standing, actually served very briefly as New York State Capitol in the 1790s when a plague forced lawmakers away from lower Manhattan (Albany was named state capitol in 1797).
St. Peter's churchyard contains many graves dating back to the early 1700s. Feast your eyes on some of them here: brownstone tombstones tend to have their names much better preserved than later marble and limestone graves.
A working ten-bell chime cast in 1923 by the Meneely Bell Co. in Troy, NY is in the copper-clad stone tower.
I'm going to skip over describing what's in Westechester Square; it's long been a staple both on the website and the tours. I headed east on Westchester Avenue past the square and crossed over the Hutchinson River Parkway, heading north on the service road. The first thing north of Westchester Avenue is a dead-end that doesn't make most of the paper maps called Lee Street. In History in Asphalt, historian John McNamara surmises it was named for Revolutionary War General Charles Lee (1732-1782) for whom Fort Lee, NJ was also named. Lee clashed with Washington over battle tactics, was court-martialed, found guilty and expelled from the Continental Army.
There's still a very short street called Libby Place running between Buhre and Mulford Avenues (see map) and the Hutchinson River Parkway. This short street, along with stretches of Buhre and Westchester Avenues, were once part of Pelham Road, a colonial-era road running through the countryside. Libby Place still retains touches from a previous era, such as no sidewalks in spots, bluestone sidewalks in others, and salt box houses that look old even though they're covered in siding these days. The name could refer to a 19th Century landowner, Elizabeth Cornell, whose friends might have called her Libby. I think Elizabeth and Margaret are tied for having the most pet names.
Mulford and St. Theresa Avenues, and the modern St. Theresa Church, erected 1970. From my Westchester Avenue page:
The Bronx has a number of streets that turn up where you wouldn't expect them. While Morris Park Avenue runs through its titular neighborhood, there used to be a second section that ran for a few blocks in the Pelham Bay-Middletown area. It's unknown why this section, formerly known as Liberty St. and Alice Avenue, was renamed Morris Park Avenue. In any case, in 1968 Morris Park Avenue became St. Theresa Avenue in honor of the parish it runs past. St. Theresa was founded in 1927 and the existing, modern church dates to 1970. As with many Catholic parishes, a mini-city has sprung up alongside the church, with a parish school, administration buildings, and priests' and nuns' residences. The original church bell is displayed, and there are post-top lampoosts at the church entrance. A mosaic depicts St. Theresa and Pope Pius XI.
In the Roaring Twenties, Pelham Bay was far from the heavily populated, suburban neighborhood it is today. Indeed, the Bronx itself had only recently seceded from Westchester County and become part of New York City. Farmland covered much of what we now know as Mulford, Mayflower, Pilgrim and Wilkinson Avenues. Where now prominently stands 1950 Hutchinson River Parkway was a water-logged swamp with a meadow and dirt road running through it. One house stood where Hutchinson River Parkway now meets St.Theresa Avenue. A chicken market occupied the area where Mulford Avenue meets Wilkinson Avenue and the area between Pilgrim Avenue and Mayflower Avenue hosted goat farms. St. Theresa Parish
The rest of the walk saw me reach the end of the #6 train at Pelham Bay Park. But I didn't board the train. Instead, I caught the Q50 bus which traverses the Whitestone Bridge back to fabulous Flushing. Today, I was in three boroughs, and caught sight of yet another.
Check out the ForgottenBook, take a look at the gift shop, and as always, "comment…as you see fit."
1/24/21