It's time for another entry in FNY's Cross Streets of NYC series! I have been walking Manhattan's numbered streets from east to west or vice versa so compulsively, I've decided to create a new FNY category to hold them. Over the years, I've done this quite a few times and I was amazed at how much stuff I missed and how much material I knew about and posted here and there, but never really formalized or categorized. There's a separate universe in each NYC numbered cross street. Today's jaunt brought me to 44th Street, which I walked east from 12th to 1st Avenues, from Hell's Kitchen to Turtle Bay.
The block of West 44th between 5th and 6th Avenues is among the most varied and interesting in Midtown for architecture and history. There are two hotels on the north side of the street bearing Native American-associated names. The first, the Algonquin, is the more famed of the two.
Constructed in 1902, the Algonquin is famed for its literary associations; in the early decades of the 20th Century it played host to literary and theatrical guests, and one particular group, styling themselves the Round Table, met daily in the hotel to discuss politics , theater, and whatever else they wished. The group included New York Times drama critic Alexander Woollcott (the inspiration for The Man Who Came to Dinner, played by the similarly-named Monty Woolley), columnists Franklin P. Adams and Heywood Broun, fiction and screenwriters Dorothy Parker and Robert Benchley, and sportswriter/satirist Ring Lardner, among many others. In addition to the Round Table, several other literary luminaries resided in the building at different times, including F. Scott Fitzgerald, William Faulkner, James Thurber, and the acerbic H.L. Mencken.
I have only been in the famed Oak Room for a drink once, but I can say once.
Next door is the Iroquois Hotel, which predated the Algonquin by two years. It doesn't have the literary cachet its neighbor does, but it has been the home of the National Council of the Arts, Sciences and Professionals, and both James Dean and The Clash have stayed at the Iroquois in two different eras. Paul Geidel murdered William Henry Jackson in 1911, was sent to prison — Sing Sing, Dannemora and Fishkill — and remained until 1980, the longest sentence ever served in the USA that ended in parole. Geidel died in 1987.
I liked the lettering on the marquee, with the "I" in Frederic Goudy's Lombardic Capitals font and the rest in Bernhard.
The Neoclassical home of the NY State Bar Association at #40 West 44th was designed by famed architect Cyrus L.W. Eidlitz in limestone and opened in 1896. It included a meeting hall, a reception hall, a library of over 50,000 volumes.
One of the buildings in Manhattan I always wanted to enter, but can't (I'd have to buy a yacht), is the New York Yacht Club at #37 West 44th. Its outer windows are designed to recall those in the captain's offices on sailing ships you see in the movies. There are depictions in stone of ram's heads, fanciful fish and seaweed. The building was designed by Warren and Wetmore, who also did Grand Central Terminal (see below) and built in 1900.
The Penn Club, a private club restricted to alumni of the University of Pennsylvania since 1994 has occupied this handsome clubhouse at #30 West 44th originally built in a similar capacity for Yale University. Like many other buildings on the block, it dates to 1900.
Unfortunately the exterior of the General Society of Mechanics and Tradesmen building at #20 West 44th was hopelessly hidden behind construction netting so I took an image from Google Street View. I'm quite familiar with the building, having attended several lectures about NYC history here. Have I given one myself? I forget. The building was designed by Lamb & Rich and opened in 1890. Within is a large vaulted space, chockablock with books, many on NYC history; you could lose yourself here of an afternoon. The General Society has occupied the building since 1899. The General Society is one of NYC's oldest organizations, founded by craftsmen and skilled artisans in 1785. In 1903, industrialist Andrew Carnegie provided a grant that added the top three stories.
There are plenty of knockoff or new street clocks around but this is one of the originals, on 5th Avenue just off West 44th. It was built in 1907 by the Seth Thomas Company and was on West 43rd until the 1930s, when it was moved a block north.
I'm showing the building on the left, #14 East 44th, because it's the lone remaining townhouse on the block; attached townhouses like this were once the bread and butter of residential life in Midtown until the mid-20th Century till they started to disappear one by one, replaced by larger office buildings.
I get my suits (I have one for when I'm thinner and another one when I'm fatter) at Burlington Coat Factory, but if you've got the money, you head for Brooks Brothers, one of whose retail outlets is at the northwest corner of East 44th and Madison Avenue. Founded in 1818 by Henry Sands Brooks, it is the US's oldest clothing retailer. The company was inherited by his sons, Elisha, Daniel, Edward, and John; thus… I don't know what the initials "AB" stand for on the digraph. 41 of the 46 US Presidents have worn Brooks Brothers suits. In 2020, Brooks Brothers was acquired after facing bankruptcy when sales dropped during the covid pandemic.
I know little about this ramp on East 44th between Madison and Vanderbilt to an underground Grand Central Terminal parking garage, but I have long admired its yellow brick pavement, Guastavino roof (similar to the Oyster Bar) and walls.
It's unusual, some say unsettling, to see the main room of Grand Central Terminal (I won't kill you if you call it a Station) so empty on a midday in January, but here's a secret: I like it this way, even if the MTA doesn't. GCT itself goes back to 1913, designed by Warren and Wetmore, and it was in fact the second such railroad terminal building on this site. It was faced with demolition like its sister, Penn Station was, but an intercession by preservationists which included the cachet of First Lady Jacqueline Kennedy Onassis helped save the old barn, which underwent a tip to toe renovation for several years in the 1990s. In 2013, I attended the Parade of Trains during its centennial.
I have passed through this room to get to work at Photo-Lettering between 1982-88 and again in 2018, when I had an overnight job for a couple of months at Summit Financial, which was actually in the same building as the long-gone premier type shop.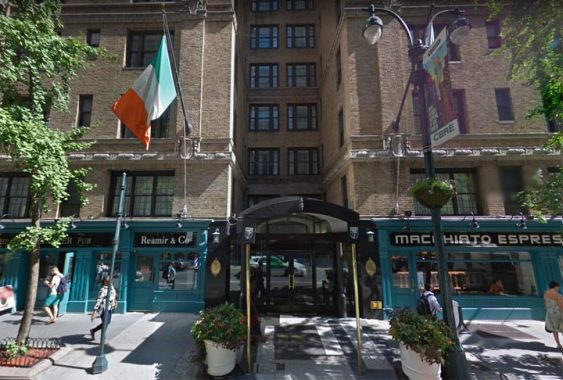 On the east side of the terminal, #141 East 44th, Fitzpatrick Grand Central, is one of two hotels run by the famed Irish Fitzpatrick hotelier family.
The work of Brazilian muralist Eduardo Kobra has become a familiar sight in the metropolitan area, though his paintings can be found worldwide. I was initially stumped by this one at #225 East 44th, but it's of fellow muralist Roy Lichtenstein, done in his signature style.
#225 East 44th is also a holdout walkup tenement, that looked like this in 1940. Sports bar The Overlook is on the ground floor. It used to be Costello's, where Joseph Mitchell, James Thurber and Jimmy Breslin held up the bar and several of Thurber's murals were on the wall.
A golden calf, so to speak, is seen outside Ben & Jack's Steakhouse at #219 East 44th, a new glass residential tower called the Even Hotel. Available apartments average $4.25M.
Summit NY is a 44-story residential glass tower at #222 East 44th I'll never afford an apartment in, but I was struck by this piece of non-objective art by Australian sculptor Todd Stuart at the entrance, meant to evoke the infinity symbol (a sideways number 8).
I had no idea that East 44th had become a mural mecca, but here we are with another one, titled "Vox Aequalitas" at #279 East 44th, by muralist Faith 47. It's supposedly concerning child labor, but it depicts a pensive female figure; maybe I'm too Irishly thickheaded to get it?
I'm reminded of the Hole In the Wall Gang of the 1800s Wild West by the India permanent mission to the UN at #244 East 44th. I have no idea why a hole was designed in the building.
Speaking of glass towers, here's another exemplar of the genre, at #828 2nd Avenue at the NE corner of East 44th. The UN consulate of Nigeria is in the building, and the corner is named for Nigerian pro-democracy advocate Kudirat Abiola, who was assassinated in 1996.
The present-day UN permanent mission to Egypt, #304 East 44th, was built in 1928 to house the Beaux-Arts Institute of Design. I was sufficiently fascinated with this building to devote an entire FNY page to it.
The landmarked Beaux Arts Apartments, facing each other at #307 and #310 East 44th, opened in 1930 and were constructed to house students at the Institute. Designed by Kenneth Murchison and Raymond Hood, they were early examples of a streamlined, nonornamented style that would coalesce by the postwar era into the International Style.
James P. Grant Plaza is a public plaza adjoining the UNICEF House at #338 East 44th. Grant (1922-1995) was the executive director of the United Nations Children's Emergency Fund from 1980-his death in 1995. I didn't see it but there is a (very) stylized sculpture of longtime UNICEF advocate Audrey Hepburn in the plaza.
After several years in temporary headquarters in Long Island that included stints in the New York Pavilion Building in Flushing Meadows-Corona Park and in Lake Success, the UN moved into permanent HQ on this site in 1952. The Sectretariat Building, one of NYC's first glass-walled towers, appeared first in 1950, followed by the General Assembly Building seen here (1952) and Dag Hammarskjold Library (1963). This site on 1st Avenue was formerly home to a collection of slums, coal docks, factories and slaughterhouses. Originally the UN was going to be built north of the city in Westchester County, but received an $8.5M grant from John D. Rockefeller to purchase a parcel of land from William Zeckendorf. The developer was planning to raze everything east of 3rd Avenue between 46th and 49th Streets, but the UN plan also was able to save some marvelous NYC architecture from the wreckers' ball.
The General Assembly Building, at 1st Avenue and the east end of East 44th, is likely the less famous of the two major UN buildings (you usually think of the 1950s glassy Secretariat Building). This limestone façaded building designed by Wallace K. Harrison, reminds me of the "cheesebox on a raft" Civil War Monitor warship.
As always, "comment…as you see fit." I earn a small payment when you click on any ad on the site.
4/29/21