By SERGEY KADINSKY
Forgotten New York correspondent
MORE than two decades have passed since Kevin Walsh launched Forgotten-NY and among the neighborhoods that continues to reveal fascinating details of city history is the Lower East Side. No matter how many times we walk its streets, there is always something old that we have not previously documented and things that have disappeared since our previous visits.
Eldridge Street has a world-renowned historic synagogue-museum and Orchard Street has a former tenement transformed into an immigration museum with crowds of tourists and nostalgic descendants elbowing past each other, skateboarders, bikes, dogs, as restaurant sidewalk sheds add to the congestion that still doesn't come close to the scene of a century ago when pushcart vendors occupied the streets.
Much more spacious but less touristy is Allen Street, which has a green median and runs between Division Street and Houston Street for eight long blocks. Its name honors William Henry Allen, a commander killed in the War of 1812.
During the peak of Jewish immigration to this country, 1882 to 1924, Allen Street was only fifty feet in width and shrouded in darkness beneath the Second Avenue Elevated line. In the shadow of the tracks young mobsters began their careers and prostitutes plied their trade. On these blocks missionaries tried to convert the newcomers and a synagogue served as the stage for future opera stars. This diverse streetscape came to an end between 1927 and 1931 in the name of urban renewal, to give more open space to this dense neighborhood.
Allen Street was widened to 138 feet and in 1942 the train tracks were removed, but it would take many decades before this street would look like a respectable boulevard as was intended by city planners. Because it connects to First Avenue, it carries a lot of vehicles which discourages foot traffic.
Looking north from East Broadway is a Forgotten-NY favorite that is the last remnant of the Second Avenue El in the neighborhood, the graffiti-covered former substation at the corner of Division Street that Kevin documented in 2009 in an essay on that street. The median here hasn't changed much since its completion in 1931 but as we travel north, its condition improves with more benches and plants, separation of bike and pedestrian routes and creative elements. This block hosted a Jewish ritual bathhouse (mikvah) in the early 20th century, as noted in this archeological report from 1997.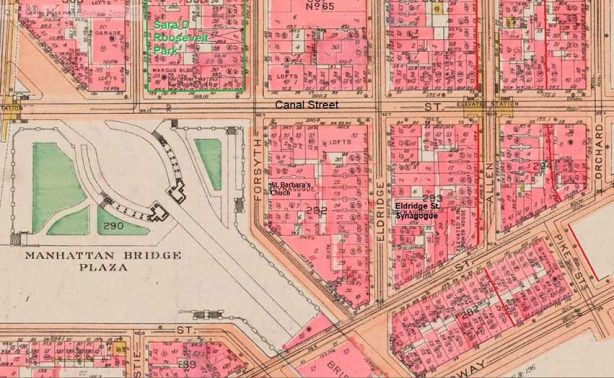 As seen in this 1923 Bromley map, Pike and Allen streets did not intersect with each other. To make it possible, buildings on the west side of Pike and east side of Allen were demolished to make the two streets continue into each other. The red lines here indicate the upcoming widening of the two streets.

In those days civic transportation projects were completed in a quick manner. Between 1931 and 1932, the block of Division Street between Allen and Pike streets experienced a reduction in density with a new boulevard running through this area.
The view from 1932 looking north, a year after the widening project was completed, shows mature trees on a promenade reminiscent of Paris. Besides the widening of Allen Street, that decade also began with the completion of Sara D. Roosevelt Park, two blocks to the west, which also replaced hundreds of tenements. The decade ended with East River Park which is the largest park on the Lower East Side, now temporarily demolished for the East Side Coastal Resiliency project.
Between Canal and Hester streets, the architectural contrast is evident from the median. On the west side are the late-19th century Italianate cornices and fire escapes that face the original Allen Street, while the east side is mostly the backsides of Orchard Street's tenements. Prior to 1927, the northbound lanes of Allen Street and this median were occupied by hundreds of apartments and small businesses. In recent years, the northbound side began seeing new storefronts and hotels to give Allen Street a more complete look.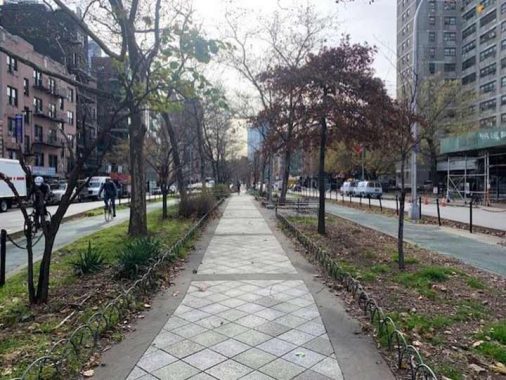 At Grand Street is a completely redesigned median with separated lanes for bikes and pedestrians, benches, and checkered paving. How long before the entirety of Allen Street is given this transformation?
Among the few older buildings that have a facade on the northbound side is the headquarters of Zarin Fabrics, a neighborhood mainstay since 1936 when Harry Zarin founded the business on Orchard Street. His son Bobby later moved it into this sizable space on the corner of Grand Street. Outside of the fashion and drapery industries, reality television gave fame to Bobby's wife Jill, one of this city's "Real Housewives."
In this city, businesses selling the same product often cluster together. When this business was founded, the corner of Allen and Grand was home to dozens of other fabric vendors.
At the intersection with Broome Street the southbound side of Allen Street still has the same tenements that faced the elevated tracks back in 1940. In 2010 this intersection and four others on Allen Street were closed to traffic in an attempt to reduce congestion and discourage driving. The tiny building at 280 Broome Street is Kehila Kedosha Janina– the city's only Greek Jewish synagogue.
After waves of immigrants from different places, artists are the latest newcomers to the Lower East Side. On the northbound side we see Conor Harrington's mural from 2019 whose subject resembles a matador. The artwork beautifies a wall that once abutted another tenement that was razed to widen Allen Street. Extra points for the matador's red to match the Broome side bricks.
Editor's note: There was once a bar called Lolita at #266 Broome on the corner (now the Emma Peel Room, named for the leather clad Avengers super-detective) where my NYC trivia team once defeated a team led by the famed Levy family of tourguide fame). Lolita was a fun place — I attended a number of good natured debates in the basement.
At Delancey Street is a comfort station that has been unused for decades. Once in a while we are teased with rumors that it will become a bike shop or a food concession. While private enterprises are booming around it, this old brick shack awaits its transformation.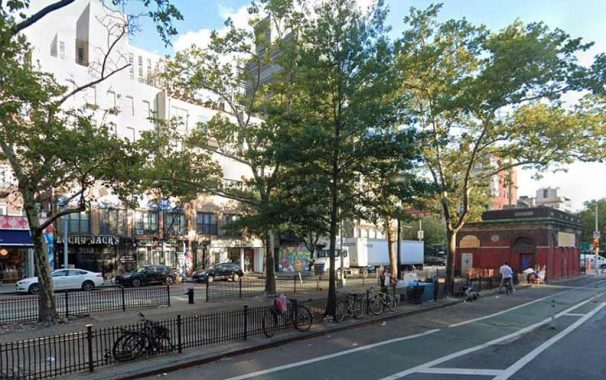 I'm pausing at the site of 128 Allen Street to meditate. From 1836 to 1888, this site was the Allen Street Methodist Episcopal Church, and then the Tifereth Israel synagogue. So much history happened here but I could not find a single image of this phantom house of worship.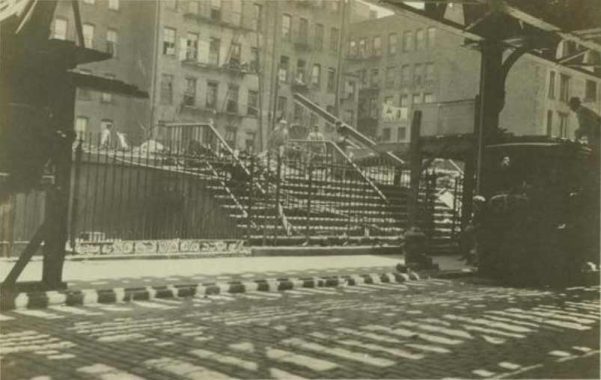 Percy Loomis Sperr's extensive collection couldn't help me here, but he was fortunate enough to take a photo of the entrance staircase from the time of its demolition in 1927. A map from 1851 also shows these steps. The first church here appeared around 1810 together with a cemetery at E. 1st Street and Second Avenue that was later relocated to Cypress Hills in Brooklyn.
A product of the Second Great Awakening, this church tried to spread the Gospel to the Jews. The church's journals spoke positively of its efforts but the immigrants were more likely to assimilate into secularism than to accept another religion. The older Christian communities moved uptown as more Jews immigrated to the Lower East Side. Following in the examples of 7 Willett Street and 60-64 Norfolk Street, this church was also sold to the Jews in 1888 and was repurposed as a synagogue. The missionaries then moved around the corner to Rivington Street, which in turn became the First Roumanian-American Congregation in 1902.
In its three decades of service, Tifereth Israel hosted Joshua-Samuel Weisser, who identified talent in the six-year-old Richard Tucker, training him to become a cantor. He later became a tenor at the Metropolitan Opera. Across the street from the site of Tifereth Israel is 143 Allen, a designated landmark that Kevin documented in 2019. Also on this block is 133 Allen, a historic bathhouse that became a Chinese church in 1992.
Besides synagogues, the Romanian Jews of Rivington and Allen also congregated at the Old Roumanian restaurant whose sign was tall enough to be seen from the elevated trains. Eventually owner Jack Silverman took his food and show to Midtown and an apartment occupies the former eatery at 169 Allen Street. In 1974 (coincidentally the year when Silverman died) the antiquated spelling of that country reappeared on Chrystie Street as Sammy's Roumanian, a nonkosher party spot that was killed by the pandemic in 2021. Both of these unrelated landsmen offered food with entertainment.
At Stanton Street, the unimaginative NYCHA tower carries the name of Rafael Hernandez in a nod to the neighborhood's sizable Puerto Rican community. The namesake was a veteran of World War One and the director of the Puerto Rican Symphonic Orchestra.
On the other side is the post-millennial newcomer, the Sixty LES hotel that features balconies and a rooftop pool. Looking south from this hotel one can see the site of Old Roumanian painted in white and the concrete median awaiting transformation that will include more benches, soil, and plants.
Allen Street's northern end is at Houston Street where the uptown traffic flow is picked up by First Avenue. The cross-island street had its own widening in the 1930s to accommodate the Sixth Avenue subway line. Having walked its entirety, I finish this essay with a set of historical renderings and artworks.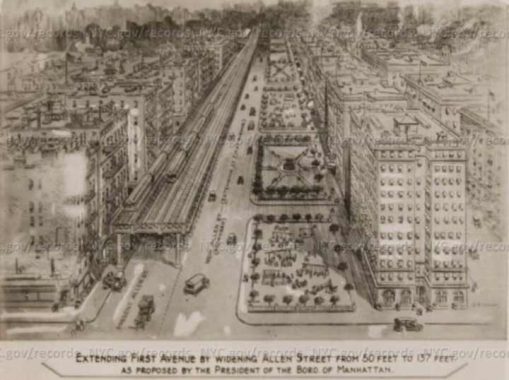 The first proposal to widen Allen Street would have located its park spaces along the eastern side, allowing access to cross streets so that park goers wouldn't have to cross Allen Street's northbound lanes.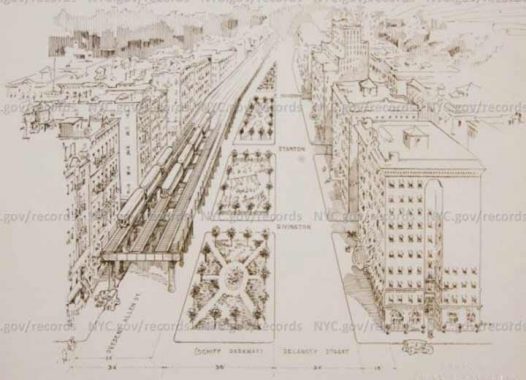 The second proposal is closer to reality with parks on the median of the expanded Allen Street but in this rendering we see playgrounds on some of the medians. In the end, all that the public got were rows of trees and a few benches.
"Ashcan School"artist George Luks found inspiration on Allen Street in this 1905 painting. He also painted a scene on Hester Street in that year. His genre emphasized the joys of daily life among working class New Yorkers.
In 1929, Louis Lozowick also found inspiration in Allen Street's pre-widening scene, creating a precisionist lithograph in the shade of the elevated tracks. The last known artwork to depict the trestle was in 1941 in the same genre as Lozowick by Bernard Brussel-Smith. Allen Street had three elevated stations, at Canal, Grand, and Rivington Streets. The M15 bus line follows the route of the Second Avenue El from South Ferry to Harlem.
Today's Allen Street is again a magnet for artists whose murals appear on storefronts and the back walls of tenements. With improved pedestrian spaces and traffic calming measures, this street is becoming closer to its intended vision as a boulevard.
If a linear park that resulted from the demolition of tenement blocks interests you, take a look at my essay on nearby Sara D. Roosevelt Park.
Sergey Kadinsky is the author of Hidden Waters of New York City: A History and Guide to 101 Forgotten Lakes, Ponds, Creeks, and Streams in the Five Boroughs (2016, Countryman Press) and the webmaster of Hidden Waters Blog.
As always, "comment…as you see fit." I earn a small payment when you click on any ad on the site.
1/2/22