I have mentioned NYC's major tunnels only tangentially in Forgotten New York. Over more than 20 years, the site has become about NYC's built infrastructure (at least the parts I find interesting) as much as it has the parts of NYC that are overlooked or "forgotten." and, personally, I have a tangential relationship with its tunnels. I have the most experience with the Brooklyn-Battery (or Hugh Carey Tunnel, as the Democratic Party-dominated state enjoys renaming bridges and tunnels for deceased Democratic politicians: the public ignores these names, and they would ignore them if the dominant party was Republican or whatever). For a year or two, I was in the Brooklyn Battery Tunnel most days, as I had a job in a type shop on West 29th Street off 6th Avenue (kids, ask your older siblings what a "type shop" was) and since the express bus from Bay Ridge went straight up 6th Avenue, I'd use it even though it cost $4 even when subway fares cost just $1. I'd sometimes catch it on the way home, too.
As for NYC's other three major tunnels, I haven't been in the Lincoln Tunnel, connecting the West Side with Weehawken, NJ since bussing it down the New Jersey Turnpike to Atlantic City in the 1990s to audition for Jeopardy! I have been to three such live auditions, two in Atlantic City and one in Boston. I have mentioned the Lincoln in connection with Dyer Avenue, which I wrote about in August 2020. I also took the Lincoln Tunnel to Atlantic City trips and Palisades Park with the folks in the 1960s. As for the older Holland Tunnel, connecting Tribeca with Jersey City, I honestly don't recall the last time I was in it. The one and only time I was ever in the Queens Midtown Tunnel was back in 2015. In the subways, me.
Today I will talk about unexpected tunnels, underpasses and open cuts that NYC streets are occasionally forced into. They were generally not depicted on printed NYC maps from Hagstrom or Geographia, but they're finally shown in detail on Open Street Map, Google Maps or Apple Maps which allow one to zoom in for better detail. If you have a car no doubt you've traveled in some of these. They're part of NYC's varied infrastructure.
All photos on this page, except the first, are from Google Street View.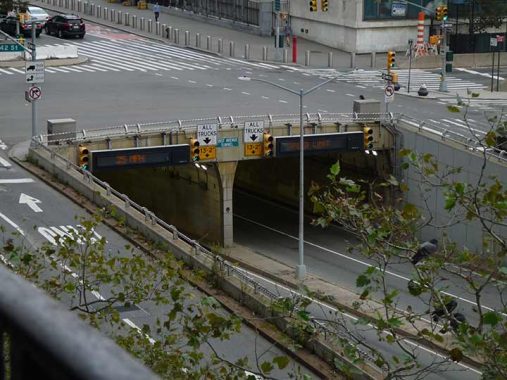 1st Avenue Tunnel
The United Nations complex opened in 1950 on a former slaughterhouse and warehouse district along 1st Avenue between East 41st and 47th Streets and immediately began attracting additional idling traffic from tour buses and other vehicles. So that "regular" traffic could proceed up 1st Avenue—northbound exclusively, as it opened in 1953, two years after 1st Avenue was made one-way northbound. The interior is a no-frills affair as with most tunnels, as seen on Street View.
United Nations Tunnel
Speaking of the United Nations, the section of the Franklin D. Roosevelt Drive that passes beneath United Nations property along the East River is known on maps as the "United Nations Tunnel" but since it's open on the east side, it's not strictly speaking a tunnel.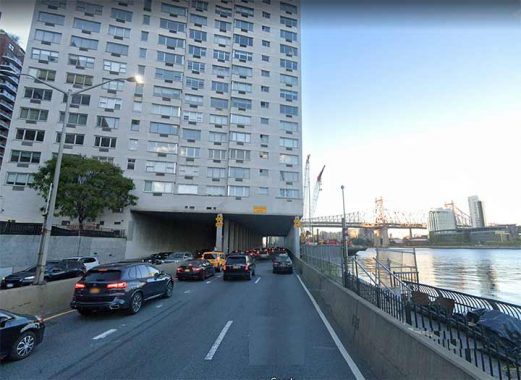 Sutton Place Underpass
The FDR enters yet another underpass between East 53rd and 61st Streets as some luxury high rise apartment buildings facing Sutton Place have been placed on a platform above it.
Rockefeller University Underpass
The FDR Drive is shadowed once more between East 63rd and 71st Streets by Rockefeller University and NY Presbyterian Hospital, some of whose buildings are platformed over the roadway. Toward the south end, there are some unusual lampposts that bring back the thin mast brackets seen on lampposts installed in the 1950s. (I'd bring them back fulltime!)
Gracie Mansion Tunnel
The FDR Drive enters another fairly lengthy cut beneath Carl Schurz Park and Gracie Mansion between East 83rd and 90th Streets that become a "true" tunnel at its north end. Unusually, it actually has a pair of signs in metal letters on each side at the north tunnel mouth, showing Fiorello LaGuardia and the other engineers that built the tunnel. These signs are, of course, not meant to be read by passing motorists but by whoever is using park paths above them. They haven't been maintained and the letters are dropping off.
I haven't really explored the East River walkway much in this realm, and I really should.
Battery Park Underpass
The roadway connecting The East River Drive (street signs only identify it as "FDR Drive" north of Montgomery Street) and West Street (formerly the elevated West Side Highway/Miller Highway) is known as the "Battery Park Underpass" even though it's a true tunnel, running under the park's west side. It was built between 1949 and 1951 just after the elevated FDR Drive opened along the East River. Various proposals to extend it north, replacing the viaduct, have petered out over the years.
Trans-Manhattan Expressway Tunnels
The Trans-Manhattan Expressway is the shortest expressway in NYC, given the narrow width of the island at the point of passage. It was completed in 1952 and connects the Cross-Bronx Expressway with the George Washington Bridge. At several points, high rise apartment buildings were placed on platforms above it, creating de facto tunnels.
Park Avenue Tunnel
Motorists know all about the Park Avenue Tunnel, which runs beneath the avenue between 33rd and 40th Streets, but few pedestrians ever see it. It was built in 1834 as an open cut for the New York & Harlem Railroad (NY&H) which ran both steam engines and horsecars, and the cut was bridged over in 1850, creating the tunnel — one of NYC's oldest by far the oldest shown on this page. The tunnel has carried trolley tracks, two-way traffic, and now northbound auto traffic.
The oldest tunnel of any kind in Manhattan is the Mount Prospect Tunnel opened in 1837. It now forms the center two tracks of Metro North from 92nd St to 94th St, under Park Ave. The tunnel north and south of it, and the one-track tunnels on each side of it, were added in 1873-1875, but the Mount Prospect Tunnel was left in place.
Periodically the Park avenue Tunnel is open to pedestrians during the Summer Streets event, three Sundays in August, when Lafayette Street/4th/Park Avenues ban motorized traffic from Foley Square north to East 72nd Street. In 2013, an art exhibit featured Rafael Lozano-Hemmer's Voice Tunnel installation, in which visitors could record a short message that would be played back continuously from speakers along the tunnel walls.
New York Central viaducts
Park Avenue is probably the most unusual of any north-south Manhattan avenue. Formerly 4th Avenue all the way north, its name was changed to Park avenue, or Park Avenue South below East 32nd, in a bit of wishcasting as north of Grand Central Terminal it once hosted a vast, smoke belching railyard. Eventually the New York Central and its predecessors were electrified and tracks placed in a tunnel from East 42nd to 97th Streets. North of that, the railroad was placed on a viaduct, and cross streets were bridged under it in these structures that resemble very short brick tunnels. The roadway is under one arch, and each sidewalk also get an arch.
In the Bronx, the railroad was placed in an open cut. The streets on either side of the cut were renamed "Park Avenue" in the 1800s. Also, quite unusually, in 1919, Park Avenue was placed on a viaduct of its own that skirted around Grand Central Terminal.
Adam Clayton Powell Connection
Adam Clayton Powell Boulevard, a.k.a. 7th Avenue, runs down a ramp from West 152nd Street that brings the roadway alongside the Harlem River Drive, connecting it with the section of West 155th Street that runs beneath the viaduct that runs to the Macombs Dam Bridge.
The ramp is accompanied by a set of antique lampposts that received new post top lamps around 2012.
Grand Concourse Underjumps
A short time ago FNY profiled the Arches of the Concourse which take the great road over local streets in hilly areas of the mid-Bronx. There are also a number of cross streets that underjump the Grand Concourse, for traffic that wants to cross it in a no fuss no muss fashion. My suspicion is that these underjumps were originally built to accommodate trolley tracks. As you can see, some admit pedestrians on sidewalks, some do not.
Fordham Road-Grand Concourse Underjump
Eleven lanes wide from 161st Street north to Mosholu, the Grand Boulevard and Concourse (shortened to Grand Concourse for the benefit of sign makers and cabbies) was conceived by engineer Louis Risse in 1870 and was built, from 161st Street north, in 1909. In 1927, it absorbed Mott Avenue, which ran from 138th north to 161st, and the older street was widened. The Grand Concourse became the Bronx's showpiece as the Bronx Borough Hall, Yankee Stadium, and an array of elegant apartment buildings were constructed along its length.
Unless you are a motorist using the GC frequently you are probably unaware that East Fordham Road is bridged over it in an arch structure probably going back to the GC's origins in 1909. The central four lanes bypass the busy intersection completely. In other intersections, lanes of Kingsbridge Road and East 204th, among others, pass under the Concourse, but this is the only case in which a road is bridged over it.
Here, at left, we see the former Alexander's Department Store, the flagship in a chain of stores founded by George Farkas in 1928 and named for his deceased father. The Fordham Road store opened in 1933 and closed in 1992. The building is home to electronics chain P.C. Richard and clothing retailer Marshall's.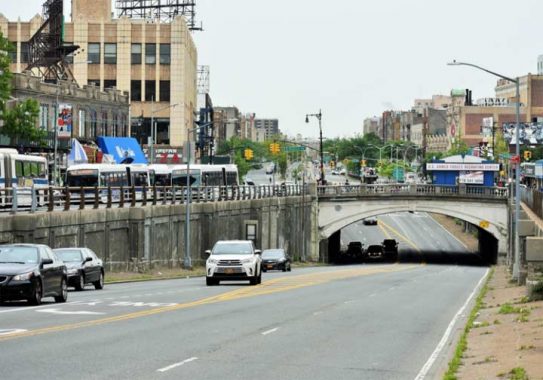 Looking south toward the Fordham Road Bridge. At left here is the Wagner Building, which on November 5, 1960 was the site of a campaign speech by John F. Kennedy, a few days before he beat Richard Nixon. As a boy in the 1920s, Kennedy had resided in a mansion with his family at Independence Avenue and West 232nd Street in Riverdale.
Fordham Road-Southern Boulevard Underjump
Traffic engineers also decided to "underjump" Fordham Road beneath Crotona Avenue and Southern Boulevard near Bronx Park, where it becomes Pelham Parkway.
Bruckner Boulevard Tunnels
In Mott Haven, a pair of tunnels bring east and westbound Bruckner Boulevard tunnels under the spaghetti ramps connecting the Bruckner Expressway and the Triborough Bridge.
Cross-Bronx Crossing
Like it or hate it, the Cross Bronx Expressway is a marvel of engineering as its builders had to redirect underground conduits such as sewers and power conduits, as well as navigate deep valleys and inclines to build the road connecting the Hamilton and Throgs Neck Bridges in the 1950s and 1960s. Hugh Grant Circle, where the CBE meets Westchester Avenue and its el, was another challenge. Here, the CBE tunnels under both avenue and elevated.
The Cross Bronx also has to tunnel under Prospect Playground and Jerome Avenue.
BQE-Queens Boulevard tunnel
Queens has a number of tunnels and open cuts, including quite a few under the Long Island Rail Road main line in Jamaica. This one is a very short tunnel westbound from Queens Boulevard at 65th Place that connects to the southbound Brooklyn-Queens Expressway.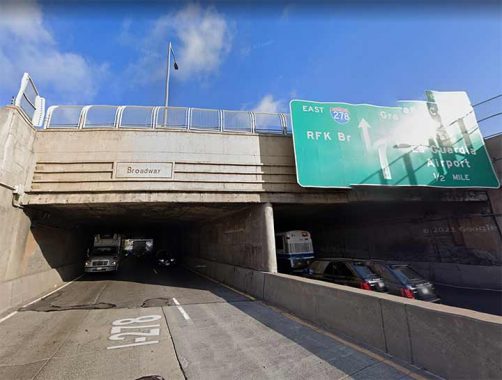 BQE-Broadway Tunnel
The Brooklyn-Queens Expressway forms an undefended border between Woodside and Jackson Heights as it travels north-south. It tunnel; beneath the rather wide X-shaped intersection of Broadway and 37th Avenue.
BQE-Grand Central Parkway Tunnel
Westbound traffic on the Grand Central Parkway wishing to transfer to the eastern leg of the Brooklyn-Queens Expressway southbound along the east side of St. Michael's Cemetery travels through this handsome granite-blocked tunnel.
Woodhaven Boulevard – Long Island Expressway Underpass
In the 1930s, the middle lanes of Queens Boulevard were depressed in an open cut to make it easier for motorists to avoid both busy Woodhaven Boulevard and Nassau Boulevard, the road that eventually became the Long Island (Horace Harding) Expressway. Unlike other open cuts on this page, more esthetic care was taken to make the side walls attractive.
Austin Street Crossing
When the Interborough-Jackie Robinson Parkway was extended into Forest Hills in the 1930s, traffic engineers vouchsafed Austin Street a convenient passage beneath it.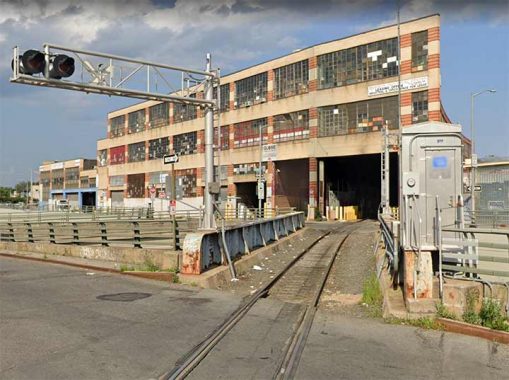 Flushing Avenue Railroad Underpass
Flushing Avenue, which runs from the Brooklyn Navy Yard to Maspeth, has to get around both the Long Island Rail Road freight-only Bushwick and Montauk branches. To do so, it enters an open cut and briefly becomes a de facto Flushing Expressway, with an uninterrupted run between 54th and 60th Streets.
Unusually, the "service roads" are allowed to cross the Bushwick tracks, seen here, but not the Montauk Tracks; the only through route is the open cut.
Cooper Avenue Underjump
A few miles to the east, Cooper Avenue in Glendale is in the same boat as it has to get by the surface Montauk LIRR branch without a grade crossing; thus, it enters this open cut while its "service roads" above it are stopped by the tracks.
Have I missed a few tunnels or unusual open cuts? Comments are open
As always, "comment…as you see fit." I earn a small payment when you click on any ad on the site.
1/1/22