I have not taken many lengthy walks in the summer of 2022 and the last really ambitious one I did was from Hunters Point through Greenpoint, Williamsburg, Ridgewood and Glendale on the 4th of July. Results from that trip have emerged in dribs and drabs over the weeks, including a visit to the Hunters Point #7 station as well as a look at what remains of the Skyline Diner at 49th Avenue and 21st Street. Because of my desire to do shorter Sunday posts, I'll continue to parcel things out gradually.
Now known as The Point and home to offices, what was once called the Paragon Building still emblazoned with Paragon Oil's distinctive logotype and once housed the company's offices. The building is shaped like a triangle as it wedges along 49th Avenue, 21st Street and the Long Island Railroad. In addition, the #7 Flushing Line tunnels beneath the building.
Paragon Oil was founded by brothers Henry, Irving, Robert, Benjamin, and Arnold Schwartz. The family designed and built the first oil heaters designed for residential buildings. Paragon Oil won the U.S. government contract as the only oil company to supply Europe with fuel oil during the post-war reconstruction. Later, during the early days of the Cold War, Paragon supplied the U.S. government with oil for their submarines. The company was sold to Texaco in the late 1950s. When built in the 1920s, this handsome building served as Queens' Borough Hall (since moved to a blander edifice on Queens Boulevard in Kew Gardens).
I was displeased to discover that Creek & Cave, a comedy club that doubled as a Mexican restaurant by day, is no longer in this grand old building at Jackson Avenue and 11th Street across from the Pulaski Bridge; however, Sweetleaf, where I and other FNY tourgoers often acquired beverages like hot chocolate before early spring Forgotten Tours, is still there, as well as the old trolley pole besides the stoplight. Management opened a new Creek & Cave venue in Austin, Texas in 2021.
A look south on Jackson Avenue reveals a giant mural, painted by "Faile," at #10-25 Jackson, a new residential development called The Green House which is in fact colored green.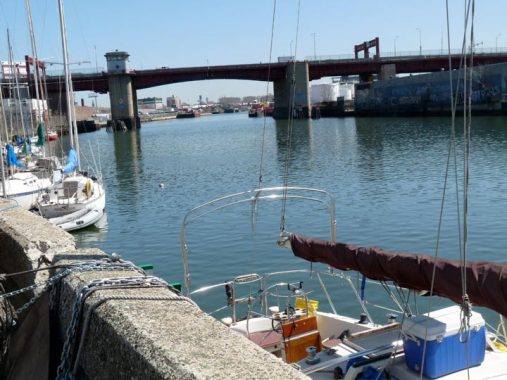 Andrzej Tadeusz Bonawentura Kościuszko isn't the only Polish Revolutionary-era patriot honored with a bridge across Newtown Creek.
Manhattan Avenue formerly connected with Vernon Avenue (now Boulevard) in Long Island City via a now-demolished swing bridge. The Pulaski Bridge, which connects McGuinness Boulevard in Greenpoint with 11th Street in Hunters Point, is a bascule bridge in which counterweighted deck members pivot upwards to allow shipping to pass underneath. London's Tower Bridge is another example of a bascule, albeit a much more ornate one. It opened to traffic in September 1954.
General Casimir Pulaski (1747-1779) is regarded as the father of the American cavalry. He was enlisted by Benjamin Franklin in Paris after successfully defending Poland against a Russian invasion and falling out of favor after his implication in a plot to kill the Polish king. He was able to cover George Washington's retreat at the Battle of Brandywine with expert use of cavalry; he was subsequently awarded command of all US cavalry. In 1779 he helped break the British siege of Charleston. He was mortally wounded at Savannah, GA in 1779 at the young age of 32.
East of the Pulaski Bridge Newtown Creek encounters two tributary waters: Dutch Kills, flowing to the north, and Whale Creek on the south. Whale Creek formerly flowed into a salt marsh, but today dead-ends in a Greenpoint sewage treatment plant. Dutch Kills is bridged by the Montauk Branch of the Long Island Rail Road, which parallels Newtown Creek from Long Island City to Maspeth.
July 4th, 2022, unlike most of them, was uncommonly clear and free of haze, and I was able to get several good views of Newtown Creek and the towers now springing up beside it. Have I mentioned how fortunate I feel to live in a city with plenty of water around it?
Speaking of murals, here's another one by Swedish artist Ola Kalnins at the crossroads of Greenpoint, Greenpoint and Manhattan Avenues. I have told this story ad infinitum on the tours, but maybe not here: I was a resident of Greenpoint for a couple of weeks in 1982, a time when a number of friends lived in the area. I was looking for a change of pace from Bay Ridge, so I hastily rented an apartment at #193 Green Street for $275/M. Unfortunately it was a real old-school joint with a bathtub in the kitchen and a dearth of electric sockets: I would have had to spend hundreds to have the place wired. I had enough, got my deposit back and found a place on 73rd Street, where I stayed the next 8 years.
This Swiss-chalet type design at Greenpoint Avenue and Milton Street was built in 1887 by Thomas C. Smith, owner of Greenpoint's Union Porcelain Works, which made practical and decorative ceramics. Around the corner Greenpoint (Dutch) Reformed Church at 136 Milton is the former Thomas C. Smith mansion. In a formerly industrious neighborhood this was the relatively modest castle of one of the area's chief manufacturers, as Smith (1815-1900) was the founder of the 19th Century's foremost fine china and porcelain makers, Union Porcelain Works. Smith built the house in 1867, and the church moved from Kent Street in 1944, after the building enjoyed a stint as the local YMCA.
In the late 20th Century the building was stripped of its more fanciful elements with aluminum siding slapped on, but by 2012, much of the old decorative elements had been recreated by Kamen Tall Architects, which received the Lucy G. Moses Award for the restoration and the Excellence in Preservation award from the Preservation League of New York State. See Brownstoner for additional details.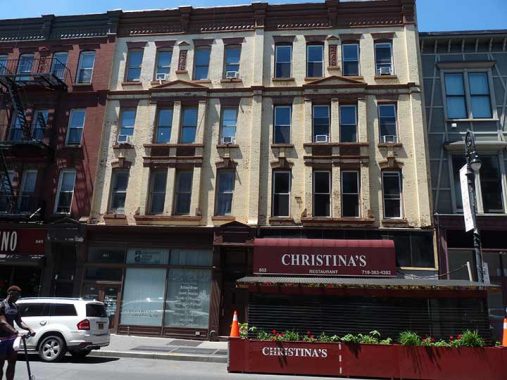 #851 and 853 Manhattan Avenue are flats built in 1883. Christina's is a prime Greenpoint venue for traditional Polish dishes.
The Greenpoint Savings Bank was established in 1869 and this marble domed bank building was built by leading architects Helmle and Huberty in 1908 at the height of the Beaux Arts era. Most recently Capital One, it is seeking a tenant, though the Greenpoint Bank HQ is now in Manhattan. Unfortunately the local youth have done their inevitable defacement work along the dome.
The bank still has its complement of what I call sidewalk "bank lamps" turned on at night to discourage breakins.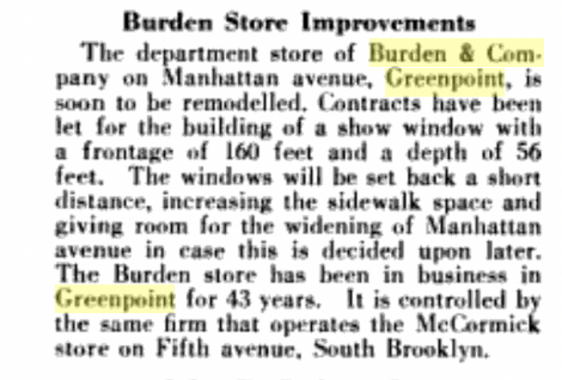 The former Burden & Company dry goods store at 783–91 Manhattan Avenue was founded by Peter Burden in 1883 and built here in 1900. The building was later home to the Greenpoint Department store. and J.J. Newberry until 1993, currently a Rite Aid drugstore.
Painted ads for Burden & Co. and R&G Corsets can be spotted on the upper floor facing north.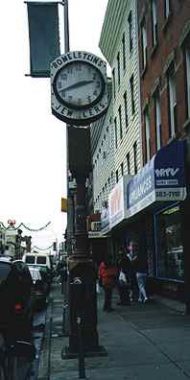 1998
I'm not sure, but sometimes things lose just a bit of their charm when they get landmarked. Bomelstein's Clock on Manhattan Avenue between Meserole and Norman was rusty, its paint peeling, its hands stopped, when I first photographed it in 1998. It had been designated a landmark before then, but it's since been restored and is telling time again. The old Bomelstein's name has been removed, however, since the jeweler moved out many years ago. A handful of old clocks similar to this one are scattered all over town, and architects are again warming to the idea: new ones are appearing, too.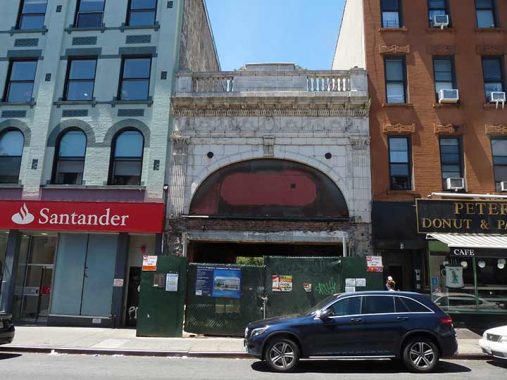 The Meserole Theatre was located on Manhattan Avenue, near Meserole Avenue in the Greenpoint section of Brooklyn, and occupied the site of the Meserole farmhouse. When it opened in 1921, the 1,978-seat Meserole was operated by the Small & Strausburg circuit. The Meserole was later taken over by Fox, then Randforce and finally by United Artists, when it was closed in 1978. After closing, it became a roller skating rink before being converted into a Rite-Aide store. [nycago.com]
The mysterious painted word "Anderson" appears here, an ad for a long-ago venture. (See Comments below for identification).
A pair of eateries I can recommend: I am off carbs for the most part since May 2022, but Peter Pan Donuts at #727 Manhattan Avenue has some of the best examples of the genre in the NYC metropolitan area. Way back around Christmas 1992, I had the best open-face turkey sandwich I ever had at Manhattan Restaurant at Manhattan and Norman Avenues. I keep meaning to get back in there for lunch.
Bedford Avenue is the longest street in Brooklyn that is contained entirely within the borough (Linden Boulevard, nearly equally in Brooklyn and Queens, is longer, even extending into Elmont for a stretch). Bedford Avenue noses out Flatbush Avenue by less than a mile. #1 Bedford, which houses Frankel's Appetizing, is on the left.
From the looks of things it appears I'd enjoy Bernie's, at Driggs Avenue and Lorimer Street at the edge of McCarren Park, as the fare looks compatible with my tastes. What I've noticed for years here and in the predecessor eateries here is the old-school "privilege" sign. Coca-Cola originally paid for it, placing Coke ads on either side.
McCarren Park was developed between 1903 and 1905 and is named for Patrick McCarren, state legislator & Williamsburg Bridge promoter in the late 19th Century. Just outside McCarren Park is the onion-domed Russian Orthodox Cathedral of the Transfiguration, on Driggs Avenue and North 12th Street, built by architect Louis Allmendinger between 1916 and 1921.
Since it was developed in separate parcels over the years, McCarren Park doesn't have a traditional rectangular plot and sprawls between Bedford Avenue, Lorimer Street, Driggs Avenue, Manhattan Avenue, Bayard Street and North 12th Street, with Union and Driggs Avenues running through it.
Opened in the teeth of the Depression as a Works Progress Administration Project in 1936 was the McCarren Park Pool, the last of eleven pools built in New York City during the Depression years. Mayor LaGuardia, at its opening day dedication, noted that "no pool anywhere has been as much appreciated as this one." After closing in the early 1980s the pool was left to deteriorate until the 2000s, when it became a concert venue for a couple of years. It has now been fully restored and back in business. Here it is during its dark ages.
I found this unsigned street sculpture at Union Avenue and North 10th Street. Until about 15 years ago, Union Avenue was a somewhat sleepy stretch with auto collision repair shops and gas stations, but it has since played host to glass-fronted condominiums like you see in the background.
Turning a corner at North 9th Street onto Havemeyer, I was pleased to find the giglio associated with the Our Lady of Mount Carmel and San Paolino di Nola Feast in which thousands of revelers pack the streets every mid-July to see the giglio carried on a platform complete with a brass band, carried by over 100 local parishioners. Games and refreshments abound. Though I had seen images of the feast on TV for years, this was my first up close look at the giglio itself. As this Street View indicates, the metal framework is raised first and the sculptures are applied after that.
I knew nothing of the feast's origins, so I consulted the reliable 6sqft:
The feast celebrates the return of San Paolino di Nola, the town's Catholic hero. As legend has it, in 410 AD North African pirates took over the town of Nola and abducted young men as slaves. After meeting a widow who lost her son to the pirates, Bishop Paolino went in the boy's place. After a Turkish sultan learned about Paolino's selfless act, he freed him and allowed the bishop to return home to Nola.

Upon his return, the town greeted Bishop Paolino with lilies (Gigli in Italian), which are symbols of love. According to Our Lady of Mount Carmel, this homecoming became the first observance of "what would develop into an annual sacred event." Each year following, there was a competition among tradesmen over who could create the best and biggest display of lilies.

Eventually, the competition evolved to include wooden steeples with decorated lilies. Since the 1960s, the tower has been made of metal, with papier-mache carvings of angels and flowers, with San Paolino on top. The structure is supported by four metal legs. The platform features seven poles that stick out evenly from beneath the platform on each side, allowing for 100 men to lift the Giglio.
I had hoped for a slice at Best Pizza, on Havemeyer between North 7th and 8th but it was closed for the 4th. I've indeed had one of the best slices in the city at Best, ranking with New Park and DiFara. I put up with the blaring hip hop station (now in my 60s, I like WCBS-FM played low in pizzerias, if they must have music) but the pizza there is worth it.
Did I forget anything in Greenpoint? I probably haven't. I have been there often the past half-century.
As always, "comment…as you see fit." I earn a small payment when you click on any ad on the site.
8/28/22