Continued from Across the Creek: July 4th in Greenpoint
I have not taken many lengthy walks in the summer of 2022 and the last really ambitious one I did was from Hunters Point through Greenpoint, Williamsburg, Ridgewood and Glendale on the 4th of July. Results from that trip have emerged in dribs and drabs over the weeks, including a visit to the Hunters Point #7 station as well as a look at what remains of the Skyline Diner at 49th Avenue and 21st Street. In the previous linked post, I had gotten as far as the border of Greenpoint and Williamsburg; more explorations, and a bit of cheating (as far as my walks are concerned) were yet to come.
After a disappointment that Best Pizza on Havemeyer Street was closed for the holiday, I was further outraged at what has happened to the the former Church of the Annunciation school building on the corner of Havemeyer and North 5th Street…
This is what the school looked like when I walked Metropolitan Avenue back in 2015. While architect Francis J. Himpler, a German immigrant, designed the church itself, the parish house and school were dreamed up by A.J. Berlenbach, Jr. Berlenbach's school building was one of my favorite buildings in Brooklyn if not NYC. The carven Latin inscription means "Roman Catholic School of the Church of the Annunciation of the Blessed Virgin Mary." It's no longer the parish school; it became a community center and the Northside Neighborhood School and is now condo/rentals 245 North 5th Street.
And here's what it looks like now…
However, in the title card you can see what has become of the place. Gone are the spires and the carved Latin. A foreboding looking bank of windows has been plopped at the roofline. Jeez, Louise.
David Salamon of Salamon Engineering Group is the applicant of record. They have worked on the Williamsburg Hotel at 96 Wythe Street in Williamsburg and a colorful "boutique" hotel located at 1107 DeKalb Avenue in Bed Stuy, as well as multiple projects in Manhattan. [Brownstoner]
Sick transit, Gloria!
One of my favorite church buildings in NYC, in fact, one of my favorite buildings, is the 1870 Church of the Annunciation at Havemeyer and North 5th Streets at Metropolitan Ave. As the website Novelty Theater explains, It was designed by aforementioned architect Francis J. Himpler, a German immigrant, most of whose other NYC works have been torn down by now. (The AIA Guide to NYC misattributes the building to A.J. Berlenbach, Jr.; Berlenbach did design the parish convent on Havemeyer Street in 1889, as well as the parish school on the NW corner of Havemeyer and N. 5th.) The parish house can be seen on the right.
In 1914 the Annunciation parish was taken over by a Lithuanian congregation; a Lithuanian roadside shrine, with an inscription in the vernacular, can be found near the church's front entrance. Roughly it means, "Mary, guard Lithuania and her children."
The marble spaces above the church doorways have more gilded inscriptions in Latin. The church has been stewarded well over its over 145-year history. Williamsburg looked with pride at this church-school combo until a developer got his mitts on the school.
"Annunciation" refers to the New Testament story of the visit by the archangel Gabriel to inform Mary that she was "immaculately" conceived of God, without original sin, and that she was now expecting to deliver Jesus, the Son of God, in 9 months.
Ambling along Marcy Avenue south of Metropolitan Avenue, which border the BQE in these parts, I stumbled on the "new" location of Duff's, a legendary Brooklyn biker bar that was forced by developers to relocate from its old location on Kent Avenue and North 3rd Street some years ago.
The management sensed things were getting a touch chichi in western Williamsburg in 2008. I haven't been in Duff's — let owner Jimmy Duff himself tell you what it's all about, from their official website:
Duff's is the metal mecca in NYC – It's about a lifestyle, not a marketing strategy. What you'll get – cool people/music, cheap drinks, and great service in an original, truly one of a kind environment. DUFF'S also features a large outside deck that's open year round', where you can enjoy a smoke with your drink, safe from Smoking Police, and use our large public grill for cookouts. What you won't get – Corny/corporate promotions, overpriced "umbrella" drinks of any kind, asshole "buzz kill" patrons, and no yuppies around for miles.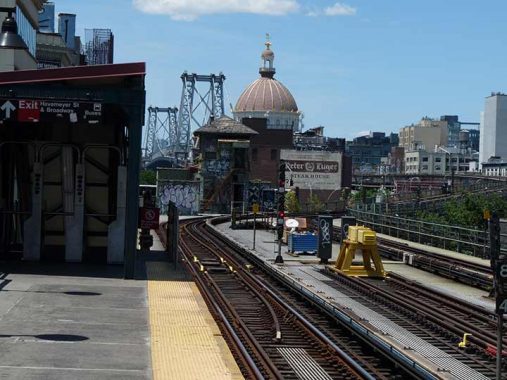 Here's the cheating I was talking about. My destination was a spot in Glendale you'll read bout later. However, I didn't feel like walking all the way there from Williamsburg. Maybe a few years ago, I would have; I have friends just. few years younger than I who routinely can walk 25-30 miles in one day. I am not one of those people; my all-time max has been 15 in one day. There was a ready solution handy: The M train to Fresh Pond Road.
The north end of the southbound platform at the Marcy Avenue J/M station is among the city's most photogenic. From here you can see the Williamsburg Bridge and a painted ad for the Peter Luger Steakhouse. I have eaten there twice. It's a no nonsense palace for people who enjoy beefsteaks. Each time I have been there, there were four of us. When the rare porterhouse was brought over, with the traditional creamed spinach and home fries, we set on the meat like hungry jackals until a half hour later there was nothing left but bones. Now, this was a number of years ago and the bill for four was approximately $200, which we didn't feel was outrageous for the time; it's more expensive now (help me out in Comments).
My other Luger experience came before that. A friend and I were driving around Greenpoint and Williamsburg just before Christmas in 1992. We were a bit dry and spotted Luger's, walked in and had a drink by the bar, which is just inside the entrance. It was around noon. While there, I spotted guys rushing about with platters piled high with raw meat. "My kinda place," I thought, but didn't get to eat any of that meat until some years later.
The domed building in the middle of the photo is the original branch building of the Williamsburg(h) Savings Bank, constructed between 1870 and 1875 (George Post, arch.) This was the Savings Bank's headquarters until 1929, when Brooklyn's first skyscraper was constructed at Hanson and Ashland Places in Fort Greene…so the Williamsburg Savings Bank, now HSBC, has built two of Brooklyn's signature buildings. The bank, now called Weylin, is now an event space (weddings etc.)
After getting off the M at Fresh Pond Road I headed south. An unimportant-looking two-lane road branches from Fresh Pond Road at 69th Avenue. It is actually the original southern extension of Fresh Pond Road and is the only direct north-south route through the massive Cemetery Belt arrayed along the glacial moraine separating Brooklyn and Queens.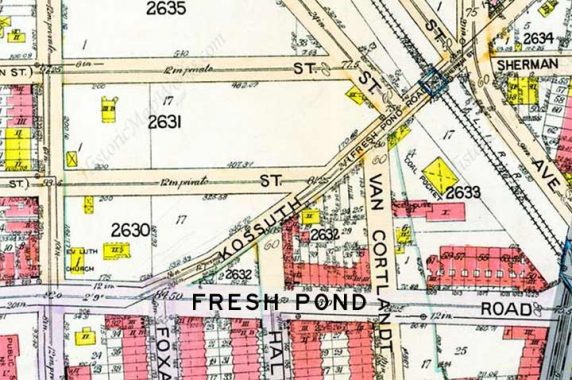 The road traced the original path of Fresh Pond Road; when the original was extended south to Myrtle Avenue in the 1910s, the road required a new name. It was called Kossuth Place for a time, as on this 1915 map; Lajos (Louis) Kossuth was the hero of the Hungarian revolution of 1848-1849. Much of the road south of Central Avenue was granted the name Cypress Hills Road, then Cypress Hills Street, except for the southernmost portion that connected with Jamaica Avenue and Euclid Avenue; that section kept the name Fresh Pond Road well into the 1940s at least, adding to the confusion. Cypress Hills Street, Cypress Hills Cemetery and Cypress Avenue are named for a preponderance of cypress trees in the cemetery belt.
Between Myrtle Avenue and Cooper Avenue, Cypress Hills Street is a relatively narrow one-lane route running one-way south. South of Cooper, though, it's transformed into a 4-lane behemoth (that the city recently reduced to two by adding bicycle lanes) that traverses the belt and connects traffic to the Jackie Robinson Parkway and Jamaica Avenue. Between the Jackie and 80th Avenue, it passes Machpelah Cemetery on its west side. Why do I mention that? A walk through the front gate and a jog to the left and you are in the company of Harry Houdini's remains.
The Salvation Army still owns this building on Cypress Hills Street (CHS) just south of the Fresh Pond junction and its metallic letter signage and a painted logo remain.
In the early 20th Century, farmer Walter F. Ring, sensing change in the air as urbanization was taking hold, went out independently and found a partner, William R. Gibson. They formed the Ring-Gibson Company, whose forte was building multi-unit rowhouses with businesses at ground level.
They were very interested in developing the part of the Ring land that fronted Fresh Pond Road, but as it was still owned by the Ring heirs (of which Walter was one), they could not buy it directly. In a strange and legally questionable arrangement, they asked developers Paul Stier to buy the land, which Ring-Gibson then purchased from him for $1. Much of today's Fresh Pond Road commercial district came about because of this deal.
The early members of the Ring family were farmers and lived in this house, which was built in 1860. In 1910, they sold the house and moved it to its present location at 70-12 Cypress Hills and 62nd Streets.
What had been a dumping ground at Cypress Hills Street and Shaler Avenue at the LIRR Bay Ridge Branch was transformed into a nifty green space, Ridgewood Garden, from 2015 to 2016 by George Negoescu.
65th Street between Cypress Hills Street and Cooper Avenue. Here Ridgewood begins to melt into Glendale; I'm not sure what is the official dividing line between the two communities; have at it in Comments. My guess is that the LIRR Bay Ridge Branch elevated trestle does the honors. I have always been drawn to Ridgewood, as its attached, stooped houses remind me of my "home town," Bay Ridge.
Sligo, Glendale
It had been awhile…perhaps since before the pandemic began in 2020…that I had been in Glendale. It's a hike from any of the buses that run from the LIRR in Woodside, and of course has no subway of its own. However, on the 4th of July I was stir-crazy and before getting crazed from the heat, made my way from Hunters Point through Greenpoint through Williamsburg and then, with the aid of the M train, Ridgewood and then Glendale.
Apparently I had never been down this particular stretch of Cooper Avenue, one of Glendale's main east-west drags along with Myrtle Avenue, because I would certainly had taken note of the signage on the corner residence at 64th Lane (street numbers tend to repeat in this part of Queens) because of the vintage blue and white Ireland Street sign mounted on a vane pole along with traditional directional signs found in Ireland. There's also a die cut One Way sign that resembled the ones used in NYC until the 1960s, though those were usually inscribed "Police Department" as the NYPD was in charge of traffic control before the Department of Transportation was founded. The Ireland Street sign came from Woodside, which is where Ireland Street can be found in Queens.
Also curious is the references to Dromore West in County Sligo...
…which can also be found inscribed on the awning of Tee Dee's Tavern a block away at Cooper Avenue and 64th Place. Thus, we can infer that Glendale is populated by a not unsubstantial number of immigrants from County Sligo in Ireland and more specifically, the town of Dromore West.
What baffles me is that I had never heard of Glendale being a hotbed of Irish immigration; Woodside yes, Woodlawn Heights in the Bronx yes, but not Glendale. In Comments on my original post about the Sligo Glendale connections, "Burke from Glendale" says:
It's a local well-known family that has been very successful in their many business and real estate ventures. Each family member's house has a Sligo and related street sign attached to it. If you walk around Liberty Park, you will find enough of them. I remember noticing the signs around 2003-2005ish. You can buy these signs online. Not saying that is where they got theirs; They may have gotten theirs from Ireland or handed down in the family. The name of their cleaning business is called Sligo. That may be where they get some of their vintage signs from. I have a relative with a cleaning business and that is where he gets his vintage items from, cleaning out estates, fire jobs, and the such.
I am only rarely in this area of Glendale and found this church, Crossroads Christian Center, cornerstoned 1929, on 64th Place between Cooper and 78th Avenues. I wonder what the church was when it was built. I do know what 64th Place was when it was built: Slocum Street, as this 1915 map shows. Victims of the 1904 General Slocum steamboat tragedy are memorialized in nearby Lutheran-All Faiths Cemetery.
Phil Rizzuto played shortstop for the New York Yankees at 5'6″, 150 lbs., from 1941 to 1956 minus three years in the Navy during WWII. He was a 4-time All Star and captured the Most Valuable Player award in 1950, when he hit .324 and scored 125 runs. Yet, his most meaningful contribution to the NYC sports scene was his over 40 years calling play by play for the Yankees, beginning shortly after his retirement, when his spontaneous, off the cuff yet never hostile style captivated listeners on radio and television (before the seventh inning, when "the Scootah" often left to beat the George Washington Bridge traffic back home to New Jersey during home games).
Rizzuto was born on Dill Place (now 61st Street) in Glendale, specifically in this house at 64th Street and 78th Avenue. His name is now emblazoned on two NYC signs, as the city marked his presence here with a street sign in early 2022 and back in 2008, renamed Smokey Oval Park, which is actually a rectangle defined by 125th and 127th Streets and Atlantic and 95th Avenues in Richmond Hill, with a brown leaf NYC Parks Department sign; Rizzuto played his schoolboy ball at Richmond Hill High.
I found this backyard entrance on 64th Street at Cooper Avenue fascinating, from the cats to the kite flying twins on the plaque.
An argument can be made that the LIRR Bay Ridge branch is the Glendale-Ridgewood dividing line, as 75th Avenue (Glendale) (foreground) becomes Forest Avenue (Ridgewood) on the opposite side.
Walking on Seneca Avenue toward the train, I was fascinated with the massive Intermediate School 77, originally PS 77, between George and Centre Streets; most NYC schools adhere to the tradition of providing no architectural information on their websites, but I can say the building predates 1922, per this image from the Queens Library Digital Archives.
I wonder if it is coincidental that a number of Ridgewood streets in this area carry men's given names: George, Norman, Stephen. In fact the street naming system is a mishmosh in Ridgewood, with a number of the streets being northeast extensions from way west in Bedford-Stuyvesant.
Rudy's Bakery & Café, 905 Seneca Ave. between Myrtle and Catalpa Avenues, has been in business for just over 80 years. The German word Konditorei can be translated as "cakes or baked goods." Best known for cheese danishes, Black Forest cake and its assorted cookies, longtime owner Toni Binatti has brought Rudy's into the 21st century with WiFi access, the better to sit inside, sip espresso and munch on goodies. Here's what it looked like in 1940. Sadly, the diner just to its left, where we had a postgame show after a Forgotten NY tour some years ago, has closed.
Why this unsolicited plug for the bakery? Going through the municipal archives, I found the exterior reminiscent of another bakery that held sway on NYC streets for over a century.
Cushman's Bakery was founded by :. Arthur Cushman in 1855, five years before the Civil War. In the early 20th Century Cushman's expanded into a multi-bakery franchise, with a Cushman's on virtually every busy shopping strip in town. By the 1930s, Cushman's had adopted modern, futuristic design for its stores, with rounded exterior display windows and interior cases, and white on white as a color scheme. The design wouldn't have been out of place at the 1939 World's Fair or even the 1964 Fair. However, that was the year that Cushman's sold its last pumpernickel at the Port Authority Bus Terminal west of midtown.
Is the Rudy's sign imitative or reminiscent of the Cushman's signs? Could be.
In some parts of town, there's been a resurgence of interesting sidewalk shingle signage. At first I was stumped by the "Milk & Pull" sign at Seneca avenue and Madison Street; not being a coffee drinker: it's a gourmet coffee and espresso franchise.
On the opposite corner is the Chilangras taqueria, whose handpainted sign replaced an earlier handpainted sign for Madison Barrel, which was actually an eatery.
Also at Seneca and Madison is a Donald Deskey lamppost: but an interesting one because it still has the unique fire alarm lamp reflector design; the city stopped servicing them 15 years ago, but some still remain. It was a flawed design and many of them had to be fastened in place with tape, as it is here.
Time to head for home at the Seneca Avenue el station. As you can see the station's entrance platform makes for very low clearance and so the corner lampposts have to bend around it. When I first began bicycling into Ridgewood in the 1970s and 1980s, these two corner lamps still carried 1950s era Westinghouse incandescent "cuplights"!
Seneca Avenue, which has a center platform, is one of my favorite subway platforms in NYC and you can easily see why, as you can view Seneca Avenue north toward the King of All Buildings, or south toward PS 77, with the treeline at the horizon representing the cemetery belt.
This graffiti-scarred wall facing the station once featured a painted Planters Peanuts ad that I mistook for an actual ad from mid-century. It was actually painted for the film Brighton Beach Memoirs (1985), which I have yet to see. I photographed it in 1998, and you can see it on this FNY page.
Casting my glance sidewalkward, I saw what appears to be a social club bearing the name Roberto Clemente. 2022 is the 50th anniversary of the death of the Pittsburgh Pirates superstar, who died in a plane crash on December 31, 1972 while delivering supplies to Mangua, Nicaragua, which had been devastated by an earthquake. If anyone knows anything about this establishment, add a Comment below.
As always, "comment…as you see fit." I earn a small payment when you click on any ad on the site.
9/18/22