I have lived on, or very near, 6th Avenue in Bay Ridge three times. My first couple of decades were spent in my parents' 2-bedroom apartment at 8302 6th Avenue and 83rd Street (to my eternal regret my mother did not want to buy a house, even in the fab fifties when they were more affordable). In the 1980s I moved to a place on 73rd between 6th and 7th, shown below, and after an ill-begotten year at a too-large and too-expensive place on 10th Avenue, I moved back to a 1-bedroom at 8302 6th. Then, I got a job at a direct mail place in Port Washington and moved to Queens, where I have lived in eastern Flushing and Little Neck.
My never-ending dental work frequently brings me back to Bay Ridge, and I always seem to find something new to write about or some new detail to obsess over whenever I'm here. In November 2012, I visited the area surrounding the 73rd Street apartment, which I still have a soft spot for since it was the first place I ever rented on my own. I was actually around during the day for much of my stay here, as I was working the all night shift at the world's biggest typositor at the time, Photo-Lettering. At one time, typesetting and its companion skills, copy "specking" or estimating what size type would fit an area, and proofreading were considered valuable and marketable abilities. I digress.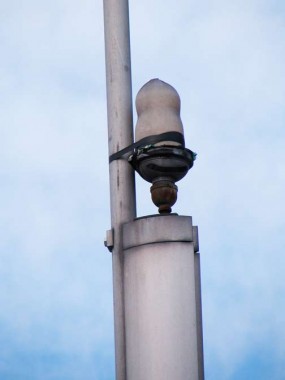 I have said often that a major impetus in the formulation of Forgotten New York in my sugar-addled brain in my formative years was the wholesale replacement of all the ornate, castiron Corvington longarmed lampposts on 6th Avenue by a set of gleaming new, slotted Donald Deskey lampposts. I can now add this added detail: At first, the 'humpback' black and white street signs were simply moved over to the Deskeys, which made for a somewhat jarring visual. After a couple of years, in 1964 or thereabouts, all Brooklyn streets got a set of black and white vinyl signs, with the street name or number rendered in Highway Gothic.
To this day a few of those Deskeys from 1963 are still in place on 6th Avenue. This one, on the corner of 72nd Street in front of the venerable PS 170, was just replaced in the last couple of years by a standard octagonal-shafted aluminum pole. In NYC, on every other corner there is a fire alarm stanchion, and until the last couple of years lampposts adjacent to the fire alarm carried a fire alarm marker light with a cylinder made of translucent plastic. The incandescent bulb within would give it an orange glow at night. They have since been replaced with a small red light just above the bright sodium streetlight, that renders the tiny red light invisible. Additionally, many fire alarms have been decommissioned in the era of wireless telephony, and the little red lights still light up to mark former fire alarm locations. Again, I digress.
My point here, that I have taken a circuitous route making, is that as you can see with the Deskeys, that fire alarm light never seemed to fit well. About half of them used the cylinder seen here (which got quite weathered and battered over the years) while the other half sported a squarish design that was exclusive to the Deskeys. They never could seem to remain in place. The city usually wound up holding them in place with duct tape.
By the way, this stretch of 6th Avenue had a hidden treasure when I first moved near–an honest to betsy soda fountain, with the marble counter, the mirrors, the refrigerator full of schlag, you name it. Of course, I never took a camera with me everywhere then, and within a couple of months, the soda fountain closed and was replaced by a catering firm whose sign is still there even though the caterer seems long gone.
Some of NYC's fire alarms date to the 19-teens and nearly century-old examples can still be found around town. The earliest models in this series in 1912 featured an FDNY interlocking monogram, but after 1913, the familiar F.D.N.Y. initials.
This building, on the corner of 6th and Ovington Avenues, seems to be from a "kinder, gentler" era, and has probably held the corner down since the 19-teens, at least. Another 1963 Deskey lamp is on the corner.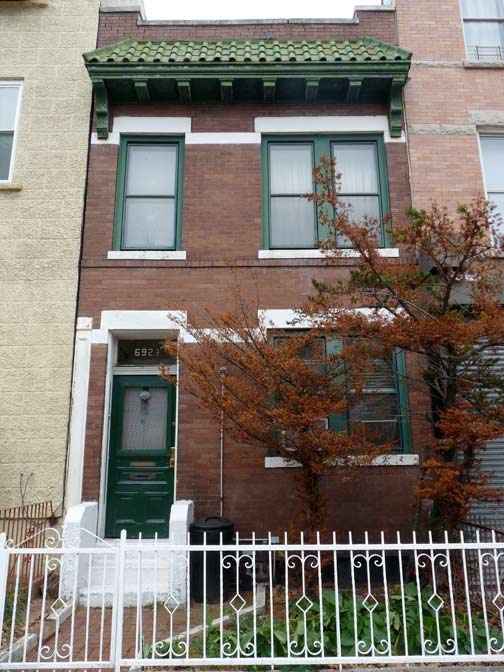 Similar buildings accompany it on this side of the street, such as 6923 6th Avenue.
Ovington Avenue runs from Bay Ridge into Dyker Heights and is one of the last remnants of Ovington Village, formed by a group of artists and artisans in 1850 who had purchased the Ovington family farm. Incorporating under the name Ovington Village Association with Charles Parsons as president, they opened Ovington Avenue through the region, lined with spacious homes on 400-foot wide plots.
The Ovington family owned a farm in the vicinity in the 1840s. Henry Alexander Ovington, who bought the property for use as a summer home, was the assistant chamberlain of New York City. Three of his sons owned Ovington Brothers, a china shop on Fulton Street whose name can still be found on vintage crockery. Another son, Earle, was the first air mail pilot employed by the U.S. Post Office.
However, the most famous member of the Ovington family was Mary White Ovington, a co-founder of the National Association for the Advancement of Colored People (NAACP), and a moving spirit behind the Niagara Movement.
The history of the area is not limited to the annals of the Ovington family. Rather, the intersection of Third Avenue and Ovington Avenue was the site of a skirmish between colonial forces and British troops a few days prior to the 1776 Battle of Brooklyn.
Ovington Avenue was originally named Cedar Lane. It served as the gateway from the local concert hall, the Atheneum, to Ovington Village. Historic Districts Council
There's one more oddity connected to Ovington Avenue. It runs in a rather weird pattern. If you look at a modern-day map it runs one block south of Bay Ridge Avenue (called by one and all in Bay Ridge 69th Street). It resumes course again at 10th Avenue east to 15th, running one block north of Bay Ridge Avenue this time, not quite parallel. There is a reason for this, as before 1910 or so Ovington Avenue ran into Bay Ridge Avenue at about Fort Hamilton Parkway and then continued southeast, as shown on this 1890 map. Later, the parts that intersected Bay Ridge Avenue were eliminated by housing on the side streets.
Ovington Avenue and the plight of the now-demolished Green Church
One more Donald Deskey, this one at Bay Ridge Avenue and 6th Avenue. This one is a 1963 original with manufacturer A.S.W. (American Steel Works) stamped on the base. There is a current American Steelworks in Melrose Park, Illinois, but I do not know if that was the same firm. Information on the original manufacturer is murky, as they also seemed to be made by the Street Light Equipment Company, or SLECO. Over the years, it has acquired a new base (one that standard octagonal poles use, with the Deskey shaft affixed on top of it).
Stewart Avenue
Rounding the corner on 72nd Street, I again encountered what may be, along with Ovington Avenue, the oldest street in Bay Ridge.
At present Stewart Avenue runs two blocks between 74th and 72nd Streets, and again from 71st to Ovington. It had run continuously but in about 1981-1982, tract housing was built on the segment between 71st and 72nd. It's a mostly unpaved or dirt road from 72nd to 73rd but a close looks reveals that segment had been paved decades ago. The portion between 71st and Ovington survives because it's used as a driveway by the owner of an adjacent house.
The Department of Transportation actually marks Stewart Avenue at its intersections with 72nd and 73rd Streets, but not on the other remaining section. There are no streetlamps and no remains of any that I can see. When I lived on 73rd Street there was a rusting one-way sign on a telephone pole at Stewart and 73rd, but that was long before I began impulsively taking pictures of everything.
As an amateur historian, I deeply appreciated living next to this piece of history just down the street from me, for several years. I've never tired of collecting information about it.
This is a section of an 1873 Beers atlas of New Utrecht. (See the whole map here.) Bay Ridge had acquired its name in the 1850s after a yellow fever breakout made its old name, Yellow Hook, fall out of favor. I have marked the path of Stewart Avenue, which pretty much ran north to south, in red. It followed the paths of 4th and 5th Avenue from the Narrows north to beyond the present 60th Street.
In 1873, pathways from the colonial era were still the only way to get around, as the area was dotted with family farms and villages such as the Ovington settlement. The well-to-do were already building large estates along the shoreline as the black squares along Shore Road indicate. The present street grid was being surveyed in 1873 and while most east-west streets are not even shown yet, 2nd, 3rd and 4th Avenues were already in place, with a  horsecar line along Third. Fort Hamilton Parkway, a road between Fort Hamilton and Ocean Parkway, was already in use.  On this map you can also see where Ovington  and Bay Ridge Avenues came together to form a V.
By 1896 the surveying of Bay Ridge and its new street grid were coming along nicely. On this map, streets open to traffic are shown in purple. So, 4th Avenue, Ovington Avenue and Stewart Avenue are open and in Stewart Avenue's case, still important routes.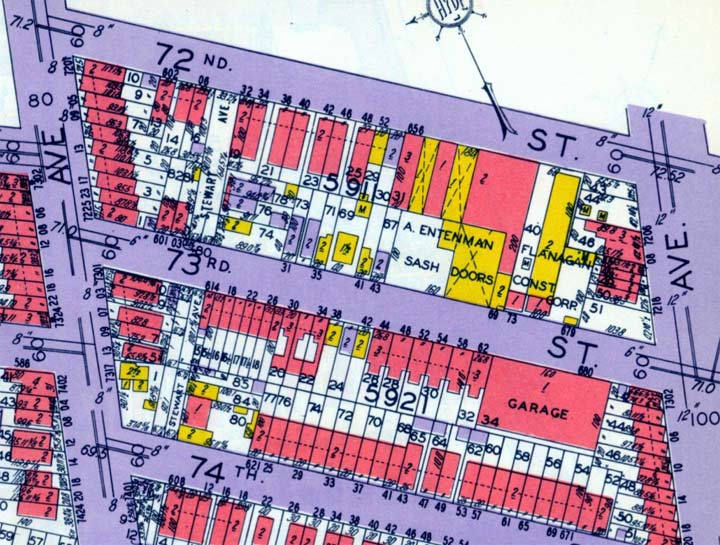 An incredible transformation has taken place by the time this Belcher-Hyde property atlas was produced in 1929. Virtually every building standing today had been built by then. However, since 1929, the entire right side of this plate has been eliminated and replaced by the Gowanus Expressway. On 73rd Street, note the "54" on the south side of the street. That is the building where I lived. Stewart Avenue is still there, but it's only a formality at this point.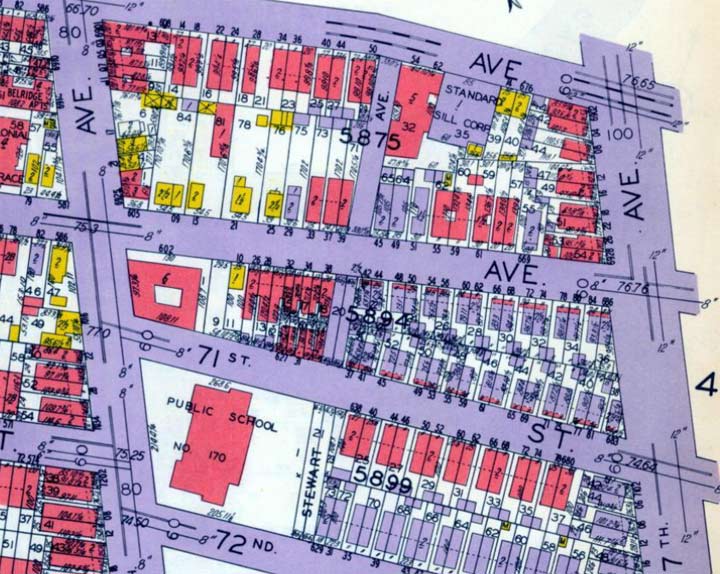 This section shows Stewart Avenue behind PS 170. This dirt road was still in place until about 1981. North of that is the paved section between 71st and Ovington Avenue.
The map depicts Stewart Avenue running all the way to 67th Street at Leif Ericson Square in 1929. This section may have been extant when I was a toddler, but construction for the Gowanus Expressway wiped it out beginning in 1959.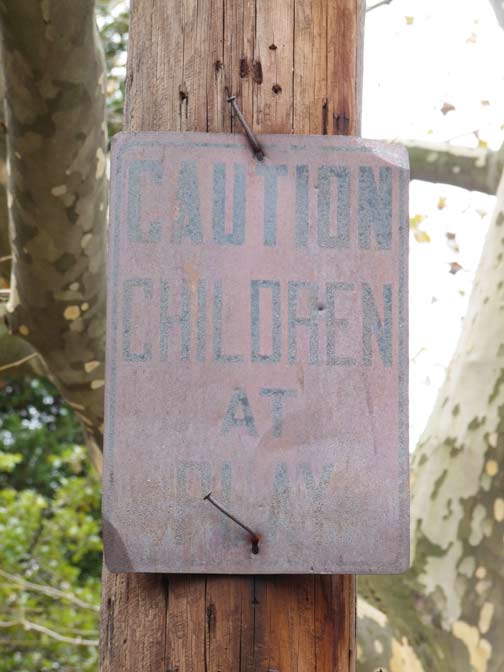 Although Stewart Avenue's one-way sign might be gone, there's still this ancient Caution Children sign on 73rd Street. Time and its rust have just about made it illegible.
Though 73rd Street runs from Narrows Avenue to Stillwell Avenue in Bensonhurst — several miles and about 25 avenues — it's a one block street between 6th Avenue and 7th because of an interruption in its course at 6th Avenue. The presence of Ovington Avenue forced surveyors to make adjustments in the grid when the it was laid out in the late 1800s. Then, the construction of the Gowanus Expressway ended the street at 7th.
In the 1980s this was my world and I would walk it just about every day to get to the shops on 5th Avenue. Since I left in the early 1990s, 5th Avenue has taken an ever greater Middle Eastern presence, just as 8th Avenue to the north became NYC's third Chinatown. 73rd between 6th and 7th is lined with cottage-like houses on its north side and apartment blocks on its south side.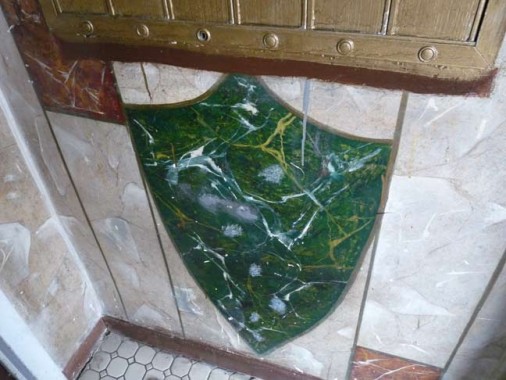 654 73rd, my home for eight years, part of a row of what were once six 2-story, 6-unit apartment houses likely built in the mid-1920s. Here's some of the marblework in the front foyer. The Gowanus Expressway claimed 658 and 662 (some house numbers were skipped for some unfathomable reason) beginning in 1959. That tree in the front was just a twig when I left in the early 1990s.
I held onto the place for 8 years (my two windows were on the third floor on the left) despite the place being fairly drafty because of faulty insulation along the windows, so I used heaters a lot. It essentially had 2 bedrooms, though the back room, which faced the Verrazano Bridge in the distance, was too small to fit a regular-size bed. It was nominally a 3-room apartment since there was no barrier between the living room and kitchen, which together made one huge room. My bedroom in the front faced 73rd Street and the expressway. I used the room in the back, which had windows in 2 sides and faced the Bridge and McKinley Park (see below) as a media room, with stereo, TV and my 500 albums.
I was sorry to leave. I had a low rent and the owner (who had bought the place 2 years after I moved in, so he "inherited" me) gave me a story about his daughter needing the place, which I foolishly believed. Of course after I had left, I met the landlady on the street, who said they had the place renovated, would I like to see it? I saw it, but the rent had nearly doubled, so I turned it down. It's still my favorite place, though.
I have in my possession the Department of Transportation's current (2013) design manual for NYC lampposts. It features neither the Deskey lamps, which are being grandfathered out, nor this style of expressway post, which has a cylindrical shaft instead of an octagonal one.
These style posts have been produced for use on expressways and their service roads in NYC since the early 1950s. They seem to be on the decline these days, as newer styles of expressway posts have supplanted them, and in the 1980s the DOT also used  its own version of cylindrical lamppost, which has since reverted to the classic octagonal form.
This pole has likely survived since it's heavily laden with signage for one-way, streets, schools, stoplight, and walk and don't walk. It faces a pedestrian bridge over the expressway (see below).
Since the Gowanus Expressway was constructed, it has been flanked, between 65th and 83rd Streets, with two 7th Avenues. The niceties of "7th Avenue North" and "7th Avenue South" have been dispensed with, since very little property actually fronts on them and they don't need to be officially differentiated.
But the "new" 7th Avenue, which runs along the Gowanus on its west side, was an object of mystery for a future Forgottoner. As early as 1964, at age 7, I was watching the road getting built and wondering what it this new street would be called. I recall feeling a smidge deflated when it was merely named "7th Avenue." The announcement was made, though, with the first vinyl street signs I had ever seen.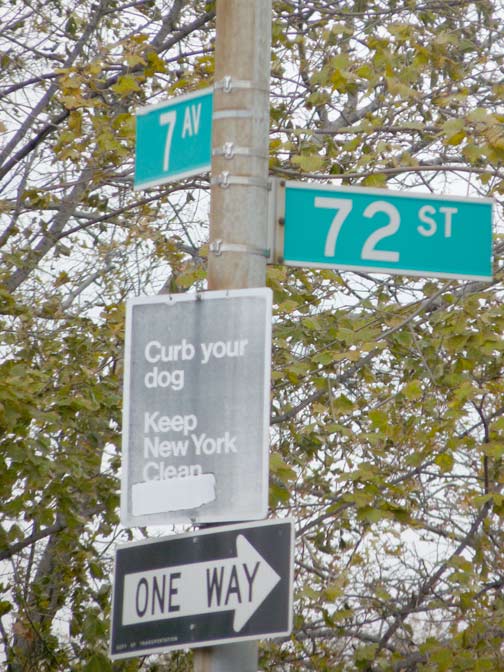 A post on the other side of 7th Avenue carries a late-1960s or early 1970s 'curb your dog' sign. It's unbelievable to think of it now, but dog owners cleaning dog shit out of the curb was not made mandatory in NYC until the Koch Administration in the early 1980s.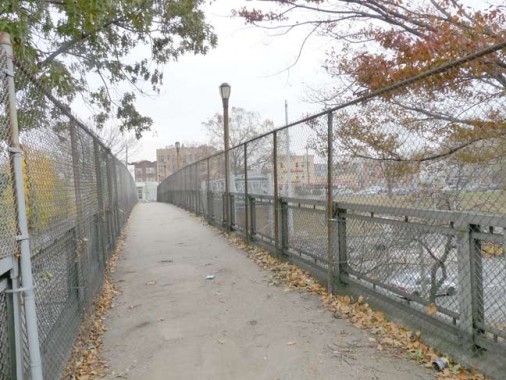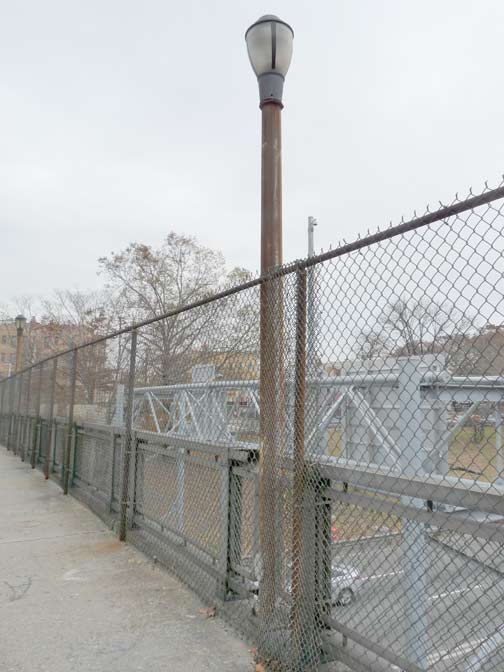 In 1963 two pedestrian-only crossings were built across the Gowanus Expressway, one here at 72nd Street and another at 84th Street. Roadway bridges cross at 67th Street, Ovington Avenue, Bay Ridge Avenue (69th), Bay Ridge Parkway (75th), 79th Street, 86th Street, and 92nd Street.
Originally these walkways had rather low davit-style lamps featuring Westinghouse luminaires with exposed lightbulbs, which the local youth proceeded to break with regularity. After a few years, these 8-sided poles, used mainly in parks, took their place, but while I was living nearby I noticed the local youth were still breaking them and they weren't being replaced very quickly. A letter to a local political official effected a swift repair, and as far as I know, they've been in good shape since. I do my part.
A relatively new addition has been these bicycle gates on both ends of the walkway. At various times, kids on bikes will simply barrel off the bridge into the crosswalk, which had caused injuries and fatalities. These gates attempt to curb that behavior.
Because of the street layout in Bay Ridge, thee are two points where a pair of numbered avenues come together at a V. There's one at 4th Avenue, 5th Avenue and 95th Street, and here again at 7th and 8th Avenues and 73rd Street. In both cases, the lower-numbered Avenue "wins" and gets to proceed south.
This triangle features a war memorial dedicated to a local soldier, Anthony Mondello. It's also home to a clutch of Brooklyn parrots, though I didn't see or hear any the day I was there.
The restaurant across the street, New Corner, is one of Brooklyn's more venerable and admired, though I admit I've never been in. I was always in Zeke's Roast Beef on 8th and 66th. Zeke's recently opened up a new place on 3rd Avenue.
I've also never been in Purple Rose, though time moves more slowly in southern Brooklyn and this, too, has been here for eons.
Here's the 73rd Street and 7th Avenue entrance to McKinley Park, which sits in the top part of the "X" formed by Fort Hamilton Parkway and 7th Avenue.
On December 21, 1903, a new park in the Bay Ridge neighborhood of Brooklyn was named in President [William] McKinley's memory. Located on two blocks bounded by 73rd Street, Seventh Avenue, 78th Street, and Fort Hamilton Parkway-this park had been purchased by the City of New York earlier that year. The site's woodlands and meadow made it popular with picnickers. By the 1910s a parkhouse had been erected, a skating pond was created, and tennis courts were built in McKinley Park. The western portion of the park was named in 1979 in memory of Father Richard A. Kennedy and Monsignor Edward J. Sweeney, both pastors of St. Ephrem's Church in Bay Ridge. NYC Parks
See above link for more on William McKinley, an Ohioan who was elected President in 1896, defeating William Jennings Bryan. The Spanish-American War was fought during his term. He was the third assassinated President, following Lincoln and Garfield. He was replaced by Vice-President Teddy Roosevelt, who won the Presidency again in 1904 and ran a second time in 1912 on the Bull Moose ticket.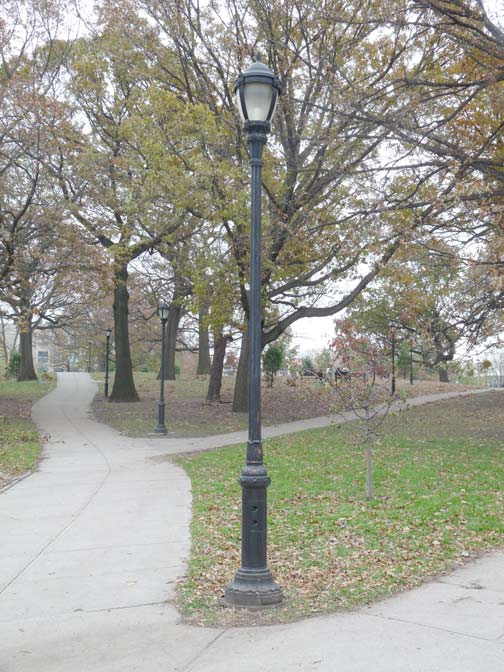 Since I was last in the park it gained a set of Henry Bacon-style Type A park lights. They're distinguishable from their shorter Type B cousins by the shorter shaft.
There's a subgenre of NYC lampposts, mostly used in parks, known by their letter designations.
When I was a kid, I remember McKinley Park's crowd of Type G posts, attended by a menageries of different luminaires, from radial wave fluted lights (which once totally dominated the 'outer' boroughs) to the curved crescent moons.
Lampposts By the Letter [FNY]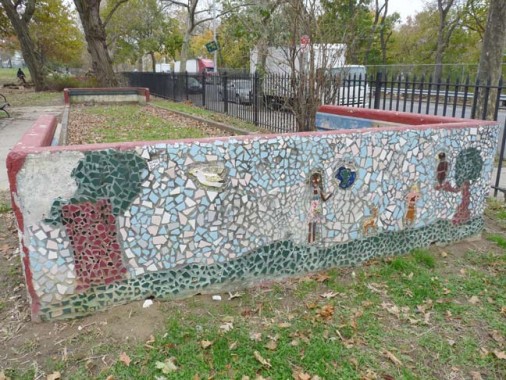 Many of NYC's public parks have bocce courts. However, the Italian lawn bowling game has had less and less devotees over the years as its participants grow older, and while some bocce courts have enthusiastic action, some are left abandoned. This one has some engaging mosaic artwork.
Much of McKinley Park's spread north of Bay Ridge Parkway is given over to woodland and hills, flattened elsewhere in the neighborhood, have been preserved here and sledding is possible when there is enough snow. South of 75th Street, the park is given over to tennis and basketball courts.
McKinley Park House has had its ups and downs over the years, including a 1994 fire, but it played host to Mayor Rudolph Giuliani's first "town hall" meeting that year. (Mayor Bloomberg, not as willing to mix with the hoi polloi, has had fewer of them.)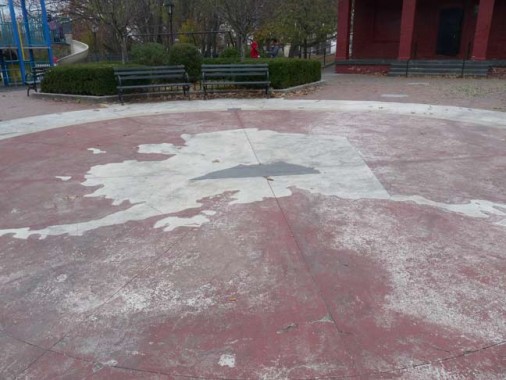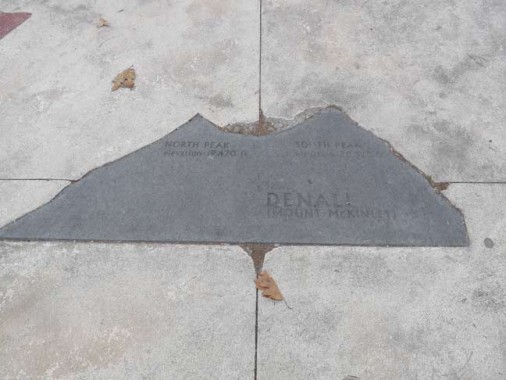 At first, you'd think a representation of the state of Alaska makes no sense in McKinley Park, but then you think of Mount McKinley (Denali) which at 20,320 feet feet is the highest mountain peak in North America. It was not named posthumously after the President's death, but as a show of support by a gold prospector in the 1890s. The state of Alaska officially calls it its Native American name, Denali, which means "the High One."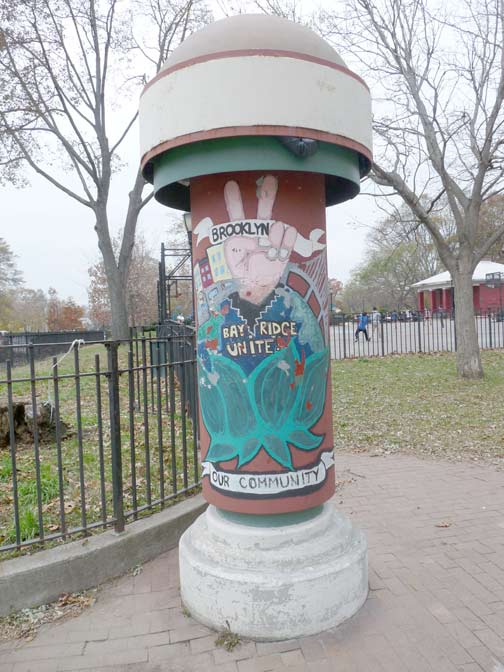 This pillar marking the entrance to McKinley Park at Ft. Hamilton Parkway and Bay Ridge Parkway was placed during park renovations in the early 1980s.
St. Ephrem's Parish church at 75th Street and FHP, across the street from the park. The parish was founded in 1921 with the present building consecrated in 1953. Those dates are remarkably similar to the opening dates of the adjoining St. Anselm parish.
Ephrem was an ecclesiastical scholar in 4th-Century Syria.
In 1986, my cousin Eileen was married in this church. It was the same day the the Mets' Lenny Dykstra hit a game-winning playoff HR against the Houston Astros. After the game ended, I casually strolled across the highway pedestrian bridge and McKinley Park to the church. About as casual as you can be wearing a tuxedo, pink bow tie and cummerbund.
A handsome group of row houses along Fort Hamilton Parkway faces the park between 75th and 76th Streets. My oral surgeon, to whom I've given a lot of business (in fact I am scheduled to get some teeth pulled the week I write this so a plate can be put in) formerly had an office in one of them.
1/6/13