I walked Wyckoff Avenue, which is on the Brooklyn-Queens line for most of its route, back in 2008 (we now speak of Forgotten New York as spanning decades) and I hate to generalize but back then, it was just beginning to feel the effects of "gentrification" however you wish to define the term; it had more expensive restaurants, is all I know. In recent years, the "creative class," the vanguard of gentrification, has caused a lot of public art to be installed on fences and painted on empty surfaces…
Running from Flushing Avenue to Cooper Street, Wyckoff Avenue is completely in Brooklyn up to Gates Avenue, and then the Broooklyn-Queens line runs down the middle to George Street (Queens) and then completely in Queens till it ends. Here, I should remind you that there is a George Street in Bushwick (Brooklyn) and a George Street in Ridgewood (Queens) that can't be mistaken since they're about a mile and a half apart, and that there is both  a Jefferson Street and a Jefferson Avenue in Bushwick. The two are 22 blocks apart, and neither can be mistaken for the other, but both encounter Wyckoff Avenue and its brother Bushwick and Ridgewood avenues.
Any old-time readers from the area remember when NYC was using color coded signs, and on the borough border on Wyckoff, where there black/white Brooklyn signs on one side and white/blue Queens signs on the other? If you have photos of this, let me know. Today, this undefended border is absolutely seamless, and Ridgewood to some degree even retains Bushwick's house numbering until numbered streets take over further east as you get close to Glendale.
When I left off in Part One, I had just finished inspecting what's going on with the old Dannenhoffer glassworks, which is being turned into an apartment and retail complex while retaining the old factory building, as well as the former Wyckoff Paint Fair which has become an upscale coffee joint yet has happily retained a vertical neon sign on the corner address. Continuing…
Another grouping of handsome apartments, dating to he 1910s or earlier, with ground floor businesses. A stanchion usually used to hold a 3-light stoplight here carries street signs and pedestrian control.
A laundromat on Greene and Wyckoff Avenues carries a painted tribute to Vincent Tillary, who died at age five in 1998. Greene Avenue was named for General Nathaniel Greene (1742-1786), who rose from private to one of Washington's most trusted officers in the course of the Revolutionary War. He was most active in the South, where his troops strategically retreated from better-equipped and trained British troops. (In the Revolutionary War, we largely outlasted the British). He is remembered by memorial tributes in many states but especially in Brooklyn, where Fort Greene is named for a fort Greene built there in 1776. A Rhode Island Quaker, he was excommunicated from the faith because he chose to fight for liberty. Greene Avenue is another one of those avenues from western Brooklyn that find their way to Bushwick and Ridgewood.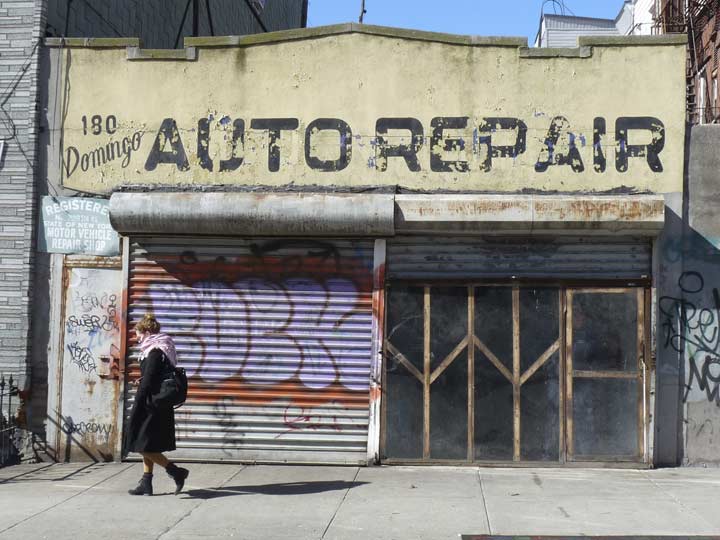 Nearby on #180 Greene is the Domingo Auto Repair shop which, despite appearances, is still in business. The old painted sign still gets the job done.
A completely rebuilt exterior, beside a more classic walkup apartment house, on Wyckoff Avenue between Greene Avenue and Bleecker Street.
In the latest edition of Google Street View for this block, in September 2014, the building with the new-ish exterior is completely grayed out, as its owner forbade its image from online distribution. I may hear from his lawyer.
The Brooklyn Bleecker Street and Manhattan Bleecker Street were named for members of the same family. Jan Jansen Bleecker was a Dutch immigrant in the 17th Century, while descendant Anthony Lispenard Bleecker was an early 19th Century landowner and farmer in Manhattan. The Bleecker family donated land to the city in the area of today's Washington Square Village west of LaGuardia Place. The Bleecker family scion, also Anthony (1770-1827) was an early NYC literary lion, whose work appeared in periodicals and journals of the era, and was a friend of Washington Irving and William Cullen Bryant; he was a founder of the New-York Historical Society. When a playground at Bleecker, Hudson and West 11th was constructed, it was, believe it or not, the first playground in the West Village. Famed author/preservationist/urbanist Jane Jacobs and her husband, architect Robert Jacobs, resided at nearby 555 Hudson Street.
A pair of buildings on the south side of Wyckoff between Bleecker and Menahan have mini-porticoes. These come in handy when it's raining and you are fumbling for the keys. Note the handsome scrolled railings.
Menahan Street was renamed for an area corset manufacturer Patrick J. Menahan several decades ago; its original name was Ralph Street, and if you follow it southwest it ends at Bushwick Avenue; detour down the next street over, Grove, to Broadway, and then back up Broadway a block…you'll find Ralph Avenue, which, along with Patchen Avenue, is named for colonial-era landowner Ralph Patchen. Ralph Avenue is one of Brooklyn's longest streets, extending, in pieces, all the way from the Bedford-Stuyvesant-Bushwick border south to Avenue U in Mill Basin; I'll have to walk that sometime. Was Ralph Street a northern extension? I'd have to think so.
Old Stanley's, a relatively new (2014) establishment:
In the heart of Bar Land (Bushwick), Old Stanley's is the kind of everyman's bar that quickly becomes your favorite neighborhood watering hole. I enjoy an artisanal cocktail with hand-carved ice as much as the next gentrifier, but sometimes you just want a cold beer, some peanuts and sports on the TV. The Big Buck Hunter in the corner is the only clue that we're still in Bushwick. [L Magazine] From the photo, I like the Christmas lights over the bar.
I thought these signs (Wyckoff near Grove) were a couple of decades old. Actually they replaced Gotham Pest Control within the last two years. Looks like a tailor shop and tattoo parlor in the same address. Bushwick…
Directly across Wyckoff is this pair of buildings which are more than a pair of decades old. The surprising thing about Wyckoff is that there are so many century-old places that look like they are a century old. They haven't had any cleaning or repointing work at all.
Looking west on Wyckoff from Gates Avenue, you are now straddling two worlds: one in Brooklyn, another in Queens; one in Bushwick, another in Ridgewood. In this photo, the Borough of Kings is on the left and Queens is on the right.
Years ago, the border did not zigzag along streets. It moved in a direct diagonal line, much as the Queens-Nassau line moves in Floral Park and Bellerose. But in 1898, when that line was drawn, Bellerose was mostly empty lots, forests or farms and there were no complications emanating from that diagonal line.
By 1925, things were a little different in Bushwick and Ridgewood. Both locales had been heavily occupied since the 1850s or so, and there were post offices, voting districts and other situations to consider. Therefore, the Brooklyn-Queens line obtained its zigzag appearance on the map. East of here, for the next mile or so, the Brooklyn-Queens undefended border will run down the pair of yellow stripes in the middle of the street.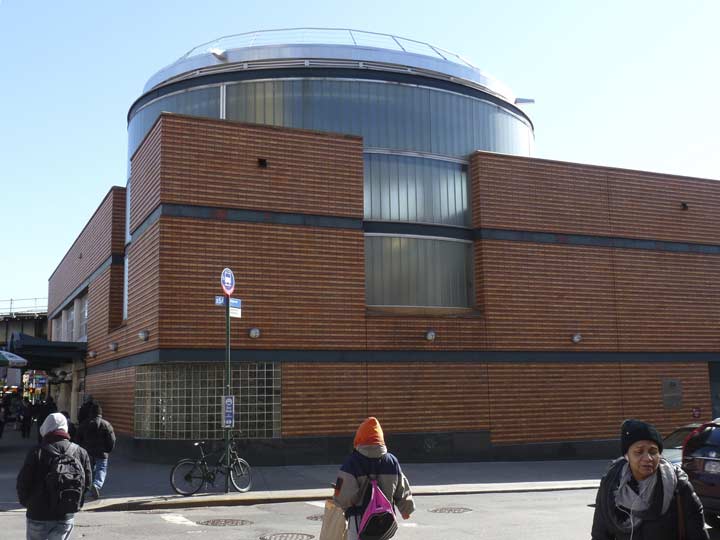 The junction of Myrtle and Wyckoff Avenues and Palmetto Street has been a major transit hub for decades. Until the 1940s, several trolley lines ended or began their routes here, and after that their replacement buses. Since 1928 the L train has transferred passengers to the Myrtle elevated (in 2016 serving J, Z and M trains). Until 2007 the junction was a maze of confusing passageways, but that year the MTA completed this new domed headhouse serving the two rail lines plus the slew of buses whose routes radiate from Ridgewood. The intermodal facility encompassing bus lines opened in 2010.
I cannot resist the lure of checking beneath els for any odd signage or lighting. Here at Myrtle and Gates, new superbright LED lighting has been installed on lampposts as well as on the el structure.
This leg of the remaining section of the Myrtle Avenue El (which once connected to the Brooklyn Bridge) is one of the oldest in the system, having opened in 1889. At that early date I do not know if Wyckoff Avenue extended this far southeast. However, when it was, two supporting pillars of the el fell directly in the middle of the avenue (or precisely on the Brooklyn-Queens border!) There are plenty of warning stripes and blinking lights, but undoubtedly, some drunks have wrapped their vehicles around these pillars on occasion during all those years.
I had originally thought this now-demolished 1897 building on Wyckoff just south of Myrtle was a trolley car barn, but my latest intelligence suggests it was a brewery. This, though, was the terminal for most of eastern and northeastern Brooklyn and southwestern Queens' trolley lines. The big facility (there's a photo in Seyfried and Asadorian's Old Queens in Early Photographs) was on the side of the street I was standing on, where there presently is a supermarket. Oddly Wyckoff never had a trolley line of its own after the W line was discontinued in 1920, though trolleys ran on a couple blocks of Wyckoff near the terminal.
This collection of unusual artwork by local artists was executed on the Food Bazar supermarket on Wyckoff near Myrtle in 2014 under the "Guided Gateways" banner.
I took a detour on Hancock Street between Wyckoff and Irving Avenues to check out what's happening with the old Evergreen Branch LIRR right-of-way. The railroad has not run a train for over forty years (and had been a freight line since the 1880s). When I first began limping around taking photos for Forgotten NY, I actually found a railroad crossbuck here and several of the cross streets still had old rails crossing them. At this remove [2016] the old tracks have been mostly removed, though extra-wide driveways mark the route of the former railroad.
At #881 Wyckoff at Hancock, on the Queens side, I found something unusual: a white piano in the front window. It is part of an events/performance space called the Bushwick Venue, even though it's technically in Ridgewood:
A new arts venue called The Bushwick Venue is located in Ridgewood, Queens — but the owner named it after the adjacent neighborhood hoping that the space will help push Bushwick forward as an arts destination.
The space at 883 Wyckoff Ave. is an extension of musician Johnny Olivo's photo and videography studio, BlueParallax. [DNA Info]
By the way, something unusual happens with Wyckoff Avenue's street numbering at about Madison Street. The Food Bazaar on the south side of the street, in Brooklyn, is 454 Wyckoff. Across the street, in Queens, that borough's house numbering system is in control and the buildings are numbered 779 through 793. Further southeast, it's Queens numbering all the way on both sides which run from the 800s on up. (Much of Ridgewood dispenses with the hyphens before the last two digits that make Queens house numbering distinctive.)
At Weirfield Street, a classic apartment building in Queens and junked cars in Brooklyn.
This is likely the very first photograph taken of this dead-end section of Eldert Street running south from Wyckoff Avenue. There's nothing to distinguish it except for that the Brooklyn-Queens line zigs south again here, running down the center of the street and then down its former route south of the dead end. For its last few blocks then, Wyckoff Avenue is all Queens.
What a difference two years make at Wyckoff Avenue and Covert Street. In the 2014 Street View photo, the building was dilapidated but still showed its original design features, but those have more or less disappeared after the makeover.
Two new coffeehouses have opened up recently: 1080 Brewery (the address) at Schaefer, and Bushwick Coffee House at Norman. "Ridgewood Coffee House" apparently doesn't have enough cachet.
Like neighboring Bushwick, Ridgewood was home to many German immigrants and was a brewery hotbed. According to late historian Vincent Seyfried,
For several decades up until about seventy years ago, Ridgewood was an important brewing center. Within a radius of about five blocks there were five big operators: the Welz & Zerweck Brewery, the Frank Brewing Company, the Elm (Eurich) Brewing Company, the Diogenes Brewing Company and the George Grauer Brewery. Most went out of business in 1920 when Prohibition came in.
This brewery building at Wyckoff and Decatur Street was likely one of the above. In 2014, it became home to the upscale pizzeria Houdini Kitchen Laboratory. The great magician/escape artist is buried in Machpelah Cemetery a couple of miles from here on Cypress Hills Street.
This dwelling with a wraparound porch on Wyckoff between Decatur Street and Cody Ave. stands out in this increasingly industrial region.
This large warehouse, now home to Cubesmart office supplies, bears the initials LM on a side entrance. Any guesses?
Wyckoff Avenue ends its run at Cooper Avenue and the overpass-ed Long Island Rail Road freight-only Bay Ridge Branch, a line I traveled in 2009.
Looking back west toward Manhattan. The looming black monolith is the Trump World Tower.
Time to kick it in the head.. for yet another FNY journey to adventure. I have already posted about the interesting Halsey Street station.
4/24/16