About once or twice a year, I'm in south-southwest Staten Island, the southernmost point in New York State. Though "suburbanity" long ago made its way into places like Tottenville, Richmond Valley, and Charleston there are still pockets of wilderness and still touches of small town life left over. Soon enough, these small patches will be filled in.
Southern Staten Island and I go back a long way. When I was in grade school my parents took me on a bus ride out to Tottenville, back when the 69th Street Ferry still connected to the St. George Terminal before the Verrazano-Narrows Bridge was finished in 1964. We boarded an "old-look" General Motors or Mack bus at St. George and traveled on Arthur Kill Road, which was still pretty much a farm-to-market road through wilderness, with the occasional small town or main road here and there. I had noticed that the road was illuminated by incandescent "crescent moon" lamps (which were replaced with mercury vapor "scoops" sometime during the decade). When we got to Tottenville, I marveled at the still-existing cast iron scroll masts on the telephone poles that carried Westinghouse cuplights, and I also remember seeing a four-lane road with a center median that had octagonal posts also supplied with the Westys. I realized much later that this must have been Drumgoole Boulevard before it was expanded into the present day Korean War Veterans Parkway. I was lamppost-conscious since the womb, apparently.
I didn't take a bus out to Tottenville again until about 1972 or so. I had been closely studying my Hagstrom map of the area, which recorded it as fully populated with streets. I still found pretty much of a wilderness, because like many mapmakers Hagstrom did not record conditions as they actually were, but followed official city maps indicating various developments that had yet to be built. I never understood this practice, and Geographia Maps did it a lot better, showing the same streets, but graying out the unbuilt ones. I wish I was carrying a camera everywhere I went back then, as the southwest Staten Island streetscape was quite different from what it is now. I distinctly remember a bus driver asking me if I was going all the way to Tottenville. He might have turned the bus around where I got off if I wasn't!
GOOGLE MAP: SOUTHERN STATEN ISLAND
To get to Richmond Valley I took Staten Island Railway (which is technically run as a railroad but uses refurbished R-44 subway cars) out to its titular station. This is the southernmost station that received the general refurbishing done from 1990-2000 that added new shelters featuring glass blocks, railings, and station lighting. A continuing hallmark of Staten Island SIR stations continues to be very steep concrete stairways. that were left unaltered from their previous incarnations.
Mill Creek (see below) runs past the south side of the station.
A look east from the southern platform. The road bridged over the railway is Richmond Valley Road — the station has been in existence since 1860 and a Richmond Valley Road grade crossing was eliminated in 1940.
In one of my more ambitious FNY projects, over the course of several weekends I walked the route of the Staten Island Railway (formerly called Staten Island Rapid Transit) in 2007, chronicling both the stations and the neighborhoods bordering them. The Richmond Valley station is covered here. And, a comprehensive history of the SIRT was published by my pal Paul Matus some years ago.
An unnamed street connects the station with Amboy Road. There are a couple of things I found interesting here: the 8-sided park lamp illuminating the staircase, and the word "STOP" spelled out in reflector discs.
Walking on Amboy Road west of the station. The origins of the name "Amboy" have been speculated on over the decades. It's clearly related to the NJ town of Perth Amboy, across the Kill Van Kull from Tottenville.
It can derive from a number of Dutch terms — "een boge," or bow, perhaps describing the curve of the Arthur Kill, or "am bog," elbow (the mysterious word "akimbo" is likely a contraction of "in a keen bow"), or, perhaps, "het ambacht, "("the hundred") or the Malaysian island of Amboyna, an outpost of the Dutch East India Company, site of an infamous massacre in 1623. Brooklyn's Amboy Street was the setting for Irving Shulman's 1946 novel about a street gang, The Amboy Dukes — later used by Ted Nugent's band The Amboy Dukes who hit with the classic Journey To The Center of The Mind in 1968. In Brooklyn By Name, Leonard Benardo and Jennifer Weiss claim that Brooklyn's Amboy Street takes its name from Perth Amboy, but why would it? There's also a short street called Amboy Lane at the Queens Village LIRR station — and it seems there will always be an aura of mystery surrounding the name.
The Perth Amboy, NJ website takes a different tack. According to them the Lenape had originally called their region Ompage, which evolved through several forms to Amboy. (The "Perth" comes from James Drummond, 4th Earl of Perth, Lord High Chancellor under King James II in 1684, who decreed the area be named for him. It didn't turn out that way as colonists called it by both names, Perth Amboy.)
Recent maps show a few streets that were originally going to intersect with Amboy Road here: Calcutta, Damon and Eugene (which seems to indicate an alphabetical naming plan). As it turns out only Eugene was laid out, with the rest of the land becoming Long Pond Park — originally, Cozzens Woods (old maps also show a Cozzens Boulevard). Decades ago a playground was constructed in what was going to be a public park, and rumor has it that remnants of the playground can still be found deep in the woods. In 2000 it was preserved and renamed Long Pond Park after a glacial pond found within.
A pair of homes on opposite sides of Amboy Road adjacent to Long Pond Park.
A bend in the road and a hidden driveway merit a midblock blinking caution signal.
I'd have to bet that both these houses, which boast fish scale sidings, were built by the same architect in the mid-to-late 19th Century. One has had TLC while the other hasn't.
Eugene Street runs south from Amboy Road through Long Pond Park. There are two houses on the street, which is why it was likely preserved by the city when it was creating the park.
A Google Street View from 2012 shows Eugene Street in a much wilder state — since then, a wood fence has been placed on the threshold and the vegetation has been cut back. There is an entrance to the park at Eugene's intersection with Adelphi.
Similarly, Adelphi Street, between Eugene Street and Page Avenue, has also been "tamed" somewhat, as a fence keeps back the vegetation. There's only one house on Adelphi Street, and the pleasure boat the Desperation was seen in the front yard. Again, have a look on Street View what it used to look like!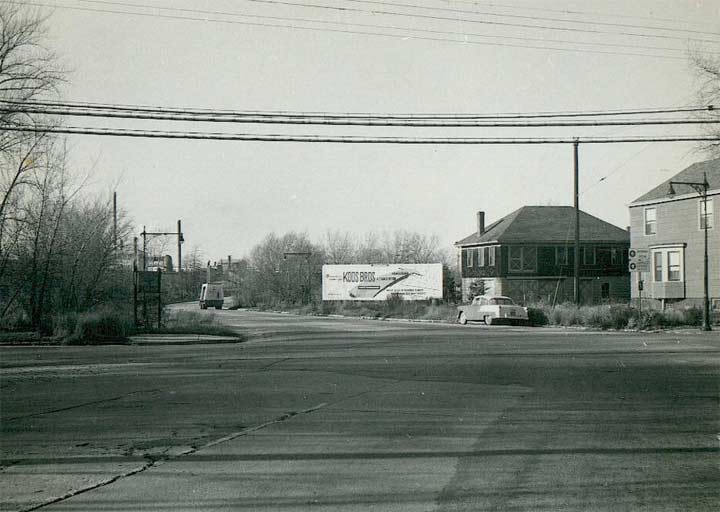 Image from Orchard Inn Reunion
Around the corner, here is what the intersection of Amboy Road and Page Avenue looked like in the 1950s, looking north on Page. The Koos Brothers on the billboard were a furniture store chain in nearby Union County; after a reorganization, they became Huffman-Koos, then closed in 2002. The slope-roofed building is still in place today and is home to a florist. While Page Avenue ran through woods in the 1950s…
…today it is lined with malls and shopping centers on both sides. In the 1950s as now, Page Avenue connected to the Outerbridge Crossing and it also connects today to the Korean War Veterans Parkway. It is also a conduit to the Bricktown Shopping Center, a rival to the Staten Island Mall.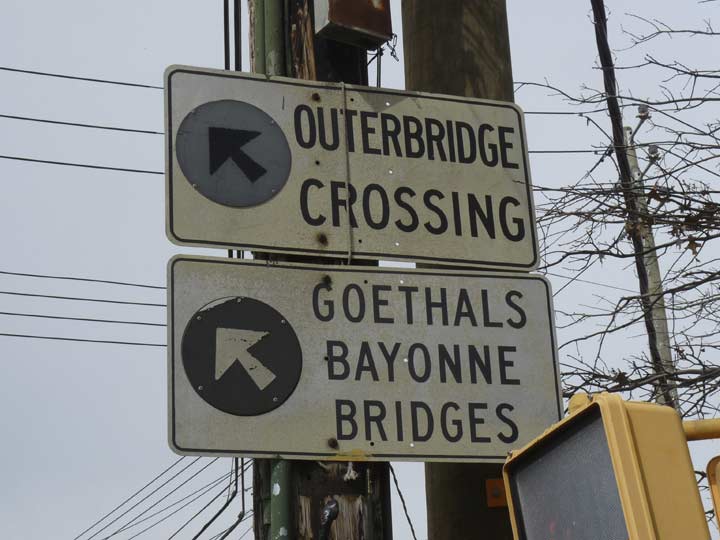 Here's a pair of old-school Department of Traffic signs. The DOT hasn't produced beige colored directional signs for a few decades. Notice also that the fonts looked hand-lettered instead of the usual Highway Gothic condensed.
On the opposite corner is a sign erected by the Tottenville Merchants Association as well as the Lions service organization and Masons fraternal societies.
Although officially, New York City is the southernmost town in New York State, Tottenville, on the southern end of Staten Island, was actually the southernmost village when it was a part of Westfield Township when Staten Island was an independent county prior to 1898. The Totten family owned a large amount of property in the area in the 18th Century, and after a series of names like Unionville, Bentley Dock, and others, the village settled on a name befitting its major property holders.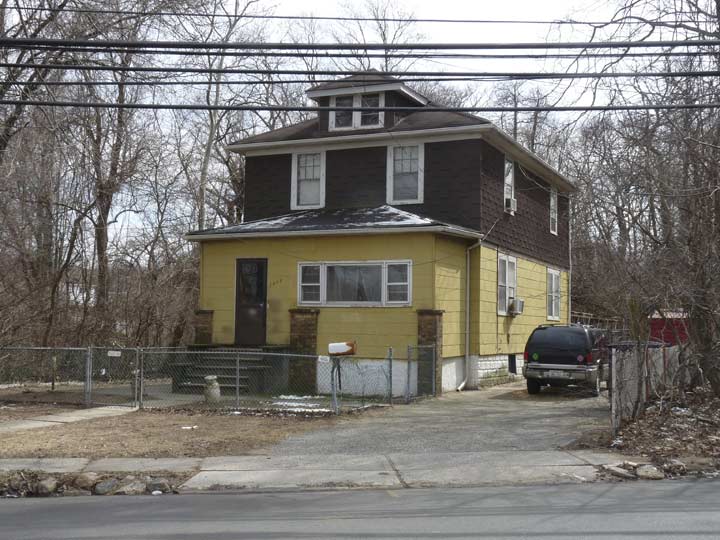 This is the only building on the south side of Amboy Road in an otherwise swampy area to the west of Page Avenue.
A block away is a structure going back to the early days of Tottenville, the Bethel Methodist Episcopal Church. The congregation was founded in 1823 and met in a Richmond Valley schoolhouse for two years until the first Bethel M.E. was built in 1825, which was the church's home base until 1840.
A new church was constructed here at Amboy Road and Bethel Avenue that burned in 1886, but was rebuilt the same year. When I visited previously, some of the exterior brick had been whitewashed, but by 2016 the original red brickwork had been restored. Unfortunately, a pair of peaked cornices (the taller one had four peaks) have been lost over the years.
The Bethel church cemetery is large in comparison to nearby cemeteries in southwest Staten Island. Its sandy ground still has plenty of plots available. It runs from Amboy Road all the way back to the Staten Island railway.
As you may expect there are several members of the Totten family interred here. John Totten did not found Tottenville — it's been occupied by Europeans including Captain Christopher Billopp since the 1600s. An unsuccessful Revolutionary War peace conference was held in Billipp's house in a building that's now a museum — but Totten purchased property in 1767 from the Billopp family and his sons, along with Francis Asbury, helped spread Methodist Protestantism in southern Staten Island. Totten's descendants continued to be prominent in island affairs well into the 19th Century.
The cemeteries of Staten Island match up to its street maps. There's a Mersereau Avenue in Mariners Harbor…
… a Brehaut Avenue in Tottenville… (is that pronounced how it's spelled, or is it something different?) kevinjudewalsh@gmail.com
… a Storer avenue in Kreischerville…
…an Androvette Street in Charleston.
Also notable are Bethel's cobblestone walls and gateposts.
While most Tottenville streets are named for local families, there are also some streets in Staten Island named for streets in lower Manhattan,such as this one, supposedly in Dutch colonial days there was a stream where, according to legend, women went to wash clothes. (There is also a Wall Street in St. George.)
Sometime in 2017, a new station on the Staten Island Railway to be called the Arthur Kill station is supposed to open, though it's been a never-ending saga, much like the three new 2nd Avenue Subway stations that opened January 1, 2017. Plans called for the station to open in 2010, but ground wasn't broken until 2013 and scheduled openings in 2015 and 2016 were pushed back because of issues with the electrical distribution room, the exterior wall panel, and various communications issues. (Note the sign still says "4th Quarter 2015." It'll be finished when it's finished.)
This means that the Nassau and Atlantic stations will remain open into 2017. On this particular walk I got a lot of shots of Nassau, which is in a tie with Atlantic for the most forlorn and neglected train station in NYC mass transit. It's a time capsule that has never been shored up or renovated because its closure has always been apparently imminent.
Both small stations were built mainly to get employees to Staten Island businesses: Nassau Smelting and Refining, formed in 1931 from the Tottenville Copper Company, which survived until 2000, and the more storied Atlantic Terra Cotta Company, created in 1897 to produce the decorative clay product that was heavily used in construction in the early 20th Century; among Atlantic's more prominent clients were the architects (including Cass Gilbert) of the Woolworth Building, lower Manhattan's Cathedral of Commerce. Waning interest in the use of terra cotta led to the company's closure of its Tottenville works in 1935 and its Perth Amboy works in 1944.
Without further ado, here's the awesome dereliction of the Nassau station. I'm not even going to gang them up in a gallery, I'm going to show the photos full size, one by one. These may be the last photos ever taken of the station.
A view of the stairs leading down to the rain shelter on the westbound side.
On the crossover over the tracks. The sides are made of corrugated aluminum.
Looking east on the tracks toward Richmond Valley. Much of it is blocked off and only two cars will platform.
The westbound platform was completely closed; trains were switching tracks so both directions were using the eastbound.
Steps leading down to Arthur Kill Road on the south side of the tracks.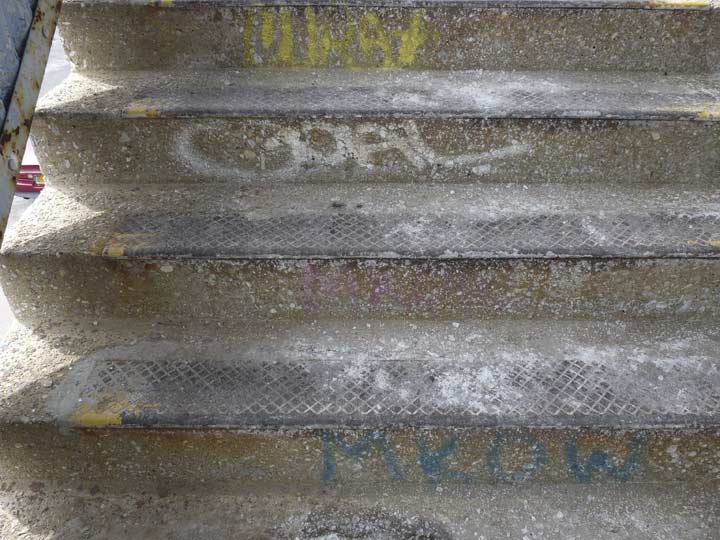 The unforgiving steep steps are hallmarks of all Staten Island railway stations.
Entering the station.
Both Nassau and Atlantic stations still have the same railings they were using in the 1970s when I first saw them and it's likely they go back decades prior to that.
Station illumination is likely mercury vapor that shines dull greenish-white. Again these date to the 1970s, perhaps earlier.
Station signage, dirtied up by months and years of wind and rain, is mounted on the railings. In the 1990s I thought I spotted some original remaining wood plank signs with "NASSAU" spray stenciled on them.
A look at the the eastbound platform that includes the crossover. Note that the crossover has steps to both the westbound platform and to the streets on the north side of the tracks.
Train schedules. During the week, the train comes 4 times per hour except overnights; on weekends, twice per hour.
An eastbound train as seen from the crossover.
The crossover as seen from Nassau Place.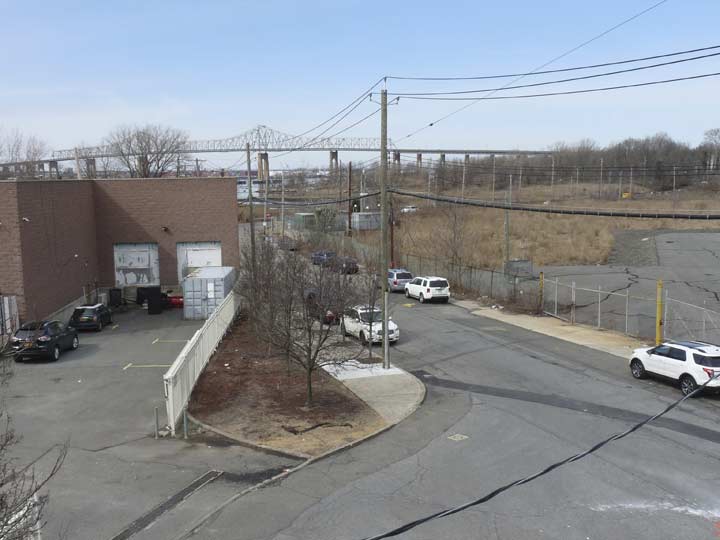 A look at Nassau Place from the crossover and, in the background, the Outerbridge Crossing which connects The Korean War Veterans Parkway with the Garden State Parkway in Middlesex County, NJ. Many have been convinced it was named because it's a bridge in the outskirts of Staten Island, but in an odd coincidence, it was named for Eugenius Harvey Outerbridge, the Port Authority chairman when the bridge opened for business in 1928. His sister, Mary Ewing Outerbridge, founded American lawn tennis in 1874, the basis for the modern game. Together with the Goethals, which opened along with it, it was Staten Island's first vehicular connections off-island.
Arthur Kill Road, which sounds somewhat gruesome to non-Staten Islanders, is among Staten Island's lengthiest (it's exceeded by only Richmond Avenue, Hylan Boulevard, and perhaps by Amboy and Richmond Roads — a Google Earth measurement would settle things) runs from Richmondtown to Tottenville along the Arthur Kill, the waterway separating Staten Island's western shore from New Jersey, specifically Union and Midlesex Counties. "Arthur Kill" is an English corruption of the Dutch "Achter Kul," meaning "behind the Kol, or Kul," Kul being an old name for Bergen Point, the southwestern tip of Bayonne, New Jersey. The Dutch term kol refers to a witch or sorcerer — Native American ceremonies in Bergen Point convinced some Dutch colonists that the Indians were in league with the Devil!
The road was originally called Fresh Kills Road, which may sound even stranger to the uninitiated.
Just north of the Nassau RR station, Arthur Kill Road is bridged over Mill Creek, an inlet of the Arthur Kill waterway. It is named for a now-demolished mill that was run by the Disosway, Cole and Weir families beginning in 1772.
Down the rutted tracks of mudding trucks, past secret beaches and fields of wildflowers. Through a peeled back fence and into a former telephone graveyard. Past the roller rink and up deer paths, under a graffiti-covered bridge. Along long-forgotten train tracks, through schools of fish beneath a train station, and out into a wilderness of abandoned cars. Then branching into a vernal pool, or past the parkway, or into a system of manmade ponds. The route of Mill Creek, which flows through the southern reaches of Staten Island, is a unique journey through natural and unnatural worlds. — Nathan Kensinger, who walked along Mill Creek's entire length for Curbed in June 2016
The intersection of Richmond Valley and Arthur Kill Roads features a couple of homes of unusual quality. 4934 Arthur Kill Road, constructed in the 1880s, is a Queen Anne with unusual features like an extended closed porch and a a peaked corner tower. Until a few years ago, it had a partner around the corner on Richmond Valley Road, now an empty lot that will probably have some ugly Staten Island crap built on it.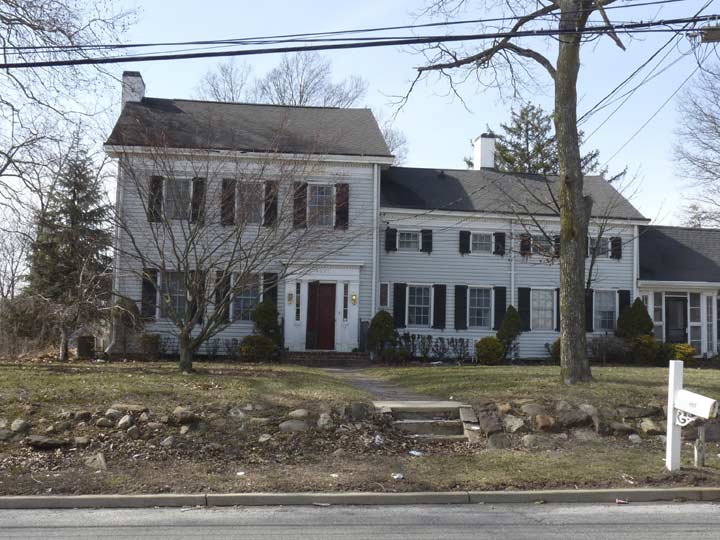 Across the street is the even more impressive 4927 Arthur Kill Road, identified by the AIA Guide to New York City as the Abraham Cole House, constructed in 1840; Abraham and sons had established a coal and lumber business on the Arthur Kill. The south end of Arthur Kill Road used to have more of these houses from the colonial era or just after — they were homes for ship captains or owners of local industries. Many have been lost to modern construction because they were never landmarked. At one time Richmond Valley was called "Cole's Corner" as the family dominated the area. A dead end street off Weiner Street, Cole Street, is the only obvious remnant of the Coles.
This intersection is the heart of Richmond Valley, which has been a Staten Island community since 1828 when its first post office was established. President Andrew Jackson named Jacob Cole the postmaster. Parts of Richmond Valley Road appear to be the most rural-looking stretches of road on the island, despite the presence of nearby auto parts shops and shopping malls.
The Cole house is seemingly isolated on a rural road in this Street View image, and indeed the north side of Arthur Kill Road faces woods except for the house and the neighboring Richmond Valley Animal Hospital; but the south side of the road is a different story and is malled to the max, with restaurants like Avocado Sushi, Aunt Butchie's of Brooklyn, and Nucci's, with Aunt Butchie's, in particular, in a building that looks like it would be more at home in an airport.
The original Outerbridge abutments are still in place, along with a faded sign pointing on South Bridge Street toward the bridge entrance, which has been rearranged a few times since the bridge opened in 1928. At first, bridge traffic emptied onto a route called Pleasant Plains Boulevard, but in 1972 the Korean War Veterans Parkway (first called Drumgoole Boulevard, then Richmond Parkway) was connected to it.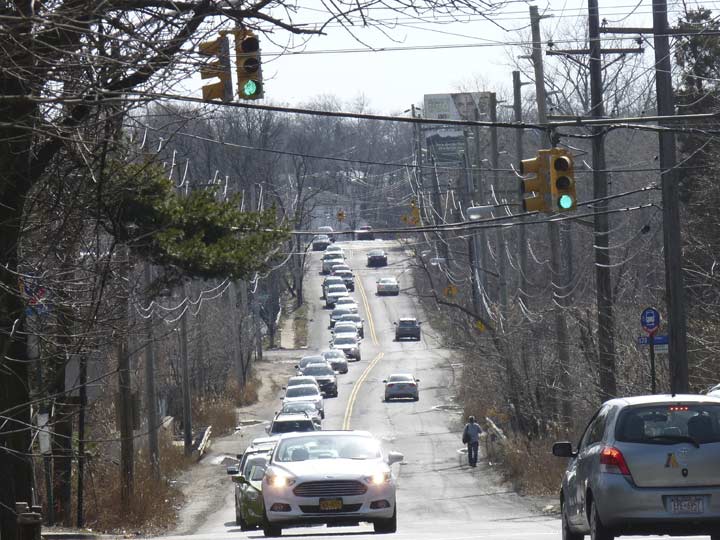 Arthur Kill Road, looking southwest toward Tottenville.
The Outerbridge Crossing spanning the Arthur Kill.
In Part 2: into Charleston and Kreischerville
1/8/17
"Comment as you see fit" kevinjudewalsh@gmail.com