I had fun doing FNY's second Mixed Bag page from two weeks ago, which featured photos taken in January 2017 on my IPhone, so I decided to do another one this week. I'll get back to multipart pages soon, but during the summer months when it's hot in the living room, I may rely more on such nonstructured pages where I don't have to break as much of a sweat! Hope that's not sounding lazy–I've been at it close to 20 years now and as long as I can walk, take pictures, and research, FMY will go on and on.
This time, the page features photos from June 2017. I had a backlog of IPhone photos that took awhile to load into my main Apple G4 Mac because I needed to send it away for a few days to get a new hard drive. I continued to rove all over during that time, and have what I believe are some choice items…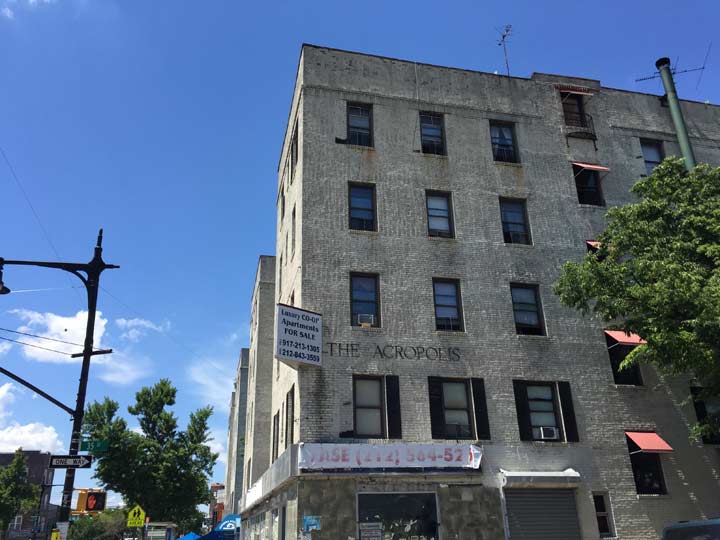 The Acropolis, Ditmars Boulevard and 35th Street, Astoria. Named, of course, for a chief cultural and historic site in Athens, , the Acropolis complex is a mixed development of rentals and co-ops, built in 1923 between Ditmars Boulevard and 21st Avenue and from and 33rd-35th Streets consisting of over 600 apartment units in brick buildings surrounding courtyards. Reviews have been mixed. The main selling point seems to be the shopping centers of Ditmars and Astoria, which are the most concentrated of any in Queens, with Ditmars Boulevard, 30th Avenue and Broadway as well as Steinway Street further east chockablock with restaurants, stores and clubs.
On the left of the photo is one of a number of massive streetlamps placed on Ditmars Boulevard a few years ago that imitate the designs of the original lamps used on the Triborough (Robert F. Kennedy) Bridge, opened in 1936. Similar posts appear on Astoria's Broadway, parts of Jamaica Avenue, and Elton Avenue in Morrisania in the Bronx.
On a recent walk in East New York near the Brooklyn-Queens city line on McKinley Avenue, I happened upon two city cabs in yellow and lime green parked across the street from each other and I thought it was too good a photo op to pass up. It looks to me like two different flavors of frozen ice. Though yellow has been the color of NYC cabs going back decades to the Checkers, green cabs were created by the Taxi and Limousine Commission in 2013 for specific use in the "outer boroughs" where customers found it very difficult to find yellow cabs, much less hail them. NYC yellow and green cabs, as well as other car services, have had some of their business compromised by other services such as Uber and Lyft in recent years.
McKinley Avenue is an east-west street in Cypress Hills, the easternmost section of East New York, running from Conduit Boulevard east to Forbell Street, where it becomes 97th Avenue upon crossing over into Woodhaven, Queens. It is interrupted somewhat at Autumn Avenue, where there is a bout a football field's length between its two sections. I had thought that McKinley Avenue was named after the death of President William McKinley in 1901, but after inspecting some period maps it's not that simple — the avenue was named before McKinley's election in 1900. (Bay Ridge's McKinley Park was named for him.) Part of the trouble is, I have had a hard time acquiring good maps of East New York before 1898, when it became part of New York City; if anyone has one, let me know in Comments.
I got a hit!
From Comments:
According to the Brooklyn Daily Eagle on Jan. 11, 1897 (p.13, col. 7), under Ordinance Changing The Names of Various Streets, Adams Avenue was changed to McKinley Avenue. The Daily Eagle reported on Nov. 13, 1896 (p.7, col. 4) that "Adams Avenue, the name which the aldermanic committee proposes to change in honor of the president-elect, was named after ex-County Treasurer Harry Adams."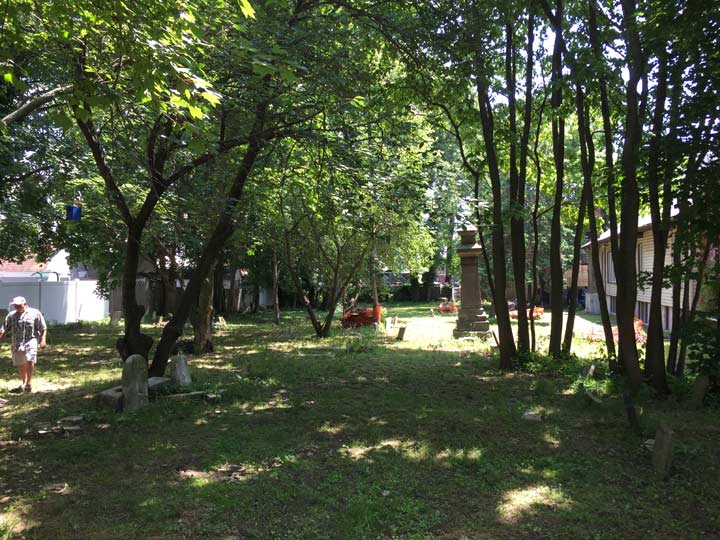 On that very same walk, I stopped off at the Wyckoff-Snediker Cemetery. It's behind St. Matthew's Episcopal-Anglican Church on 96th Street opposite 86th Avenue in Woodhaven, handsomely constructed of ashlar, from most accounts in 1901, though a cornerstone says 1927; some day I'll have the complete story about that.
The cemetery is inaccessible to the public as a rule, but ringing the bell at the church's parsonage may earn you a look inside. The Dutch Colonial Wyckoff and Snediker families had farms in the region and donated equal amounts of their properties to be used as a burial ground for local residents. Most of the over 130 gravestones (only a few dozen of which survive) were from the early to mid-1800s,but you will find a couple of inscriptions from the 1700s, as well. I'll have a number of photos from this cemetery when I complete my overall East New York to Maspeth chronicle, which will describe what I found on the length of this walk. The Lotts are especially prominent, as well as the Elderts and Suydams. The Woodhaven Historical Society has done yeoman's work in making the burial ground, once engulfed by weeds, more presentable in recent years.
This is a Woodhaven enclave formerly known as Brooklyn Manor, so named by developers hoping to attract homeowners in the bordering borough. A LIRR station serving the region closed in 1962.
The city has recently been installing new versions of Type F lampposts in Glendale, specifically on Aubrey, Doran, Rutledge, 74th, 75th and 76th Avenues between 88th Street and Woodhaven Boulevard. Type F poles in shorter versions once were ubiquitous on Manhattan side streets; only a few originals from the 1910s and 1920s are still around, but the city has enthusiastically been placing retro versions on streets like West 8th, Metropolitan and Wyckoff Avenues.
Classic Glendale attached houses on Doran Avenue west of 88th Street. Glendale features many of these attractive dwellings that were developed beginning in the late 1930s and then again after World War II. In those days developers did not feel an overwhelming need to design around automobile storage and so the houses had handsome front yards and no driveways. Current homeowners keep their lawns and flowers in top condition.
On Father's Day, June 18, 2017, I attended the Transit Museum's "Parade of Trains" in Brighton Beach. The MTA broke out some vintage units and ran them as shuttles from the Brighton Beach station to Ocean Parkway and also to Kings Highway. This was the oldest trainset, some Brooklyn Union Elevated cars from 1907. Some trains produced in this era were pulled by steam engines at grade, but were later modified to run on els under third rail power. They were made of wood with metal frames and had wicker seats, real leathern straps to hold onto for balance, bare bulbs for lighting and best of all, had seats oriented so you could look out the window. Cars like this were last used in passenger service on the Myrtle Avenue El in 1969.
The setting sun came out on a rainy evening in June 2017, strong enough to produce a brilliant rainbow that I duly captured at the Woodside station of the elevated Flushing Line, which, among other els, is celebrating its centennial, or soon will. In the mid-1990s, it received the very large "bigloop" lampposts seen here.
Just as I "presided" over the closing of the Del Rio Diner (seen here) in July 2016, so I and friends did at the Vegas Diner at 16th Avenue and 86th Street in Bath Beach in June. The owner, whose family also owned the Del Rio, wished to retire. The Vegas and Del Rio joined the El Greco in Sheepshead Bay and the Americana and Zeke's Roast Beef in Bay Ridge into oblivion in recent years.
Diner clientele has been aging and shrinking in recent years, and longtime owners' families do not want to stay in the business. The Vegas was relatively new, having opened only in 1982.
After leaving Vegas (the diner) I walked past the Metropolitan Baptist Church, which replaced the original Reformed Church sometime in the 1800s. The Metropolitan Baptist Church was established in 1974. The original Reformed Church Cemetery is adjacent to the church property along 16th Avenue between 84th and 85th. Though the Reformed Church moved to its "new" building in 1828, it continues to maintain this cemetery's grounds. Get the whole scoop on historic New Utrecht on this FNY page.
I noticed this sign on Northern Boulevard just east of the city line in Little Neck. This is a new Long Island Heritage trail running on Route 25A, of which Northern Boulevard is a part, from Great Neck east to Port Jefferson. During the Revolutionary War in 1778, the local Brewster and Roe families, working with Nathan Hale, gathered information secretly from stationed British troops and passed the information to General George Washington.
A visit to the North Shore takes one back to 1778 when Long Islanders lived under an uneasy military occupation by the British commanders and troops. Route 25A, also known as Washington's Spy Trail and formerly called The King's Highway, rims picturesque and peaceful Long Island Sound, harbors and inlets. During the American Revolution, these hidden waterways were dangerous spots where the patriots operated boats to row intelligence to Connecticut and to General Washington that helped him win the war. President Washington traveled the route on April 21 to 23, 1790, to thank the patriots and his spies.
During the Revolution, Joseph Brewster operated a tavern out of his home, Setauket's The Brewster House, c. 1665, where he entertained British troops. Caleb Brewster, Joseph's cousin, delivered spy messages between George Washington in Connecticut, and Abraham Woodhull in Setauket, pulling his rowboat into one of six different coves along the Setauket shore, including one located 150 feet from The Brewster House. Visit the house today which is owned and operated by the Ward Melville Heritage Organization, Stony Brook. [The Long Island Heritage Trail]
Downtown Port Washington, just outside the Long Island Rail Road station. It's among my favorite North Shore towns, and I spent twelve years working here for Publishers Clearing House in the northern end of town. Word comes that during the first week of July, 2017 that PCH is abandoning the town that was its home since 1953 and moving to the Quadrangle in mid-Island Jericho. Coming here will never be the same…
To get to and from work on occasion I would walk through the heart of Baxter Estates, a suburban development near the heart of town.
The first home in what is now the Estates was built in 1673 by John Betts and Robert Hutchings; they sold the land to Oliver Baxter in 1743, who constructed the current house on Shore Road and Central Drive that had been expanded by the Baxter family in 1913. The Baxters were shipbuilders, sea captains, whalers, and blacksmiths. Before the white man, Native Americans retained a settlement here; during the Revolution, Hessian troops were billeted in the house. In 1895 it was Port Washington's first library.
Unfortunately, the Baxter House fell on hard times in the 2010s when its owner failed to maintain it or reside in it; in fact papers had been filed to permit its demolition. On February 5th a blaze swept through, and the building is in its present blackened condition, a monument to neglect. The rest of the Estates, though, retains an almost ethereal elegance; driveways are bridged over a stream that empties into Manhasset Bay.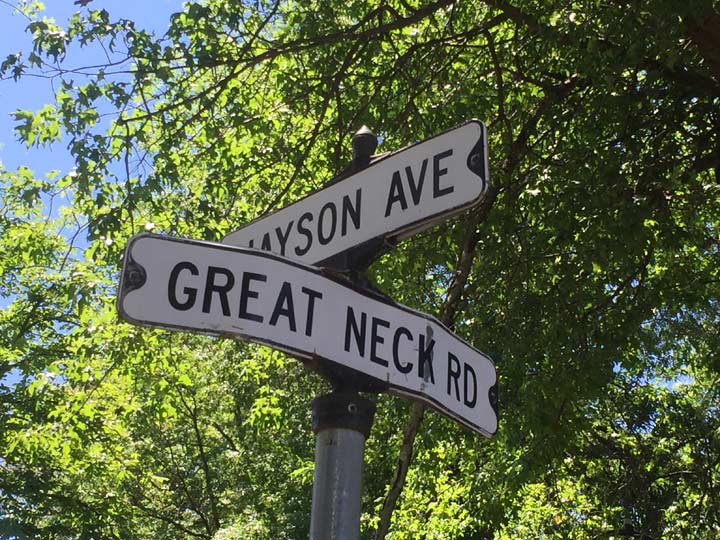 Other locales are not as Nazi or as manic as NYC's Department of Transportation about replacing their older street signs which still get the job done like this pair in Great Neck.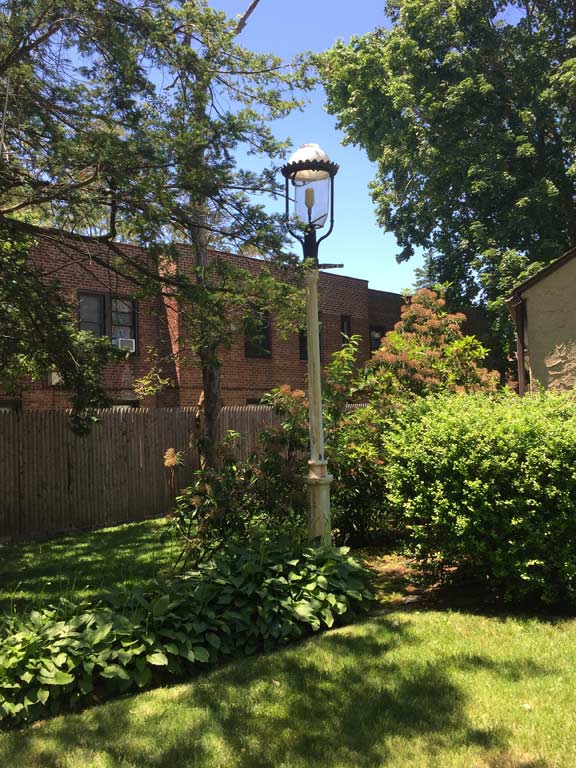 This gaslamp, which may or may not have once lit NYC streets, can be found on 41st Drive near Westmoreland street in Little Neck, near where I live.
There's an inscription at the bottom of the lamp and using my zoom feature I was able to recognize two words: "Drummond" and "Broadway"; since this is a private lawn I didn't want to enter the property. There is a Drummond in lamp history, as Captain Thomas Drummond invented the limelight, which employs calcium oxide, or lime, giving off an intense white light that has been used for stage lighting (hence the phrase "in the limelight.") I don't know if it has any relevance here, however.
Was this once a NYC streetlamp? There's no way to tell, but it looks like lamps used over a century ago.
A look at the 8th Avenue station, the west end of the Canarise Line (L train). The station design has an interesting history. When the Canarsie Line was extended west to 8th Avenue in 1931 it was given IND-style station decor in the then-current Machine Age style (the same thing was done with Broad Street when the Nassau Street line (J) was extended there). When the station was renovated in 1999, it gained the mosaic-style Arts and Crafts design many of the other stations on the line have.
There are two DeKalb Avenue BMT stations in Brooklyn. The first one is at DeKalb Avenue and the Flstbush Avenue Extension, serving Q and R trains with a transfer to the D train at the Atlantic Avenue station, constructed in 1915 to serve the 4th Avenue Line. The other one, shown here, is on the Canarsie Line and opened in December 1928 along with other southern stations on the line. It was the last gasp of the mosaic Arts and crafts style signage; new stations that opened after this on the Independent Subway boasted a more austere Machine Age design.
Note the subtle difference between the "To DeKalb Avenue" and "To Stanhope Street" signs. Can you see what it is?
DeKalb Avenue was named for Johann von Robais, Baron de Kalb, a Bavarian-French military officer who fought on the American side during the Revolutionary War. He was present at Valley Forge during the winter of 1777-1778 and perished at the Battle of Camden, NJ.
A look at the King of All Buildings (no matter how many try to take the title) at Cypress Avenue and Hart Street in Ridgewood. The Empire State Building is especially prominent when seen from Queens neighborhoods such as Ridgewood and Sunnyside.
I'll have more samples of the brand new street art I encountered at St. Nicholas Avenue and Troutman Street near the Brooklyn Queens border on a future extravaganza. Actually this replaced something I thought was a bit better.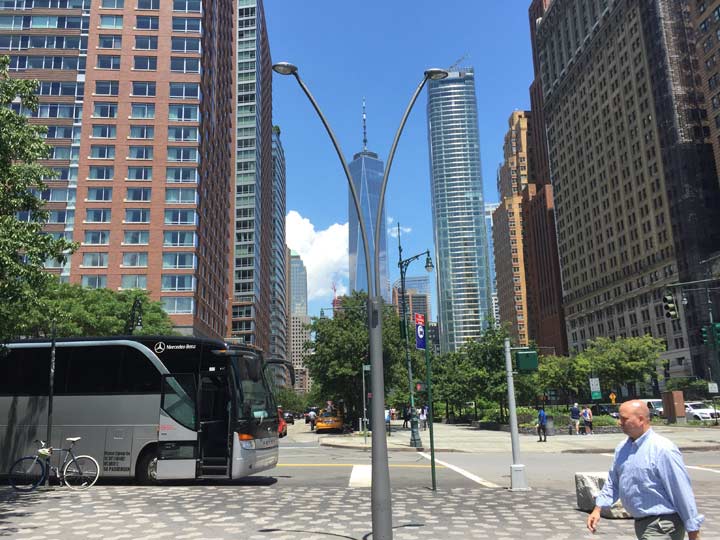 These twinlamps, reminiscent of the Donald Deskey posts first installed in the 1960s, can be found outside the newly renovated Pier A at Battery Park.
I caught a relatively rare R-68 unit running on the W (Whiteshall Street-Ditmars) at Queensboro Plaza in June 2017.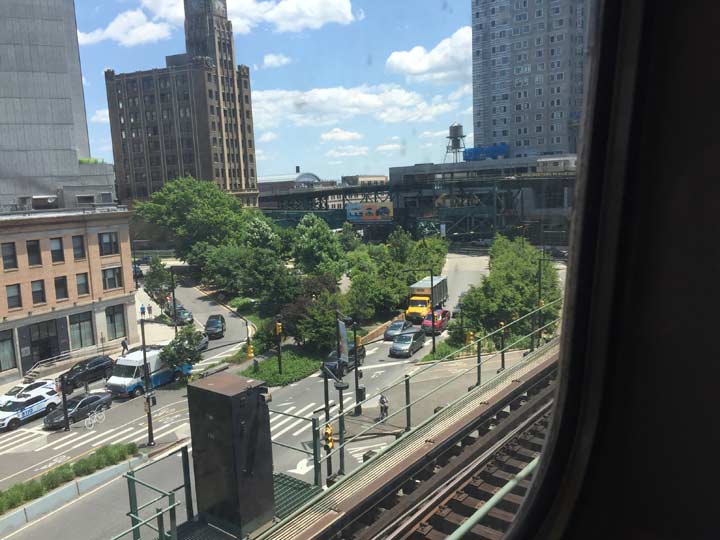 The R-68 seats allow the rider to look out the window, in this case a view of Dutch Kills Green where the el turns north toward Astoria.
Taking it easy this week…actually I do prefer these shorter pages. I won't abandon the multipart extravaganzas though. Let me know what you think.
Check out the ForgottenBook, take a look at the gift shop, and as always, "comment…as you see fit."
7/3/17