I've done pages on Riverdale before (notably, here), it's one of my favorite Bronx sites, albeit a little hilly. Strike that, it's a lot hilly. But I have been on a little bit of a health phase this year, cutting out several edible favorites and buying and riding a new bike while continuing my FNY journeys to adventure. In summer 2017 I was also doing a ForgottenTour in Riverdale as I had done in both 2003 and again in 2011, and so I was traipsing around Riverdale, up hills and down, looking for new highlights. Those previous tours had been quite lengthy, extending to Wave Hill and Spuyten Duyvil (the latter in the rain) so in 2017, I stuck to the Van Cortlandt Park area for the tour (I plan on separate western Riverdale and Spuyten Duyvil tours in the future that would meet at Metro-North stops, which would alleviate all the uphill climbing).
Today though, I decided to set off from Riverdale north into Fieldston. While assessing the area for the 2011 tour we met some opposition from locals, who told us Fieldston was semi-private and special permission would have to be obtained to tour there. I took the easy way and skirted the area. However, today, I figured a lone cameramen would pose no problems and sure enough, no one complained to me about it on a sleepy July Saturday.
GOOGLE MAPS: RIVERDALE & FIELDSTON
231st Street on the #1 train is one of those stations that received a brightening up with colorful glass-paneled artwork (Felipe Galindo's Magic Realism in Kingsbridge) in recent years. It's a northern extension of the very first subway line in NYC that went from the now-closed City Hall station to 145th Street in 1904; the IRT kept building the line north, elevating it to deal with topography above Dyckman Street; 231st Street opened 1/27/1907 and was the temporary end of the line until the next two stations opened in August of the next year.
Godwin Terrace is fairly lengthy, running a total of five blocks from West 230th to 232nd just west of Broadway. However, the incline is so steep north of West 231st that the terrace becomes a step street for one block, to Naples Terrace. While NYC usually uses Type B Henry Bacon lamps to light walkways, this post was one of a number of different designs used for step streets, especially in Manhattan and the Bronx. The street was named for landowner Joseph H. Godwin, but was originally mapped as Tackamack Place and I wish that name had stuck.
A look at the exterior of the West 231st Street station. Many older elevated stations in Manhattan were given chalet-like designs in the early 1900s, and many of these have survived; 2nd, 3rd, 6th and 9th Avenue elevated stations have not. Look at the center detailing.
At Kingsbridge Avenue and West 231st is the Bronx Church of the Mediator, established in Yonkers in 1855, with the present brick building completed in 1914 by architect Henry Vaughn, who also designed the National Cathedral in Washington, DC (which took over 80 years to complete). The church features Tiffany windows in its chapel.
When I started visiting Boston in 1983 (I have been there 10 or 12 times, more than any other major city) I noticed how many street corners honored local heroes with specially-designed street signs. NYC has almost caught up to Boston in this regard, but instead sticks with the usual street sign design.
Timothy R. Sullivan, a community activist in the Kingsbridge section of the Bronx, organized many tenant and block associations. His expertise in the field of housing enabled him to help thousands of people over a period of 20 years. He taught himself Spanish so that he could help Spanish-speaking people who moved into the community. In addition to work in tenants' rights, he was a member of Community Board 8 and served on the board of the Riverdale Mental Health Association. He died on September 8, 1989. [NYC Honorary Street Names]
Kingsbridge Branch, NY Public Library, W 231 and Corlear Avenue. Unlike other institutions — notably churches and the FDNY — NYPL is upfront about the histories of its branches. The Kingsbridge Branch was first organized in 1894 and its first building, designed by architects McKim, Mead and White and funded by industrialist/philanthropist Andrew Carnegie, opened in 1905, but the library's collection outgrew the building and a new library building opened in 1959; it too eventually proved inadequate and the present building, by Prendergast Laurel Architects, opened in the 2000s.
Incidentally, to unify the streetscape on West 231st, the NYC Department of Transportation has painted the Corvington lamps, Type G telephone pole lamps, and large stoplights ebony black; the stoplights, at least, are usually silvery gray.
Tibbett Avenue is named for Tibbett Brook, which was shunted underground into the sewer system decades ago. Colonial-era landowner George Tippett acquired land in the area in 1668. The Tibbett Diner, on the avenue between West 230th and West 231st, was constructed in 1955 by Mountain View and redone in 1961 by DiRaffele. It survived a fire in the early 2000s.
I found this illuminated sign on the back of a storefront that is now a Chinese restaurant at West 231st and Tibbett, a reminder of what used to be in the space.
The local Democratic club, 304 West 231st. If any of the names here were up for reelection (most likely Andrew Cohen), they were, you can be sure, reelected.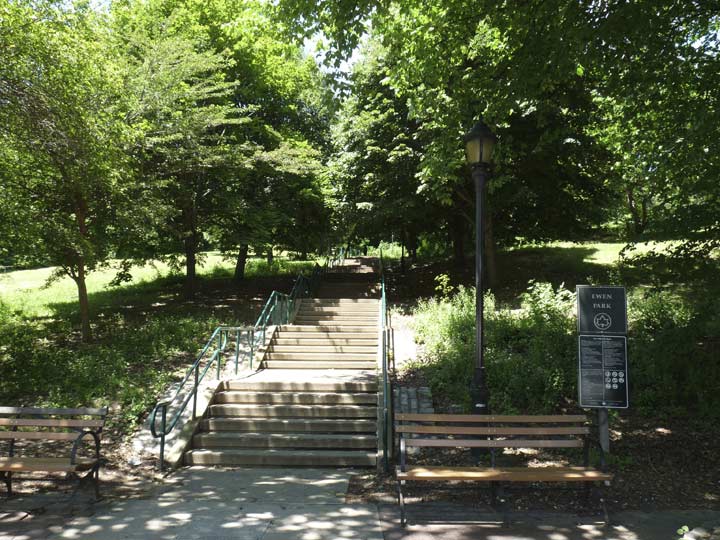 West 231st ends its westward progress at Riverdale Avenue, where it encounters one of the Bronx' highest hills. A block south, West 230th Street ascends three flights of steps to the top of the hill at Netherland Avenue, but here we find a wide area of green, Ewen Park, that straddles the hill.
The park is named for Civil War general John Ewen, who fought in NY State's National Guard, participating in the Battle of Gettysburg. He later was elected NY City Comptroller. His daughter Eliza donated the parkland to the city in 1916, but it wasn't opened as a park until 1935.
It's here that the Great Wall of Riverdale Avenue begins. The busy road is built right at the edge of the hill. Hence, the two busiest lanes of north and southbound traffic are at the bottom of the hill, while one narrow southbound lane is elevated above the other two. In contrast to its name, Riverdale, the avenue actually runs along a high ridge. A large retaining wall was placed along the avenue between Ewen Park and west 246th Streets several decades ago. The wall has collapsed a couple of times over the years, most recently in 2002.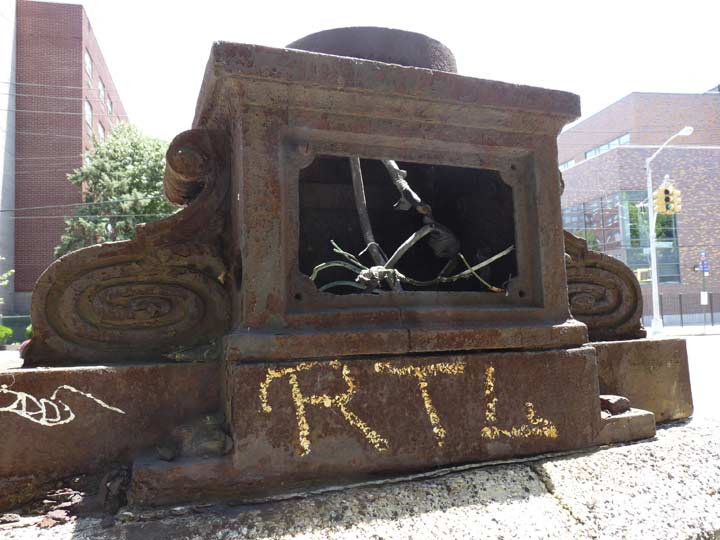 There had been a set of iron lampposts set on top of the wall when it was built, but only the base of one can be found here on West 231st, while a complete post can be found at the northern end at West 236th. I have seen postcards showing these lamps and they likely had four globe-shaped luminaires at the top. Most of them were likely ran into by vehicles with only the remnants still in place today.
A look at the skinny, curving lane of Riverdale Avenue at the top of the Great Wall of Riverdale.
West 232nd Street climbs the hill on a curve at the north end of Ewen Park. Could have been the humidity but this was one of the steepest climbs I've experienced in NYC yet. In Spuyten Duyvil and Riverdale, there are tall apartment buildings set deep in the region's plentiful schist rock.
I also got a shot of a relatively rare double mast telephone pole luminaire. They are relatively rare in NYC (though there are hundreds of them) compared to the shorter finned masts generally used on wooden posts.
At the top of the hill we find the confluence of Oxford and Cambridge Avenues. I was never smart enough to get into either. However, I am permitted to walk on these streets, and I chose Oxford. Streets in this section of Riverdale were built up relatively late and were opened in the 1930s, though they were mapped decades earlier.
Oxford Avenue is lined on both sides with attractive Tudor cottage-like freestanding houses. In one case, a concrete bullfrog presides over a garage.
West 235th Street is the east-west shopping and restaurant route in this part of Riverdale. As such it has been outfitted with relatively new Bishops Crook and Corvington posts, as well as a single Type G telephone pole bracket.
Emblematic of the changes happening in the Bronx and all over town, at one time each side of tiny Tulfan Terrace was lined with charming cottages, but in 2005 the entire south side was razed to make way for the high rise building, Enclave on Oxford, that has replaced them.
In the 1920s the architectural company Tully and Fanning built a short lane off Oxford Avenue north of West 236th Street and named it for themselves (tul+fan). Its eastern end looks over a high hill from which all of Kingsbridge as far as the Jerome Park Reservoir can be spotted. It was lined on both sides by small, charming cottages, and so it remained for almost eighty years.
As far as the lamp is concerned the sodium vapor General Electric M250 R1 once dominated NYC streets, along with other makes, between 1972 and 2009. Here one awaits for its eventual LED replacement.
Longtime Bronx US Representative Eliot Engel's district office on Oxford Avenue. Engel, a former teacher, was first elected to Congress in 1988. Engel is known for arriving early for the annual presidential State of the Union address to position himself by the aisle so he can be photographed shaking hands with the President; however, he refused to do so for Donald Trump's first address to a joint session of Congress in early 2017.
One of my favorite spots in Riverdale is its bell tower commemorating Riverdalers and Spuyten Duyvillers who served and perished in World War I. In 1746 a massive bell was cast in Spain and shipped to a mission in Mexico. During the Mexican War, between 1846 and 1848, General Winfield Scott, known to friends and foes as "Old Fuss and Feathers," captured the bell as a spoil of war and brought it back to the US, where it was placed in a fire lookout tower at Jefferson Market at Sixth Avenue and West 9th Street in Greenwich Village. In 1884 it was moved to a Bronx firehouse located at Riverdale Avenue and West 246th. It was removed from the firehouse in 1930 and placed in its present home, a 500-ton stone tower designed by Dwight James Baum. The tower was moved 700 feet to the south in 1936, when the Henry Hudson Parkway was built (which also doomed the firehouse, though the company relocated to a new building.)
Architect Baum signed his name on a plaque surrounded with colorful terra cotta.
The Henry Hudson Parkway, named for to the English explorer and navigator, who sailed past Spuyten Duyvil in the Half Moon in 1609, begins at the West Side Highway in Manhattan at West 72nd Street and continues north through the Bronx as Route 9A, where it cuts through Riverdale and Fieldston into Van Cortlandt Park; once it crosses into Westchester County, it changes its name to the Saw Mill River Parkway. It was commissioned in 1936 by NYC traffic czar Robert Moses and opened in 1937.
South of Riverdale Avenue, the HHP took over the route of the Spuyten Duyvil Parkway; east of the HHP, the Spuyten Duyvil Parkway survives, but with a name change to the Manhattan College Parkway. As such it traverses some of the Bronx's highest hills.
Original arched overpass brings Manhattan College Parkway over the HHP.
Original signage for the Ethical Culture Fieldston School on Manhattan College Parkway. It's rendered in one of my favorite fonts, Garamond Oldstyle.
Ethical Culture Fieldston School (ECFS), known as just Fieldston, is a private, highly selective independent school in New York City. The school is a member of the Ivy Preparatory School League. The school serves approximately 1700 students and 325 faculty and staff. wikpiedia
The school was founded by Felix Adler in Manhattan in 1878 as a kindergarten, adding grade school classes in 1880. The New York Society for Ethical Culture began its sponsorship of the school in 1903, and it moved to an 18-acre campus in Fieldston in 1928. Though the school ended formal ties with the Society in the 1990s the name has been retained.
The Society for Ethical Culture retains a center at a Frank Lloyd Wright-esque building at 4450 Fieldston Road at Manhattan College Parkway.
Brust Park, a rough-hewn stretch of parkland featuring rivulets and outcroppings of schist rock located along Manhattan College Parkway between Fieldston Road and Waldo Avenue, has been a city park since 1880 but was named in 1940 for a local Bronxite, Corporal Charles Brust, who perished in World War I. The park underwent expansions to its current size in 1951 and 1964 when sections of Fieldston Road and Dash Place were eliminated.
Dash Place twists and turns between Greystoke and Waldo Avenues east of Brust Park. I had hoped it was named for punctuation and Period and Comma Place were nearby but it actually ran across the land belonging to coffee merchant Bowie Dash.
Tudor-ish apartment house at Dash Place and Greystone Avenue which was named for the William Dodge estate, known as Greyston. William Earl Dodge (1805-1883), the "Christian Merchant," was a dry-goods manufacturer, a leader in copper and metals trade (Phelps Dodge Corporation), a civic leader, vocal opponent of slavery and an organizer of the Young Men's Christian Association (the YMCA) and the National Temperance Society. He is remembered by a statue in Bryant Park.
East of Brust Park Manhattan College avoids extreme hills by twisting in an Omega-shaped curve. punctuated by rocky outcroppings and more handsome Tudor cottages.
Next time: into Fieldston
Check out the ForgottenBook, take a look at the gift shop, and as always, "comment…as you see fit."
9/24/17