I've done pages on Riverdale before (notably, here), it's one of my favorite Bronx sites, albeit a little hilly. Strike that, it's a lot hilly. But I have been on a little bit of a health phase this year, cutting out several edible favorites and buying and riding a new bike while continuing my FNY journeys to adventure. In summer 2017 I was also doing a ForgottenTour in Riverdale as I had done in both 2003 and again in 2011, and so I was traipsing around Riverdale, up hills and down, looking for new highlights. Those previous tours had been quite lengthy, extending to Wave Hill and Spuyten Duyvil (the latter in the rain) so in 2017, I stuck to the Van Cortlandt Park area for the tour (I plan on separate western Riverdale and Spuyten Duyvil tours in the future that would meet at Metro-North stops, which would alleviate all the uphill climbing).
Today though, I decided to set off from Riverdale north into Fieldston. While assessing the area for the 2011 tour we met some opposition from locals, who told us Fieldston was semi-private and special permission would have to be obtained to tour there. I took the easy way and skirted the area. However, today, I figured a lone cameramen would pose no problems and sure enough, no one complained to me about it on a sleepy July Saturday.
GOOGLE MAP: RIVERDALE & FIELDSTON
Much of Riverdale and Fieldston, the adjacent semi-private neighborhood, was a forest owned by War of 1812 veteran Major Joseph Delafield, who in 1829 purchased 312 acres in the area west to the Hudson River and built a lime quarry and kiln. His son Edward constructed an elegant mansion that he named Fieldston Hill (which still stands on West 246th Street), and the major's grandsons brought in architect Dwight James Baum, who designed dozens of homes in Riverdale and Fieldston in different styles. Fiorello LaGuardia was a Fieldston resident and read the comics on the radio during a newspaper strike from his study on Goodridge Avenue. And, John F. Kennedy lived in a house that still stands on Independence Avenue and West 252nd Street when he was a boy, between 1927 and 1928, when family patriarch Joseph Kennedy briefly moved his family to Riverdale. As stated, today it's a semiprivate neighborhood. It was designated as a Landmarked neighborhood by the Landmarks Preservation Commission in 2006.
I did not have the time or strength on his brain-blisteringly hot July day to cover all of Fieldston (and that is a task better done in the cold months when lack of foliage makes observing the architecture easier). Instead I went up Waldo Avenue and Fieldston Road through Fieldston, passing the Henry Hudson Parkway into North Riverdale and ultimately the south end of Yonkers.
Gateposts at Waldo Avenue and Manhattan College Parkway delineate the district. Waldo Avenue (the name reminds me of Darla's bespectacled admirer in the Little Rascals films) was originally built through the property of Waldo Hutchins.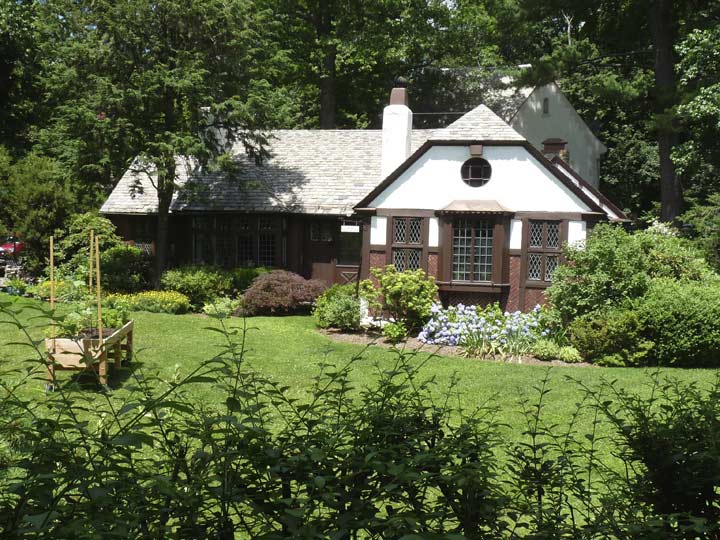 4405 Waldo, at the bend of Manhattan College Parkway, was constructed in 1928 and is one of the many Riverdale-Fieldston buildings by Dwight James Baum for engineer Albert Wheeler. According to the LPC designation report, the Fieldston Property Owners Association set a large number of guidelines for residential construction in the developing neighborhood, that nonetheless allowed for a variety of interesting styles. The report describes this residence as Medieval Revival.
4418 Waldo was constructed from 1911-1912 by architect Nathaniel Vickers in the Craftsman style for lawyer Frederick Camp and was one of the first residences built in Fieldston. "With its main facade overlooking Waldo Avenue, this large house is characterized by it complex plan and roofline consisting of intersecting wings of varying heights. Its solid stone base, low hipped roofs with overhanging eaves, exposed rafters, hipped dormers, and tall, fieldstone chimneys are hallmarks of the Craftsman style."–LPC Report
Next door is a Tudor-style palace at #4428 Waldo that was built 12 years after its next door neighbor, designed by architect Julius Gregory for Olinda Camp, an assistant high school principal (I imagine they were paid well in the 1920s). Its numerous gables and brick tower are prominent elements of Tudor revival buildings.
4515 Waldo Avenue, Tudor Revival built in 1928 for Dr. Frank Melany.
Another Craftsman is this classic at 4521 Waldo, developed in 1911-12 by Edward Delafield, a scion of the original landholding family of Fieldston. "With its main façade oriented away from the street, the house is distinguished by Craftsman-style characteristics, such as its solid fieldstone base, bracketed second story, segmental fenestration, exposed roof rafters, and tall, stucco-covered chimney." –LPC designation report
At College Road, the corner street signs are mounted perpendicularly — this is very unusual for New York City. The road could be named for Manhattan College, the Barnard School, the Horace Mann School, or the nearby Riverdale Country School.
Fieldston has a set of street signs nailed into trees. Few of these remain; nailing things into trees isn't healthy for the trees.
Set way back from the street behind a stone fence, the sprawling 4621 Waldo Avenue is a Mediterranean Revival building constructed in 1928, and designed by Dwight James Baum for Elisa Galban. Its notable features are its stucco-coated facades, clay-tile-covered hipped and gable-on-hip roofs, hooded stucco-covered chimneys, main entrance door surrounded by ceramic tile, historic battened wood shutters, and ornate wrought-iron balcony.Off on the right side is some schist rock that was incorporated into the fence.
Fieldston Road looking north at West 250th. By the way this is the very same street numbering system that begins at East 1st Street and 1st Avenue in the East Village. This far north, numbered streets twist and turn and are lined with foliage and multimillion dollar dwellings and mansions.
Like Riverdale Avenue, Fieldston Road was laid out along the crest of a hill for several blocks, and so the southbound lane is on a higher level than the northbound lane.
The Riverdale Country School on Fieldston Road south of the Henry Hudson Parkway, founded in 1907 by Frank Sutliff Hackett (1878–1952) is a kindergarten through Grade 12 private school, recently ranked the sixth best private school in NYC by Niche's 2017 Private School Rankings. Future President John F; Kennedy attended the school1927 to 1930 while residing in Riverdale. Appearing on Fordham Road during a rally in 1960, Kennedy claimed to be the only Presidential candidate who had lived in the Bronx.
This isn't the most representative picture of the architecture on the grounds, but remember, I'm shooting from outside the gate.
Now north of the LPC designated district, this is the nonetheless impressive apartment complex constructed in 1939, Fieldston Manor, at 5400 Fieldston. In the 1970s, Cold War intrigue was centered on a small house across Fieldston Road.
One of Riverdale's many schist rock outcroppings has been incorporated into the Manor's property fencing.
From its condition this appears to be one of the first green and white street signs (at West 256th) installed by the Department of Transportation in the 1980s. Formerly Bronx street signs were blue with white letters.
At Mosholu Avenue and Fieldston Road is a remaining mechanism formerly used by the Department of Traffic, now Transportation, to measure traffic volume. They haven't worked for a few decades, so birds find them a handy dandy place to put nests.
There are a number of places in the Bronx named "Mosholu." When I first encountered it, I thought it was a Japanese name, but instead, it was the Algonquin name of a rural brook running through the heart of what became the Bronx' Spuyten Duyvil and Riverdale neighborhoods.
Thorne Lane is a one-block, mostly unpaved road running between Spencer and Huxley Avenues (with a dead-end piece on Fieldston Road) north of Mosholu Avenue. No houses or property face it, and it doesn't appear on most paper maps. Brother's Thomas and William Thorn ran a farm feed business in nearby Spuyten Duyvil and perhaps they resided in the area.
You could probably cut your thumb on the peaks of these twin Tudors at Spender Avenue and West 259th Street.
Modern updates on the Tudor theme in these solid brick dwellings on East 260th between Spencer and Huxley Avenues.
The hill on Huxley north of West 260th is short, but San Francisco steep. In the early days of Riverdale this was known as Pigeon Hill.
There are a pair of dead-end streets, Whalen Street and Forster Place (shown here) on Huxley between West 260th and 261st.
Handsome apartment building with multicolored brick facade at Huxley and West 262nd — which is unpaved on the opposite side.
As West 262nd winds up Pigeon Hill we are getting perilously close to Yonkers. Here a telephone pole has been ivied over.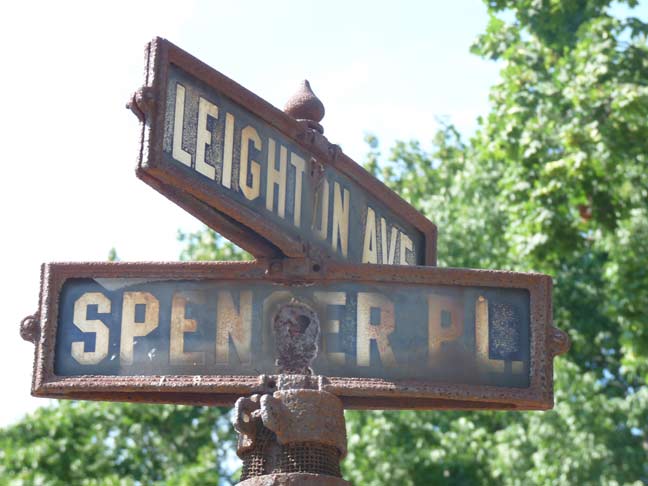 One of my purposes in invading this stretch was to check on the condition of an ancient, rusted signpost at the Riverdale-Yonkers border, Leighton Avenue and Spencer Place. Earlier in 2017, I noted my disappointment that the enamel signs have been removed, either by the City of Yonkers or by a souvenir hunter.
Once in Yonkers, I noticed that the lamps had been outfitted with large, ungainly Philips LED lamps. One was even placed on a octagonal Bronx lamppost, but that was either inadventent or that lamp is controlled by whatever agency lights Yonkers.
On this stretch of Broadway in Yonkers the street signs are large, white and blue. Otherwise in Yonkers the street signs closely resemble NYC's green and white signs.
The highest numbered address on Broadway in the Bronx, #6687.
Time to kick it in the head for the day. A short bus ride delivered me to the West 242nd street station for the #1 train, one of my favorites in the subways. I plan a short feature on it.
Check out the ForgottenBook, take a look at the gift shop, and as always, "comment…as you see fit."
9/30/17