I took a number of walks in mid-December before a 2+ week deep freeze set in after Christmas, and a few of these occurred on some days that were quite overcast. In the warm months I prefer to walk in brighter weather, but in the cold months I don't mind so much, as the sun angle from November until mid-February can create some very harsh shadows, with a sharp contrast between light and dark. I have neither the equipment or inclination to carefully set up each shot with umbrellas or other light-baffling stuff, so I just lighten them up in Photoshop a smidge. On this day, no need for any of that as we had a resolute cloud cover from start to finish.
Though I was familiar with Foster Avenue quite a bit from bicycling around Brooklyn as a youth before my move to Queens in 1993, I had never walked most of its length until this particular foray. I found some interesting items, and hopefully you'll agree. I would up traversing it from McDonald Avenue east to Kings Highway. Foster Avenue continues northeast into Canarsie, but that stretch (much of which is rather boring) will have to wait for further adventures.
GOOGLE MAP: PARKVILLE TO BROWNSVILLE
My journey today began at the Avenue H station on the Brighton line, known to most as the Q train (though the letters seem to change every few years). I've been all over this station in the past as I admire its modernizations, as well as its ancient stationhouse that goes back to the early 1900s as the real estate office of T.B. Ackerman, who developed much of this area as Fiske Terrace.
The Brighton Line travels in an open cut or a raised embankment for much of its length, and several east-west avenues are interrupted by it. When I bicycled in Brooklyn, Avenue H was a convenient way to traverse it, because it has a through passageway that goes under the tracks.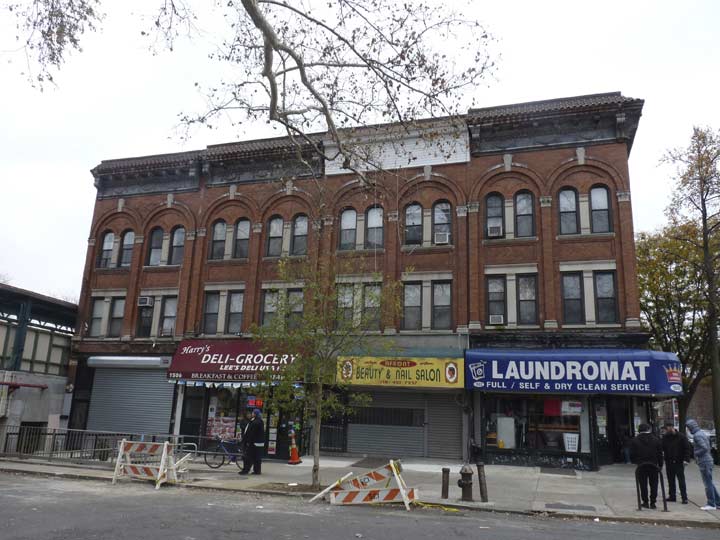 Though the neighborhoods south of Prospect Park are dominated by private homes, some of them spectacular and situated in Landmarked districts, Avenue H features a string of multifamily apartment buildings west of the Brighton line as far west as Ocean Parkway. This building at West 15th is actually a grouping of four very similar brick buildings that appear to have been built around 1910-1915.
A 1930s Art deco palace, Avenue H and East 14th. This is an important cross street, as south of here it joins Ocean Parkway and Coney Island Avenue as one of the rare streets that is bridged over the LIRR freight Bay Ridge branch. As such, it briefly attains two-way status.
This building at Avenue H and East 12th Street was, in a previous life, a SRO called The Hotel Oak. In the 1980s it even had a long-burned out neon sign with the name on it. When I worked at Photo-Lettering in the 1980s, one of my teammates, Joe Orenstein, lived here. He was a man of mercurial temperament. He'd be mentoring me one moment and threatening to kill me the next. He had diabetes and ultimately had some amputations; he passed away several years ago. As far as I know the former Oak still houses transients. It was in extremely bad shape until a 2014 renovation.
Here's a look at the Oak shortly after its opening in 1908.
The building next to it on Avenue H has an unusual name: The Fabricant Arms. "Fabricant" means "manufacturer," so perhaps the original tenants were factory workers.
As we'll see there are some surprising classic Art Deco touches to be found in mid-Brooklyn. Here's a diminutive corner building at Coney Island Avenue and Avenue H. Some of the details are absolutely amazing.
I was surprised to see the Kent Theatre, 1170 Coney Island Avenue near Avenue H, still running mainstream first run features. How long before it succumbs to the presence of nearby multiplexes? It opened in the late 1930s and was among famed theater architect Charles Sandblom's last works. It's not highly regarded by Cinematreasures commenters. The Wednesday special is $5.00.
In December 2017 the bill of fare was Justice League, Star Wars the Last Jedi, and the little-known Inoperable.
McKinley Court, 1001 Avenue H at East 10th, may well be named for President William McKinley, Teddy Roosevelt's predecessor (veep Teddy took over after McKinley's death). Bay Ridge's McKinley Park is anothr namesake.
The massive apartment across Avenue H is another brick building, 801 East 10th, fairly nondescript with the exception of these household gods above the entrances.
A pair of very old dwellings on Avenue H and East 8th Streets. On the other side of the street, what are labeled as "lumber yards" on the 1929 Belcher-Hyde Atlas are now occupied by large brick apartment houses.
I zigged down Ocean Parkway for a block, then zagged west on the little-known Elmwood Avenue, which parallels the LIRR Bay Ridge branch. Here we see the Marienheim senior residence in the background with several newer homes on East 5th Street.
A shul school at Elmwood Avenue and East 4th. Can anyone translate the Hebrew?
I have always been a fan of this building with its indoor porch at Elmwood and East 3rd, just a block south of Walsh Court. I wish someone would fix it up and replace the glass.
Unusually, Elmwood Avenue has a lamppost equipped with a fire alarm indicator midway between McDonald Avenue and East 2nd, but there is no actual fire alarm to be found. Perhaps it's in the building that the lamp is sitting outside.
Speaking of lampposts, new Dwarf Davits have been appearing on avenues under elevated lines. So far, they have populated McDonald Avenue in Brooklyn and parts of Roosevelt Avenue in Jackson Heights. I imagine they will continued to proliferate. They are also equipped with short masts with sidewalk-illuminating fixtures.
The forlorn yet well-preserved brick building on 47th Street at McDonald Avenue is the former Brooklyn Post Office Parkville Station. It faced the LIRR Bay Ridge Branch tracks and may have had a railroad siding at one time. The present Parkville PO is at 6618 20th Avenue, which isn't even in Parkville but in an eastern section of Bensonhurst called Mapleton. Currently the closest post office at this location is at 1288 Coney Island Avenue near Avenue I.
Here's a couple of formidable sidewalk signs for a flooring concern and a tire shop at McDonald Avenue at Foster Avenue. The length of McDonald Avenue, mostly under an elevated train (the Culver Line, or the F train) is home to small manufacturers, wholesalers, and a few (very noisy) residences thrown in.
Foster Avenue forms the southern border of a very old neighborhood, really a small town, called Parkville. If you look at the Brooklyn map, it looks like a different grid that has been plunked down on the overall east-west grid, but as this 1890 map shows, it actually predates the prevailing grid, i.e., these streets came first. Indeed, as the purple coloring shows, these streets were paved before the other streets in the area were. It seems there were plans to construct an east-west grid in Parkville, but the old street scheme prevailed.
Parkville was originally known as Greenfield:
Greenfield "was laid out in 1851 on 67 acres of land which the United Freeman's Association had bought from Johnson Tredwell," reports The Eagle and Brooklyn, from 1893.
"To this property they added the Ditmas farm in 1852, making a total acquisition of 114 acres."
The Greenfield name didn't last long; the town was renamed Parkville in 1870. Ephemeral New York
Even today Greenfield/Parkville can be easily discerned on maps, since its streets run northeast against the prevailing grid between 18th and Foster Avenues and McDonald and Coney Island Avenues. South Greenfield, meanwhile, can be found between Avenues L and O from Coney Island Avenue east to Bedford Avenues. It can be picked out by the diagonal streets, Bay, Elm, Chestnut Avenues and Olean Street, that also thwart the grid. The Parkville name probably arose from its proximity to Prospect Park.
Now that I have embarked on Foster Avenue, let me indulge in a little forgotten history. Today, Brooklyn and Kings County are the same thing, as far as the public is concerned. Brooklyn's county is Kings, and Brooklyn is a borough of NYC. Between the colonial era and the formulation of Greater New York, though, Kings County had a shifting grouping of towns that later split into the City of Brooklyn and a collection of towns. Brooklyn gradually absorbed the towns, and NYC absorbed Brooklyn.
The above map is an excerpt of the Kings County Bromley map made in 1890 (for the whole map, go here). On this map, Foster Avenue runs northeast at the bottom of the purple region, which is the Town of Flatbush. Foster Avenue was laid out on the borderline of the Towns of Flatbush and New Utrecht from McDonald (formerly Gravesend) Avenue northeast to about Flatbush Avenue, where it was on the border of Flatbush and Flatlands.
The former towns of Kings County don't conform to current geographical realities. I'm fascinated by this: look at the little sliver of New Utrecht that extends northeast to about the Brighton Line railroad tracks; the border of the towns of Flatbush and Flatlands goes along the now-vanished Paerdegat Creek; a sliver of Gravesend (the pink area) noses up to a point where it meets Flatbush, New Utrecht and Flatlands (there should be a monument or that marker now).
These towns were all surveyed on horseback in the 1600s before there was ever a dream of creating a street grid and turning these plains into a city. And, when streets were laid out, they weren't laid out in concordance with the town lines. Had the towns been maintained to the present, this would present several interesting political and geographical quirks!
For more on this evolution, see Curbed.
Handsome grouping of attached brick homes on Foster Avenue east of McDonald.
Engine 250 on the south side of Foster Avenue was constructed in 1928, one of the many city firehouses built during the Jimmy Walker administration. It has a plaque listing Walker and the fire commissioners that year.
With the exception of centuries-old historic houses, I seem to be more interested in apartment house design than private homes built, say, after 1940 or so. Here are a couple of distinctive apartment building fronts on Foster between McDonald Ave. and Seton Place. Look at the lettering on "Abraham Apartments."
I'll show the 1890 Parkville map again because I need to point out something interesting. When Greenfield's streets were laid out after 1853 there were 5 streets running SW to NE: Franklin, Webster, Lawrence, Washington and Foster. These streets are still where they always were, but the names have shifted since then. Franklin avenue is now the eastern leg of 18th Avenue; Webster Avenue is still Webster Avenue; Lawrence Avenue runs to Ocean Parkway, but east of that it's now Newkirk Avenue; Washington Avenue and Johnson Avenue have become Parkville Avenue.
Now notice that there are three streets that run NW to SE: 1st Street, 2nd Street and 3rd Street. Two of them have survived, 1st and 3rd; 2nd probably originally went further SE that it does, but it was overlaid when Ocean Parkway was built in the 1870s. 1st Street became East 8th, while 3rd remained in place well into the 1970s when it was renamed as Seton Place.
I believe the Seton Place renaming goes back to 1975, when New Yorker Elizabeth Ann Seton (1774-1821) was canonized, becoming the first American and first New Yorker to become a Catholic saint. Seton was associated with Manhattan and her family with Staten Island; the nearest Catholic parish is St. Rose of Lima, on Parkville Avenue east of Ocean Parkway (whose school, tangentially, was attended by Mary Tyler Moore until her family moved to California).
The question, for me, is was Seton Place marked by the Department of Traffic as 3rd Street before 1975, or did the street signs say East 3rd? 3rd Street would have been historically correct, but East 3rd would have made more sense, since East 3rd intersects Foster Avenue a little west of Seton Place.
If any residents can clear this up, do so in Comments.
East 8th Street's intersection with Foster Avenue is also strange because for one block, it seems like the numbering is going in reverse. The sequence goes East 8th, East 9th (streets running from Foster Avenue south), East 8th again, as it is the former 1st Street of Greenfield running north from Foster, then East 10th, south. Most residents take this in stride, but to me it's strange…
On East 8th north of Foster is a handsome brick apartment house, #731-733. The almost indecipherable Olde English blackletter script above the door says: "Muriel Scima." possibly the builder, his wife?
I've taken a couple of walks down Coney Island Avenue, in spots, the past couple of years. It is mainly a corridor of auto body shops, wholesalers, gas stations, and this general atmosphere could be a legacy of its old days as a railroad corridor. There are a number of apartment buildings that sprung up during its streetcar days. Much of Coney Island Avenue contrasts mightily with the landmark neighborhoods to its immediate east such as Prospect Park South and Beverley Square, which feature highly stylized homes from the Victorian age, many of which feature lush, wide lawns.
Above we see a distinctive brick building occupying the parallelogram between Coney Island Avenue, Foster Avenue, Glenwood Road, and little Corbin Court. It may have originally been a roadhouse catering to passengers traveling on the once-rough-and-ready horse-drawn railway. Other than that, I can't account for its distinctive design.
12/21/18: This article solves the building's mystery, and the name of Corbin Court (below): it was built by developer John R. Corbin, for whom the alley was named.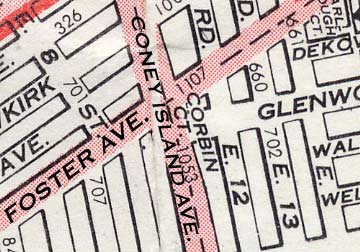 I have always been fascinated with tiny Corbin Court, which is behind that crazy Coney Island Avenue building between Foster Avenue and Glenwood Road. For nearly its entire existence, the Department of Transportation did not mark it with a sign, but a single sign has now appeared on Foster. I knew it only from an old American Maps Colorprint atlas in my possession that was produced in the 1970s.
Glenwood Road begins at Coney Island and runs in fits and starts east, finally finishing at the Breukelen Houses in Canarsie, where it becomes Cozine Avenue. This is one of the many neighborhoods south of Prospect Park that real estate developers created in the late 19th and early 20th Centuries out of farmland; this stretch of Glenwood runs through West Midwood, which was created by developer Henry Meyer. Several homes in the area were built by the previously mentioned T.B. Ackerson. Several of these neighborhoods, such as Fiske Terrace (east of the Brighton Line) have been granted Landmarks protection, but West Midwood has not. The neighborhood is chronicled by The View From Argyle Heights.
Glenwood Road was originally malled in the 1800s as Avenue G, but fairly early on was given the Glenwood Road name, as names were thought to carry more prestige than letters by developers. This renaming was done on an irregular and unplanned fashion; hence, in Brooklyn, Avenues A and B (Brownsville) are about 5 miles away from Avenue C (Kensington)!
A pair of double-porched residences on Glenwood Road between Corbin Court and Westminster Road.
The former Wells Memorial Presbyterian Church on the corner of Argyle and Glenwood was dedicated in 1913. In recent years it has been home to the Church of Jesus Christ of Latter-Day Saints.
The West Midwood development was likely marked by gateposts such as this pair at Foster Avenue and Argyle Road. I don't know what the purpose of the hollows in the gateposts was, but residents use them as convenient trash receptacles.
Mixed use apartments and stores at Foster and Rugby Road. Note the very subtle bay window arrangement. In the long ago and far away, I sought a job at a type shop on this stretch; I was still living in Bay Ridge at the time.
Pedestrian crossing control lights at Rugby and Foster. Why do I point out this stanchion, one of thousands in the five boroughs? I can tell it was installed before 1965. That year, the fluted bases had a design change to the boxy bases that they have used ever since.
Newkirk Plaza, along the Brighton Line open subway cut between Newkirk Avenue and Foster Avenue east of East 15th, was Brooklyn's first shopping mall. The Plaza is the product of a grade crossing elimination on the Brighton Line that took place between 1904 and 1908. This placed the line in its present-day open cut and embankment. Newkirk Plaza was created when residential buildings were placed along the line between Newkirk and Foster Avenues, and pedestrian walkways built along the open cut surrounding the station entrance. Shops occupied the ground floors along the walkways – and Brooklyn had stumbled into its first shopping mall. This occurred anywhere between 1908 and 1913. Brooklyn wouldn't have another shopping mall until Kings Plaza at Flatbush Avenue and Avenue U opened in late 1970.
I think I've covered it pretty adequately on this page, but one thing I have not done is inspect the aboveground BMT stationhouse.
The stationhouse opened 8/23/1907, with the local art David Wilson's Transit Skylight.
Then and now on East 17th south from Foster. We are now in the Landmarked Fiske Terrace-Midwood Park Historic District. Interestingly, the brick posts here used to carry glass globes; there were probably light bulbs underneath.
In 1905, T. B. Ackerson Company purchased a densely wooded tract of land and immediately cleared it, laid out streets and installed underground water, sewer, gas and electric lines. Eighteen months later, the former estate belonging to oil merchant George P. Fiske had been transformed by some 150 custom-built, detached, three-story suburban houses with heavy oak ornamental mantels, staircases, beamed ceilings and built-in bookcases, ornately bordered parquet floors and elaborate cabinetry. A landscaped median and hundreds of street trees planted at the time of development continue to contribute to the idyllic feeling of the neighborhood. Historic Districts Council
Fiske Terrace came to encompass almost the entire area bounded by Glenwood Road (then known as Avenue G) on the north, the old Manhattan Beach Railroad tracks just south of Avenue H on the south, the Brighton Beach Railroad on the west, and Ocean Avenue on the east.
NYC Landmarks Designation Report
On the left is 639 East 18th Street just off Foster. That slate blue treatment looks as if it has been there forever but it was actually done between 2014 and 2017; before that, it was brown and beige. The owners probably had to get a waiver from Landmarks to alter the exterior.
This wood-frame, Colonial Revival style house was designed by architect R.T. Schaefer and built in c.1911 by Henry Krunach and August Lemaire at a time when Midwood Park was being rapidly developed as a comfortable and convenient suburban community of freestanding residences built for New York City's expanding middle class. The Schaefer/Krunach/Lemaire team also developed the neighboring house at 635 East 18th Street at about the same time. The house's projecting bays and gable roofs are characteristic of the Colonial Revival style. The rear garage was built sometime between 1911 and 1929, at which time it was enlarged to accommodate two cars (ALT 10750-1929; owner: N.H. Kramer; no architect listed). By the late 1930s, the front porch was enclosed and the house remains intact to this period. LPC Designation report
Brooklyn, before it joined Greater New York, was called "The City of Churches" and Foster Avenue has its share. The Our Lady of Refuge Roman Catholic parish was founded in 1911 by the late Bishop Charles Edward McDonnell; its first edifice was constructed the following year. By 1928 the parish had outgrown the original small church, and plans were made for a massive French Gothic church building, dedicated in 1934, that nonetheless echoed the 1920s-1930s Art Deco movement. The Latin inscription above the doorway means "Mother of God, Refuge of men, pray for us." Unlike many churches, OLR's website has a comprehensive history of the parish and detailed description of the church building.
The Chateau Elmore and The Delamere are matching brick apartment buildings on the north side of Foster Avenue at East 22nd Street. I wonder when the massive pole on the corner of the Elmore last had a flag on it! On some maps, East 21st through 24th Streets are shown as Kenmore, Elmore, Delamere and Mansfield Places, though I'm not sure if street signs ever had those names.
The Flatbush Church of the Redeemer was founded in 1973 from the merger of Flatbush Presbyterian Church and the Flatbush Lutheran Church of the Redeemer. Its Gothic church was constructed from 1916-1922.
Take a look at these marvelous Tudors on the east side of East 23rd at Foster.
Stephens Court runs for one block between East 23rd and Flatbush Avenue north of Foster. There is a terrific corner apartment building with a curved corner (unusual in Brooklyn; but in the Bronx, apartment houses are marked by sweeping curves) and handsome attached brick residences. In Flatbush there was a long-gone Stephens Mansion; only this short street remembers the name.