One Labor Day, 20 years ago or was it 30, I tuned into the Jerry Lewis Labor Day telethon. However, to rest his voice, Jerry took a number of hiatuses during the daylong show, and during that time, the network threw it back to the local studio in Secaucus, which had its own acts lined up. One of them, to my amazement, was Sylvain Sylvain and his band at the moment, who were doing a song named "14th Street Beat," a catchy number that featured actual subway noise, including the 'bing-bong" noise the doors make when they close. If you're unsure who Sylvain is, he played guitar in the New York Dolls, a hard-rock act hailing from NYC in the early 1970s, with Sylvain, Johnny Thunders, Jerry Nolan, and front man David Johansen. The Dolls, who were known to take the stage in drag, didn't sell many records, but were influential in the new-wave scene emanating from the Lower East Side in the 1970s. Tragically, Thunders and Nolan died young, and are interred in Mount St. Mary's Cemetery in Queens, a spot visited by a FNY tour in the summer of 2019. Johansen has gone on to have hits as lounge lizard Buster Poindexter, and Sylvain continues to play. Here's a 2016 rendition of "14th Street Beat."
What brought all this to mind? The Department of Transportation recently cleared out 14th Street — of most traffic, that is. Most automobiles cannot now travel on 14th Street between 6 am to 10pm, with buses and trucks making local deliveries still permitted on the formerly bustling street. I've walked most of 14th Street before, over a decade ago, but I decided to check things out, guessing the photo opportunities would be augmented without SUVs getting in the way.
I began at the 8th Avenue A train station at West 14th, and walked east. Between 7th and 8th Avenues on 14th, you see the last vestiges of 14th Street's original residential district, rows of Italianate townhouses constructed from the late 1840s into the 1850s. Developer Andrew Norwood occupied the center building in this grouping. The building on the right, flying the Spanish flag, is home to Spanish restaurant La Nacional, as well as the Spanish Benevolent Society.
La Nacional, which was also the name of the Spanish Benevolent Society, and Our Lady of Guadaloupe church (see below) are the remnants of a small enclave of Spanish immigrants who settled in Chelsea as well as Brooklyn Heights. In H.P. Lovecraft's "Cool Air," set on West 14th Street, a Doctor Muñoz self-animates his own corpse by keeping his apartment artificially cold by means of a complicated apparatus in the era before widespread air conditioning in 1921. When the power fails…
When John Randel drew up Manhattan's grid system during an arduous period of surveying from 1805-1810, he designated 14th, 23rd, 34th, 42nd, and 57th Streets to be extra-wide south of Central Park. These streets were seemingly chosen at random, but my guess is that the Bloomingdale Road, the generally northbound trail that traversed Manhattan Island and ultimately became Broadway, intersected Randel's planned north-south avenues from 4th (Park) to 8th at roughly those streets. That's my best guess, though ultimately, the intersections are a bit off.
Manhattan's population spread slowly at first north, and 14th Street was laid out but mostly unpopulated by the 1840s, and only then were residences constructed there. Later, Manhattan's entertainment district gravitated north from the Bowery to Union Square, and in the early 1900s, to Times Square. After these early Italianate buildings, grand mansions were built along 14th, but they were short-lived. Today, 14th Street still retains a largely grungy atmosphere, with low-and mid-priced businesses interspersed with modern apartment buildings. Macy's early headquarters was on 6th Avenue between West 13th and 14th, but moved uptown along with most late 19th-Century "Ladies' Mile emporiums.
Here's another pair of 1850s survivors, 240 and 242 West 14th. According to Tom Miller, the Daytonian in Manhattan, 240 has been home to the Arlington League men's club, which featured some of Manhattan's earliest bowling alleys; artists Raphael Soyer and Paul R. Meltsner; and has witnessed its share of murders and suicides.
Adjoining 242, at #246, was formerly Nell's, a 'quiet club' and Patrick Bateman haunt run by Rocky Horror actress Nell Campbell.
Remember, clicking an any Gallery image, as below, enlarges the photo.
You've heard of storefront churches. At #229 West 14th, we've got a residential building-front church. It was built as one of the row of townhouses along the block in the 1850s, but it was converted to the Roman Catholic Our Lady of Guadaloupe in 1921, serving what at the time was large number of Spanish immigrants in the area, most of whom were Catholic. The Spanish for "Our Lady of Guadaloupe" can be seen above the entrance, with an interlocking "SH" digraph above the second floor window, which likely stands for the "Sacred Heart" often found in Church iconography. This was the parish church of Jack Kerouac when he was a NYC resident, according to NY Songlines' Jim Naureckas. No longer a church, the building now holds the offices of the merged parish of Our Lady of Guadaloupe and St. Bernard.
I was perplexed for years by this handsome, 5-story red brick apartment building at the SW corner of 7th Avenue and West 14th. Why? There's a statue of a female figure on the second floor, above the entrance, with a partial inscription that says "Jear." I figured it out eventually: it represents Joan of Arc, or Jeanne d'Arc in France. The other letters have since broken off or worn away. If you have ever heard the term "French flats" for apartment buildings, it may come from here, as this was one of the first buildings to adopt the French practice of many living spaces in one building. The building shown here, designed by architect James W. Cole goes all the way back to 1888! The front entrance is a treat too, with its pairs of caryatids and guardian beasts.
I've been staying away from donuts for a couple of years, but that doesn't mean I can't appreciate a great neon sign. The Donut Pub has occupied the site of a long-vanished saloon for decades at 203 West 14th for decades. Unfortunately the saloon's stained glass window has vanished in the last few years. The sign lights up red and gold at night. You can't see it here, but this building and its neighbor still have decorative 1800s ironwork on their roofs.
154 West 14th, on the southeast corner of 7th Avenue, is a riotous concoction of colored terra cotta exteriors.
It was built as a loft by real estate developer Leslie Palmer in 1914. Palmer suspected there would be a lot more business on 7th Avenue in the next few years as the 7th Avenue IRT subway, today's #1,2,3 trains, would open in 1918. It was designed by Herman Maeder, an architect who had studied under Ernest Flagg (Singer Tower, Flagg Court in Brooklyn).
The glazed terra cotta, in white, gold, green and blue, was produced by the New York Architectural Terra Cotta Company — whose chief director was Leslie Palmer.
Since 2013, West 14th west of 7th Avenue has unfortunately hosted a pair of gaping empty lots. Fortunately, two large, colorful street murals now flank the lot on the north side. #148 West 14th is a former residence of Woody Guthrie.
I had thought that #140 West 14th, on the south side of the street, now a branch of art school Pratt Institute, had been a big deal because of its size, but this 1909 Bromley Atlas excerpt merely says it was the Surprise Store Lofts. I still hope to find out more about the building.
At #133 West 14th, I was hoping this was where you obtained a device to zap your enemies or confuse cats, but instead, it was removal of hair in places where it is unwanted.
This vacuum cleaner dealer is kaput, as the Roomba increases in popularity. It's on the edge of a former Chelsea fiefdom of vacuum cleaner and sewing machine equipment dealers. It does leave behind its neon sign.
The Salvation Army, the charitable society founded by William Booth, has been a presence on West 14th Street since the 1890s. Its weird, fortress-like building at #120 West 14th was constructed in the 1930s, with Robert Walker, the architect of a number of prominent NYC Art Deco office towers.
On its left is the Dix Building, constructed in 1907 for William Dix, a garment factory executive who was the first to grant workers a 5-day week instead of 6, and paid vacation time. The building was also the home of Screw magazine for a few years.
A quotation by William Booth in raised letters can be seen at the entrance:
"While women weep, as they do now, I'll fight
While little children go hungry, as they do now, I'll fight
While men go to prison, in and out, in and out, as they do now, I'll fight
While there is a drunkard left,
While there is a poor lost girl upon the streets,
While there remains one dark soul without the light of God,
I'll fight, I'll fight to the very end!"
Here's another grand old building, #510-526 6th Avenue, on the southeast corner. It was a department store, one of the Ladies' Mile series of buildings on 6th from 13th to 23rd Streets, constructed by Henry Siegel, one of the owners of the more massive Siegel-Cooper Building on West 18th and 6th, now split into smaller stores including Bed, Bath & Beyond.
Speaking of department stores, this narrow tower on West 14th just off 6th was one of the last buildings constructed for Macy's when the World's Biggest Store occupied a complex of buildings on West 13th, 14th and 6th Avenue until its move to Herald Square in 1902. The word "Macy's" was formerly visible above the front entrance. If you go around the corner to West 13th, in one of the former Macy's buildings now owned by the New School you can make out some red stars, the longtime Macy's symbol (founder R. Hussey Macy was at sea and had a red star tattoo).
Cartouches were big in 1902, here's one.
The familiar Sol Moscot optician, with its recognizable yellow sign with a pair of specs, was in the building now razed at the NE corner of West 14th and 6th. The building was also home to the Living Theater, where Martin Sheen, the patriarch of the acting family with Emilio and Charlie, got his start. Sheen played an evil president in The Dead Zone and a good one in The West Wing!
This bicycle mural, now nearly totally obscured, was painted on 6th Avenue for 6th Avenue Bikes, which has since become Danny's Bicycles and now a Trek Bicycles outlet.
The PATH train, run by the Port Authority of NY and NJ, is a mass transit option running as a subway in NYC and as a subway and open cut railroad in New Jersey. In Manhattan, it runs under 6th Avenue and Christopher Street below the IND tunnels that carry B, D, F and M trains. Staircases allow passengers to access both lines. Since they're run by different agencies, they can't transfer to each other.
Here's a grand cast iron facade at #34-42 West 14th between 5th and 6th, the old Ludwig Brothers Dry Goods store constructed by architect W.W. Smith in 1878 and enlarged to present size in 1899. It was later Rothenberg's and then Macy's biggest competitor next to Gimbel's, Hearn's.
#33 West 14th, a weirdly Modernist building, home of the Amalgamated Clothing and Textile Workers Union Local 169. The building has also been home to Gallery 169. Next door at #31 was a building that hosted offices of The Little Review, the magazine where James Joyce's "Ulysses" was first published.
New School University Center, southeast corner of East 14th Street and 5th Avenue, is a grim modernist building home to the school's classrooms, a library-research center, a new auditorium, a cafeteria and an event café, and a 600-bed student residence, is the school's new flagship building. The New School is not exactly new: it celebrates its centennial in 2019.
These "bigloop" lampposts, installed on 14th Street in the early 1990s, can be seen as a modern nod to the curved Bishop Crook lamps which arrived in NYC in the 1910s and beginning in the 1990s, have been revived in many places. 14th is so far the only street to get the "bigloops" though they can also be found on the Williamsburg Bridge.
Opposite the University Center at 80 5th Avenue/#2 West 14th is this standout 16-story building, originally lofts, designed by German architect Robert Maynicke and constructed in 1907.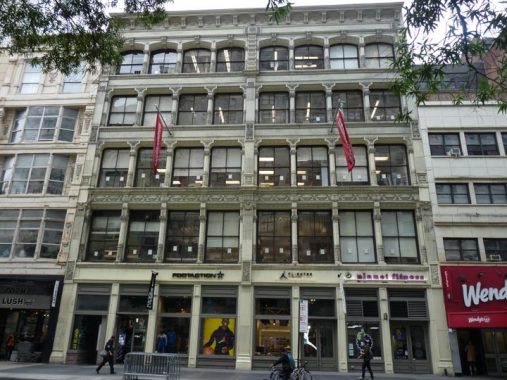 One more impressive former department store with a cast iron front, this one at 22-26 East 14th between 5th and University Place, went up in 1881 and was originally the Baumann Brothers Furniture and Carpets, designed by Scottish architect brothers David and John Jardine.
For eight decades, the ground story contained 5-10-and-25-cent stores, beginning with the fourth Woolworth store in Manhattan (1900-28), acclaimed at its opening as "the largest ten-cent store in the world" and in 1910 the location of the chain's first lunchroom. This space was later a store for F. & W. Grand, H.L. Green, and McCrory. The upper stories were leased for over eight decades for show rooms and manufacturing by various firms related to the textile and sporting goods industries, as well as a gymnasium and classrooms for the Delehanty Institute (1930-63), which trained candidates of the Police and Fire Departments. The upper stories are currently used as an annex to the Parsons School of Design. [Neighborhood Preservation Center]
Spingler Building, 5-9 Union Square West near East 14th. Built 1896 (were there more great buildings between 1890-1910 than any other era?) by William H. Hume and Son. It originally contained stores, showrooms, manufacturers and industrial lofts. Note the tripartite style, an architectural sandwich: two floors with wide windows at the bottom, yellow-bricked center, and attic floor and cornice. The name harkens back to the Spingler House, a hotel formerly in the locale —C. Henry Spingler owned much of the land here in the colonial era.
The St. Mark's churchyard, 2nd Avenue and East 10th Street, is home to a number of other interments beside Peter Stuyvesant and Daniel Tompkins; early NYC mayor and famed diarist Philip Hone is here as well. There are no gravestones in the churchyard, though, as the interments are in vaults indicated by flat markers. I happened upon the Spingler family vault, and research shows that German immigrant C. Henry Spingler (1747-1814) was employed as a butcher and shopkeeper, married three times, and dabbled enthusiastically in real estate, buying and selling properties all over southern Manhattan. Interestingly, his first wife, Jane Sloo Spingler (d. 1790) is buried in the churchyard at St. Paul's Church, Broadway and Vesey St.
Kantilal Patel's statue of Mohandas K. Gandhi (1869-1948) the spiritual leader of India during its independence campaign, was installed in the traffic triangle at East 14th and Union Square West in 1986. Union Square was chosen as an appropriate location for Gandhi's statue due to its history as a center for nonviolent protest.
Skipping ahead past Union Square, which I've covered adequately elsewhere in FNY…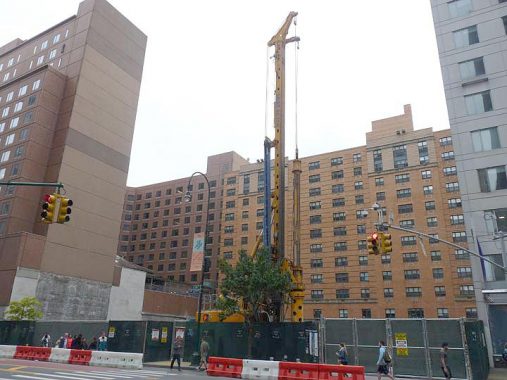 This large empty lot, on which construction has commenced for New York University, replaced a PC Richard appliance store at East 14th Street and Irving Place (named for famed author Washington Irving) is the former location of the famed German restaurant Luchow's, which closed in the early 1980s. East of Luchow's was the famed Palladium concert hall (which stared out in 1926 as the Academy Music Hall).
Though Tito Puente got the mambo craze started there in the Fab Fifties, it was during the rock era that the Palladium made its name. The Academy hosted the Stones, Beach Boys, Yes, Grateful Dead, Byrds, Fleetwood Mac, Lou Reed, Stooges, New York Dolls, Genesis, Springsteen, Frank Zappa and after a 1976 show by The Band it was rechristened The Palladium. I saw the Ramones on New Years Eve in 1979 here, the Pretenders when they were breaking in the spring of 1980 and the Pogues on St. Patrick's Day in 1990 here among many other acts. The guitar-smashing shot on Clash London Calling LP was made here (I saw the Clash at Bonds, not here, though). The Palladium went quietly in 1997.
From a first look you wouldn't believe these two buildings, on the north side of East 14th from Irving Place east to 3rd Avenue, are the same building. They are, and they aren't. The Doric-columned building is the original Con Ed building, designed by Henry Hardenburgh in 1913, and in 1927 Warren and Wetmore added the huge temple and clock tower.
Much of the 14th Street elevation of the new building was designed to copy Hardenbergh's original structure. However, for the corner, Warren & Wetmore designed a 26-story tower that would be a prominent landmark as it rose above the low buildings of its neighborhood and would be a visible symbol of the utility company. The tower is faced with limestone and has a three-story Doric colonnade at the base. the tall shaft is set back from the colonnade and rises uninterrupted 21 stories to a modest cornice, above which are four clockfaces and four corner urns. Near the top, the tower sets back slightly and takes the form of a temple capped by a pyramidal roof that is crowned by a 38-foot-high bronze lantern. [Wired NY Forum]
East of 3rd Avenue, East 14th quiets down a bit and becomes a retail-residential street. The block between 2nd and 3rd Avenue is by and large East 14th's only shaded block, with trees on both sides. Unlike the area east of Union Square, there are grand old apartment houses, too, including these constructed in the German Rundbogenstil or "round arch style." This was a mid-19th Century attempt in Germany to develop a national architectural style.
Beauty Bar, at #231 East 14th, is unusual for two reasons: it's a former beauty parlor that has been turned into a beauty-parlor-themed bar. The former Thomas Beauty Salon was converted in 1995. This Municipal Archives photo taken in 1940 shows it as a beauty parlor even then!
The building was constructed in 1921 as the Italian Labor Center, an organized labor/antifascist society.
The building contains a pair of oddly sensual friezes by Onorio Ruotolo, depicting "a content family of working father, mother, and baby, the latter being cradled by his parents. The father holds a shovel in his left hand. The western panel illustrates the naked Roman goddess Minerva, patroness of craftspeople, next to a naked male child in the foreground before a shirtless laborer," according to the 14th Street and Union Square Preservation Plan.
Here's another grouping of late 1800s-early 1900s residential/commercial buildings on the south side of East 14th between 2nd and 3rd Avenues.
New York City is a big place, and there's something for everyone. The Bait & Hook, on the NW corner of East 14th and 2nd Avenue, is a home away from home for Philadelphia Eagles fans. The green and white Eagles banner flies outside. A whoop went up. The Iggles had scored again. Who were they playing? The New York Jets, naturally. I found other Eagles bars along 2nd Avenue, as well.
The apartment building the bar is in could logically be called NYC's Senate building. Its two entrances are inscribed "The U.S. Senate" and "The W.M. Evarts." Evarts was a Republican senator for NYS from 1885-1891, and that time period is when the building likely went up. The developer must have been a friend of Evarts'. The senator's grandson, Maxwell Evarts Perkins, who edited Thomas Wolfe and Ernest Hemingway at Scribner's, was born in the building.
The Tifereth Israel Town & Village Conservative Synagogue has been located in this building at 334 East 14th Street since 1962. However, the building itself is quite old: it was constructed as the First German Baptist Church in 1866 and then became a Ukrainian Orthodox church in 1928. It's another example of German Rundbogenstil architecture. The onion domes were added in 1928 and 1962. The building was designated in 2014 by the NYC Landmarks Preservation Commission. "Tiferet," or "tifereth" is a word commonly found with many synagogues around town. The word means "glory" or "splendor" in Hebrew.
Two doors down East 14th at #340 is one of NYC's oldest firefighting companies, Engine No. 5. The company has been in existence since 1865, and this building since 1880; it was designed by Napoleon LeBrun, one of the FDNY's more prolific firehouse architects in its early days.
I really should do a feature on NYC's firehouses, as I have an affection for this kind of practical architecture. However, Village Preservation beat me to it and has a feature on it. Remember, not only are there handsome active firehouses around town, there are also plenty of former firehouses that have been repurposed. If anyone knows a comprehensive list, let me know in Comments.
Across the street, O'Hanlon's has a ground floor red paint job that is echoic of the firehouse.
Stuyvesant Town sits on an almost-square defined by East 14th and East 20th Street, 1st Avenue and Avenue C, with 89 buildings containing 8,757 apartments. By auto it's accessed by a series of ovals located on its four border streets, and pedestrians can easily access its four "quadrants" via the center oval. A second residential complex, Peter Cooper Village, sits north of East 20th Street.
I have a personal connection to Stuyvesant Town — my father worked here as a custodian for 30 years, between 1958 and 1988; he only retired when he turned 70. This was an era in which unionized jobs with ample benefits were … somewhat more attainable than now. He would work the usual Monday through Friday, but occasionally he would work the weekend and take Wednesday and Friday off, on which days he would see me off to school. It was a long way with two trains from Bay Ridge to Stuyvesant Town, so he would leave the house at around 7 AM or even before that, before I got up, usually arriving home around 7 PM. During snowstorms he would need to go in at off hours to shovel snow.
What's surprising is that I never visited Stuy-Town when he was working there (I do recall heading over there an evening or two by car when one of my father's friends drove us there). The old man never helped put me on the famed list of people waiting for apartments to open up, but as he'd probably say now if he was still around, "You didn't ask me!"
Here's a grand old residential walkup at the NW corner of East 14th Street and 1st Avenue. The name of the original owner or builder, G. Wilkens or C. Wilkens, is inscribed on the pediment.
Speaking of repurposed houses of worship, the present Immaculate Conception Roman Catholic Church at #406 East 14th Street near 1st Avenue was constructed in 1896 as the Grace Episcopal Chapel and Hospital; it was "converted" in 1943. This was a chapel for patrons of the main Grace Church at Broadway and East 10th Street who could not afford the pew rates; in that era, many Protestant churches charged "rent" when you attended Sunday services. God and Mammon!
The parish itself was founded in 1855 by Archbishop "Dagger" John Hughes; the original church building was where Stuyvesant Town is now located.
Stuyvesant Town remains the city's largest repository of working Type G lampposts. Did you know that there are a number of NYC lamppost types that have been classified by letters, from A to G? Examples of every type, save Type D's, can still be found here and there around town. Type G's were generally used on secondary roads and parks.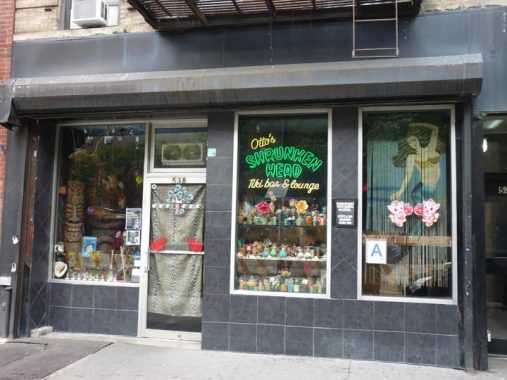 I've heard a lot about Otto's Shrunken Head, #538 East 14th between Avenues A and B, the tiki bar, nightclub and rock venue, but have never actually been in. It has held down the space since 2002.
Another batch of Rundbogenstil apartments, this time on the south side of East 14th between Avenues B and C.
Looking west on East 14th. Cars are permitted on it east of 1st Avenue, but traffic was pretty light this far east. 14th is one of the few numbered streets in NYC that goes straight from the Hudson to the East Rivers without interruption…or used to be, because…
A huge Con Edison plant has blocked East 14th between Avenue C and the FDR Drive for the last several decades. Even if I did somehow get past the barrier, I'd be quickly arrested…
The 14th Street busway was a response by the Department of Transportation and the MTA to the proposed shuttering of the L train to effect repairs to its East River tunnel for 15 months. However, Governor Cuomo cancelled the shutdown and ordered that work proceed with diminished service on the line. The MTA decided to go through with traffic calming on 14th Street anyway, so far, to wide praise. It's a pilot program, so its effects will be weighed and perhaps, the program will expand to other main Manhattan cross streets and into other boroughs.
From here, I turned down Avenue C and into the East Village, but results of that journey will appear later on in FNY.
Check out the ForgottenBook, take a look at the gift shop, and as always, "comment…as you see fit."
10/13/19