By SERGEY KADINSKY
Forgotten NY correspondent
With the Coronavirus compelling New Yorkers into a springtime quarantine, my hometown borough has two small parks with "Health" in their names. Their locations take us back to the administrations of President Franklin D. Roosevelt and Mayor Fiorello LaGuardia when the New Deal resulted in numerous public works projects across the city and an expansion of government-funded services including health services that were previously an entirely private enterprise.
Next to 104-04 Corona Avenue in Queens is a .101-acre playground titled Corona Health Sanctuary, no irony intended. It was built in 1940 together with the Corona Health Center, a neighborhood clinic that is presently used as a daycare center. The striped brick patterns on the building's exterior are an example of the Art Deco style that was prevalent at that time. The center was one of fifteen citywide that opened in the previous decade in an effort to improve public health, combat child illnesses, and epidemics. That this building is now a pre-k daycare speaks of historical continuity as it initially served as a Child Health Station specializing in baby care.
The most dramatic architectural change on this building's exterior are the panels covering up "Department of Health City of New York" inscribed in Art Deco lettering, lest anyone mistake this daycare for a clinic in these difficult times. In total, the federal government paid for 26 health-related capital projects across the city, and rightfully so as New York was the most populous city in the country.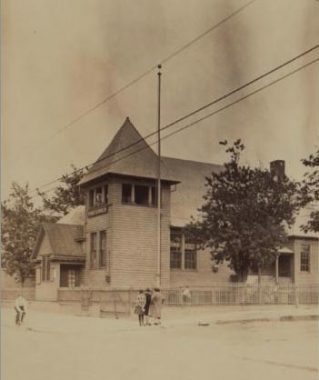 The playground next to the former Corona Health Center was renamed Corona Health Sanctuary by Parks Commissioner Henry J. Stern, who ran the city's public green spaces during the Koch and Giuliani administrations. He delighted in assigning humorous and punny names to some of the city's smallest parks.
In western Queens, the recently-renovated Astoria Health Playground still has a city Health Department office on the corner of 14th Street and 31st Avenue. This New Deal-period facility has a design of an older style, resembling some of CBJ Snyder's public schools. In 2019 the playground next to the clinic received a reconstruction that replaced much of its paved surface with plants and green space.
In the South Bronx neighborhood of Mott Haven is the .11 acre pocket park titled Alexander's Alley, named after nearby Alexander Avenue. Behind the park is the former Mott Haven District Health Center. The appearance of this park hasn't changed much since Mayor John V. Lindsay championed "vest-pocket parks" across the city, most famously Septuagesimo Uno on the Upper West Side.
When this clinic opened in 1939, Mott Haven was starving for parkland, aside from the sizable St. Mary's Park, the neighborhood consisted of lengthy blocks of tenements with little open spaces otherwise. In 1963 the construction of public housing on this block resulted in more open space in the area with Willis Playground built next to the former clinic.
The fourth park that shares its block with a city-run clinic is Chelsea Park in Manhattan, a green block acquired by the city in 1906 and opened to the public four years later. On its eastern side facing Ninth Avenue is the Chelsea District Health Center which opened in 1937. In front of it is a memorial to local residents who fought in World War One. This building recently had an interior renovation geared towards environmental sustainability.
At the time of its opening it was known as the Lower West Side Health Center. Manhattan has a Lower East Side, Upper East Side, and Upper West Side. The original name of this clinic speaks of an area with fluid boundaries that encompasses Chelsea, Meatpacking District, Tribeca, and as far south as Little Syria. The Lower West Side name fell out of use as these neighborhoods transitioned from industrial to high-end residential.
(Looks like the guy in the front could use a health clinic. — ed.)
There are nearly a dozen more clinics across the city built during the New Deal, but for now, I'm focusing on those that have parks next to them. Think back to a time when our nation was in the midst of an economic depression, with fresh memories of a flu pandemic from a decade earlier.
Sergey Kadinsky is the author of Hidden Waters of New York City: A History and Guide to 101 Forgotten Lakes, Ponds, Creeks, and Streams in the Five Boroughs (2016, Countryman Press) and the webmaster of Hidden Waters Blog.
Check out the ForgottenBook, take a look at the gift shop, and as always, "comment…as you see fit."
3/16/20