After covering northwest Queens in Part One, I'll move on to northeast and central Queens in Part 2. After 35 years as a Brooklynite, more specifically a Bay Ridger, a job location prompted a move to Flushing in 1993 and then east to Little Neck in 2007. During those years, Flushing has continued to ascend as an Asian-American cultural and culinary center, while Little Neck, while not going to the dogs, has been in something of a decline with the loss of several keystone businesses like the Scobee Diner and Little Neck Inn. Little Neck also seems to be unable to sustain more than one walk-in pizzeria (discounting Aunt Bella's on Marathon Parkway, which is a restaurant with a considerable takeout and delivery business). Yet I remain, as the garden apartment I purchased is roomier than any other place I have ever lived, and the Long Island Rail Road and Q12 bus are close at hand…
Flushing Town Hall, Northern Boulevard and Linden Place
FLUSHING
Flushing is among the oldest of Queens' old towns, yet it retains an uneasy marriage between its colonial and modern eras. The land just east of the Flushing River in the center part of Queens has been occupied for many centuries by the Matinecock Indians and later by Dutch and English settlers, and later by waves of immigrants, all of which have put their own particular stamp on the region.
The Dutch, led by New Netherland Governor William Kieft, took the region by force from the Indians and warred with them until the English arrived in 1645, on invitation from Kieft, who granted the English a vast 16,000-acre tract that included what is now Flushing. The name is an English transliteration of the Dutch town of Vlissingen. Flushing, though, for most of its history was Dutch-dominated only because Peter Stuyvesant, Kieft's successor, was its governor during its early history. The Brits named the town in honor of Vlissingen because the town harbored English refugees before they sailed for America.
Flushing's boundaries are debatable. Broadly speaking it can be said to be defined by the Whitestone Expressway and  Van Wyck Expressway in the west, Bayside and 29th Avenues in the north, Utopia Parkway in the east and the Long Island Expressway on the south. However, there are subneighborhoods whose identities are fiercely defended by their residents, and we have the Linden Hill area surrounding the Mitchell Gardens Houses along Union Street likely named for a present or past profusion of linden trees (to add to the confusion, and old name for Ridgewood in western Queens is Linden Hill); the increasingly less quaint section of Waldheim, in the "plant avenues" of Ash, Beech and Cherry between Parsons and Kissena Boulevards, named by developers George Appleton and W.B. Richardson for the German for "woods home," Murray Hill, between 149th and 162nd Streets from 29th Avenue south to Northern Boulevard, named for the Murray family that Joseph King of the Kingsland Homestead, home of the Queens Historical Society, married into; and Queensboro Hill, named for the county, tucked into the wedge defined by College point Boulevard, the LIE and Main Street. Finally the Broadway-Flushing region takes its name from the Broadway Long Island Rail Road station at Northern Boulevard and 164th Street; until about 1920, Northern Boulevard was known as Broadway from the Flushing River to the Nassau line, where it turned into the North Hemsptead Turnpike.
So, where does the Dutch name "Vlissingen" come from? The derivation of the name Vlissingen is unclear, though many etymologists and scholars relate the name to the Dutch word fles, or "bottle" in one way or another; other accounts have it as "salt meadow valley."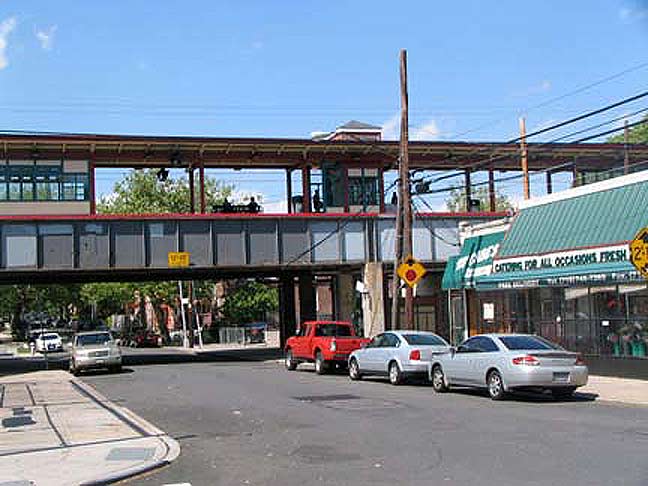 Auburndale Long Island Rail Road station, 192nd Street and Station Road
AUBURNDALE
In 1901, Auburndale, east of Flushing, was empty farmland. Enter the New England Development & Improvement Co., which bought the 90-acre Thomas Willets farm, and lo and behold, Auburndale the community was born. The name comes from Auburndale, Massachusetts, the home of L. H. Green, who developed the community starting in 1901 when the Long Island Rail Road started offering train service to the area. Auburndale's early station house stood until 1929, when the grade crossing at Utopia Parkway was replaced by an overpass and as a result, Auburndale is one of the handful of LIRR stations without a station house. —from Ron Ziel's Victorian Railroad Stations of Long Island
Today Auburndale stretches from Utopia Parkway to the Clearview Expressway and from 32nd south to 48th Avenues.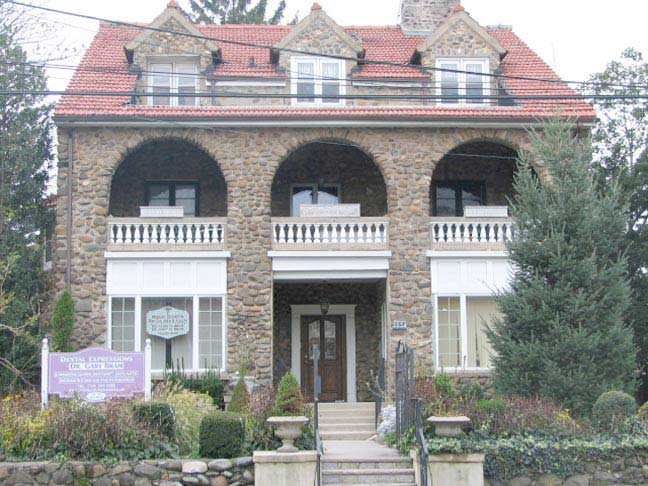 Cobblestone House, Bell Boulevard and 36th Avenue
BAYSIDE, BAYSIDE HILLS, BAYSIDE GARDENS, BAY TERRACE
Bayside was in existence as a community for many years before Auburndale: it was first settled by the British around Alley Creek, the East River inlet now leading to Alley Pond Park, in the early 1700s. It was first named "Bay Side" for its location south of Little Bay and west of Little Neck Bay in 1798 and by the time the one-word spelling appeared in the 1850s, it was a small but potent community giving rise to governmental leaders and statesmen. The neighborhood has always retained a small-town atmosphere centered around Bell Boulevard. The street is named for Abraham Bell, and Irish Quaker who was a partner in a shipping firm and owned a vast farm in the area, and has nothing at all to do with Alexander Graham Bell. The City, however, has added to the confusion by naming PS 205, as well as its playground at 75th Avenue and 217th Street (a couple of blocks from the boulevard) Bell Park and later, Telephone Park, in honor of the inventor.
In the 1910s Bayside became a film actors' colony until the nascent industry decamped to Hollywood. The Famous Players-Lasky Corporation built studios in Astoria that still stand today, and Bayside joined South Greenfield, Brooklyn (see page 00) as a filmmaking hotbed, with D.W. Griffith, in particular, filming hundreds of productions. Corbett Road became a favorite spot for stars to make their homes, with W.C. Fields (who would rather have not been in Philadelphia), Norma Talmadge and John Barrymore all living along the scenic way overlooking Crocheron Park. Years after the film industry moved to California, Paul Newman resided on Corbett as well. Broadway producer John Golden bequeathed his Bayside estate to NYC in 1955 and a park bearing his name opened 10 years later.
Fresh Meadows Houses, 64th Avenue and 188th Street
FRESH MEADOWS
Fresh Meadows is known best for the eponymously-named extensive residential community centered at 188th Street and the Long Island Expressway that was constructed there between 1946 and 1949 by the New York Life Insurance company. Prior to the apartment complex, the area's claim to fame was Fresh Meadows County Club and golf course that hosted the U.S. Open in 1932.
Fresh Meadows takes its name from its contrast to neighboring Flushing, whose name is a transliteration of the Dutch "Vlissingen": one of its supposed meanings is "salt meadow valley." Ponds and creeks running through the neighboring area to the southeast were likely "fresher" or free of salt, and so Fresh Meadows replaced the harsher-sounding older name for the region, Black Stump, which apparently referred to burned, blackened stumps that marked the edges of farms.
Shore Road at Little Neck Bay
DOUGLASTON
Major Thomas Wickes, a patriot originally from Huntington, owned the entire Douglaston peninsula jutting into Little Neck Bay after the Revolutionary War, and subsequently sold it to Wynant Van Zandt in the 1810s. Scotsman George Douglas purchased the peninsula from Van Zandt in 1835. The region was later developed as a suburban resort and exclusive enclave, and enjoys pleasant views of Little Neck Bay and Long Island Sound. Streets were laid out in 1906 by the Rickert-Finlay realty company, who had purchased the property from William Douglas, George's son, and eclectic, individualistic homes were built in the area, which has always been among Queens' most affluent. The streets have retained their original names and have ignored the Queens mania for giving every street a number. The Douglas name was appended to the area in 1876, after William Douglas had donated a Long Island Rail Road stop.
Douglaston is easily defined by its peninsula, but its eastern boundary with Little Neck isn't so certain. Some say Marathon Parkway, while I'd move it a bit west to 248th Street.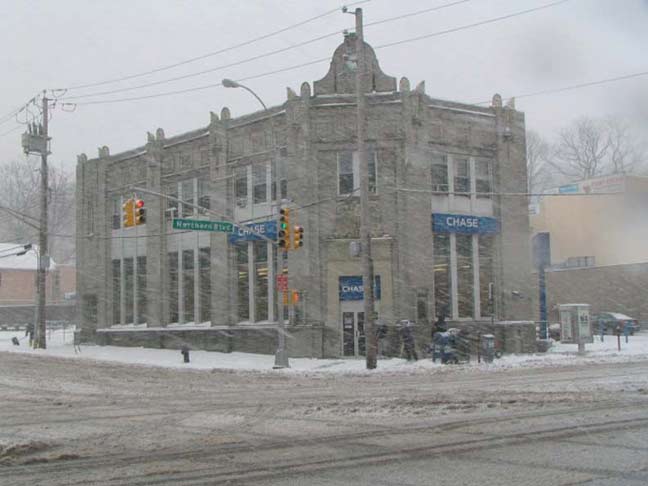 1925 Chase bank, Northern Boulevard and Little Neck Parkway
LITTLE NECK
By 1636 Europeans had driven the Matinecock Indians, the area's original settlers, out of the area along the North Shore east of Little Neck Bay called Madnan's Neck after an Indian word meaning "place of fish." Madnan's Neck was subdivided into Little and Great Neck, after their relative sizes, "neck" in its old meaning of "short peninsula" (Gravesend Neck Road in Brooklyn is so named because it originally led to land that jutted out into a body of water that was later filled in). Little Neck developed as a fishing village after the famed "Little Neck" clams were discovered in Little Neck Bay in the 1830s. But the bay was overfished and polluted after a few decades, though Little Neck Bay still has a lively recreational boating scene.
Little Neck's early days featured a colorful character, the "Bard of Little Neck," Bloodgood Haviland Cutter (1817-1906), potato farmer, poet and friend of Mark Twain, who immortalized him as the "Poet Lariat" in Innocents Abroad. Twain poked fun at Cutter as a master of doggerel who annoyed fellow passengers on an excursion to the Holy Land in the novel. Cutter self-printed many editions of his verse, which are little-read today. He owned numerous parcels of land in Little Neck, Great Neck, Manhasset and Plandome that he purchased or inherited. Cutter Mill Road in Great Neck, on the site of a mill he purchased from the Allen family, is named for him.
A former subsection of Little Neck was a real estate development called Marathon Park, which comprised 247th, 248th and 249th Streets from Northern Boulevard north to 40th Avenue. Thebes Avenue also seems to include a Greek-naming theme, but the concept was never fully developed.
Poppenhusen Institute, 14th Road and 114th Street
COLLEGE POINT
College Point was originally settled by the Native American Matinecocks. The Indians sold much of it to New Netherland Governor William Kieft in 1645. William Lawrence was the first British settler (College Point Boulevard's name until 1969, Lawrence Street, honored the Lawrence family) and by 1838, Augustus Muhlenberg, rector of St. George's Church on Main Street in Flushing, had founded St. Paul's College in the area. The college foundered within  a decade, but College Point and College Place recall it.
Manufacturer Conrad Poppenhusen (1818-1883) arrived here from Germany in 1854 and converted College Point into a virtual company town. Poppenhusen opened a large rubber factory employing hundreds of immigrant workers and native College Pointers; he produced rubber products, combs, dental and medical goods and hardware; he also built the Flushing and North Side Railroad, now a part of the LIRR Port Washington line, and later owned the LIRR between 1876 and 1879. Poppenhusen built water and sewage systems, a library, and the Poppenhusen Institute, which included the first free kindergarten in the United States. He is recalled by the Institute, an avenue, and an 1884 bust by Henry Baehrer at Poppenhusen Triangle at College Place and 12th Avenue.
College Point is fairly easily defined — it's east of Flushing Bay and cut off from the rest of Queens by the Whitestone Expressway and the former Flushing Airport. An exclusive area called Malba can be found on the east end of Powell's Cove at the Whitestone Bridge.  Its name is derived from the first letters of the surnames of its five founders of the Malba Land Company: Maycock, Alling, Lewis, Bishop, and Avis.
From Comments:
I can tell you that living in the Whitestone-Flushing area from my birth in 1960 to 1978 (with a two year absence spent in Nassau County), that no one would have ever associated Malba with College Point. Although Malba may be on the west (or College Point) side of the Whitestone Expressway, it has always been in the Whitestone, NY 11357 zip code, and has always been an upper middle class and wealthy neighborhood, as opposed to College Point's more working and middle class demographics. –-Allan Gregg Cohen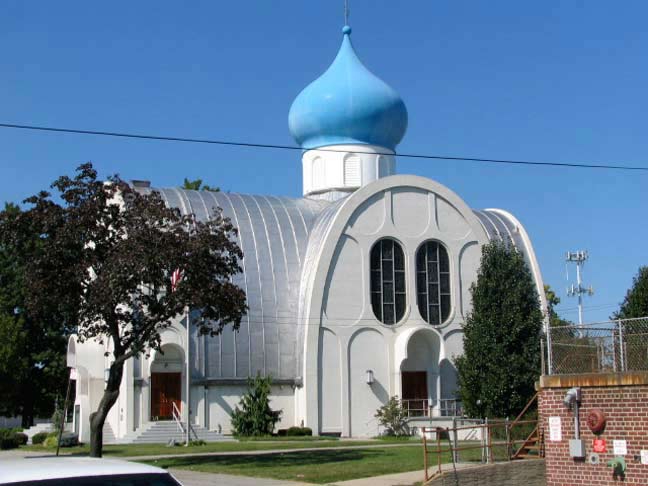 St. Nicholas Russian Orthodox Church, Clintonville Street north of Cross Island Parkway
WHITESTONE
According to legend, Whitestone takes its name from a large offshore rock where tides from the East River and Long Island Sound met; other accounts the name is in honor of the White Stone Chapel, erected by early settler Samuel Leggett in 1837. For a time, Whitestone was known as Clintonville, after NYC mayor and NY State Governor DeWitt Clinton. Both Leggett and Clintonville are recalled in area street names.
Whitestone's claim to fame in Colonial days was the patriot Francis Lewis, a member of the US Continental Congress and a signer of the Declaration of Independence. Lewis lived in an estate at today's 7th Avenue and 151st Street; the house was burned by the British in the aftermath of America's declared independence. In 1854, the same year Poppenhusen arrived in College Point, tinware manufacturer John Locke built a stamping mill and brought in workers from Brooklyn. Saloons and roadhouses (some of which stood until the 1990s), stores and schools were built along what are now 150th Street and 14th Avenue, mansions sprung up along the East River, and a railroad arrived in 1869.
Beechhurst Towers, Powell's Cove Boulevard and 160th Street
BEECHHURST
In the early days of the motion picture industry, certain parts of NYC were home to the nascent tinsel business, inclusing Midwood, Brooklyn, where Vitaphone Studios originated, and in Bayside, Queens, where some early silents were filmed and stars such as Mary Pickford and husband Douglas Fairbanks Senior resided. Charlie Chaplin, the Little Tramp himself, reportedly lived in Beechhurst Towers shown above. The name of the subdivision of Whitestone along the East River from 157th Street to the Throgs Neck Bridge north of Cross Island Parkway derives from its numerous beech trees.
Millard Fillmore's, 65th Avenue and 166th Street
POMONOK
Some call the region east of Queens College from Kissena Park south to 73rd Avenue "southern Flushing,' but I think that grants Flushing too much territory — so I'll go along with what some lexicographers say it is, Pomonok, a name derived from the Algonquin Indian name for Long Island. Streets and houses were laid out on the former Pomonok Country Club. Its golf course was built by members of the Flushing Athletic Club, which began in 1886 as one of the first golf clubs on Long Island. They leased 83 acres of land along Northern Boulevard in Flushing. When their lease was set to expire in 1919, some members favored finding a new, larger site that had room for an 18-hole course. Others favored renewing the lease at the original site and gradually expanding their 9-hole course. The membership ended up splitting, with the bolting members forming the Pomonok Country Club along Kissena Boulevard in 1921. [The Flushing Athletic Club did eventually expand their course to 18 holes, but the club didn't make it past the 1920's.] The country club was famous for having female caddies and for hosting the 1939 PGA Tournament during the World's Fair.
The club was in existence until 1949. Thereafter, part of it became the Electchester Homes, middle-income housing built by Harry Van Arsdale, Jr. president of Local 3 of the International Brotherhood of Electrical Workers. Another part was managed by the City Housing Authority who built the Pomonok Houses, among other developments.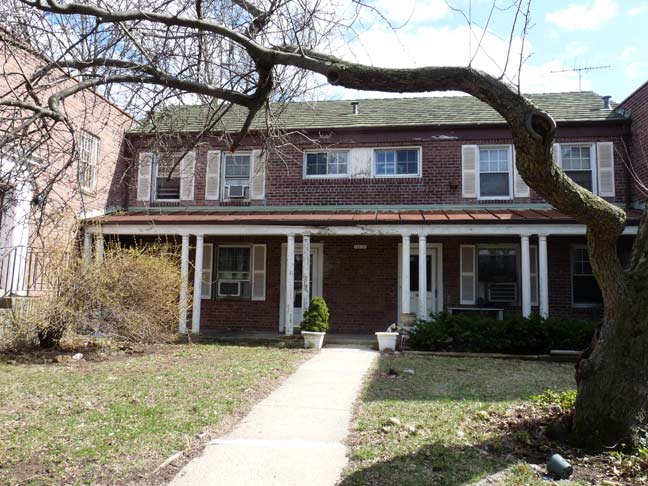 Parkway Village, Union Turnpike and 147th Street
HILLCREST
Hillcrest, a quiet middle-class bedroom community between 73rd Avenue and the Grand Central Parkway from about Main Street east to Utopia Parkway, is located just north of the hilly glacial moraine found along the GCP from Flushing Meadows Park and Cunningham Park.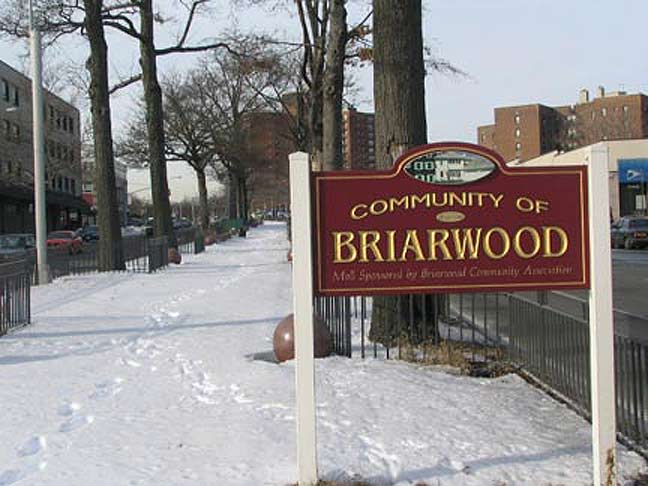 Median, Queens Boulevard and 87th Avenue
BRIARWOOD
Briarwood, which marks the eastern end of Queens Boulevard where it meets Jamaica Avenue, is in the moraine in a  compact area between the Grand Central Parkway, Hillside Avenue, the Van Wyck Expressway and Parsons Boulevard. Though the name seems of relatively recent vintage, the Briarwood Land Company began developing the area as early as 1905. Over the decades the United Nations, which was briefly HQed in Flushing Meadows, housed diplomats here, including the great Ralph Bunche.
112th Avenue and 198th Street, Hollis
HOLLIS, HOLLISWOOD, HOLLIS HILLS
According to the New York Times, the name Hollis comes via Frederick W. Dunton, the first developer of the area, which was once known as East Jamaica. He was a native of Hollis, New Hampshire. Originally, Hollis, a parallelogram defined by 180th Street, Francis Lewis Boulevard, Hillside Avenue and 104th Avenue and bisected by Jamaica Avenue, was settled by the Dutch and centered around the present intersection of Jamaica Avenue and Hollis Avenue, which was once called Old Country Road. During the Revolutionary War, General Nathan Woodhull was captured by the British at the Increase Carpenter tavern in 1776; according to legend, when the Brits ordered him to proclaim "God Save the King" he instead said, "God save us all" and earned a sword bludgeoning, for which his arm was later amputated. He was sent to a prison ship in Gravesend Bay, but a more sympathetic British official had him transferred to on shore house arrest, but he died later in the year.
Dunton developed several neighborhoods surrounding Hollis, many of which carry "Hollis" in their names, including hilly, exclusive Holliswood, now south of the Grand Central Parkway, and more middle-class Hollis Hills, to the GCP's north. General Colin Powell, activist Al Sharpton, humorist Art Buchwald and Atlanta mayor, later UN ambassador Andrew Young lived in Hollis, as did hip hop entrepreneur Russell Simmons and old-school rappers  Run-DMC.
Oakland Lake, 46th Avenue and 223rd Street
OAKLAND GARDENS
Oakland Lake is the largest of a number of small "kettle ponds" left over from the passage of a glacier that stopped its southern progress in the middle of Long Island 15,000 years ago. According to the NYC Parks Department, it was once thought to be fully 600 feet deep, but the lake bottom was found to be just 20 feet in 1969. Similar to what was done with Kissena Lake, Oakland Lake was surrounded with a concrete lining and "citified" in the 1930s. After lean years in which the lake's condition deteriorated, a revitalization effort was spearheaded by local resident Gertrude Waldeyer, whose Oakland Lake and Ravine Conservation Committee raised $1 million to restore the lake to its natural state. It is now home to catfish, sunfish and carp. Oakland Lake has taken its place, along with other Alley Pond lakes such as Turtle Pond, Potamogeton Pond, Lily Pad Pond and Muskrat Pond as small glimpses of real wetland in the big city. A mansion built by a member of the prominent Lawrence family (whose private cemetery can still be found at 42nd Avenue and 216th Street) in the 1840s was called "The Oaks."
The neighborhood south of the pond, from 46th to 73rd Avenues and from 210th to 233rd Streets, has been named for the lake. The neighborhood contains Benjamin Cardozo High School and Queensboro Community College.
Queens Farm Museum, Little Neck Parkway and 74th Avenue
GLEN OAKS
Dominated by the apartment complex Glen Oaks Village, with an unusual octagon-fed-by-spokes street pattern, but alos home to the Queens farm Museum — the only active farm left in Queens — this neighborhood was originally part of William K. Vanderbilt's country estate, which in 1923 became the Glen Oaks Golf Club. The golf course was short-lived, as after World War II it was developed in parcels, part of it becoming Glen Oaks Village and part of it becoming the North Shore Towers, the tallest buildings in eastern Queens. WKV, an auto and racing enthusiast, was the developer of the Long Island Motor Parkway which originally ran from the Queens-Nassau line to Lake Ronkonkoma but was extended west to Fresh Meadows in 1926. The parkway, due to competition from Robert Moses' parkways, shut down in 1938.
Queens' highest point, 258 feet above sea level, is in the private North Shore Towers' golf course.
The Queens Farm Museum's tract has been farmed for over 300 years. Earliest records show it being sold by John Harrison to Elbert Adriance in 1697; the farm stayed in the Adriance family until the early 1800s, and Elbert's son Jacob constructed the present farmhouse in 1772. The Jacob Adrience farmhouse was restored in 1986 to resemble its condition in 1856, when the Cox family last expanded it. Inside, you will find original plank floors, beamed ceilings, window glass and hardware. Of all of New York's remaining 18th Century buildings, this one may retain more of its original materials than the others. Other farm buildings were all constructed after 1927 and include three greenhouses and a connecting potting shed, a wagon shed, two barns, garages and a brooder house.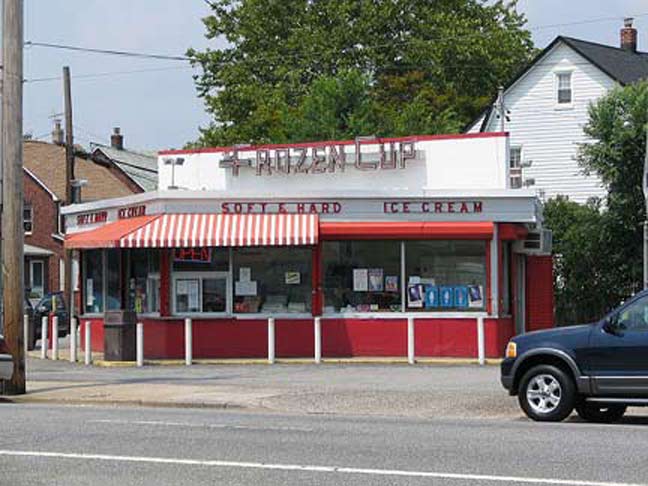 The late Frozen Cup, Jericho Turnpike and 249th Street
FLORAL PARK
Floral Park takes its name from the flower farms so prevalent in that area following the Civil War; 3 of its main streets are Tulip and Carnation Avenues, and Floral Parkway. The other main road, Plainfield Avenue, is Floral Park's former name. After a period when it was called Hinsdale, Floral Park attained its present name in 1908 after horticulturalist John L. Childs set up a seed business so successful that Floral park's post office was built primarily to handle his mail orders.
Queens' Floral Park takes its name from the Nassau community and is generally located between Little Neck Parkway, Stewart Avenue (city line), Union and Jericho Turnpikes.
Flat-top house, Commonwealth Boulevard
BELLEROSE
Bellerose, just below the Queens-Nassau city/county line as it runs down Jamaica Avenue/Jericho Turnpike, was conceived as a model community by Helen Marsh in 1906, when she purchased 77 acres of gladioli fields, selling her home in Lynn, MA to raise the necessary $155,000. She lived in the first house built in the area in 1910 and then lived in the next 22 houses as they were consecutively built, to assure herself they were built to spec. Marsh also laid out Bellerose's street pattern (three of its main streets form a triangle to lead to the LIRR station, named Bellerose by Marsh in 1911, a name the rest of the town adopted. Bellerose Terrace, now separated from the rest of Bellerose at about 246th Street, was developed separately in the 1920s. The later community of Bellerose in Queens was initiated several years after its namesake, which it attempted to emulate.
According to legend, a farming family named Rose's daughter Belle was the inspiration for the name, but this remains undocumented.
Storefronts, Jamaica Avenue near Springfield Boulevard
QUEENS VILLAGE
The area now known as Queens Village, centered at Springfield Blvd. and Jamaica Avenue, was known originally as Little Plains, then Brushville, after a local landowner, until about 1920. The present elevated station was constructed in 1924. Interestingly you can still see the remnants of a layup track here. In 1856, residents voted to change the name of the town to simply "Queens" and that name persisted until at least the 1920s, when the Long Island Rail Road added the word "Village" to the station name. Before the 1898 consolidation the village of Queens was located in the county of Queens, which may have led to some confusion. However, people have seemingly adjusted to saying "New York, New York" for over two centuries.
Coming in Part 3: southern Queens. Meanwhile, check Brooklyn, Bronx and Manhattan.
Some sections of this page were adapted from earlier FNY pages, including those written by Christina Wilkinson, and also condensed from the Forgotten New York book.
4/20/14