The New York Botanical Garden and New York Zoological Park (known to all as the Bronx Zoo) are the two main divisions of Bronx Park, which was acquired by the city in late 1888 and early 1889. By 1891, the city had allocated fully 250 acres to be used as a botanical garden, which has developed into one of the world's premier gardens, with visitors drawn year-round to its collection of temperate and tropical plants and perennials, with many acres of groves and gardens. The Bronx River, which is generally a grimy, industrial flow of sludge south of the park, is here magically transformed back into the pristine fresh water brook it was before the Bronx was settled and even enjoys some swiftly rushing waterfalls here. A hemlock forest deep in the Botanical Gardens is left over from the pre-colonial era. The Gardens' architectural marvels include the Enid A. Haupt Conservatory, really a group of connected greenhouses built in 1902, described in the AIA Guide to New York City as a "glass fairyland." It is named for the woman who helped save it from demolition. The Garden is no mere carnation on NYC's lapel: ongoing research here has proven valuable in developing new medications.
Every Christmas (from November to January), there's an incredible model train show held in the Haupt Conservatory that incorporates dozens of famous (and not as famous) NYC architectural highlights, constructed from twigs, leaves, bark, berries and other natural materials by Paul Busse and his team at Applied Imagination at Alexandria, Kentucky. The show takes months to prepare and build – work for next year's show begins almost immediately after this year's is dismantled!
I visited the Train Show in January 2016, when it was about to close and pack up for the season.  I made an effort to photograph each and every scale model in the show. Though I was a scale model railroad buff as a kid, the fascination hasn't carried on to middle age, and I respect the genre — but Forgotten Fans expecting me to rattle on about the merits of the miniature RR that NYBG uses here will be a bit disappointed. I can say that NYBG used G-scale, mainly used for outdoor shows; the G stands for the German word groß, "large." For my indoor layouts as a kid, we used N-scale trains sold under the "Postage Stamp" brand, manufactured by scale model producer Aurora. I'm sure aficionados remember them. Anyway, we would periodically try to store our trains in the basement of our apartment house, and the neighborhood youth would reappropriate them for community use, putting an end to our own model train ambitions, but we'd always visit the truly impressive model train show held every year in a Bay Ridge basement; to my knowledge the Bay Ridge Model Railroad Club continued its annual exhibits up to 2013. If there is any further info, drop me a line at kevinjudewalsh@gmail.com.
I have reported about the Train Show in Forgotten New York before, but the exhibits change every year. Busse and his crew, though Kentucky-based, show an incredible amount of meticulous research in putting together the show every year. As we'll see, the 2015-2016 show presented a some material in historical context, restoring in the exhibit building details that vanished long ago.
This year's Train Show has opened its doors for the 2016-2017 season. Every year some of the scale models are swapped out for new material, so no two seasons are the same — if these FNY pages make your curious about the show, by all means attend this year, as you'll see something not shown here.
The day I attended was one of the winter of 2015-2016's rare cold days. All thoughts of cold are forgotten, however, as coats and sweaters are shed (there are coat racks provided). The Haupt is a greenhouse and features tropical plants (NYBG's orchid show is also held here) and the air feels like Miami in August.
Right off the bat in the foyer, you're transported to the Queens World's Fair of 1964-1965, which celebrated its 50th anniversary a couple of years ago, with renderings of the Unisphere and the triple-towered New York State Pavilion.
In the Train Show, models are arranged as if they were next to each other on the same street, but a close look at the nameplates reveals they're from different parts of town and in some cases out of town. From left to right, these are the Ernesto and Edith Fabbri Mansion, 11 East 62nd Street, designed by Richard Morris Hunt and completed in 1899: a "five-story confection of pale buff brick and limestone that brought France to 62nd Street" according to Daytonian in Manhattan.
–Next door is #97 Reade Street, one of the classic cast iron front buildings of SoHo.
–Then comes the Lycée Français of New York at #7 East 72nd Street, a private school converted to condos in 2010;
–The New Amsterdam Theatre, 214 West 42nd Street, constructed in 1903 and designed by architects Herts and Tallant, the original home of the splendiferous stage show the Ziegfeld Follies.
–the 1899 Oliver Gould Jennings House, which adjoins the Lycée Français, which leased it beginning in 1960.
–The original Aguilar Library at 174 East 100th Street; the current Beaux Arts structure, also designed by Herts and Tallant, replaced it in 1905. It is named for Sephardic Jewish author Grace Aguilar (pronounced AG-ee-yar), who could also be the source of the name of Fresh Meadows, Queens' Aguilar Avenue. The Library must be a favorite of Busse, since it turns up twice in the Train Show.
The Train Show presents 169 West 23rd Street, an example of the research and detail used by Busse and company. The sign does err, though, since this is #167.
Seen today on West 23rd just off 7th Avenue, 167 and 169 are nothing to write home to Mother about, though they do show hints of past glory, with Ionic pilasters (half-columns) on 167.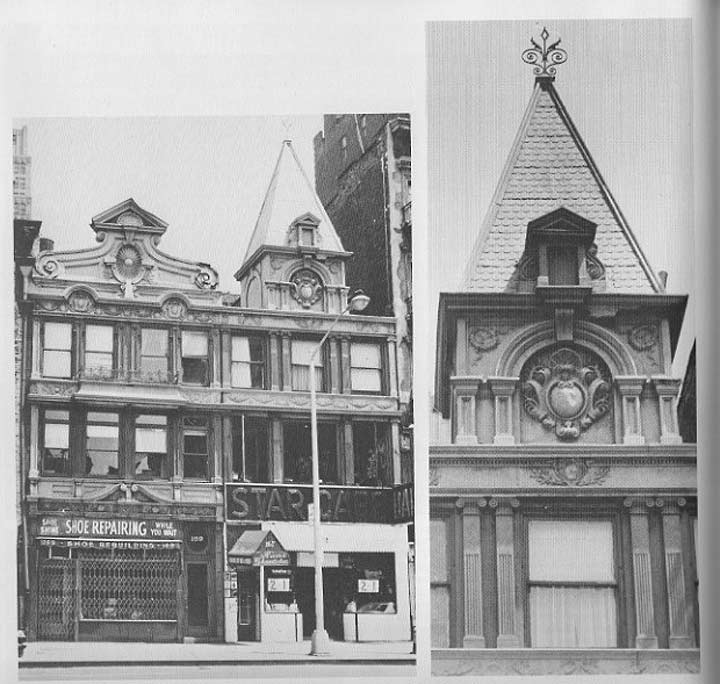 Marvel, though, at this shot from the early 1970s that appears in Cast-Iron Architecture in New York, an invaluable 1975 book by Margot Gayle and Edmund V. Gillon Jr. Sadly, neither building was landmarked because their elaborate roof treatments have been lopped off! I remember the conical roof of #167 still in place when I worked in the area in the 1980s and 1990s.
West 23rd was once NYC's theater district. Both buildings were erected in 1898 and reflect the then-new Beaux Arts esthetic. The roof cornices were made of sheet metal. Apparently by the 1990s both cornices were deemed unsafe and, rather than shore them up, they were removed.
At left is the firehouse for Engine 41 at 330 East 150th Street between Morris and Courtlandt Avenues in The Hub area in the Bronx, one of the many beautifully-designed firehouses around town. It temporarily closed in 1990 during the David Dinkins administration.
On the right is #17 East 128th Street in Harlem, which has been featured on FNY's Upper 5th Avenue page:
When I'm in the neighborhood I always drift over to see one of the neighborhood's last remaining wood frame/porched homes at #17 East 128th Street. It was constructed as early as 1865 in the French Second Empire style best recognizable by its scaled, slanted roof with three dormer windows. In 1981 the house was purchased by Carolyn Adams, a prominent dancer and choreographer with the Paul Taylor Dance Company, from Paul Seeley, then 90 years old, who had occupied the house for 60 years. The house and its environs are described in detail at this Neighborhood Preservation Center webpage.
Liederkranz Club, 6 East 87th Street, Upper East Side. As it turns out I had photos of this building in may archive.
The Liederkranz Society, a "singing society" founded in 1847 by German immigrants to preserve the culture of the old country in the United States, is located in an Upper East Side Renaissance Revival mansion constructed in 1904 [Grosvenor Atterbury, architect] as the home of Henry and Annie Phipps; the Society purchased the building after World War II, after it had served a stint as a private school for children of Soviet Russian consulate employees. There are other buildings associated with such German cultural societies such as the Arion Mannerchor building on Arion Place in Bushwick, but the Liederkranz Club is still very much active in this building. Piano manufacturer and German immigrant William Steinway served as President in years between 1867 to 1896, and Theodore Roosevelt was an honorary member during his time as New York City Police Commissioner.
As for Henry Phipps, he was an industrialist and a partner of steel magnate Andrew Carnegie, and shared his friend's interest in philanthropy. The foundation he founded built the Phipps Houses, a project built for working-class families in the 1930s in Sunnyside, Queens.
An engaging sculpture depicting the Greek Muse of poetry, Polyhymnia, is located adjacent to the mansion, completed in 1896 by renowned artist Giuseppe Moretti to celebrate the Liederkranz Club's 50th anniversary.
From left to right, the Theodore Roosevelt Birthplace, 28 East 20th Street near Broadway; a typical brownstone ca. 1881, West 54th Street; and typical apartment house ca. 1880.
Theodore Roosevelt (1858-1919) was the only U.S. President born in New York City until President-Elect (as of this writing) Donald Trump, and his boyhood home, at 28 East 20th between Broadway has been appropriately preserved, or rather, its site has. The building is a National Historic Site and five rooms have been appointed with period furnishings, much of it courtesy of the Roosevelt family, and a small museum contains some of TR's papers, documents and diaries.
This house was built in 1923 as a faithful reconstruction of Roosevelt's home between 1858 and 1872. After the original house was demolished in 1916 the Women's Roosevelt Memorial Association rebuilt the house using architectural details from an identical house next door, which has since disappeared. It is open to the public: call (212) 260-1616 for hours.
The William Kissam Vanderbilt Mansion, 660 5th Avenue at 52nd Street, was a grand palace in the style of a French chateau constructed in 1883 and designed by prolific area architect Richard Morris Hunt, working closely with Vanderbilt's wife Alva (after three children and numerous costume balls attracting the cream of society in the mansion, the couple divorced in 1894). After WKV's death in 1920, the mansion was razed in 1926; #660 5th Avenue is currently occupied by a somewhat nonsdescript 40-story office tower.
Vanderbilt's son, WKV II, built the Long Island Motor Parkway in 1904, at first a venue for auto racing but later one of the first auto thruways for the public on Long Island, surviving until 1938.
Jordan L. Mott House, 2122 5th Avenue at West 130th Street. The Bronx neighborhood of Mott Haven is named for Jordan Mott, who built a tremendously successful iron works beginning in 1828 (the iron works continued to 1906), centered along the Harlem River from about Third Avenue to East 138th Street. His handiwork can still be seen all over town on airshaft and manhole covers built by the Mott Iron Works. Mott had bought the original property from Gouverneur Morris II in 1849; Morris was asked if he minded if the area was called Mott Haven, a name it had quickly acquired. "I don't care…while [Mott] is about it, he might as well change the Harlem River to the Jordan." The iron works produced practical and ornamental metalwork used worldwide.
The space is currently occupied by the Callender Playground.
In this grouping are:
–#28 West 54th Street ca. 1881 (space is currently occupied by the Museum of Modern Art, but across the street is a grouping of mansions from the same era);
–the 1899 Civic Club, 243 East 34th Street, Murray Hill, constructed by social reformer F. Norton Goddard to house a poverty and gang-opposing organization, then sold to The New York Estonian Educational Society in 1946, which still publishes its newspaper, Vaba Eesti Sõna, in this location;
—James F.D. Lanier House, 123 East 35th Street, Murray Hill, a Parisian-inspired mansion built for a banker/financier in 1903 (it's actually three windows across instead of two)
–Isaac Stern/Thomas Fortune Ryan residence, 858 5th Avenue at East 87th, Beaux-Arts mansion built ca. 1900 for the head of the Stern dry goods empire, and later sold to a financier who lived up to his middle name.
I have photographed both of these buildings , each near Gramercy Park, before…
This quaint carriage house is located on East 19th Street, which changes character, rather abruptly, for the block between Irving Place and 3rd Avenue and transforms itself into a tree-lined, suburban-style stretch dotted with small brick buildings, carriage houses and cottages. This was once a stable.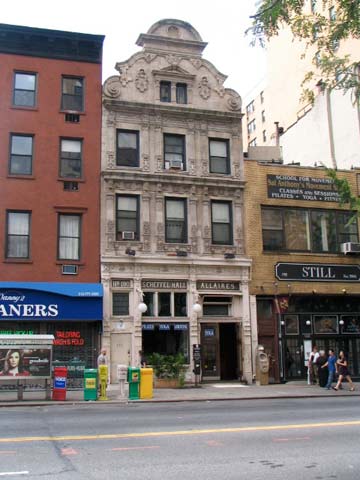 Scheffel Hall, 190 3rd Avenue at East 17th,  was constructed in a German Renaissance style with a distinctive scrolled gable in 1894. The ground floor was originally a beer hall patronized by the then-substantial German population in the neighborhood. It was named in honor of Joseph Victor von Scheffel (1826-1886), a German-born poet and novelist.
Engine 43/Ladder Company 59, a firehouse at 1901 Sedgwick Avenue at West Burnside Avenue, named for a Civil War general and later US Senator whose hairstyle gave rise to the term "sideburns."
The 1898 Philip Kleeburg House, #3 Riverside Drive near West 72nd Street, is a Dutch Renaissance townhouse with stepped gables typical of the style on the dormer window and side. Note the large 4-abreast oriel windows.
Philip Kleeburg's fortune came from a variety of enterprises.  Originally involved in the wholesale lace business, he was by now also President of the Frog Mountain Ore Company, Vice-President of the Colonial Oil Company, and held directorships in the New York Petroleum Company, the William Radam Microbe Killer Company, the Alabama and Georgia Iron Company, and the Empire Steel and Iron Company.  Years later he would invent a calculator and in 1916 become President of the National Calculator Company. –Tom Miller, in Daytonian in Manhattan 
Busse took some liberties with the George Washington Bridge in showing a transit line crossing it (it never has had rail of any gauge). The GWB was originally going to be clad in stone:
It was decided for practical reasons that the bridge towers did not need to be encased in stone. The Depression hit soon after construction started and the cost of procuring and installing the stone would have been prohibitive. The designers and builders reevaluated the whole look of the bridge and felt that there was a natural beauty in showing the function through the form of the exposed naked steel. [Stuff Nobody Cares About]
Josephine Schmid House, 5th Avenue and East 62nd Street, was built in the style of a Loire Valley, France chateau in 1897 by the widow of August Schmid, an immigrant brewer from Switzerland. His wife Josephine commissioned the house after his 1889 death with his inherited fortune. She married Italian heir Don Giovanni del Drago, 23 years her junior, in 1909 and the house was subsequently called the del Drago Mansion. It was demolished in 1914 after being purchased by the Knickerbocker Club.
William Andrews Clark (1839-1925), a wildly successful mining and banking executive from Pennsylvania by way of Montana (he also served one term as Senator from that state) built this enormous mansion on 5th Avenue and East 77th Street from 1904 to 1911. Immediately recognizable for its tall tower (that may have been "copied" by Ernest Flagg in designs for the Singer Tower built in 1908) the Clark mansion contained 121 rooms, 31 baths, four art galleries, a swimming pool, a concealed garage, and a private underground rail line (presumably connected to the NY Central line beneath Park Avenue) to bring in coal for heat. It was demolished in 1927, just 16 years after it opened.
Clark's daughter, Huguette, lived until the age of 105, but was institutionalized for much of her later years. Had her father been miraculously alive the year she died, 2011, he would have been 171! Her other eight siblings had all died before 1940.
Here's one castle in or near Central Park that still stands: Belvedere Castle. Designed and constructed by Central Park planner Calvert Vaux and chief designer Jacob Wrey Mould in 1865, the Castle didn't reach its full potential until 1911, when the National Weather Service installed equipment measuring temperature, wind direction and speed and barometric readings. NYC's official weather records and readings are still recorded there.
Johannes Lott built a small house on his Flatlands property about 1720 on land first settled by Dutchman Hugh Aerens as far back as 1636. In the 1700s, Gerritsen Creek still flowed nearby. Johannes bequeathed the house to his son, also named Johannes, who became a colonel in the Kings County militia and fought in the French and Indian War. His son, Hendrick I. Lott, inherited the small house and farm and built a much larger addition in 1800 for his bride Mary. The house remained in the Lott and Suydam families until 1989, when Ella Suydam, great-great-great-great-granddaughter of Johannes Lott, passed away. The farm was sold off when the city began to lay out streets in Flatlands and subdivide property in the mid-1920s. The house's address is 1940 East 36th Street in the Marine Park area in Brooklyn between Avenues S and T.
In 2000, a small trap door was discovered in the house in the ceiling of a closet. The trap door led to three worn steps leading to a boarded-up door, and in the two cramped, dusty rooms behind the door, there was an amazing discovery beneath the floorboards: corncobs, a cloth pouch tied with hemp, an animal's pelvic bone, and an oyster shell. The corncobs were arranged in a specific pattern. It was key evidence of African rituals among the Lotts' slaves. Though records show the Lotts were among Flatlands' largest slaveowning family, they also show that the Lotts freed their slaves two decades before slavery was outlawed in New York State in 1827. The Lott House may even have been a way station in the Underground Railroad in 1844.
I haven't been by the Lott House of late, but I did get some photos from a visit in February 2000. The reliable Montrose Morris has more in Brownstoner.
The Little Red, or Jeffries' Hook, Lighthouse stands in the shadow of the George Washington Bridge. Back in 2012, I recorded the lighthouse's colorful history, and also excoriated the local powers for not providing a genuinely easy way to get to it.
Gothic Arch is one of Central Park's many cast iron and stone bridges. There are so many that I did an entire series on these bridges in 2000. During my lunch hour from Macy's, I'd take the subway uptown and wander around in the park, snapping away.
From Part 2: In the first decades of the Park, before auto traffic, there was a great deal more recreational equestrian traffic in the park, and so the builders endowed the bridle paths with quite a number of arches and bridges that would enable pedestrians to pass over them.
The triangular spaces at each end of Gothic Bridge (called spandrels) were given curved ironwork suggestive of Gothic church architecture of the Middle Ages, hence the bridge's name. The graceful curves and oval vault make Gothic one of the most distinctive bridges in the park and one of the first that photo editors turn to when they require an evocative Central Park scene.
Here are a pair of Central Park's wooden rustic shelters. A number of them are scattered around the park, and I show you some of them on my Secrets of Central Park page.
The New York Public Library is too well-known for me to do much with it, except to say that it was built on the site of the former Croton Reservoir  at 5th Avenue and 42nd Street in 1911; some say that some of the reservoir walls can still be spotted in the basement where some of the book stacks are.
The pair of stone lions at the entrance, dubbed Patience and Fortitude by Fiorello LaGuardia, have expressions that seem to say, "Maybe I won't eat you today." Two flagpoles outside the entrance are dedicated to the youngest mayor in Greater NYC history, John Purroy Mitchel.
This year (2016) I have managed an invitation to the NYPL Annual Holiday celebration.
The tubes connecting Long Island with Penn Station opened in 1910, and Hell Gate Bridge, connecting Long Island with the mainland, opened in 1916 as the lengthiest steel arch bridge in the world until surpassed by the Bayonne Bridge in 1931. "Hellgat" means 'beautiful strait" in Dutch, but lived up to its English transliteration as an extraordinarily dangerous stretch of water due to conflicting currents of the East River and Long Island Sound, as well as a great deal of rocks that made it treacherous for shipping until the rocks were dynamited into rubble. The construction was overseen by Gustav Lindenthal, who worked on the Williamsburg and Queensboro bridges as well. In the mid-1990s it was painted a deep maroon, which the sun quickly faded to light magenta.
More on FNY's "Tale of Two Bridges"page.
Central Park's Swedish Cottage was actually built in Sweden, in 1876. It originally appeared in Philadelphia at its Centennial Exhibition and was disassembled and reassembled in Central Park the next year, after having been purchased for $1500. It has found use as a storage shed, a public restroom, an insect lab, a Civil Defense headquarters and, since 1947, as a marionette theater. It is just east of the Natural History Museum on Central Park West.
Train tracks have never gone under Stanford White's memorial George Washington Arch (1892) at 5th Avenue and Washington Square North. But buses once did!
If roads czar Robert Moses had got his wish, the circle around the fountain, which was once used to turn 5th Avenue buses and was open to motor traffic when the Queen of Avenues was one-way, and the fountain would be moved to make way for a connector road between 5th Avenue and LaGuardia Place. Locals fought Moses tooth and nail (as they did against his proposed Lower Manhattan Expressway on Broome Street) and after a lot of vitriol, the Master Builder backed down. However, the fountain was moved anyway — between 2007-2011.
I have to say, I don't think Busse and Co. did a particularly good job rendering the Solomon R. Guggenheim Museum, 5th Avenue and East 88th Street, but that's a matter of preference. The spiral-shaped building is the only major building in Manhattan designed by Frank Lloyd Wright.
Kicking it in the head for now, but I have more from the Train Show over the next couple of weeks. I strove to get a photo of every item in the exhibition!
11/20/16