Other than the BMT 4th Avenue Broadway Line (N, R, Q and now W trains) perhaps the majority of my subway rides for six decades have been on the Flushing Line, the #7 train, one of the few subways' general east-west routes. I rode 4th Ave/Broadway when living in Bay Ridge (1957-1993) and the 7 when living in Flushing and then Little Neck since. Most of the 7 train (stops between Queensboro Plaza and 103rd/Corona Plaza) celebrates its centennial on Friday, April 21st, 2017, weeks after the Hell Gate Bridge, which transports freights, Amtrak and Metro-North trains between Queens, Manhattan and the Bronx, celebrated its first 100 years.
From its beginnings in June 1915 running one stop from Grand Central to Vernon/Jackson what has become known since then as the Flushing Line has been extended eight times: east to Hunters Point Avenue and Court Square (11/5/1916); Queensboro Plaza to 103rd Street (4/21/1917); 111th Street (10/13/1925); Willets Point Boulevard (5/7/1927); Main Street (1/2/1928) and west to 5th Avenue (3/22/1926); Times Square (3/14/1927) and Hudson Yards (9/13/2015). (A tiled sign at the Hunters Point Avenue station says the line goes "to Astoria and Corona," referring to the split at Queensboro Plaza that sends the BMT to Ditmars and the IRT to 103rd/Corona Plaza.)
In November 2016, I walked the full length of Roosevelt Avenue under the Flushing Line to Main Street. I've also amassed several photos of the stations along Queens Boulevard over the years, and thus I can create a multipart FNY series on the #7 train, and what's under it.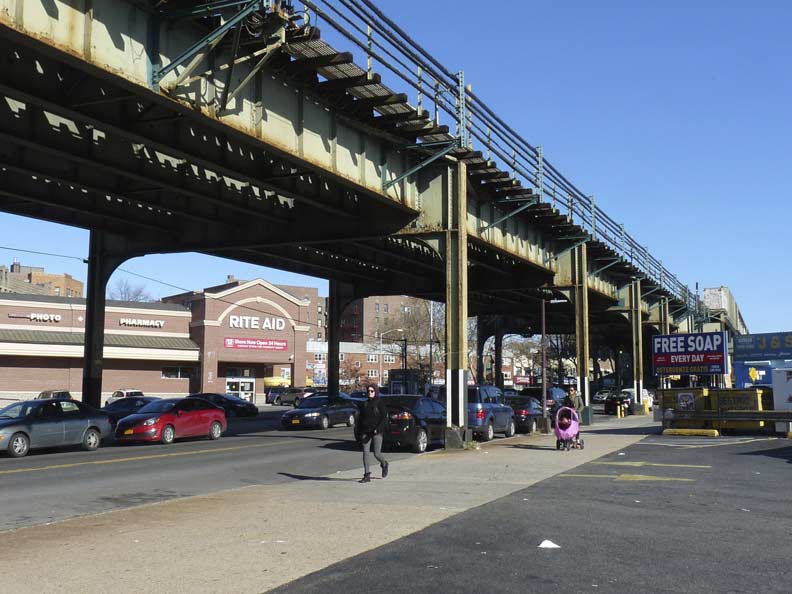 The next entries in my Flushing Line 100 series will be a little different than the first — because scenes will be mostly under the el. Believe it or not I had never walked Roosevelt Avenue full-length between 48th Street and Citifield, the extent of the el itself. It fits in nicely with my el-walking project featured in FNY beginning in 2016 featuring, for example, New Utrecht Avenue and Livonia Avenue, both in Brooklyn.
In comparison to the deluxe concrete viaduct taking the Flushing Line down the middle of Queens Boulevard, once the el turns up Roosevelt avenue the trestle gets a bit more prosaic looking. However, design-wise, it does have its moments, as we will see.
About Roosevelt Avenue
Roosevelt Avenue was created in 1914 when the new IRT elevated was mapped across the farms and cornfields that would eventually become the streets of Woodside, Jackson Heights and Corona. It was named for President Theodore Roosevelt, who was still alive at the time (he died in 1919) and was still active in Republican Party politics, giving a rousing speech at the Forest Hills Long Island Rail Road station in 1917 in favor of the USA getting involved in the Great War. [A video of the speech exists, but in 1917, not the audio].
However, parts of Roosevelt Avenue were already in place. A look at the Queens County map from 1909 has Greenpoint Avenue extending northeast from Queens Boulevard to Woodside Avenue, and that part was simply renamed Roosevelt Avenue when the elevated opened. And, in Flushing, after the el was extended there in 1928, Roosevelt Avenue assumed the route of Amity Street (where Nancy Reagan lived for her first two years) all the way to Northern Boulevard and 155th Street.
43rd Avenue, 51st Street and Roosevelt Avenue come together and form not one but two traffic triangles in which public parks have been situated. Western Queens has historically been strapped for park space (the 66 acres of Astoria Park in the extreme northwest make up the most park space west of Flushing Meadows), and while these two green spaces don't come close to filling the bill, it's unusual they're so close together. Pvt. 1st Class Vincent Daniels Square, on the SE corner, commemorates a Woodside resident killed in World War I, while on the NW corner, John Downing Park remembers a firefighter at Woodside's Ladder 163 who was killed while battling a fire started by an explosion in a paint store on June 17, 2001.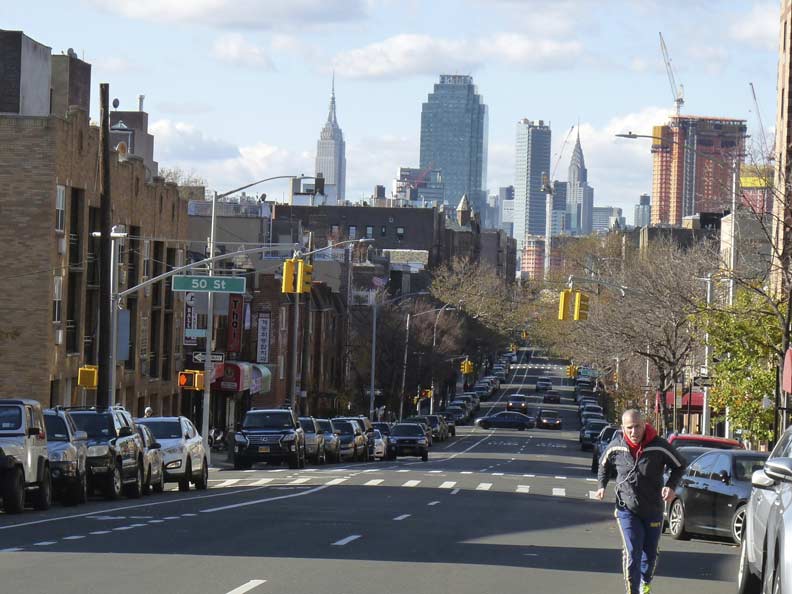 Looking west on 43rd Avenue from Roosevelt Avenue. When I first encountered this view a few years ago, I nicknamed the Empire State, Citigroup and Chrysler Buildings "the Three Amigos" but with all the high rise construction going on in Hunters Point, they've been joined by several other amigos!
Daniels and Downing aren't the only two remembered at this intersection: Louis Rispoli was a respected gay rights activist in Sunnyside who was murdered in 2012 in a case that remains unsolved.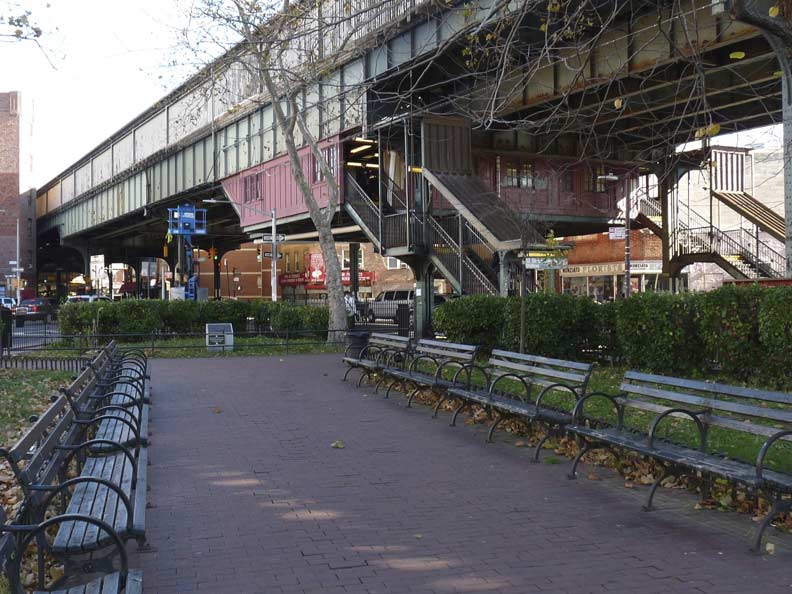 The west end of the 52nd Street Flushing Line station exits onto Vincent Daniels Square. The station was originally called Lincoln Avenue (see the 1909 map above) and station signage has retained the name, like the Rawson, Lowery and Bliss (33rd, 40th and 46th Street) stations.
Today's route is punctuated by some tiny buildings, constructed over a century ago.
East of 52nd Street Roosevelt Ave. passes by the campaign office of Eric Gioia, who served in the NY City Council from 2001-2009. After losing in the NYC Public Advocate campaign to future NYC mayor Bill deBlasio in 2009, he became a VP at JP Morgan Chase, though his campaign HQ was still clearly marked in November 2016. A barn of indeterminate age, and an adjoining small dwelling, can be seen next to the old HQ.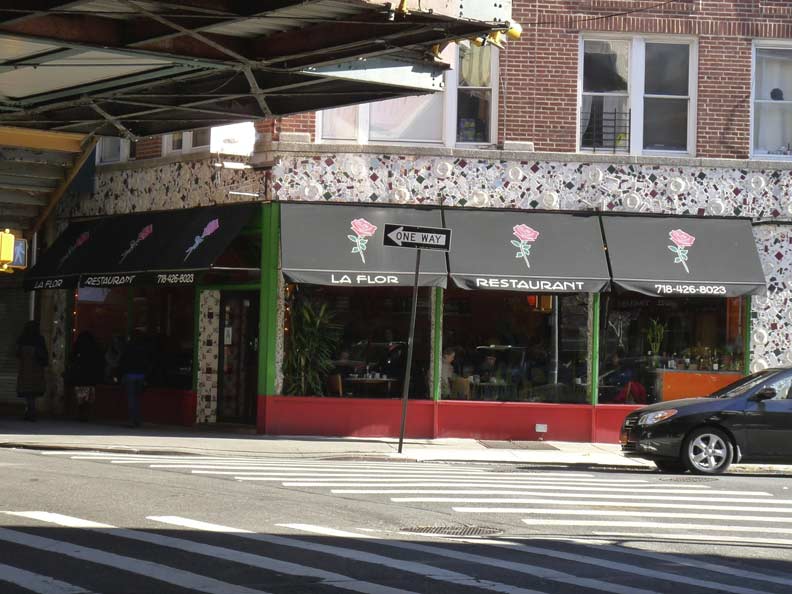 Mexican restaurant La Flor is the first evidence along Roosevelt avenue that the #7 train is the "International Express." Dozens of nationalities are represented under the 60-block stretch under the el. I once signed a business contract in the restaurant, which has earned good reviews.
The #7 Flushing Line has colloquially been known as The International Express (the phrase was actually originated by the NYC Department of Planning), and entire worlds pass beneath the feet of commuters who ride its rails.
Queens is the most ethnically diverse place in the world. The International Express is simultaneously a trip around the world and a voyage to quintessential Queens. People from approximately 150 nations have immigrated to Queens and established communities here. Communal memories permeate the streets: store and restaurant names, as well as their architecture and patrons, recall a variety of native lands. Community is a sense of "us"-ness, a collective identity as a group, which arises from shared experience, traditions and values. Community members gather in social clubs and in restaurants to be with others who share their culture and history. Queens Tribune
While infrastructure is my beat, I'll note evidence of this as I proceed east.
Are hipsters invading Woodside? The Nature's Vida juice joint has replaced a regulation grocery at Roosevelt and 54th. Note the leftover handpainted "Laundromat" sign, which has survived both iterations. It, too, has gotten decent reviews.
New and old methods of signalling fire alarms on this short post at Roosevelt and 54th. NYC fire alarms and the ways NYC has identified their presence has been marvelously nonstandardized over the years — the city pretty much has mounted them however possible. The lamppost bears the "old" orange plastic illuminated cone indicator, as well as the new "top hat" on top of the luminaire.
Lengthy stretches of Roosevelt Avenue feature these short lamps painted brown. They were originally mounted with "new gumballs" or spheroidal luminaires with large glass bubbles protecting standard 1980s-style sodium "buckets." In the mid-201os they all got outfitted with streamlined LED luminaires that shine bright white.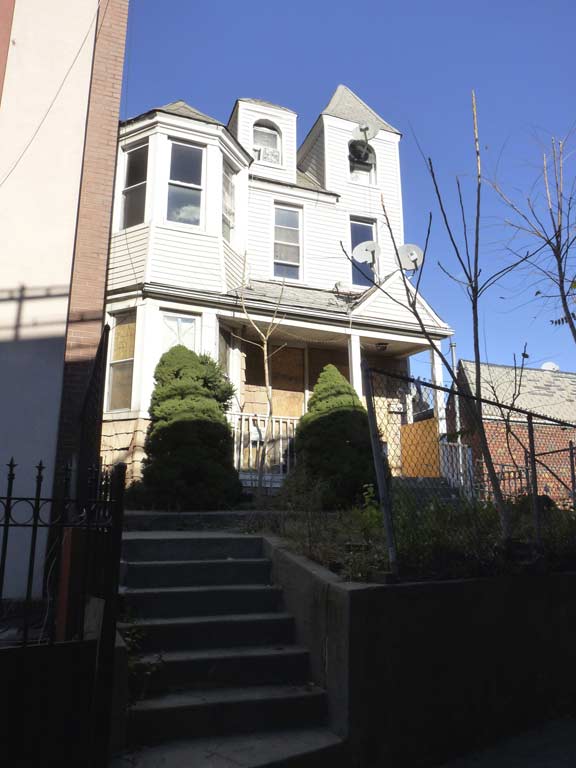 Along the way there are some structures that may predate the el. There may be a beautiful building beneath all that siding. This building faced Roosevelt avenue when it was still called Greenpoint Avenue just west of 55th Street.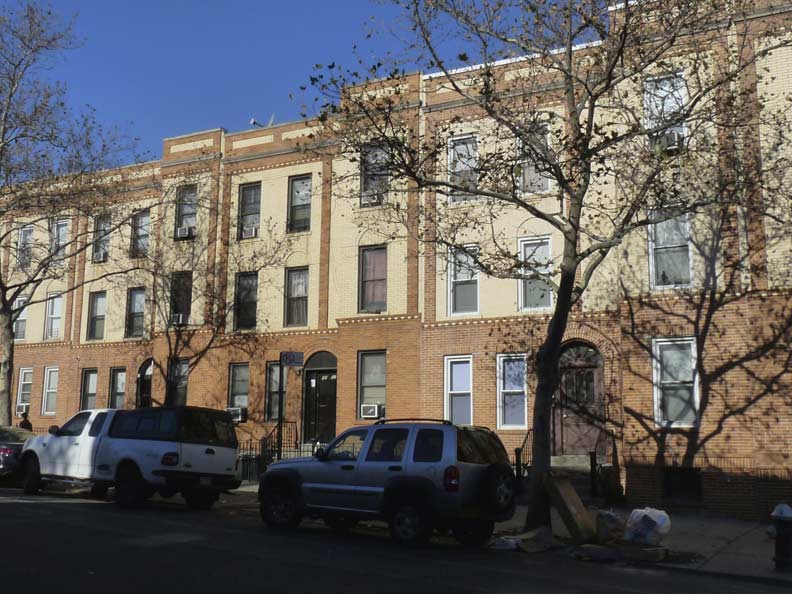 "Mathews Flats" along Skillman Avenue. West of 53rd Street, Roosevelt Avenue sees the southern end of a large cluster of apartments built with yellow Kreischer brick by Gustave X. Mathews and designed by Louis Allmendinger. Such apartment blocks line many streets in Woodside, Astoria, Long Island City, and Ridgewood. On the other side of the street, modern-day developers have illogically built terraces opposite the elevated train, so summer sunners can breathe in diesel fumes and be rained on by the odd spark or two.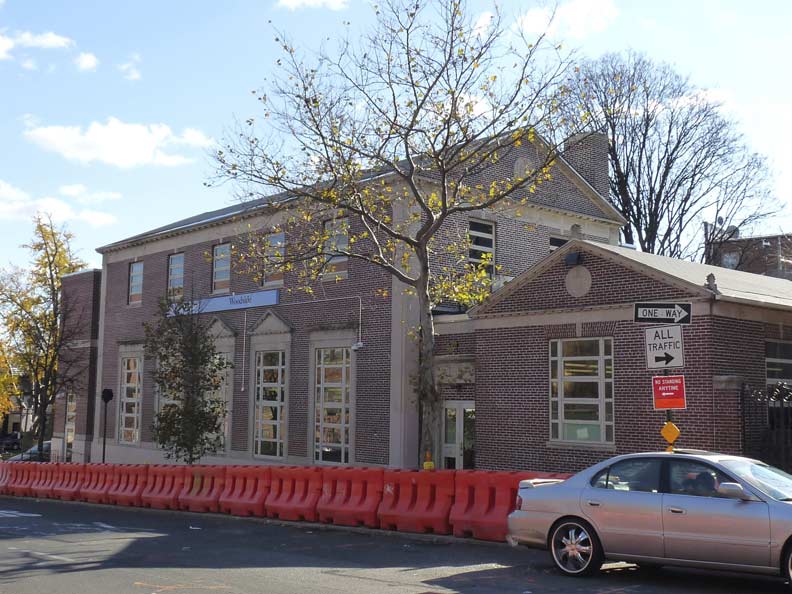 Woodside's Queens Library branch celebrated its centennial in 2008. It began as a traveling library collection housed in a general store, designated a branch library in 1910 and moved into its present building in 1937 – which had stood empty for four years during the Depression. It was completely rehabilitated in 2011.
The second of Roosevelt avenue's many traffic triangles can be found at Skillman Avenue, where we find Steinmann Triangle, honoring Charles Steinmann, a local soldier who perished in WWI. He grew up at #109 Greenpoint Avenue, since renumbered and renamed as Roosevelt Avenue.
However, Steinmann is not alone in being honored here, as the triangle is also called Richard Trupkin Plaza. Trupkin was a print shop owner and editor of The Woodsider, a community newspaper. He was murdered in a robbery in 1996.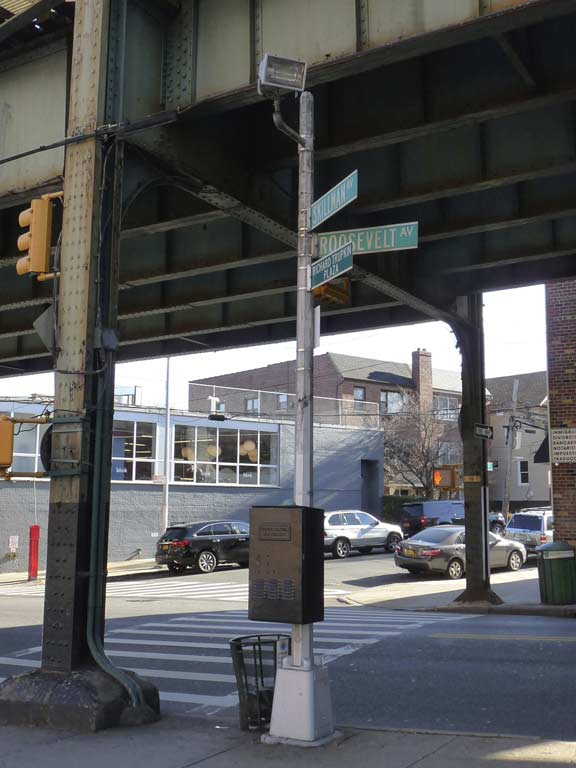 One of Roosevelt Avenue's old "dwarf" posts has been retained at Steinmann Plaza and has had a lamp to illuminate the plaza attached. The box controlling the changing of stop lights at the intersection is also mounted on it.
PS 11, across from Steinmann Plaza on 56th Street, admits children from kindergarten to 6th grade. A new annex was built in 2013 after the school reached 120% of capacity.
One of a number of independent bookstores in Queens. "Calima," which means "haze" is likely a proper name.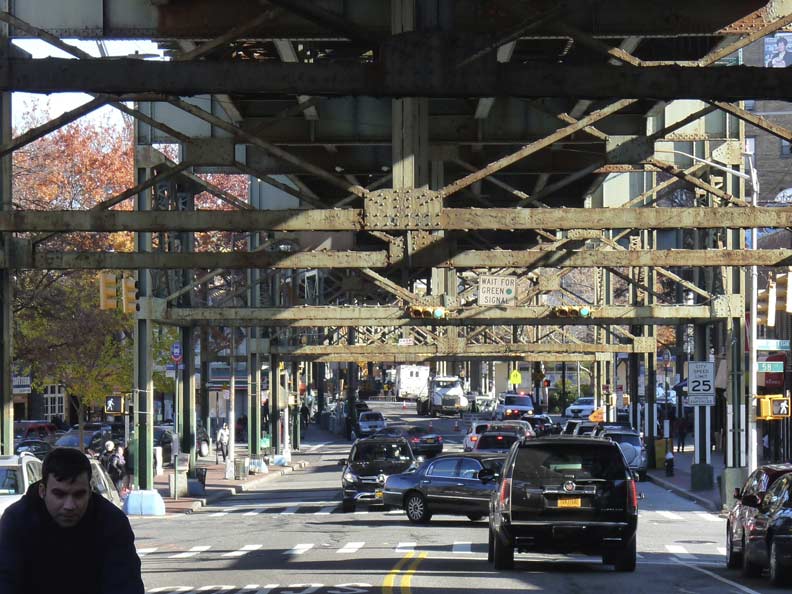 As Roosevelt Avenue dips east of 56th Street, the Flushing Line remains level and even raises a bit to accommodate the Long Island Rail Road's Woodside Station, whose six tracks on three platforms serve both the main line and Port Washington branches. The LIRR, formerly at grade, was placed on an elevated platform at about the same time as the Flushing Line was under construction, so the two transit lines are twins of a sort.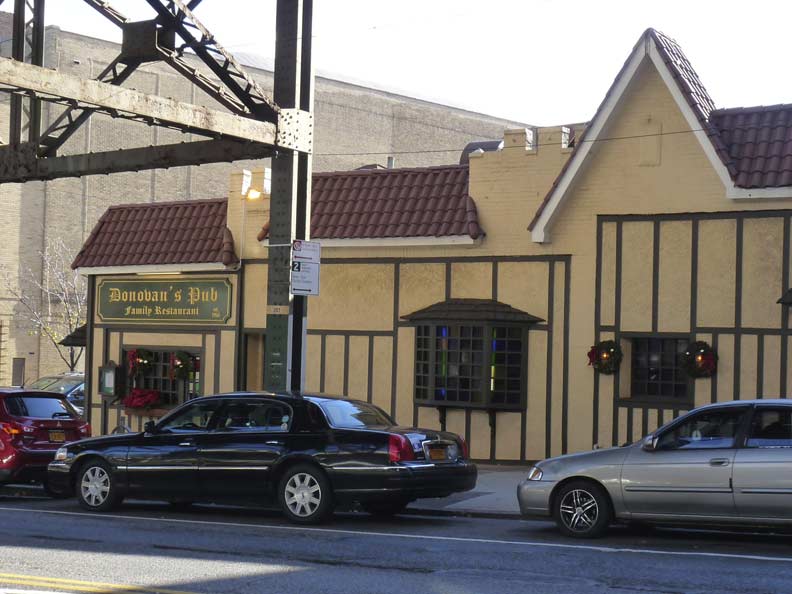 Donovan's Pub, at Roosevelt Avenue and 58th Street (formerly Betts Avenue, a main connector to Maspeth) has been a fixture on Roosevelt Avenue since 1966. This bar/pub is known to some surveys for "the best burgers in NYC." It survived a threat of closure in 2012 and was sold that year. A second branch in Bayside has been open for a few years.
Donovan's is, as far as I'm concerned, the heart of Woodside. In a neighborhood that once had hundreds of Irish pubs, and still holds on to a decent amount, it's the clear standout. Low-slung and sporting a faux-Tudor exterior, it sprawls over the corner of 58th Street and Roosevelt Avenue, just across from St. Sebastian's Church, presiding benevolently over the triangle known as Carl L. Sohncke Park. Of the two, I'd say the bar rates above the church in neighborhood influence. It has been there longer, after all. [Eater]
St. Sebastian's Church at Roosevelt Avenue across the street from Donovan's (some parishioners cross 58th directly after Mass to bend the bar) was founded in 1894, with its first services held at the Woodside firemen's hall at 39th Avenue and 58th Street in a building that still stands, though heavily altered. Two years later its first proper church building was constructed at Woodside Avenue and 58th Street at the former address of a prominent early Woodsider, John Kelly; that building was later replaced by the parish school, which is still standing. A gilded plaque commemorates St. Seb's parishioners who perished in "The Great War."
The current church building was once used for much more secular activities: it is the former Loew's Woodside Theater, a vaudeville and movie palace. It was "converted" in 1952. President Bill Clinton visited St. Sebastian in November 1998 to stump for Chuck Schumer in his successful bid to unseat incumbent Senator Al D'Amato that year.
The parish namesake, St. Sebastian, is usually portrayed as a youth who has just been shot with arrows. According to Catholic tradition, Sebastian was indeed a martyr under the 3rd Century Roman emperor Diocletian, but he was healed of his wounds from the arrows and was later beaten to death with clubs. If at first…
St. Sebastian's, like many other Catholic parishes, has built the equivalent of a small town surrounding it. The original rectory, or priests' residence, still stands on 57th Street near Woodside Avenue across from a 1960s-era parish center. The rectory preserves the first church building's bell.
An Ionic-columned monument at Woodside Avenue and 57th Street commemorates Woodsiders who perished in the Vietnam War between 1960 and 1975.
Will the Afghanistan and Iraq wars that began in 2011 beget any major memorial monuments or plaques?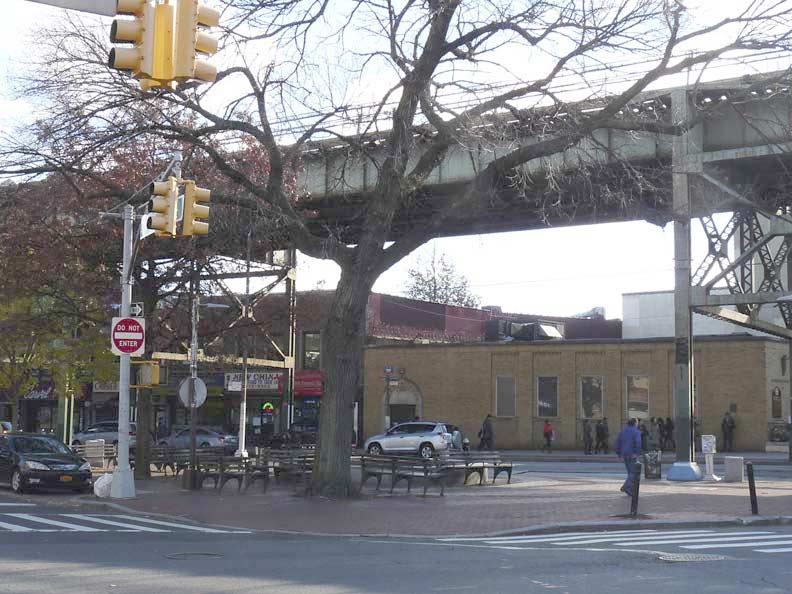 Woodside and Roosevelt Avenues and 58th Street form another small traffic triangle, with the west end called Carl R. Sohncke Square, named for another WWI Woodsider killed in action. Not pictured: Woodside Plaza, a triangle sitting area formed by the east end of the Roosevelt and Woodside intersection.
The NYC Parks entry for Sohncke Square has a capsule Woodside history:
The surrounding neighborhood of Woodside, called "Suicide's Paradise" by the colonials for its harsh environment, was settled in the late 17th century by Joseph Sackett. Between 1830 and 1860, the area grew and became home to mansions owned by John Kelly, William Schroeder, Gustav Sussdorf, and Louis Windmuller, all men from Charleston, South Carolina. Woodside's moniker comes from a correspondence written by John Andrew Kelly to his son, John A. F. Kelly, entitled "Letters from Woodside," inspired by the unending run of trees visible from his writing desk. The younger Kelly, publisher of The Brooklyn Times, printed the letters for the enjoyment of the paper's readers. Laid out in 1869, Woodside exists today as a patchwork of industrial, commercial and residential areas.
Woodside Avenue itself is one of Queens' most historic routes. It runs in an elongated "S" shape from Northern Boulevard and Newtown Road generally southeast to Broadway in Elmhurst. It was once the only road that allowed traffic through the waterways and swamps that once separated Woodside from what is now Astoria. Together with Newtown Road it was a route connecting the East River with mid-Queens and in the colonial era was called the Hell Gate Ferry Road.
Roosevelt Avenue between 58th and 59th Streets is not lacking for watering holes beside Donovan's with the new Beerkeeper and veteran Saints and Sinners, joined by Sean Og's on 60th.
The Woodside transit hub, which allows Flushing Line riders to transfer to most branches of the Long Island Rail Road (for another fare) is among the most highly-trafficked in Queens. The Main Street terminal of the #7 is the busiest, with transfers available to over a dozen bus lines, and the Roosevelt Avenue-74th Street station serving E, F, M, R trains, several bus lines and the #7, is also up there, but I don't have the exact figures.
61st Street sees double-el action: it's crossed by both the LIRR and the Flushing El, which meet at an X directly above Roosevelt Avenue. As stated earlier, both legs of the complex were built between 1915-1917.
The intersection of Roosevelt and 61st is signed as Rita Brady Square. Ms. Brady (1929-1989) served in a number of community roles, including president of the Woodside-Elmhurst Democratic Club; president of the Woodysun Senior Housing Development; and as legislative aide to City Councilman Tom Manton.
I've spent a lot of time at the west end of the 61st-Woodside platform. The center tracks is used for express trains: westbound in the morning, eastbound evenings. When the #7 is performing optimally, the express run is a "true" express with stops at Queensboro Plaza, 61st, Junction Boulevard, Mets-Willets and Main Street (compare to express 8th Avenue Line service, which has multiple "express" stops in Manhattan, negating the express concept completely!)
The "bigloop" platform lamps, along with those at 33rd, 40th and 46th, were installed during station renovations in the 1990s. I'm not a big fan: I wish they were more like…
…the original stanchions, seen here in the 1970s during a fan trip featuring IRT Low-V(oltage) cars in use in the 1910s. photo: nycsubway.org
For decades, the smell of fresh bread has (occasionally) cut through the urine smell of the Woodside LIRR mezzanine waiting room courtesy of V & V Bakery. Unfortunately the bakery closed in January 2017 because of what else, a severe rent spike. As of April, the signs remain but the windows are boarded up. They actually wavered a bit but wound up closing anyway.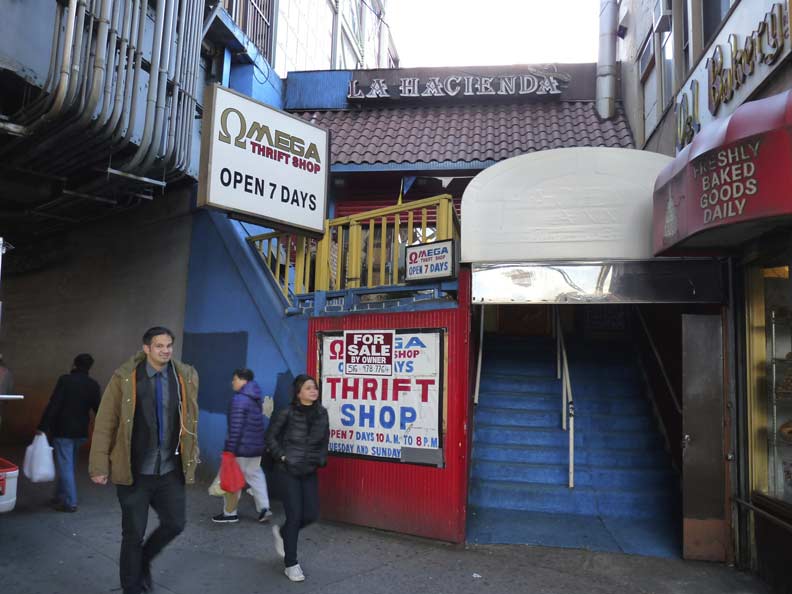 The La Hacienda taqueria and Omega Thrift Shop were two other businesses tucked close to the LIRR station but they, too, have left; perhaps the same landlord hiked them too. These spaces will likely remain empty until a bank or Starbucks that can afford the usurious price moves in.
While the blocks of Roosevelt surrounding the transit hub have a definite Irish cast, the blocks from 62nd street east to the Brooklyn-Queens Expressway have a definite Filipino flavor. Jollibee is a Filipino fast food franchise founded in 1975, with total sales exceeding $1 billion in nearly 2000 worldwide locations. Until 2015, this was its sole NYC locale; it has since opened up a branch near the Port Authority bus terminal in Midtown. Some menu favorites include sweet spaghetti with slices of ham and sausage, fried chicken with gravy and rice, and hamburgers with a pineapple slice.
This former Child's Restaurant branch at 63-09 Roosevelt Avenue at 64th Street from 1925 looks very much like other Child's that followed it over the next decade. The roofline is ringed with terra-cotta sea horses and there are always one or two cartouches featuring sea life, and urn and Neptune. See this FNY page for more former Child's around town.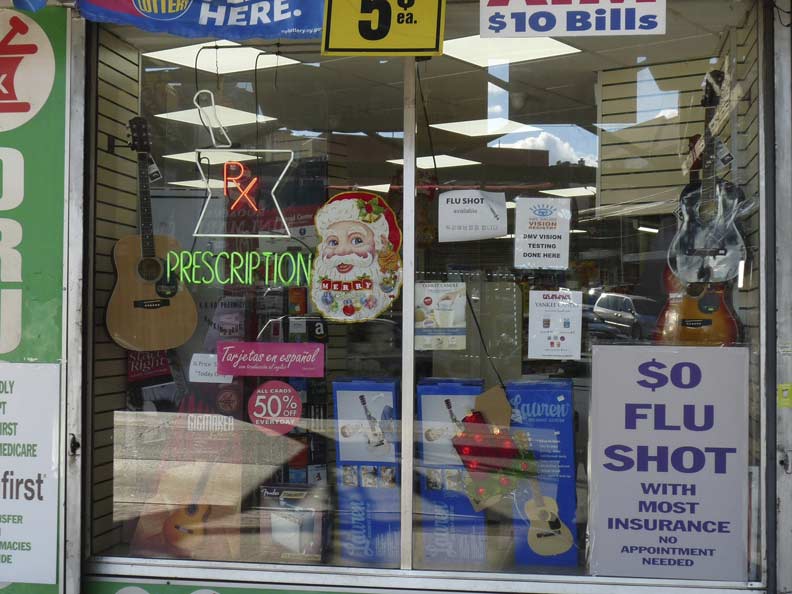 Which NYC drugstore has featured guitars in its picture windows as long as I can remember? Hopkins Drugs, in the former Child's building at Roosevelt and 64th.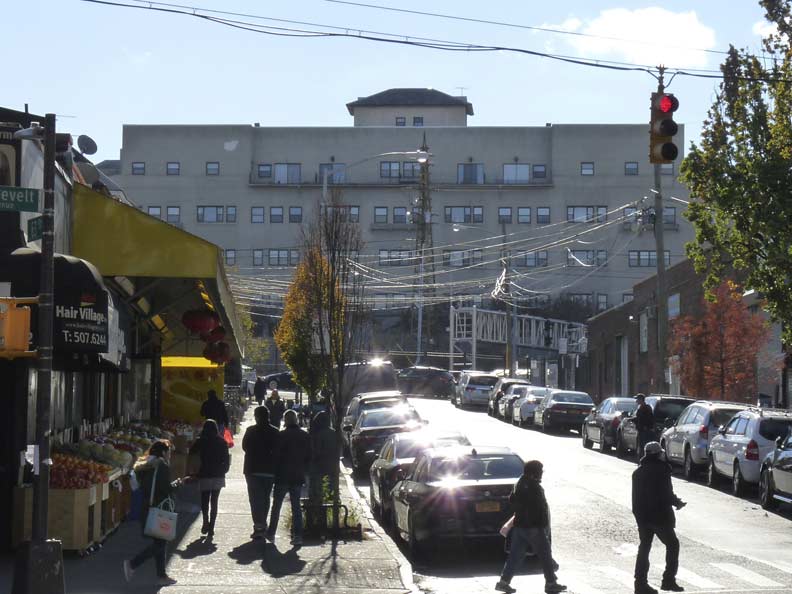 Looking south on 63rd Street toward the LIRR, Woodside Avenue and a former watch factory (Bulova had offices in the area) that was converted to residences a couple of decades ago.
A selection of hand-lettered signs on Roosevelt avenue between 63rd and 65th Streets.
Woodside has its own version of the Flatiron building as 65th Street and 65th Place meet at an angle.
Many of the Spanish-style restaurants along Roosevelt Avenue have brilliantly colored storefronts.
I find ancient traffic signs. White mid-20th Century signs pointing to bridges were triangular, as a rule, with the peak facing down, signs pointing to tunnels were usually round. A motorist in 1940 could take Roosevelt Avenue past Queens Boulevard, then Greenpoint to Borden, turn right and enter a ramp to the Queens-Midtown Tunnel. The usual approach these days is via the Queens Midtown Expressway (the expressway proceeding east from the tunnel was expanded gradually from the 1930s through the 1970s as the Long Island Expressway past Riverhead, Suffolk County).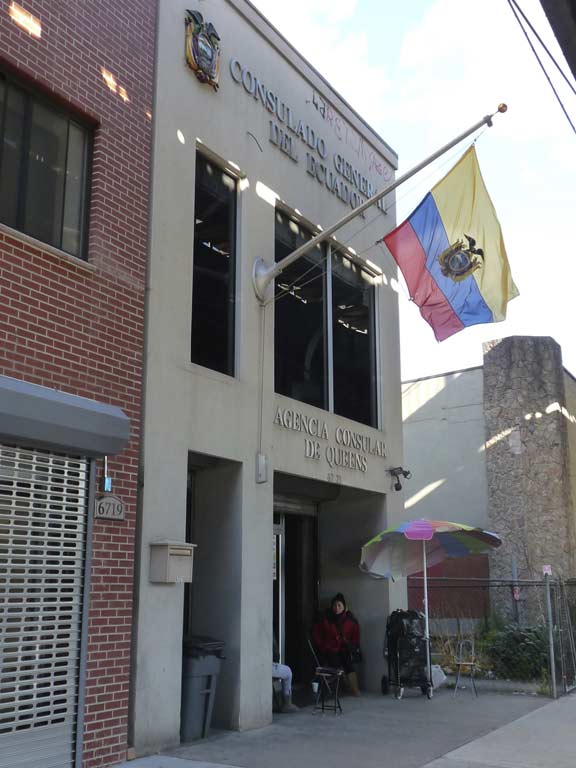 Ecuadorian Consulate, 67-21 Roosevelt Avenue. "A consul is an official representative of the government of one state in the territory of another, normally acting to assist and protect the citizens of the consul's own country, and to facilitate trade and friendship between the people of the two countries."
69th (Fisk) Avenue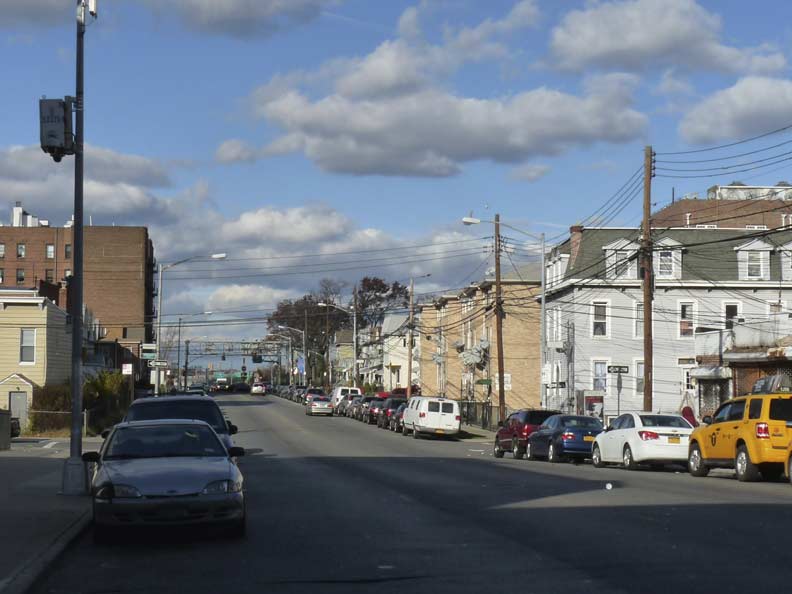 69th Street is a main north-south street in Woodside, extending from the BQE at 30th Avenue south to Metropolitan Avenue, forming the east end of Lutheran (All-Faiths) Cemetery for part of its route. Prior to the adoption of Queens' current house and street numbering system it was called Fisk Avenue and the name still sticks on the signage at the Flushing el station.
In 1981, a whitewashed R-33 roars out of the 69th Street station. This was an ill-advised attempt to prevent graffiti; instead, it attracted graffitists like ants to a picnic.
The 69 Bar has a fairly old hanging sidewalk sign. It has been attracting riders emerging from the station for some time.
Pressing east on Roosevelt, the buildings become thick with plastered-on signs for multitudes of businesses. The Filipino influence remains strong and continues east to the Brooklyn-Queens Expressway.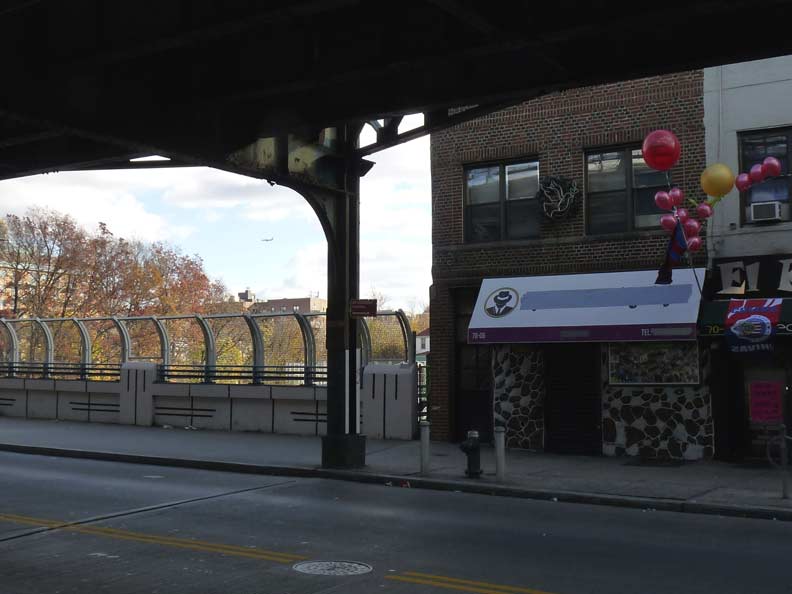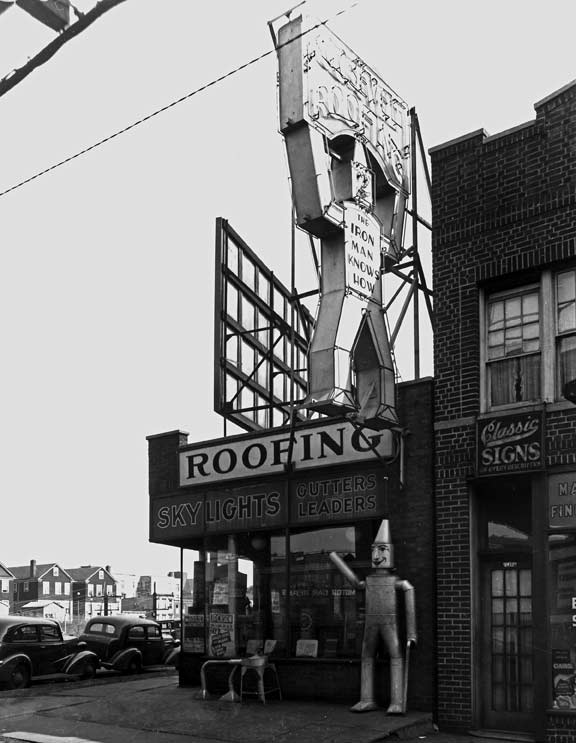 What interested me enough to photograph Roosevelt Avenue at the edge of the BQE? It's all about what's not here anymore. In the 1930s, this was the original location of Roosevelt Roofing, whose mascot was a large representation of a Tin Woodsman, perhaps inspired by the Wizard of Oz character. He's seen at left on the sidewalk by the front entrance. When the BQE was rammed through in the 1950s, Roosevelt Roofing and the Tin Man moved to Woodside Avenue. A few years ago, the roofer moved again, to 69th Street, but the Tin Man's current location hasn't been determined.
With that little reveal, I think it's time to kick it in the head for this section. In Part 3, the 74th Street-Roosevelt transit junction and into Jackson Heights.
As always…"Comment…as you see fit."
4/23/17