Last week I told of walking east on 29th Street to get to the city's Park Avenue Summer Streets program, held the first three Saturdays of every August between 7 AM and 1 PM (thus, at this writing, this year's Summer Streets is over. During the program the city closes Lafayette Street, 4th and Park Avenues from the Brooklyn Bridge north to East 72nd Street, and people are vouchsafed the right to dominate the streets, walking, running, bicycling, whatever they want. There are also musical performances and exhibits along the route. Knowing the event is mostly made for bicyclists and I tend to stumble around looking for things to shoot with my camera, I stuck mainly to the sidewalks along Park Avenue.
In 2010, I did a comprehensive 7-part account of what I found along the complete Summer Streets route.
Art admirer, TD Bank, Park Avenue South and East 32nd Street. Park Avenue has had a convoluted name history — it was originally 4th Avenue all the way north to the Harlem River, then a short section near Grand Central Terminal was renamed Park Avenue, and then the whole shebang north to the river was renamed Park. In 1899 the streets that bordered the NY Central Railroad in the Bronx were also given the name Park Avenue. All this was because of the various extensions of what was originally the New York and Harlem Railroad.
That left the section of 4th Avenue south of Grand Central, and that, too, is complicated. it was renamed Park Avenue only as far south as East 32nd Street, but then another lengthy stretch was renamed Park Avenue South to Union Square. Only the stretch of 4th Avenue from Cooper Square to Union Square kept the name 4th Avenue. And, the same house numbering system encompasses 4th Avenue and Park Avenue South. However, #1 and #2 Park Avenue are found north of East 32nd.
I've never been able to find anything definitive about the date 4th Avenue was changed to Park Avenue South and why East 32nd was chosen as the dividing line. I do suspect that it's because at East 32nd that the street widens in anticipation of the downtown Park Avenue Tunnel, which runs underground between 33rd and 40th Streets. Originally, NY&HRR ran horse-drawn units along 4th Avenue from downtown, but with the advent of smoke-belching steam engines, the tunnel was built in 1852. After railroading south of GCT was banned, the tunnel was used for electric-traction streetcars from 1870-1934, and finally as an auto shortcut in 1937. I've only been in a cab that used it once! Here's an item by the NYC Department of Transportation on the recent improvements made to the tunnel environs.
I hadn't encountered the famed Silk Clock in the Schwarzenbach Building, 470 Park Avenue South, before; the clock periodically disappears for repairs, but it was apparently in working order when I passed it on PAS and East 32nd. The clock was designed by Marguerite Zorach for the Seth Thomas Clock Co.and installed in 1926. The Schwarzenbachs were silk dealers and fittingly, the clock features sculpted versions of silkworms (actually caterpillars) and the milkweeds that they eat. Like the bell ringers at Herald Square, this is a moving sculpture: "At every hour on the hour, the wizard Merlin raises his wand and taps the squatting blacksmith on the head, who hammers away at King Arthur's sword, while the Lady of the Lake rises out of the clock's case." (Some report the conically chapaeu'd figure as Zoroaster, but thus spake the NY Times on the Merlin ID.) During one of its repair jobs in 1984, Conrad Milster, famed until recently for his steam whistle concerts on New Year's Eve for his employer Pratt Institute, fixed the clock. I was glad to see it back in place.
East 33rd between Madison and Park was subnamed Sholom Aleichem Place in 1996. The phrase in Hebrew and Yiddish means "peace be to you" but this actually honors Ukrainian Jewish writer Solomon Naumovich Rabinovitch (1859-1916) who used it as his pen name. He is remembered today for his series of stories about Tevye, the pious Jewish milkman, some of which were distilled into the Broadway musical Fiddler on the Roof. He was published in The Forward, which formerly had offices on East 33rd.
There's one fire alrm in town I check on every time I'm in the neighborhood. There are hundreds of fire alarms of this vintage — post-1913 — around town; some of which no longer work. This one has had its guts torn out of it. However, this one, on the NW corner of East 34th and Park, is the only one that miraculously has the indicator lightbulb and reflector still in place.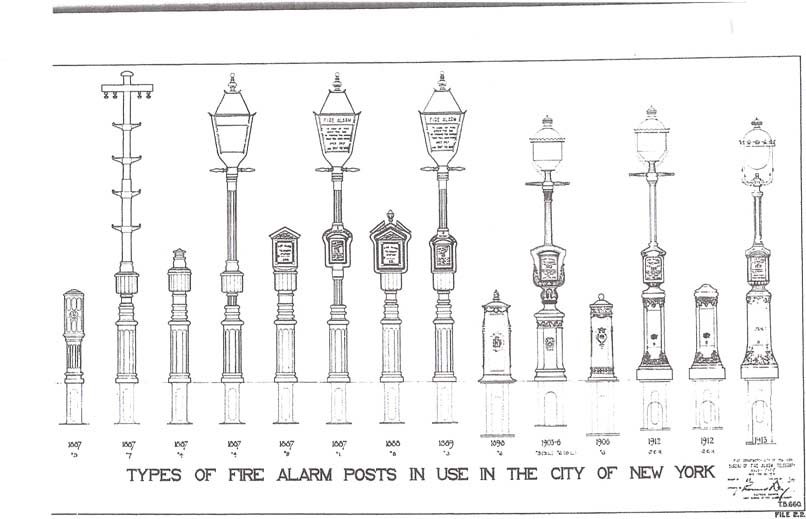 Some of these alarms were marked by indicator lights fastened on nearby lampposts, but some had shafts at the top with bulbs attached. Originally they were made of red glass, but later orange plastic replaced the glass. Years ago, I counted four or five of these around town with lamps attached, and there are dozens with the masts still in place, but this is now the only one with the bulb still there.
I'm also unclear on whether the ramp that takes Park Avenue traffic up over East 42nd Street and around Grand Central Terminal was built. GCT itself goes back to 1913 and it was in fact the second such railroad terminal building on this site. It was faced with demolition like its sister, Penn Station was, but an intercession by preservationists which included the cachet of First Lady Jacqueline Kennedy Onassis helped save the old barn, which underwent a tip to toe renovation for several years in the 1990s. A plaque on the fence underneath the lamppost on the right dates the ramp to 1919.
The ramp's original lamps, complete with incandescent bulbs, are still in place; they were renovated along with the rest of the terminal in the 1990s and repainted. Some, though, still have their reddish primary coats of paint.
There was another set of lamps that lit the ramps surrounding the terminal, in this case, sets of twins. About three decades ago they disappeared, only to be replaced with simple pipes with luminaires attached to them. Most of those replacements are still there. However, the city has restored two of the Twins and restored them to the top of the viaduct over 42nd Street where it splits into two roadways.
However, for the centennial celebration of Grand Central Terminal in 2013, GCT turned to Historic Arts & Casting in West Jordan, Utah, which magnificently restored two of the bronze posts to a pristine appearance, and they were subsequently reinstalled. Will other reproductions appear?
Summer Streets allows views east on East 42nd and south on Park Avenue. Such views are nearly almost unavailable from automobiles except if traffic is hopelessly snarled and you're looking out the windows out of boredom.
A view of the 1921 Bowery Bank Building, now a Cipriani restaurant and grand event space. The interior is 65 feet high, 80 feet wide and 197.5 feet long and is built from marble, limestone, sandstone and bronze. Both the original Bowery bank building downtown at 130 Bowery and here are considered two of the great ec=vent spaces in NYC.
What's unusual about the twin viaducts is that they not only go around Grand Central Terminal, they also provide access to the Grand Hyatt Hotel at Lexington and East 42nd as the MetLife Building (formerly the Pan Am Building) well as a municipal parking lot, and also tunnel through the Helmsley Building (originally the New York Central Building) through two grand archways.
Looking west from the top of the Park Avenue viaduct toward 330 Madison Avenue. The view was temporarily made available by the razing of 51 East 42nd Street, where I found an ancient toothpaste ad in 2015. Eventually, a building nearly as tall as the Empire State will be built there.
Ironically, this statue of Cornelius Vanderbilt stands athwart the one mode of transportation that he had nothing to do with — auto traffic. Normally viewable only from afar by lowly pedestrians, the statue stands at the head of the Park Avenue Viaduct where the roadway splits in two. It's actually one of the oldest statues in Manhattan, having been sculpted in 1869 by Ernst Plassman and originally placed downtown at the Hudson River Freight Depot (now largely replaced by the Holland Tunnel entrance). The statue was moved to the south facade of Grand Central Terminal at its 1913 opening.
Part of the viaduct as it enters the Helmsley Building tunnel
One of the lighting stanchions installed in the Helmsley Building trafficway. It's likely the original reflector bowl was circular with white glass.
A pair of "Wheelie" stoplight stanchions, bereft of their stoplights, stand silently at the Helmsley Building Park Avenue viaduct at East 46th Street. Until about a decade ago, these posts did indeed support three-color stoplights, but the Department of Transportation decided to install new stoplights to replace them. Since the posts have Landmarks Preservation Commission protection, they cannot be torn down and so their only job today is to hold traffic signs, like the backup quarterback holding the clipboard.
"Wheelie" stoplights were first installed at busier intersections in the mid-1920s. Superficially they resembled Corvington lampposts, but with different bases and a car wheel motif in the scrollwork. Since traffic was lighter in the 1920s, as a rule only one Wheelie, supporting a two-color Ruleta stoplight, was deemed necessary.
Wheelies began to be phased out in the early 1950s when the modern-design guy-wired, thick-shafted stoplights were installed. Some hung in there until the 1980s in some cases. This is the only pair remaining except for one ob the 86th Street Transverse Road in Central Park, which has been converted into a streetlamp.
The hardly Forgotten Waldorf-Astoria Hotel takes up the entire block from Park to Lex between East 49th and East 50th. It's been the preferred lodging of presidents, generals, kings and queens ever since it first opened its doors September 30, 1931, in a then-new building replacing the old Waldorf, razed to make way for the King Of All Buildings at 5th Avenue and West 34th. It had been controlled by the Hilton organization since 1949 until 2014 when it was purchased by a Chinese insurance group. The former hotel is now undergoing renovations that will see most of its rooms converted to rental units and co-op apartments.
An old photograph showing St. Bartholomew's Church at Park Avenue and East 50th and the office building, since razed, that had been a block north of it. It serves an Episcopalian congregation founded in 1835, with the present Romanesque building (with a Byzantine-style interior) completed in 1919. In 1981 a developer wished to purchase St. Bart's and demolish it for luxury housing, and court battles about its landmarking dragged on until 1991, when the Supreme Court upheld the landmark designation and the church was saved.
Naturally, I gravitated to this Department of Transportation exhibit concerning the replacement of all streetlamps around town, changing out yellow sodium vapor fixtures to, they claim, energy saving Light Emitting Diode lamps, which shine bright white.
This all strikes me as a massive expenditure especially since the DOT last changed out all NYC streetlamps in 2009, with that process wiping out the remaining green-white mercury vapor lamps around town. Now here comes another regime! Lots of my tax money getting thrown around. The claim is that 60% of the changes have been made, but I note that very little of Staten Island has had any LEDs installed yet.
Concurrently a massive reinstallment of street signs is going on, with capitals changed to initial caps with lowercase. Why they need to do this with numbered signs escapes me, since that refutes their logic that upper and lower is easier to read than all caps.
Sunbleached street signs, which really need replacement, are, of course, seemingly the last signs to be changed.
This is the one that started it all…the very first glass-box building, in NYC at least; Portland, OR's Equitable Savings and Loan Building claims the overall title. Landmarked Lever House at Park and 53rd was designed by architect Gordon Bunshaft in 1952. Its restaurant has been a 4-star attraction for many years. Many of its neighboring buildings use a complimentary pale green color scheme.
The Lever House hosts artwork in its plaza and windows; past exhibits have included Damian Hurst's "outrageous" "Virgin Mother." This time, something rather tamer, Katherine Bernhardt's "Concrete Jungle Jungle Love" was on display.
That's all for today, but my walk wasn't over — I wandered west on 55th Street. More next week.
Check out the ForgottenBook, take a look at the gift shop, and as always, "comment…as you see fit."
8/20/17