Continuing my Manhattan cross streets series. I've done them piecemeal in the past, but I've already posted 20th Street, 22nd Street, 17th Street, 18th Street and 10th Street in this batch, and 14th Street as well in autumn 2019 with more to follow. Before the Great Infection, I spent a number of Saturdays (and some Sundays too) crisscrossing Manhattan via its numbered streets. Over the years, I've done this quite a few times and I was amazed at how much stuff I missed and how much material I knew about and posted here and there, but never really formalized or categorized. Eventually I might make these "crosstown" posts their own separate category as I have already done streets like 21st and 53rd in the past. Maybe I can do every Manhattan-Bronx numbered street from 1 to 262!
In February 2020 I walked East 6th Street from Avenue C west to Cooper Square. In NYC, 1st, 2nd, 5th, 6th and 7th Streets do not extend west of Broadway and hence, do not have "west" sections. Nonetheless, tradition is followed and they're all labeled "East 1st," East 2nd" and so on.
Right off the bat there are some amazing buildings on the East 6th block between Avenues B and C. The building on the left, #638, is the former Congregation Ahavath Yeshurun Shara Torah, built in 1898 as well as the adjoining building at #636, a former school associated with the temple. Both formerly had onion domes as you can see in this 1940 photo.
The temple is now the 6th Street Community Center. Surprisingly much of the exterior brickwork, and especially the window pane treatments, have been retained from at least 1940. The Community Center describes its mission thusly on its webpage:
Located in a lovingly restored former synagogue in the heart of the Lower East Side, also known as Loisaida. the Sixth Street Community Center has been working to empower the community through grassroots organizing since 1978. We offer a variety of programs and events including free arts, writing and gardening after school and summer programs for local youth; affordable adult workshops, donation-based yoga, zumba, and dance classes; a Community Supported Agriculture (CSA); poetry and open mic nights; and much, much more. Whether you're interested in learning more about what we have to offer, hoping to join the CSA, or hungering for a fresh, organic juice on-site at our Organic Soul Café, our doors are always open.
The school next door is a different story; it's much altered, and is now the nondenominational Church of God.
Next door at #630 is one of the great buildings of the East Village, the 6th Street Industrial School associated with the Children's Aid Society; you can see the CAS trigraph on the brickwork. It went up in 1892 and was co-designed by Calvert Vaux, who designed Central and Prospect Parks with Frederick Law Olmsted. It's one of a number of Dutch Colonial Revival buildings in NYC. The Children's Aid Society was especially fond of this style as other buildings associated with the CAS used it including the Rhinelander Children's Center at 350 East 88th Street; Fourteenth Ward Industrial School at 256–258 Mott Street; and the Elizabeth Home for Girls at 307 East 12th Street.
At present the building is home to private residences, and is ivy-covered in the warm months.
You'll be forgiven if you think this "faded ad" for Parodi Cigars at #620 East 6th Street is the real deal. It's faded and was painted long ago, but not for the purpose you think it was. Parodis are thin, hand rolled cigars, the kind Clint Eastwood smoked in his 1960s westerns. The company was founded on West Broadway by Quirino Parodi in 1913.
However this ad was painted in 1974 for Francis Ford Coppola's Godfather II motion picture, in scenes in which Vito Corleone, fresh from Italy, sets up business in Little Italy and runs into trouble with the "godfather" who preceded him. Info: Ghost Signs, Clues to Downtown New York's Past, Frank Mastropolo.
PS 64/Robert Simon School/Earth School has some great sculptures above the East 6th Street entrance; but the precise reference escapes me. The large school is L-shaped, wrapping around on Avenue B all the way to East 4th Street.
This safety sign gem at Avenue B and East 6th was installed by PS 64.
The East Village is chockablock with community gardens, both on the north-south avenues and side streets. If anything can be described as a benefit of the bad old days of the 1970s, when apartment building owners abandoned their properties, left them to squatters, or even torched them to collect insurance money, it can be these gardens, which replaced the tenements after they were torn down. The Avenue B/East 6th Street garden was established in 1982.
Meanwhile, Creative Little Garden, between two buildings at #530 East 6th Street, was established in 1978 by Françoise Cachelin. Amazingly most of these gardens have their own websites.
Josie's Bar at #520 East 6th bills itself as "Beer, Pool, and Taxidermy." It's among the growing number of establishments with no identifying signage.
In an era of digital downloads, A-1 Record Shop at #439 East 6th between Avenue A and 1st Avenue is hanging tough; it was established in 1996 by Isaac Kosman. It specializes in dance music, jazz, funk, soul, hip hop, disco, house and techno.
Here's another former synagogue, now serving as rental housing, at #431 East 6th, Center of the Proskurover Zion Congregation. In its heyday as a synagogue it was decorated with menorahs and Stars of David. The building was constructed in 1851 and became a synagogue in 1927, hence the cornerstone date.
The massive #421 East 6th Street was constructed as an electrical transformer building for New York Edison in 1921. It was converted into a multiuse commercial building in 1963. For several years it was the home of artist Walter De Maria (1935-2013).
#415 East 6th Street was constructed all the way back in 1841! It bears no resemblance to how it looked when built, as it was converted into the Congregation of Edes Israel Anshei Mesrich (the spelling in English letters varies) in 1910. The name comes from a town in Poland famed for talmudic learning. See the beautiful stained glass on the 3rd floor.
In my college days and after, East 6th Street between 1st and 2nd was the place to go for cheap, filling Indian cuisine. The concentration of restaurants is not quite what it was but there are still quite a few.
This peaked roofed, red brick one story building at #325 East 6th was constructed in 1847 as the St. Mark's Evangelical Lutheran Church, serving a mainly German East Village population. The plaque marks New York City's greatest one-day tragedy until 9/11/01: the June 15, 1904 General Slocum steamboat disaster in which 1,000 people perished due to gross negligence on the part of the boat operators. A small monument was built in nearby Tompkins Square Park, and a larger one in Lutheran-All-Faiths Cemetery in Middle Village, Queens. The manslaughter (the excursion boat operators weren't charged, but they were to blame) wiped out many of the Germans and East Europeans from the East Village, including many women and children who were going to enjoy a boat ride to an amusement area.
In 1940, the church sold the building to the Community Synagogue, which remains there today. The building is closed until the end of the Covid crisis.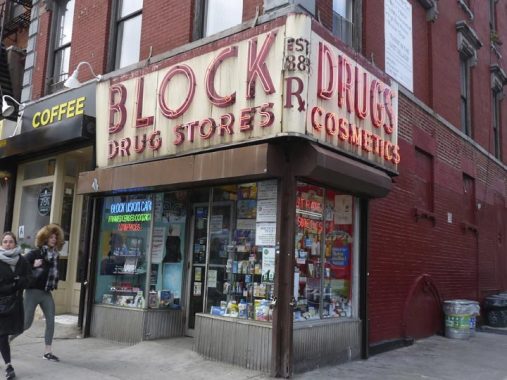 Block Drugs at 2nd Avenue and East 6th has been in business since 1885, as the corner of the sign indicates. In the windows, there are smaller red neons, one of which says "Cut-rate Cosmetics." If that date is correct that puts it among NYC's oldest extant businesses, but surprisingly, it didn't make my Bible on these matters, Ellen Williams & Steve Redlauer's Historic Shops & Restaurants of New York (Little Bookroom, 2002). Yes, the red neon sign still works.
This store was actually just one in a number of Block Drugs franchises. The firm was founded by Russian immigrant Alexander Block in 1907; the company not only operated drugstores but also became a pharmaceuticals manufacturer, developing products like Polident and Poli-Grip denture fixer. After a number of acquisitions over the years Block is now a part of the GlaxoSmithKline drug empire. The East Village store abides.
The modest-looking Apple Bank For Savings has a past: a rock heyday, as the building once hosted the Fillmore East concert hall.
The Fillmore East had a capacity of approx. 2650 seats. The venue was so popular that bands were often double-booked to play two Saturday and Sunday shows apiece, as well as matinees. The Doors, The Who, Quicksilver Messenger Service, The Allman Brothers Band, Derek and the Dominos, Jimi Hendrix, Country Joe and the Fish, Big Brother and the Holding Company, Lonnie Mack, Humble Pie, Led Zeppelin, Neil Young and Crazy Horse, Pink Floyd, Procol Harum, John Mayall, The Byrds, Jefferson Airplane, Frank Zappa, Miles Davis, and toward the end of the Fillmore's run, an up and comer named Elton John are just a handful of the big names that played here, as well as lesser-known bands such as Sweetwater, Bloodrock and Zephyr. Numerous classic live albums were recorded at the Fillmore such as the Allman Brothers Band's At Fillmore East, Ladies and Gentlemen: The Grateful Dead: Fillmore East: April 1971, and Frank Zappa and the Mothers of Invention's Fillmore East – June 1971.
Impresario Bill Graham took over an old cinema/Yiddish theatre in early 1968 and for two full years and part of two others presented a roster of superstars that to this day reads like a classic rock radio playlist. Just about every big name in rock and roll except the Beatles and Stones played the Fillmore East (Graham's east coast counterpart was the Fillmore West in San Francisco.). Today, the venue is marked by a Jim Power mosaic on a utility pole.
A look north on 2nd Avenue from East 6th Street. The spire belongs to the Middle Collegiate Church, dedicated in 1891.
This section of East 6th Street lies amid the East Village / Lower East Side Historic District.
I like what I can see of #236 East 6th, just off 2nd Avenue, known as the Villa East. The building went up in 1883 but the red Olde English blackletter over the entrance likely came later.
What a pair! #226 and #228 East 6th both went up in 1890. The ground floor of #226 was remodeled in 1940 and retains its appearance from that year. The buildings are bedecked with human faces in carious degrees of apoplexy, while a terra cotta scroll motif is shared by the two.
East 6th and 7th Streets between 2nd and 3rd Avenue can be considered Little Ukraine, as a concentration of immigrants from the Eastern European country can be found here. The Ukrainian Museum contains a trove of folk art, fine art, and an extensive compendium of archival materials. Established in 1976, the Museum moved to this relatively new facility at #222 East 6th in 2005.
The west end of the East Village / Lower East Side Historic District is at midblock, at #226. The Ukrainian Museum was constructed in 2004 and when the area was designated in 2012, the LPC didn't want to include it. Thus, the district excludes such worthy buildings as #218 and #202. However: #202 received a fresh paint job and repointing, which may not have been possible if it were landmarked.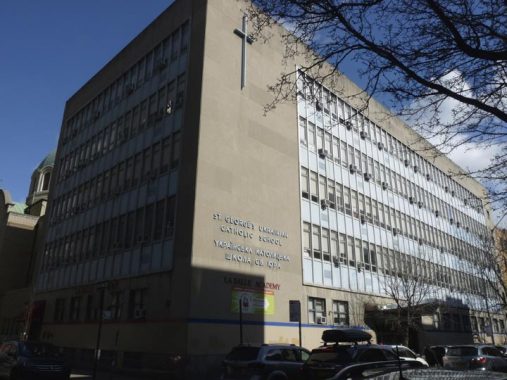 The St. George Ukrainian Catholic School, constructed in 1957 at Shevchenko Place, is associated with the St. George Church a block over on East 7th Street.
Taras Shevchenko was a revered 19th century Ukrainian writer, artist and political activist. The East Village near Cooper square has long been a Russian/Ukrainian enclave. When this short street was renamed from Hall Place, it gained eleven letters.
Looking down Shevchenko Place from East 6th Street, you can see a real Old New York institution.
According to legend, there has been a tavern here in this location since 1854, though recent research has indicated that date might be incorrect by a few years. Famed New Yorker writer Joseph Mitchell immortalized McSorley's Old Ale House in an article in The New Yorker, "The Old House At Home," collected in the 1993 collection Up In The Old Hotel.
41 Cooper Square at East 6th Street, designed by architect Thom Mayne, is the newest addition to The Cooper Union for the Advancement of Science and Art campus. The building, originally known as the New Academic Building, stands on the site where the School of Art Hewitt Building was located. The nine-story 175,000 square feet academic center houses the Albert Nerken School of Engineering with additional spaces for the humanities, art and architecture departments. There is also an exhibition gallery and auditorium for public programs and retail space on the ground level. Construction of the building began in 2006 and was completed in September 2009.
Cooper Square, where the Bowery splits in two and births 3rd and 4th Avenues, is one of my favorite parts of town because of its mix of old and new architecture.
The classic Cooper Union building still anchors Cooper Square as it has done since 1859. The school was founded by inventor Peter Cooper, who laid the first transatlantic cable, ran the first successful railroad, and was the first producer of edible gelatin (the father of Jell-O). The school's great hall was where Abraham Lincoln launched his presidential campaign in 1860; other speakers have included Mark Twain, Frederick Douglass, Susan B. Anthony and presidents Grant, Cleveland, Taft, Theodore Roosevelt, Wilson, Clinton and Obama.
The college is divided into three schools: the Irwin S. Chanin School of Architecture, the School of Art, and the Albert Nerken School of Engineering. It offers undergraduate and Master's degree programs exclusively in the fields of architecture, fine arts, and engineering.
On the left is the residential tower 445 Lafayette Street, completed in 2006 by architect Charles Gwathmey, who was fond of wavy, undulating exterior glass exteriors.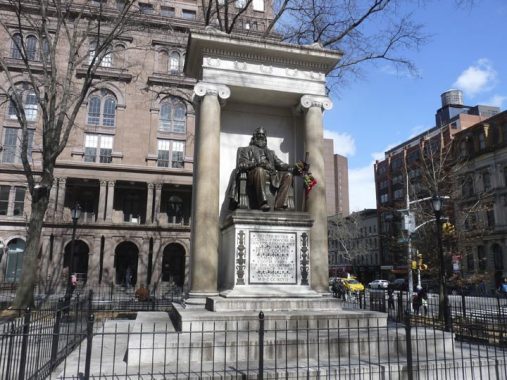 Two giants in their field, Augustus St. Gaudens, and architect Stanford White, built this tribute to Peter Cooper, with St. Gaudens the sculptor and White designing the housing. The sculpture was unveiled in 1897. Cooper faces Bowery looking to the south.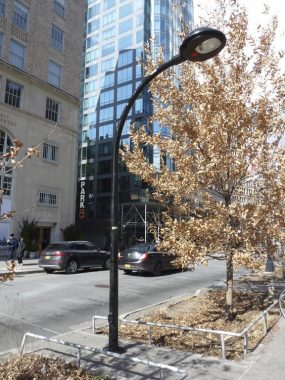 Cooper Square features a number of short davit poles equipped with LED Stad lamp fixtures. These enjoyed a brief heyday from about 2000-2025 but have been supplanted by smaller LED lumes.
Music publisher Carl Fischer had been an indelible part of Cooper Square, at Astor Place and 3rd and 4th Avenues, for many years. Patriarch Fischer (1849-1923) immigrated from Germany in 1872 and was succeeded by his son Walter Fischer and later, son-in-law Frank Hayden Connor. Fischer Music was located in Cooper Square from the late 19th Century, but in 1923 the firm constructed its 12-story office building which continued to house company offices until 1999. The gigantic note has appeared in Cooper Square for decades.
When the original IRT subway was built from 1904-1908 architects Heins and LaFarge built large wrought iron entrance and exit booths (they were dedicated and separate) and modeled them after "kiosks" found in Budapest, Hungary. The kiosks remained in bulk until around 1950, when most were removed as they were getting in the way on heavily trafficked sidewalks, and motorists couldn't see past them. The last pair, at Broadway and 50th Street, hung in there until 1967.
In 1985 the MTA commissioned Robinson Iron to do a reproduction of a typical IRT kiosk at the Astor Place station in Cooper Square, using old documents and photos. This kiosk was constructed a bit larger than the kiosks of old.
Check out the ForgottenBook, take a look at the gift shop, and as always, "comment…as you see fit."
6/28/20