MANHATTAN has many quirks, even among its numbered streets. Little West 12th Street was renamed from West 12th Street when the "real" West 12th Street took over the route of the former Troy Street in the 1800s. Both 6th and 7th Avenues were extended south from their former southern termini. 13th Avenue once existed, and it will again. Today I'll concern myself with one of the "East" streets to which there is no "west" counterpart, East 2nd. There are East 1st, 2nd, 5th, 6th and 7th Streets, but centuries ago, under the Commissioner's Plan of 1811, they were never extended west.
If you look at the map, Bleecker could just as well have been part of 1st Street, Bond could have been 2nd, Washington Place could have been 5th, Waverly Place could have been 6th, and as for 7th…I don't see anything for it (sorry, 7th). North of 8th, when 5th Avenue becomes the pole that divides east and west numbered streets, "order" is somewhat restored.
The aforementioned 1st, 2nd, 5th, 6th and 7th don't really need the "East" affix. Nonetheless there they are, out of pure convention. They all fall within the East Village, and all have things to recommend to Forgottenphiles. In June 2021, I marched down East 2nd, which isn't as arduous as covering some of the midtown streets between 23rd and 59th, the lengthiest east-west numbered streets on the island.
To get to East 2nd Street, I took the #6 to Bleecker, one of my favorite stations, and then Lafayette and Bond to the Bowery, where East 2nd begins.
The most gorgeousest (I made up a word!) station platform ID plaques can be found at Bleecker Street, in an original Heins & LaFarge design going back to 1904. the same brilliant blue, with smaller "B" escutcheons, can be found along the roofline on the platform and entrance/exit foyers. They were produced by the Grueby Faience ceramics company, located in Boston. The company was founded in 1894 and was out of business by 1909! But their designs are preserved in the original 28 stations of the IRT, and most have been landmarked. Barring a calamity they'll be there for many years to come. The station underwent a rehabilitation 15-20 years ago which brought these gorgeous ceramics back to just-like-new status.
A succession of restaurants have occupied this V-shaped building at the intersection of Lafayette, Bleecker and Mulberry. This Street View gives you an idea of how narrow it truly is. Today, it seems to be supporting just billboard ads.
Here's the east end of Jones Alley, one of NYC's more unusual midblock alleys. From here on Lafayette Street, it makes a 90-degree turn north and runs two blocks to just past Great Jones Street, with which it shares a namesake, attorney Samuel Jones. The alley is now gated off with barbed wire from the public, but Pat Cullinan was able to get in and snapped some interesting shots. The slang term "jones," meaning an addiction to drugs, is said to have originated among addicts who lived in Jones Alley.
But Jones Alley isn't finished doglegging east of Lafayette Street. Yet another section, alternately paved and Belgian blocked, runs east and then south to Bleecker. this section has traditionally been called "Shinbone Alley" and the city has even posted street signs with that name; they were quickly stolen and the Department of Transportation has since given up.
Showfields, which bills itself "the most interesting store in the world" is now the major tenant at the imposing 4-story brick building #350 Lafayette at Bond. The building was a women's homeless shelter for the better part of three decades. Whether anything useful is available there is…an exercise for the reader.
Here's a building on the NW corner of Lafayette and #10 Bond that went up in 2014; the ground floor is Boglioli, the Italian vendor of mostly unaffordable men's outfits. (Whatever happened to Triangle Sprts and K Mart?)
StreetEasy describes the building thus:
Situated at the corner of Bond and Lafayette in NoHo, 10 Bond Street is a boutique collection of 11 superlative residences. Designed by Selldorf Architects and winning high praise from the city's Landmark Preservation Commission…
Truth be told, I don't mind this new building that much; I do like the very large square windows; you just have to be careful wandering around the apartment if you have just gotten up. A 2 bedroom will cost you about $4M. Affordable by Manhattan standards.
24 Bond, east of Lafayette, has been home to a group of sculptures by residing artist Bruce Williams since 1998. The building is home to the Gene Frankel Theatre and the building once was home to avant-garde artist Robert Mapplethorpe, whose friendship with Patti Smith was the subject of her recent memoir.
The sculptures remind me of The Worms from the Men In Black movies.
#25 Bond is a relatively new residential building featuring a limestone and glass front, opened in 2008 by BKSK Architects. The original slab sidewalk was retained, but given some swirling etchings. The ground floor has expensive retail: there have been businesses here called "Completely Bare" and "United Nude." I sense a trend. Speaking of Men In Black, Will Smith lived here, at least he did in 2011.
A tenant on the ground floor is Goop, a wellness and lifestyle brand and company founded by actress Gwyneth Paltrow in 2008. Among Ms. Paltrow's tenets are "avoid white food" and "nourish the inner aspect." Whatever works!
I've been taking note of the Covid-19 pandemic outdoor restaurant gutter sheds. Some are way better than others, and I liked the ones at Il Buco, #47 Bond Street, between Lafayette and Bowery. According to NY Songlines, this was a restaurant in Edgar Allan Poe's day and a visit to the wine cellar prompted him to write "A Cask of Amontillado" in which an unusual murder is committed.
2 doors down there's D & D Salvage, a scrap metal recycler at #51 Bond. It's situated in a dormered building that could date to the 1830s.
I like this building, the former Bowerie Lane Theater, so much I took multiple photos. One of the Bowery's only cast-iron front buildings, #330 at Bond Street, was built in 1874 (Henry Engelbert, architect) as the German Exchange Building, later the Bond Street Bank. The Bouwerie Lane Theatre moved in in 1963 and was joined by the Jean Cocteau Repertory Theater in 1974. The theater featured an early appearance by Frank Langella in The Immoralist in 1963; Tom Stoppard's Night and Day and anarchist playwright Jean Genet's The Maids have also been presented here. The theater went out of business in 2007 and the ground floor hosts luxury clothier Billy Reid.
Bond Street, like its partner, Great Jones Street, runs east two blocks between Broadway and the Bowery. Even though they sit in the same places East 2nd and East 3rd should be, they have always had a separate identity (re the above Dripps atlas segment from 1867). It's possible that the street was named for London's Bond Street, or for 18th Century surveyor Captain William Bond. Bond Street in London has been a major shopping mecca for centuries and while NoHo's Bond Street has been steeped in manufacturing and industry for most of its history, inroads have been made by the well-heeled in recent years with stores selling expensive nonessentials, and gigantic, stylized apartment buildings by of-the-moment architects.
Another fairly handsome restaurant shed, this one for Fish Cheeks, a Thai restaurant at #55 Bond.

East 2nd Street begins in earnest at the Bowery, and as I have said it functions as an eastern extension of Bond Street. It continues Bond's one way east traffic configuration.
Joey Ramone (né Jeffrey Hyman, 1951-2000) sang with the rock band The Ramones for the better part of three decades. The band was founded by four neighborhood friends in Forest Hills, Queens in 1974 as back-to-basics hard rock group that played minimalist songs at mostly breakneck speed. In 1974, rock and roll was dominated by the prog rockers such as Emerson, Lake and Palmer and the glam rockers on the other end. The Ramones admired David Bowie and the New York Dolls, but they wanted to play simpler songs that sounded like the garage rockers they had heard on 1960s radio. Unwittingly at first, they forged an entire rock revolution when they played in England and supercharged the then-existent pub rock style into punk, and bands such as the Sex Pistols, Clash and dozens of others rose to prominence.
A famous rock axiom holds that everyone who heard the first album by the Velvet Undeground, the Andy Warhol-sponsored band led by Lou Reed, went out and formed a band themselves. I think the saying is truer when it applies to The Ramones, who remained a top concert act for over 25 years despite never—not once—placing a single in the Top 40 (which is something I imagine Joey Ramone dearly desired).
The Ramones, collectively, are remembered by the Department of Transportation in Forest Hills with a sign outside Forest Hills High School, at 67th Avenue and 110th Street, where the four original Ramones met. Meanwhile, the sign at the Bowery and East 2nd Street is one block north of The Ramones' old bailiwick, CBGB.
While some dining sheds around town are basically wooden sheds with seats inside, the ones I've seen on this particular walk were attractively built, like this one for Bar Primi, right beside the Joey Ramone sign on the corner of The Bowery and East 2nd.
A mural by artist B.D. White appears on the East 2nd Street side of Bar Primi. White has survived a broken back to become one of the more prominent street muralists around town.
B.D.'s recent works depict an astronaut in multiple states of movement, sometimes alone, sometimes entwined in a tragic embrace with a female form. The astronaut represents man at his most lonely and distant self, though present in many of the paintings with the female love interest, the seemingly insurmountable obstacle of love lost, and longing is obvious. [bdwhite.net]
I thought I had located a former stable, because of the wide door, at #12 East 2nd Street, but checking the Municipal Archives it seemed to be an empty lot in 1940. But check that 1940 photo for a look at #10… it was an auto welding shop at a time when the East Village was more heavily industrial than it is now. We saw traces of this on Bond street amid the luxury residences and expensive restaurants.
A few doors down, #20-22 East 2nd, is the former Samuel Cohen's Son (I imaginee he was also named Samuel Cohen) and Milton Deutch's Ideal Glass studio. A performance space of the same name occupied this location in the 2010s; I imagine the painted sign was rendered in the 1950s.
Here we are at "two and two" as TV host Chuck Woolery likes to say (he meant "we'll be back in two minutes, two seconds"). This imposing-looking brick building at #34 2nd Avenue and East 2nd Street with the large arched windows, now the Anthology Film Archives, was actually built as a courthouse in 1917. From the Landmarks Preservation Commission's East Village-Lower East Side report:
Notable History and Residents: Originally conceived in 1913 as a 14-story "skyscraper type" structure to replace the Municipal Court building on Madison Street, the Ludlow Street jail, and the much-maligned Essex Market Courthouse and district prison. The plans were significantly scaled back in Hopkin's 1917 redesign, which resulted in the existing 3-story structure. After 1948 the building was known as the Lower Manhattan Magistrate's Courthouse; it was acquired in 1979 by Anthology Film Archives and converted to a motion picture theater during alterations designed by Raimund Abraham and Kevin Bone.
If you look at the Landmarks map, the East Village landmarked district sprawls between East 2nd and St. Mark's Place along 2nd Avenue, never quite reaching the Bowery/3rd Avenue on the west and 1st Avenue on the east.
The current Nord Anglia International School, #44 East 2nd Street, is the former La Salle Academy, a Roman Catholic school for boys established in 1848 at the request of then-Diocesan leader Archbishop "Dagger" John Hughes; it constructed this building on East 2nd in 1966, but is now located a few blocks uptown at #215 East 6th Street.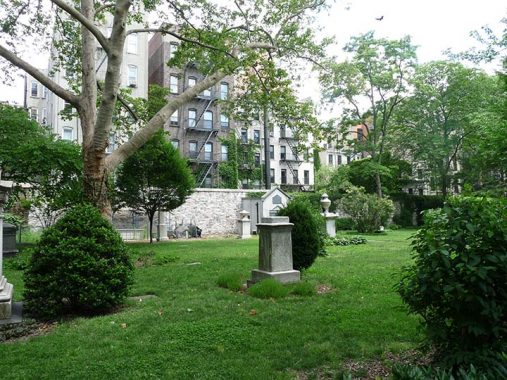 Along the north side of East 2nd Street between 1st and 2nd Avenue, you encounter the New York City Marble Cemetery. NYCMC was founded in 1831 by a consortium consisting of wealthy New Yorkers Evert Bancker, Samuel Whittemore, Garret Storm, Henry Booraem and Thomas A. Emmet, without mentioning Nichols' name. Land was purchased from a Samuel Cowdrey.
This cemetery in the past was the final  resting place of President James Monroe from his death in 1831 until  1858, when the State of Virginia requested his remains be reburied in Richmond. The cemetery can claim three NYC mayors, Marinus Willett (from 1807-1808), Isaac Varian (1849-1851) and Stephen Allen.. NYC Public Library founder James Lenox (of Lenox Avenue fame); John Lloyd Stephens, archeologist and Mayan expert; James Henry Roosevelt, founder of Roosevelt Hospital; and several other Roosevelt family members, are buried in NYCMC. Interments also include Preserved Fish (1766-1846), a prominent shipping merchant and a member of the prominent political Fish family in New York.
The NYCMC is located a half block east of the New York Marble Cemetery, entered from a gate on 2nd avenue between East 2nd and 3rd Streets. I cover both more thoroughly on this FNY page.
The NYCMC is also under the baleful glance of #67 East 2nd (the 6-story walkup in the center) where, NY Songlines' Jim Naureckas reports, domestic terrorist Sam Melville made his hideout in 1969 after bombing the US Draft Induction Center on Whitehall Street, Criminal Courts Building at 100 Centre Street, the RCA Building, the General Motors Building and the Chase Manhattan Bank and other places, all without killing anyone, not for lack of trying. He was sent to upstate Attica and died in the prison riots there in September 1971, which he helped instigate.
If you check the map, #78 and 80 East 2nd Street are located in an unusual spot: in a small indent that is not part of the cemetery. So presumably, their back windows overlook the graves. The brick Greek Revival houses were built in 1837 with extensions in 1880 and 1887.
There's quite a bit going on at the NW corner of East 2nd Street and 1st Avenue that caught my eye. There are 3 separate wall murals, ads for a spa, and another ad for a hard seltzer featuring singer Dua Lipa.
In Forgotten New York, I've been paying more and more attention to sidewalk signs advertising businesses. Here's one for a laundry with large plastic letters in both the Optima and Futura Extrabold fonts that seems a bit worse for the wear.
2 doors down is another plastic-lettered sign, again with the second line in Futura Extrabold. As a rule, the red-green-white combo is used for Italian restaurants. Is there such a thing as Italian-Chinese fusion cuisine? Another question: I see "double dragon" used frequently in Chinese restaurant names. Are two headed dragons used frequently in iconography? Comments are open.
Note that this isn't 371st Avenue… it's #37 1st Avenue.
Philip Gringer established a small storefront hardware store at #29 1st Avenue, between East 1st and 2nd Streets, in 1918. The store was a success, and now the floor space now occupies much of the block, including the corner building. However, its spectacular neon sign, in red and gold with the old General Electric logo flanking either side in blue, first appeared in 1953, according to the late Christopher Grey of the Times (the article generously references this website).
The sign was designed by Charles Karsch, a Russian immigrant who started his career as a sign painter in 1903. Among his other designs are neon for the White Horse Tavern, Hudson and West 11th Streets, and the fantastical P&G Cafe sign at West 73rd Street and Amsterdam Avenue. Sadly that sign, along with the cafe, has been gone for over a decade. This and many other great neon signs can be seen at that link.
This is a great area for prime neon. Nearby on East Houston Street are neon signs on the Russ & Daughters deli, and Katz's Deli.
Do you still marvel that we can see moving pictures transmitted through thin air, and did you marvel for a long time when those black and white moving pictures turned color? I still do.
The building Gringer is in, #29 1st Avenue, falls just outside the East Village LPC protected district, but it's got some architectural detail that would seem to make it landmark-worthy, especially the digraph "CH & Co." at the roofline. Was it a department store?
Sign at #111 East 2nd Street protesting a high rise that would overshadow Meltzer Park, a small park a block to the south on East 1st Street, east of 1st Avenue.
The Catholic vibe is strong on East 2nd between 1st Avenue and Avenue A, though there's no church on the block. #135 was constructed in 1867 or 1904, depending on the source, and the Gothic Revival design reveals it as the former rectory of St. Nicholas R.C. Church, whcih stood next door until 1959. The church was a high-steepled Gothic affair in its own right.
Francis Cardinal Spellman (1889-1967), was a controversial prelate who made the cover of Time magazine and was Archbishop of New York from 1939 to his death. Spellman was a close advisor to Franklin D. Roosevelt and was an ardent anti-Communist throughout his career, breaking a gravediggers' strike at Queens' Calvary Cemetery by installing seminarians in their place; he also supported Richard Nixon over a Catholic, John F. Kennedy, in the 1960 Presidential election, citing Kennedy's opposition to federal aid for Catholic parochial schools, and was an ardent supporter of the war in Vietnam. In a book review, the NY Times called Spellman "guileless and Machiavellian."
The Spellman Center, #137 East 2nd, is associated with Catholic Charities.
Berlin, a bar at #25 Avenue A on the SW corner of East 2nd, has kept the much older gold leaf signs that a clothing store had placed there.
Some colorful street art, East 2nd Street east of Avenue A.
The unusually named FDR Pizza, East 2nd east of Avenue A. Named for the president, or the drive?
I knew there was an interesting story behind Dr. David Ores' practice at #189 East 2nd Street. A neon sign in the window shows a motorcyclist with a Red Cross symbol on his leather jacket; photos show him with a skull and wearing a cowboy hat. He is a general practitioner and you can see him for medical complaints, but he has gained fame in the East Village because he runs a tattoo removal service for ex cons trying to obtain jobs.
Dr. Dave Ores has eleven different women tattooed across his body. One is an ex-girlfriend; the other ten are fictional. There's Sheena, Queen of the Jungle, clad in her iconic leopard-skin leotard. The rest are bondage fairies from a variety of his favorite comic books. Both his arms are sleeved from wrist to shoulder. "M.D.," written in large, black gothic letters, is scrawled across his back.
We're inside his office on New York's Lower East Side, just steps away from Katz's Deli. "Thriller" is blaring from a speaker. Skulls, framed insects, and glass bongs adorn the walls—and one is covered in newspaper clippings about his career: The clean-shaven, buttoned-up doctor on the wall looks nothing like the bearded man sitting in front of me.
Ores, a general practitioner by trade, is in the business of removing tattoos for ex-cons looking for gainful employment. His program, "Fresh Start," is built on a unique idea that promises free tattoo removal for those hoping to turn their lives around. [GQ]
At Hope Garden, 193 East 2nd, there's a handy map of the East Village community gardens, which were established after apartment building teardowns over the last few decades. Most are managed by local groups under the wing of NYC Parks.
A trio of beauties on East 2nd east of Avenue B: Henington Hall (#214) and at #230 and 232.
Here's a look at #218-220 East 2nd in 1940. Note the Type F lamppost, standard issue on Manhattan side streets in the early 20th Century. This one has a new Gumball fixture in 1940, which replaced white-glassed Acorn luminaires around that time. Presently, a firehouse, Engine 28/Ladder 11, stands on this site today.
Murray Itzkowitz House at #234 East 2nd, a mental health treatment center, was likely named for this Murray Itzkowitz.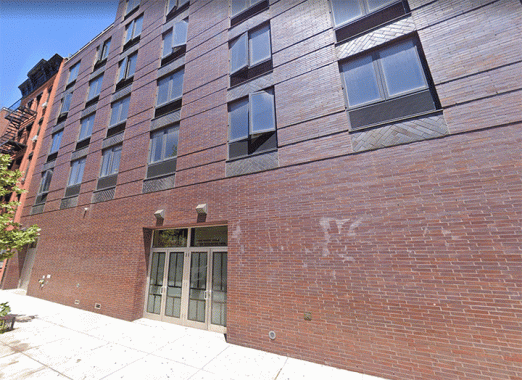 It doesn't look like a house of worship, but the East Side Tabernacle, #254 East 2nd Streeet, sits on the site of The World, a famed rock club/disco that hosted the early careers of Sinéad O'Connor and the Sugarcubes (with Bjork). The Talking Heads' video for their top ten "Burning Down The House" hit was shot in the interior.
The owners of #239 East 2nd have gone all out, painting the original entrance and address escutcheon in green and gold.
Here at #251 East 2nd is what happens when a too-tall truck bends back a lamppost mast.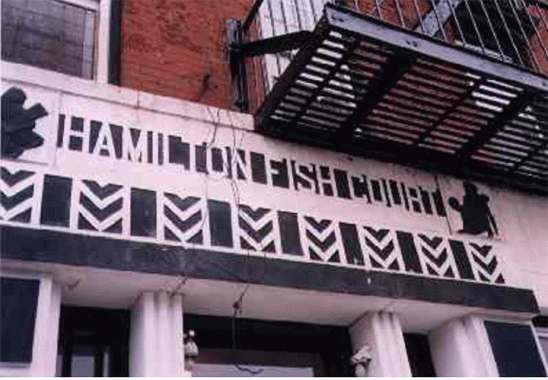 When I was first aware, in 1999, of this apartment house at #286 East 2nd Street, just before it melts into East Houston Street, I was amused by its name, Hamilton Fish Court. What's a fish court? Of course, I knew it was named for Hamilton Fish, a scion of the New York State political Fish family (and a relative of Preserved Fish; see above. Fish served as a member of the U.S. House of Representatives (1843-45), as the governor of New York State (1849-51), and as a U.S. senator (1851-57). He is most noted for his service as secretary of state (1869-77) under President Ulysses S. Grant.
Unfortunately the name over the door is vastly less defined than it was when I first saw it back then, and is less visible. What is the bare breasted lady holding? A wheatsheaf, maybe?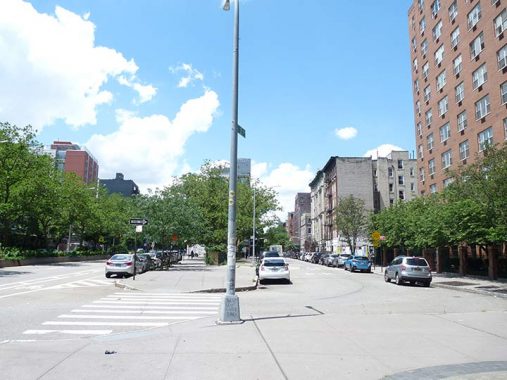 East 2nd used to merge into East Houston at a gradual angle, but traffic engineers created a dipsy doo that allows traffic traveling east on East Houston to more easily turn right onto East 2nd. However, this makes East 2nd Street addresses look as if they're on East Houston when they aren't.
As always, "comment…as you see fit." I earn a small payment when you click on any ad on the site.
9/5/21