In the late winters and springs of 2021-2022 I found I was walking through Soho and its bordering neighborhoods, Chinatown and the Lower East Side. Already, I have assembled pages for Prince Street and Spring Street; today's subject is Grand Street, and Broome and Delancey may follow.
Photos in batch: 109
Date: May 15, 2022
Today, usage of the words grand and great to refer to size is deemphasized, but when a number of NYC locations was established, that wasn't the case, as seen by names such as Great Jones Street (which is wider than nearby streets) and Great Kills. Today, great and grand refer more to value, though we hold onto terms like "great big" and the adverb greatly. Derivations of Manhattan's Grand Street differ (Sanna Fierstein in Naming New York says it was laid out as a grand boulevard leading to the 19th Century's planned Delancey Square) but the term likely refers to its width, which was considerable for the 19th Century, especially in its eastern stretch.
All five boroughs have one or more streets named "Grand" and in most cases they are of exceptional length (though not in Staten Island); Grand Street in Brooklyn and Grand Avenue in Queens are a continuous road and, as part of Broadway and 30th Avenue (originally called Grand Avenue) can be said to go all the way to Astoria. The most obvious example is the Grand Concourse in the Bronx, which is overdue for a revisit with the FNY camera.
In Part 1, I strided Grand Street through Soho as far as the former Police HQ on Centre Street. East of there, Grand Street crosses Little Italy and Chinatown, in the 19th and 20th Centuries traditional bastions of Italian and Chinese immigration.
Once extending from Lafayette Street east to the Bowery and from Worth Street north to Houston, Little Italy once was 90% composed of immigrants from Italy and these immigrants composed many of the workers in NYC's garment industry in the late 19th and early 20th Century. After restrictions on immigration from Asia were loosened in 1965, Chinatown gradually began to replace many parts of Little Italy as the sons and daughters of Italian immigrants branched out and made places like Belmont in the Bronx, Bensonhurst in Brooklyn and many areas of Staten Island their strongholds before moving further outside of NYC. While many Italians and descendants have left their old neighborhoods, Italian cuisine has stayed as a powerful lure to both Little Italy in Manhattan and Arthur Avenue in Belmont. In Manhattan, Little Italy's calling card is the Feast of San Gennaro, which takes place at the conclusion of each summer.
From a Forgotten NY standpoint, both Little Italy and Chinatown are very well-known and cannot be called "forgotten" in any sense. But I cover infrastructure, as well, and have always admired the signage.
I do wish I knew more about #176-180 Grand Street east of Centre Market Place. (The "centre market" itself was in the early to mid 19th Century at Centre and Grand Streets.) It was built in 1901 and its arched second floor windows imparted importance of some sort. Grand runs east of any Landmarked District east of Centre, but does hold some landmarked buildings.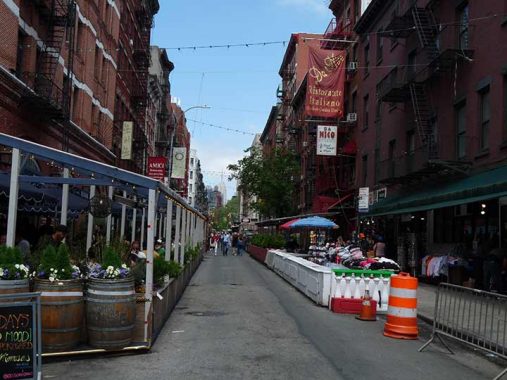 Though this will change as we continue east, Grand Street is hardly "grand," in the sense of "wide," in Little Italy as in many cases the street has been considerably narrowed by gutter dining sheds. Additionally, unseen at right is a green-stripe bicycle lane, which poses a problem for waiters and restaurant personnel who have to bustle in and out of the sheds.
I have said I like the Little Italy signage and the reason is that a great deal of it is old-school plastic lettering that has been there for decades. Some, not all, Italian goods and restaurant signage is in the tricolor seen on the Italian flag, red, green and white. Ferrara, established in 1892 and seen here in a considerably altered building in 1940, still boasts a vertical neon sign. (A certain webmaster wishes he could have more cannoli and cookies than current blood sugar levels dictate). Many of these shops have mosaic floor entrance signs I wasn't looking for.
When Jeremiah Moss wrote about E. Rossi's Italian Shop in 2011, it had lost its lease from #185-189 Grand Street, its closure was imminent, but it has since found new quarters at #193 Grand. It originally opened in 1910 as Rossi's Libreria, a music store and publishing company, but has been Little Italy's largest souvenir shop for several decades.
The Grand Mulberry, a new super expensive condominium building, opened in 2021. It does attempt to fit in with its surroundings, with brownstone exteriors. It houses the Italian-American Museum, established in 2001 to "preserve, promote and celebrate the culture and history of Italian Americans, serving as living record of their contributions to America and a bridge between the remarkable past and the evolving future of the community."
The Piemonte is houses in #190–192 Grand Street, a pair of dormered Federal-style townhouses that were built in 1833 and under NYC Landmarks protection as far as their external appearance goes.
Brush up your Italian at DiPalo's cheese shop at #200 Grand at Mott Street with "typical regional products of Italian gastronomy."
A McKim, Mead and White masterwork, the Bowery Savings Bank, rose from 1892-1894 on the Bowery at Grand, extending back to Elizabeth Street, when the Bowery was a theater district and the center of the NYC entertainment scene, and was still respectable — it didn't descend into despair until the 1910s. This bank set the template for the Roman Classical Style revivals for subsequent bank buildings. Bowery Bank had stood in this location since 1834: this was the third building. The interior featured marble mosaic floors, yellow marble tellers' counters, and cast-iron skylights and stairs. Thankfully the building has been saved and is now the Capitale nightclub. It wraps around to #130 Bowery.
After some mergers, the Bowery is now Capital One. Joe DiMaggio was the bank's TV spokesman for many years.
The sculpted pediments, depicting bare-breasted women petting lions, were designed by Frederic MacMonnies, later famed for his Civic Virtue statue that has gone from City Hall Park to Queens Borough Hall to Brooklyn's Green-Wood Cemetery.
The Bowery Bank of New York at #124 Bowery and #230 Grand, was always separate from the Bowery Savings Bank but was nonetheless built next to it by architects York & Sawyer in 1902. It too is a Landmarked structure.
Once east of the Bowery, Grand street has a relatively short run through Chinatown; while there I enjoy checking all the food markets with produce occupying much of the sidewalks and plastic lettered signs, especially the ones in red and yellow.
After the narrow stretch through Soho, Grand Street gains some width at Chrystie Street/Sara Roosevelt Park and becomes two-way, with room for parking and the bicycle lane.
Martin Albert Custom Interiors is actually still in business, but no longer at #288 Grand Street at Eldridge–it is now located at #259 West 39th between 7th and 8th Avenues.
My bet is that these two minuscule Federal dormered at #298-300 Grand, west of Allen, are just as old as #190-192 Grand a few blocks west, and that means early 1830s. This pair is not Landmarks protected, likely due to altering over the years.
Allen Street sports a green median and runs between Division Street and Houston Street for eight long blocks. Its name honors William Henry Allen, a commander killed in the War of 1812.
During the peak of Jewish immigration to this country, 1882 to 1924, Allen Street was only fifty feet in width and shrouded in darkness beneath the Second Avenue Elevated line. In the shadow of the tracks young mobsters began their careers and prostitutes plied their trade. On these blocks missionaries tried to convert the newcomers and a synagogue served as the stage for future opera stars. This diverse streetscape came to an end between 1927 and 1931 in the name of urban renewal, to give more open space to this dense neighborhood.
Allen Street was widened to 138 feet and in 1942 the train tracks were removed, but it would take many decades before this street would look like a respectable boulevard as was intended by city planners. Because it connects to First Avenue, it carries a lot of vehicles which discourages foot traffic. More from Sergey Kadinsky's Allen Street story.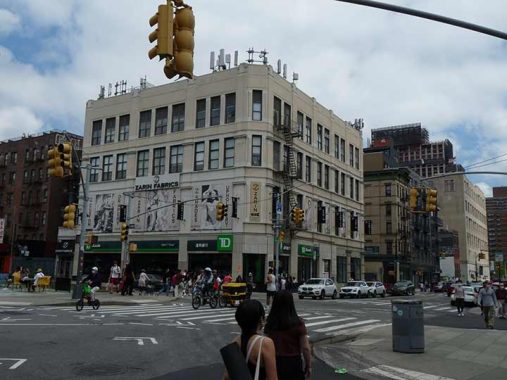 Grand Street changes its masks frequently. After running through the newly Yuppied Soho, Little Italy and Chinatown, yet another mask is needed east of Allen as Grand Street enters the Lower East Side, which still possesses a heavily Jewish and Eastern European flavor.
On the northeast corner of Allen and Grand stands a utilitarian, brick and stone building designed by Henry J. Hardenbergh, one of New York's most celebrated architects. Hardenbergh is famed for the Plaza Hotel and the Dakota Apartments, as well as the Western Union Building on 5th Avenue and 23rd Street.
It was built as a 3-story warehouse in 1890 but was also employed for stores on the ground floor and a music hall and "moving picture" hall on the upper floors. Harry Zarin Fabrics has been here since 1936; descendant Bobby Zarin passed away in 2018, while his wife Jill Zarin was featured on the Real Housewives of New York TV series.
Lower East Side
The Lower East Side of Manhattan, roughly defined by East Houston Street on the north, the East River on the east and south, and by the Manhattan Bridge and the Bowery on the west, is known in story and song as a teeming, bustling magnet for immigrants in the 19th and 20th Centuries. In the 17th and early 18th centuries, it was primarily countryside and farmland; it attracted ship captains and wealthy landowners such as Rutgers and Delancey, whose names still are prominent on local street signs. George Washington had a mansion at #3 Cherry Street, in a site now serving as an anchorage for the Brooklyn Bridge. In subsequent decades came immigrants: first the Irish, escaping the potato famine of the 1840s and British repression in the 1860s, then the Germans in such numbers that the area became known as Kleindeutschland ("little Germany"), and later Eastern Europeans, many of them Jewish, escaping persecution in their homelands. New populations of Latinos and Chinese have arrived in subsequent decades.
The tenement, as in other parts of New York City, was the dominant form of housing with hundreds of people occupying rooms in the same building. Crowding, freezing cold in winter, and stifling heat in summer were the norm. Reform came only slowly, with the construction of major housing projects in the mid-20th Century.
For a deep Lower East Side dive, see FNY's Streets of the Lower East Side series.
On the southwest corner of Grand and Orchard stands this former dry-goods emporium, E.S. Ridley, constructed about 1870, whose owners cover it in light pink paint.
This building at #324 Grand went up in 2014, but acquired this strange exterior in 2017.
The head-to-toe mural is the handiwork of street artist Cryptik, who has been sky high imparting his freestyle calligraphy to the masonry. In his own words, the Southern California-based artist focuses on "Eastern philosophical thought and mantras [that] hypnotically merge with the black letter bombing of cholo writing." [Bowery Boogie]
That lengthened Bell reflector globe on the Bishop Crook stoplight, installed in the 1990s, is one of the last remaining in NYC.
Looking south from Grand, the newly restored tempietto of Jarmulovsky's Bank on Orchard and Canal comes into view.
Unless it's touched up, this painted sign may not have too long a "run" left. This underwear wholesaler/retailer at #339 Grand Street and Ludlow not only has its 1940s painted sidewalk sign still intact, albeit peeling just a bit by now, but the building in which it is situated was first built in 1832 as a private residence.
Over the years #339 Grand has functioned as the home of the Hebrew Benevolent Orphan Asylum Society of NYC, a kitchenware and stove store, the J. Freund mattress store, and since the 1930s, socks, stockings and underwear. It was once part of a concentration of such outlets in the LES, especially on Orchard Street, that have disappeared one by one.
Ideal has lost its sign on the Ludlow Street side of the building but its weathered, battered Grand Street sign seems ready to go the distance, however long the distance may be.
#341 Grand Street at Ludlow has looked pretty much like this as far back as Street View goes, 2007. That's a long time to sit on a property.
Who says Soho has all the castiron buildings? #345 Grand, between Ludlow and Essex, also has a castiron exterior. It is the former home of H. Perlman Piano.
#349 Grand was rather less forlorn-looking in 1940 when it was home to Sun-Ray Yarn.
Grand Street becomes truly wide east of Essex Street, when it runs through several LES housing projects including the Seward Park Houses seen here. It connects directly with the Franklin Roosevelt Drive and my suspicion is it was widened when the houses and the FDR were built in mid-20th Century. In the 19th Century, the east end of Grand Street was the location of a ferry to Brooklyn and so may have been heavily trafficked before that. A look at the Municipal Archives shows what Grand street looked like before the Houses were built.
St. Mary's Roman Catholic Church at Grand and Ridge Streets was organized in 1826 as the third Catholic church in NYC, following St. Peter's on Barclay Street (founded 1785) and Old St.Patrick's on Mott Street (1815). The first St. Mary's, a frame house on the vanished Sheriff Street, was destroyed by anti-Catholic arsonists in 1831, and this large brick church was constructed to replace it in 1833. Every building surrounding it has been torn down to make way for multifamily housing, and even Ridge Street, which used to intersect here, survives only as a pedestrian crossing.
In the 1830s there were just 6 priests and one Catholic bishop in the city. However the ensuing decades found thousands of Irish and German immigrants arriving, many of whom were Catholics. However, the Catholic population dipped again around 1900 as German and Eastern European Jews arrived in the area. The ebb and flow continued after World War II as Puerto Ricans, again heavily Catholic, moved into the neighborhood. Today much of St. Mary's ministry consists of Mexican, Ecuadorian, Peruvian, and other Spanish speaking immigrants. In addition, services in Mandarin are conducted as well.
In 1893 Lillian Wald started the Visiting Nurse Service with philanthropist Jacob Schiff, an institution that is still going strong today. Wald also started the Henry Street Settlement, an organization bringing a wide range of arts and social services to its community. The Settlement has grown in its over-100 year history to encompass 18 buildings — and it continues to expand. Oddly, both Lillian Wald and Jacob Schiff had NYC thoroughfares named for them, but both have fallen into disuse: Lillian Wald Drive had been East Houston Street between Avenue D and the FDR Drive, while the middle lane of Delancey Street between Bowery and The Williamsburg Bridge had been known as Schiff Parkway.
The Abrons Arts Center is the performing and visual arts program of Henry Street Settlement. The Abrons supports the presentation of innovative, multi-disciplinary work; cultivates artists in all stages of their creative development through educational programs, commissions, and residencies; and serves as an intersection of cultural engagement for local, national, and international audiences and arts-workers.
Some of the most adventurous artists of the past century have trained, taught, or performed at Henry Street, including John Cage, Aaron Copland, Dizzy Gillespie, Martha Graham, Alicia Keyes, Alwin Nikolais, Jackson Pollock, Denzel Washington, and Orson Welles. Recent artists to appear on the Abrons' stages include Laurie Anderson, Joey Arias, Justin Vivian Bond, Philippe Petit, Rufus Wainwright, and John Zorn.
Unfortunately hidden behind scaffolding in early 2022 was the Grand Street Mikvah.
This striking Beaux Arts-style building, with contrasting red brick and white stone trim, was built as a community center in 1904. The 5 story building contained a library, gym, club rooms, bowling alley and an assembly hall that held 125 people, and an apartment for the janitor's family on the top floor. In 1919 the building was acquired by the Toynbee House, which was an organization dedicated to aiding poor immigrants with educational, recreational and social services. The ATH above the front door was carved with the organization's initials.
In 1941 the building was converted by the Jewish Association of Family Purity to a mikvah, or a bathhouse for ritual purification according to Orthodox Jewish requirements. It was again renovated in 1966 to meet the latest requirements and to provide updated plumbing. Men use the mikvah in the morning and women in the evening. In the basement, 6 concrete cisterns, each with a 1000 gallon capacity, supply water for the tubs of lukewarm rainwater used for total immersion.
This is the only mikvah remaining on the Lower East Side, though several still operate in Brooklyn.
My new low-carb diet kept me from entering Moishe's Bakery across the street for a linzer tart, but don't let me stop you.
This pair of Federal Style houses t #511 and 513, between East Broadway and Columbia Street, with peaked roofs and pedimented dormers, was constructed in 1828 by James Lent and his nephew Henry Barclay. Both buildings were altered to meet the needs of a succession of mainly commercial tenants during the 19th Century.
That's a lot of street signs. The Amalgamated Houses on Van Cortlandt Park South and Hillman Avenue in the Bronx was the first union-sponsored housing cooperative in the United States, sponsored by the Amalgamated Clothing Workers Union under the leadership of Sidney Hillman (for whom Norman Avenue was renamed in 1950) and created by Abraham E. Kazan, "the founder of cooperative housing in the USA." The first buildings between Sedgwick Avenue and Van Cortlandt Park South went under construction in 1927 and the latest additions were completed in 1970.
Meanwhile, Rheba Liebowitz was a community activist who died in 1983, and her sign was installed in 1986.
Grand Street, here a good five lanes wide counting bicycles, continues east to the FDR Drive.
As always, "comment…as you see fit." I earn a small payment when you click on any ad on the site.
6/26/22