From May to December 2019 I had a high-paying (by my standards) but perplexing job at a Very Small Design Firm a couple of blocks from Columbus Circle. I was brought in, along with three other freelancing editors, to look over some slides for a group of presentations advertising Nuveen financial products (the name sounds like a facial cream, but it's a large business founded by John Nuveen in the 1890s; large signs with the Nuveen logo could be seen at ballparks like Wrigley Field).
Anyway, word was, it would only be for a few weeks, but I did so well that I was kept on for the duration of the project. I was initially told I would be out at the end of August, but I was called back pretty much on a week to week basis until December 31, and missed just a week here and there in September and October. During those weeks, I took advantage of the year's remaining warm weather and went on some midweek rambles, among them Corona to Astoria.
Various bits of this walk have been described on previous FNY pages, but I'll do the whole magillah here (I may divide it into two parts).
Though the Queens County Savings Bank's flagship building in Kew Gardens Hills, seen on this FNY entry from 2008, was built to resemble Independence Hall in Philadelphia, there's also formidable QCSB branch buildings in Little Neck and here in Corona, on 103rd Street and 39th Avenue. It's dominated by an immense illuminated billboard that lights up yellow at night, easily seen from the 103rd Street #7 train elevated platform — the station I used to get here.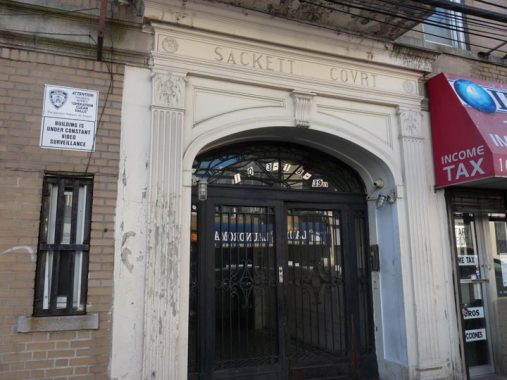 You can discern what former street names are (before they were numbered) by apartment building names, such as Sackett Court, which I wrote about on this FNY page.
The Emanuel Lutheran Evangelical Church at 104th Street and 37th Drive, sorry to say, looked to me to be abandoned, without any identifying signage whatever and no signs of life; admittedly I was here during the week. The stone indicates it was built in 1902. It served, or serves, Hispanic and Korean congregations.
The sign in Spanish tells people not to throw their trash there.
The tall-spired red-bricked Our Lady of Sorrows Church dominates the corner of 37th Avenue and 104th Street. Our Lady of Sorrows was the first Roman Catholic Church to minister to Corona. It opened in 1872; the original wooden structure was replaced with this present church in 1900, with its cornrstone laid in 1899.
37th Avenue is an old road, one of the first to be laid out through eastern Newtown. Its western end is still called Elmhurst Avenue, while the east end was Flushing Turnpike before the streets were numbered. It can be seen on this 1909 map excerpt.
I like a red-painted door, like the one at 35-05 102nd Street, known at one time as Kensington House according to the gold leaf letters on the transom.
If you look closely at the roofline under the pediment on a handsome yellow brick building on the north side of 32nd Avenue between 102nd and 103rd Streets you'll see it says "1910, Louona Engine 8, N.F.D."
This much I know: a section of East Elmhurst used be called Louona Park in the early 20th Century and for awhile National Street, which runs across the grid between Roosevelt and Corona Avenues, was called Louona Avenue. Anyone know the origins of this unusual moniker? It's a rarely-used feminine name, but that's all I got.
The fire company was established in 1910, according to Jason Antos and Constantine E. Theodosiou's Corona: The Early Years and was housed in this brick building by 1920. Today it is home to residences, a storefront church and a deli and little of its firehouse past is visible, except for the roofline inscription.
I would imagine that N.F.D. stands for Newtown Fire Department. Local FDs became a part of the FDNY after the 5-borough consolidation in 1898.
Further proof of the building's firehouse past can be seen beneath the "mini market" awning: the letters FD.
Leverich Memorial Church, 32nd Avenue at 103rd Street, was constructed in 1908 according to its cornerstone. The Leverich family formerly owned a lot of real estate in Jackson Heights, Corona and East Elmhurst before it was developed and gridded. William Leverich emigrated to Newtown in 1663 from England and the burial grounds were once part of the settlement belonging to his son Caleb. He built his homestead in 1670 and it stood until 1909.
The family's ancient burial grounds are still extant further west in Jackson Heights; I recorded photos and placed them on this FNY page as part of a previous area walk.
There are some Barcelona Sporting Club (soccer) fans in East Elmhurst. The team is not based in Spain, as you might think, but in Guyaquil, Ecuador. The club's founder in 1925, Eutimio Pérez, was a Spanish immigrant from Barcelona. Though the BSC soccer team is famed, the club also fields teams in other sports such as basketball and baseball.
A Forgotten NY favorite, Jackson Mill Road, open to traffic only between 24th Avenue and 94th Street, actually traces the route of an old trolley line, along with a longer section several blocks south. I have the full story on this FNY page.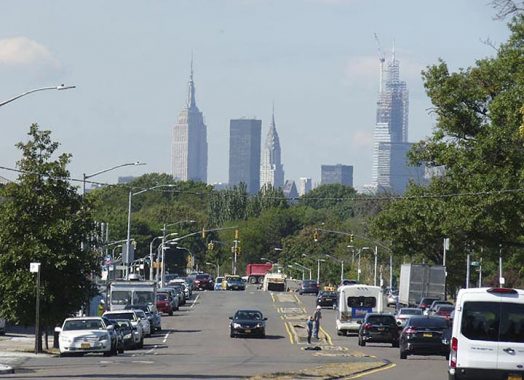 Because LaGuardia Airport is nearby, 23rd Avenue, here at 98th Street, has a decent unobstructed view of Midtown Manhattan looking west. Here, the King of All Buildings and the Chrysler Building need no introduction; between them, we see the black monolithic 2001: A Space Odyssey-esque Trump World Tower, at 1st Avenue and 47th Street near the United Nations, completed in 2001. For two years, it was the tallest residential building in the world. Bill Gates, Harrison Ford, Sophia Loren and Derek Jeter have all owned apartments in the building.
At right is One Vanderbilt, a "supertall" building under construction alongside Grand Central Terminal. Its height dwarfs the Trump tower and rivals the Empire State.
Vaughn College, 23rd Avenue and 90th Street just south of Grand Central Parkway and LGA.
Vaughn College of Aeronautics and Technology, 23rd Avenue and 86th Street, began in 1932 [in Newark, NJ] when Charles S. "Casey" Jones, a pioneer aviator and aviation company executive, foresaw the need for highly trained technicians to design, build and service aircraft and engines. George A. Vaughn, Jr. and Lee D. Warrender joined with Casey Jones in founding the Casey Jones School of Aeronautics, the predecessor of the Academy of Aeronautics, and as of September 1986, the College of Aeronautics. [vaughn.edu]
I miss the vintage planes Vaughn used to display along 23rd avenue. Where did they go?
Cleverly named Planeview Park is named, of course, for nearby LGA.
LaGuardia Airport was constructed in 1929 as Glenn Curtiss Field, and later, North Beach Airport, replacing a former North Beach amusement area called the Gala Amusement Park, opened in 1889 by piano master William Steinway and beer baron George Ehret; it fell flat when Prohibition was enacted in 1920. The North Beach area and park were served by the Brooklyn City Railroad, which operated a trolley line along Old Bowery Bay Road, once one of the only thoroughfares in eastern Jackson Heights and East Elmhurst. The line survived into the 1930s and served the airport for a time.
North Beach Airport was expanded for full commercial traffic in 1937 after Mayor Fiorello LaGuardia took a commercial flight to NYC only to land at Newark Airport. Indignant, he demanded to be taken to NYC on board the aircraft, which took off once again and landed at Floyd Bennett Field on Jamaica Bay, the only airfield with runways long enough to accommodate a commercial flight in those days. The new airport needed to be built on landfill supported on a metal frame that still interferes a little with the compasses on board planes that are taking off; pilots have to compensate for it. North Beach Airport was expanded from 550 acres to over 800 and was opened October 15, 1939 as The NY Municipal Airport. At the time, Time Magazine called it "the most pretentious land and seaplane base in the world." (In 1939, pretentious was a compliment.) The country's five major airlines in 1939, Pan American Airways, American, United, Eastern Air Lines and Transcontinental & Western Air (TWA) were original tenants.
There have been only 4 plane crashes on takeoff or landing from LaGuardia over the years. On January 15, 2009, US Airways Flight 1549 to Charlotte, NC suffered total engine failure after being struck by a flock of geese at 3000 feet. Captain Chesley Sullenberger and crew safely managed a water landing in the Hudson River with no casualties and only minor injuries.
LGA has been amidst a massive reconstruction project in recent years.
As most Forgotten NY fans know, I'm fascinated with lampposts especially the "dwarf" subgenre. Here on 23rd Avenue we see Dwarf versions of most modern species: Deskeys, cobra necks, straight masts, davits. Dwarf posts are usually deployed under elevated trains and around airports, as a way of differentiating them from runway lights.
Manufacturer Valmont is stamped on some of the bases.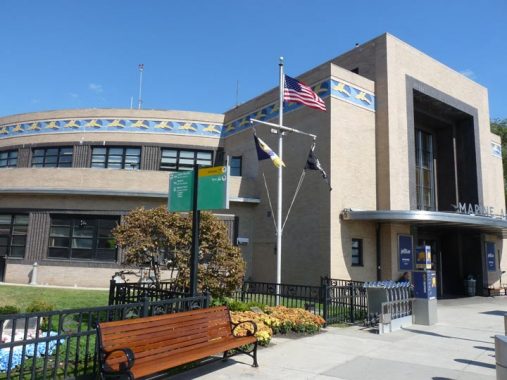 I tuned right on 82nd Street at Ditmars Boulevard and made my way into LGA to get a look at the Art Deco classic Marine Air Terminal, and for lunch in the cafeteria. Disappointingly the cafeteria is closed (hopefully not permanently) but thankfully the well-preserved building and its murals are still there, as I showed on this FNY page.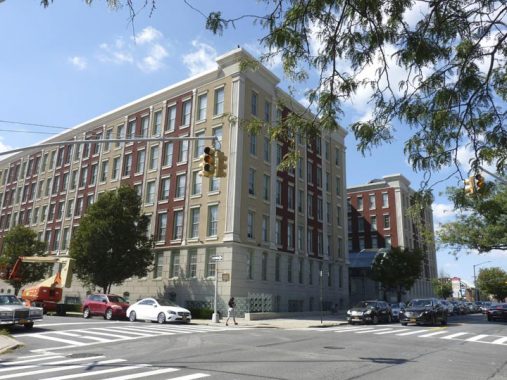 After leaving the Marine Air Terminal I resisted having lunch at the Airline Diner at Astoria Boulevard and 70th Street, waiting for when I had company, and then went up Ditmars Boulevard, which turns northwest along with the overall street grid at Hazen Street, the only street located in both Queens and the Bronx (it continues over the Rikers Island Bridge to the island, which is legally located in the Bronx. I hope to never cross it until the jail is closed).
At 45th Street, we find Pistilli Manor, which was once a forbidding-looking building indeed when I first moved to Queens, when it was a warehouse and adjunct factory associated with Steinway Pianos, whose main plant remains in Astoria few blocks to the northwest. Joseph Pistilli also converted an Eagle Electric factory next to Astoria Park to apartments, with predictable leaking results.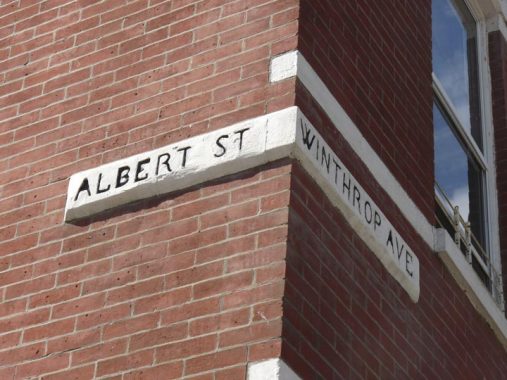 Though it was Henry Steinway Senior (né Steinweg) who founded the piano manufacturer and immigrated to NYC in 1853 it was his son William who set up operations in Astoria and developed a small town around the factory that included workers' housing, a place of worship, and even a streetcar line in northwest Queens. William purchased a pre-existing mansion on 41st Street between 19th Street and Berrian Boulevard previously owned by a manufacturer of eye examining equipment that still stands today, having been owned primarily by the Steinway and Halberian families for over 150 years. Today, the mansion is surrounded by warehousing and light industry. The Steinway family also owns the largest mausoleum in Green-Wood Cemetery in Brooklyn.
Along 42nd Street between 20th and 21st Avenues and also along 20th Avenue are well-kept, brick attached houses rented by workers at the factory though they were also available to rent by others from the beginning. On the corners are signs indicating their old names, Albert and Theodore, songs of Henry Steinway Senior.
Also scatted on 41st and 42nd Streets along 20th Road (a colonial-era road formerly called Bowery Bay Road) are more substantial houses that used to be occupied by Steinway Piano managers and higher-ups.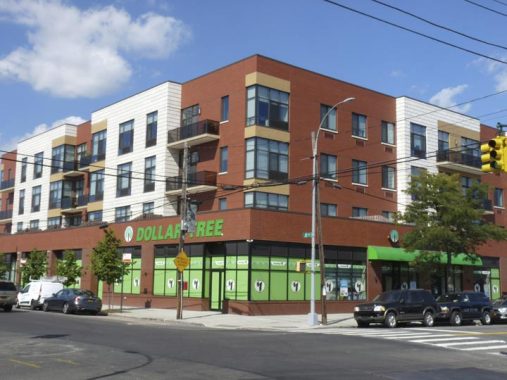 This combination residential-commercial building at Steinway Street and 20th Avenue is the location of the old Steinway streetcar depot. The rail line was named the New York and Queens Railroad Company and it had extensive trackage all over northwest Queens. In the 1890s Steinway built a tunnel to Manhattan to accommodate trolley cars that remained unused until the 1910s when it was converted to use by Interborough Rapid Transit — the present #7 train.
One of the Steinway depots still stands at Northern Boulevard and Woodside Avenue: it now houses a Pizza Hut franchise.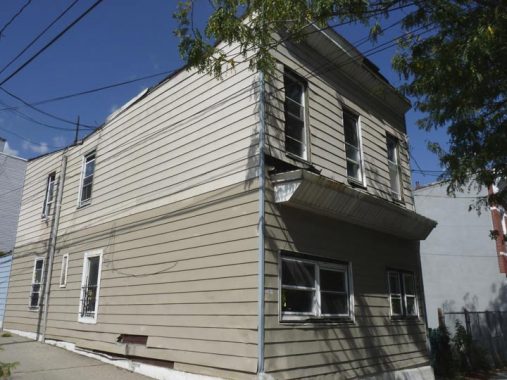 This modest two-story building at Steinway Street and 20th Road once hosted the Steinway Village post office.
A pair of unusual apartment building names on 38th Street off 21st Avenue. Neither are former names of 38th Street. "Isabell" may be a woman related to the developer while "Fosar" may be a portmanteau word (a combination word) of the developers' surnames. The trim and metalwork on the entrances are interesting.
Here's an interesting situation on 21st Avenue and 41st Street. The two slanted houses on each side of the brick buildings were once complete A- frame houses. Each was cut in half when a developer built the attached houses in the center.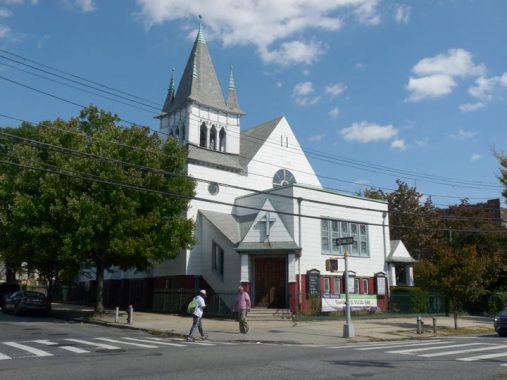 Steinway Reformed Church, Ditmars Boulevard and 41st Street. In the 1800s, William Steinway donated land for the church. The pipe organ from the legendary Steinway Hall was once installed in the sanctuary. The church has always played an important role in the community: it was the original home of the Greater Astoria Historical Society in the 1980s.
One of the more massive public grade schools in Queens, PS 84 on 41st Street between Ditmars and 23rd Avenue was designed by the prolific C.B.J. Snyder and completed in 1905.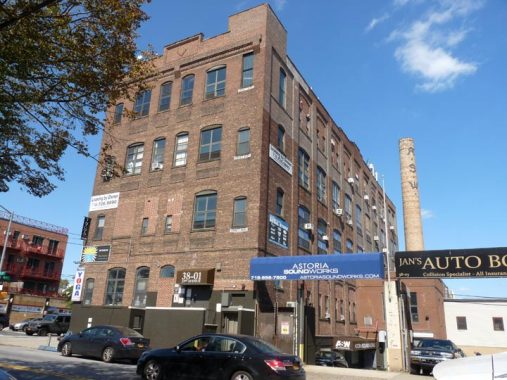 The Astoria Silk Works' old smokestack on 23rd Avenue west of Steinway Street still has an ASW sign, formed by differently-colored bricks. ASW's pedigree is the longest of Astoria's silk works, since the company was first founded in 1888. Owned by the Mattmann family, it obtained wealthy backers such as Colonel Jacob Ruppert and William Steinway. The company went out of business in 1914, but one of its old factory buildings and smokestack still stand.
The Greek Orthodox Church of St. Irene Chrysovalantou, 23rd Avenue between 36th and 37th Streets. The saint was a 9th Century miracle worker in the Byzantine Empire. It's one of the more fancifully-designed Greek Orthodox churches in the region.
Local Astoria streets are canopied by massive concrete arches that support the railroad tracks bringing train traffic to and from the Hell Gate Bridge. Surrounding streets are also covered by similar arches of various heights, as well as massive iron trestles. As it passes over 23rd Avenue, a lone Westinghouse "cuplight" still illuminates the street with the aid of a curly LED bulb.
Tammany Hall was an organization associated with the Democratic Party that dominated NYC politics for about a century, from the 1830s through the 1930s. The name was a bowdlerization of the name of a (likely fictional) Indian chief. Another "creative" misspelling occurs here on a very old sign at the old HQ of the Taminent Democratic Club at 23rd Avenue and secreted under the Amtrak RR trestle at 32nd Street.
These are Queens political names from a generation ago but the club still exists.
Both the elevated and the Hell's Gate Bridge were built in the mid-to-late 1910s, with the Hell's Gate Bridge opening just a bit earlier than the el, 3/9/17 versus the el's 7/19/17. The Pennsylvania RR and the BMT/IRT must have communicated during the construction process to assure adequate clearances.
That kicks it in the head for today's walk.
Check out the ForgottenBook, take a look at the gift shop, and as always, "comment…as you see fit."
2/9/20