It's time for another entry in FNY's Cross Streets of NYC series!
I've done them piecemeal in the past, but I've already posted 20th Street, 21st Street, 22nd Street, 17th Street, 10th Street, 6th Street, 18th Street, 25th Street, 26th Street, 34th Street and 38th Street in this batch, and 14th Street as well in autumn 2019 with more to follow. Before the Great Infection, I spent a number of Saturdays (and some Sundays too) crisscrossing Manhattan via its numbered streets. Over the years, I've done this quite a few times and I was amazed at how much stuff I missed and how much material I knew about and posted here and there, but never really formalized or categorized. Eventually I might make these "crosstown" posts their own separate category. In late summer, I resumed the crosstown walks.
Today I chose 16th Street, which runs from 11th Avenue east to the FDR Drive, surviving three interruptions at Union Square, Stuyvesant Square and the Stuyvesant Town complex; there is a short dead end section at Avenue C.
I'll go east to west on this page. I got the shots on two separate walks, one in February, one in October 2020; both days were pretty cloudy and dank, so there's a unity of appearance.
Stuyvesant Town sits on an almost-square defined by East 14th and East 20th Street, 1st Avenue and Avenue C, with 89 buildings containing 8,757 apartments. By auto it's accessed by a series of ovals located on its four border streets, and pedestrians can easily access its four "quadrants" via the center oval. A second residential complex, Peter Cooper Village, sits north of East 20th Street.
I have a personal connection to Stuyvesant Town — my father worked here as a custodian for 30 years, between 1958 and 1988; he only retired when he turned 70. This was an era in which unionized jobs with ample benefits were … somewhat more attainable than now. He would work the usual Monday through Friday, but occasionally he would work the weekend and take Wednesday and Friday off, on which days he would see me off to school. It was a long way with two trains from Bay Ridge to Stuyvesant Town, so he would leave the house at around 7 AM or even before that, before I got up, usually arriving home around 7 PM. During snowstorms he would need to go in at off hours to shovel snow.
What's surprising is that I never visited Stuy-Town when he was working there (I do recall heading over there an evening or two by car when one of my father's friends drove us there). The old man never helped put me on the famed list of people waiting for apartments to open up, but as he'd probably say now if he was still around, "You didn't ask me!"
Vehicular access to the buildings is on a series of loop roads accessed from 1st Avenue, East 14th Street, East 20th Street, and Avenue C. Buildings located on these loop roads have house numbers corresponding to the ones that would be on the streets that have the "loops." There is also a central oval (Stuyvesant Oval) accessed by foot, that has its own unique house numbers from #1 to #21.
A feature of the loop roads is that they're really the last bastion of NYC's "Type G" Corvington posts of which there are a few dozen here. They have borne a number of luminaires over the years, from incandescents to McGraw Edison Unidor to the current LED pendants.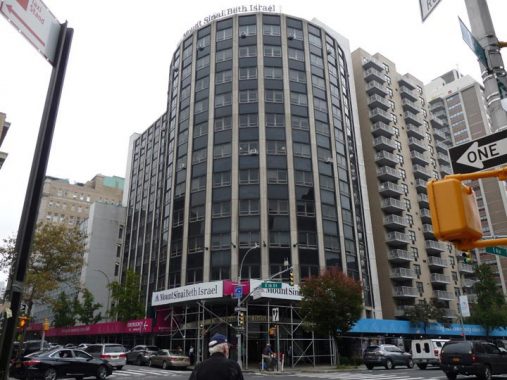 What does the Beth Israel/Mt. Sinai Hospital's glass and metal rotunda, the Linsky Pavilion at East 16th and 1st Avenue, have to do with staplers? Swingline Staplers was founded by Jack Linsky in 1925. Jack Linsky and his wife Belle were collectors of fine art, including works by including paintings by Peter Paul Rubens, Gerard David, and François Boucher. The works were donated to the Metropolitan Museum of Art and can be found there in the Belle Linsky Galleries. The Linskys were also famed philanthropists, donating millions to charity, and this pavilion was so named because of their generous donation.
The Swingline Building still stands in Sunnyside, Queens, but the manufacturing moved out of the country decades ago.
You can see the back entrance of the former Stuyvesant High School on East 16th between 1st Avenue and Perlman Place.
Stuyvesant High School, one of NYC's more prestigious, opened a gleaming new campus in Battery Park City in 1992, but its old building on East 15th Street, designed by the premier schools architect of his era, C.B. J. Snyder, and moved here in 1907 after three years on East 23rd Street, still holds forth here as The Institute for Collaborative Education, the High School for Health Professions and Human Services and P.S. 226. Alumni have included architecture critic Lewis Mumford, novelist Hubert Selby ("Last Exit to Brooklyn"); tough-guy actors James Cagney and George Raft; jazz' Thelonious Monk; Democratic political strategist David Axelrod, and Republican strategist Dick Morris; US Representative Jerry Nadler; and 1964-84 United Federation of Teachers President Albert Shanker.
East 16th continues as a park path through Stuyvesant Square, which straddles both sides of 2nd Avenue between East 15th and 17th.
It's most New Yorkers' assumption that Stuyvesant Square was named for the Director General of New Netherland, Peter Stuyvesant (see below), especially since Gertrude Vanderbilt Whitney's 1941 bronze of Peg Leg Pete is the centerpiece of the park's western section. However, in 1836, a descendant, Peter Gerard Stuyvesant, the co-founder of the New-York Historical Society, and his wife, Ann Rutherford, decided to "donate" the space, selling it to NYC for $5.00. The square was not to open to the public until 1850–in fact, it took a lawsuit by P.G. Stuyvesant to get the city to stop dragging its feet on development. Stuyvesant Square underwent two large-scale renovations in the 1930s, as part of the Depression-era Works Progress Administration, and again in the 1980s, after decades of the usual neglect.
Nathan D. Perlman Place, on the east side of the square, was renamed (from Livingston Place) for the Congressman and president of adjoining Beth Israel Hospital (1887-1952).
This statue of Peter Stuyvesant (1592-1672) donated by the Netherland American Foundation was unveiled in 1941. The bronze statue is by Gertrude Vanderbilt Whitney. Stuyvesant stands on his peg leg — called his 'silver leg' because, in real life, it had silver bands. The sculpture was exhibited by the Netherlands Pavilion in the 1939 New York World's Fair. A. Van Horne Stuyvesant of 2 East 79th St. pulled the rope revealing the statue. Robert Moses, the Parks Commissioner, attended. Thomas J. Watson (International Business Machine founder) gave the principal address to the gathered crowd. In the crowd were children and Dutch WWII refugees in native costumes and wooden shoes.
A pillar of maternity care during the 1800s in the United States (and the 1700s beginning in England), so-called lying-in hospitals provided women with an alternative to delivering at home.
In 1897, J. Pierpont Morgan, a congregant at St. George, offered to donate $1,000,000 so that the Society of the Lying-In Hospital of New York could build a new maternity hospital. Services had been offered in the Hamilton Fish Mansion which formerly stood at this site.
The new facility opened on January 22, 1902, complete with state-of-the-art operating rooms, an amphitheatre, lecture rooms, and a museum. It was able to accommodate 186 patients. Patient areas included open solariums on the roof, as well as large windows for fresh air and sunshine. At the time it was considered the best maternity hospital ever built and it served women regardless of their ability to pay.
It became the Manhattan General Hospital from 1936-1957, continuing maternity services. After stints as a methadone clinic and Beth Israel Medical Center it was sold for $8M in 1981 and is, what else, condominiums today.
St. George's Episcopal Church, on the west side of the square on Rutherford Place between East 16th-17th Streets, was first built from 1846-1856 [Otto Blesch, ext. ar., Leopold Eidlitz, int. arch.] as an early example of Romanesque Revival. The first rector, Stephen Higginson Tyng, was one of the most prominent preachers of his time. The church burned down in 1865 but was rebuilt to match the original; the spires were removed in 1886.
St. George's parish had been founded in 1749 as a chapel of Trinity Church, and constructed this independent church on land donated by Peter Gerard Stuyvesant.
The Friends Meetinghouse, Rutherford Place between East 15th-16th Streets, was built by the Hicksite Friends, a more modern sect of the Quakers in 1860 than the original group, which had its own, older meetinghouse on Gramercy Park a few blocks away. Both sects reunited in 1958 in this building, and the Gramercy Park building became a synagogue.
The Quakers first met in NYC in 1687, and the Friends Meetinghouse on Northern Boulevard in Flushing has stood since 1699. John Bowne, a Flushing Quaker, successfully defended his right to practice as he saw fit after Peter Stuyvesant sought to deport him. His house, built in 1662, stands nearby it.
There are some architectural winners on East 16th between 3rd Avenue and Rutherford Place, all part of the Stuyvesant Square Landmarked District. #212-218 are Anglo-Italianate buildings constructed as part of a row by developer Robert Voorhies in 1852.
Across East 16th at #203-207 is the Romanesque Revival St. George Memorial (Parish) House, completed in 1888 by noted church architect Leopold Eidlitz, 32 years after the church itself down the block.
From the (above linked) Landmarks report. If you have the time to read them, they are excellent capsule histories of NYC's neighborhoods, even if you have to wade through occasionally arcane architectural terms…
#167 3rd Avenue, on the NE corner of East 16h, is the only commercial building in the Landmarked district. It's another Romanesque Revival designed by George Griebel (I'll date myself and presume on one called him "Lonesome" George) built in 1891.
I couldn't get a good photo of Joe Junior's Restaurant because of the canopied outdoor seating areas in the Age of Covid, but I did smell it because Joe Junior's is, by many accounts, one of the best hamburger slingers in NYC and indeed I could smell them cooking. I have tried to get into Joe Junior's in better times but it was always too crowded to get a table!
Most of Washington Irving High School has been swathed in construction netting in 2020 as the exterior is being rehabilitated, but some of it along East 16th is still exposed. At #135, its separate preschool is named for Sleepy Hollow, the setting of one of the famed author's well-known stories.
The school was constructed from 1911-1913 as Girls' Technical High School with C.B.J. Snyder, the premier architect of NYC schools, its primary designer. The insides are like a museum, preserving a generous sampling of furnishings and art. In 2008, the original high school was split into six separate schools: the Gramercy Arts High School, the High School for Language and Diplomacy, the International High School at Union Square, the Union Square Academy for Health Sciences, the Academy for Software Engineering, and the Success Academy Charter School.
Famous alumni include actresses Sylvia Miles and Claudette Colbert, actress/commentator Whoopi Goldberg, and commentator Joy Behar.
The builders of the Gramercy Spire, 142 East 16th, decided to add light Asian-style lettering, and a vague pagoda-shaped entrance. There's a story behind this, most likely, but I don't know what it might be. The building opened in 1964.
A few doors down, #136 East 16th is one of a row of interestingly designed residential buildings that aren't in a Historic District. It was built in 1850. In its early years, the building was owned by Samuel Raynor, an early pioneer in stationery such as envelopes (they are newer than you think) and adding machines. In 1888, Raynor, like Senator Roscoe Conkling whose statue is in nearby Madison Square, was caught out in the famed blizzard in March of that year and died of pneumonia.
After Raynor died the building was sold and divided into apartments. The architects, the Herter Brothers, were brought in and the building took on the appearance it does now, with unusual sawtooth metal surrounds on the windows among other updates like the iron railing and pediment over the entrance.
#33 Irving Place is a handsome 12-story tower at the SW corner of East 16th. Shared-workspace giant WeWork occupies 8 floors (I worked at a small design firm located near Columbus Circle in 2019 at a rival, Spaces). The most famed tenant at 33 Irving is the progressive magazine The Nation, founded in 1865, making it the oldest continually published US magazine.
I have a mystery at #108 East 16th, off Union Square East. It's a 6-story Beaux Arts gem festooned with terra cotta fashioned in the shape of musical instruments, lyres, tambourines, horns. The dormer windows at the roofline both have the initial "S." The building falls outside a Landmarked district, and there's no online description; my usual sources, Tom Miller at Daytonian in Manhattan and Jim Naureckas at Songlines, don't say anything. I'll throw it open to Comments below. My guess is that it was a music publisher or a theater; Union Square was NYC's entertainment district before moving uptown to Times Square in the early 20th Century.
At Union Square East and East 16th, another co-working space (called, er, Spacious) took over from a TGI Fridays restaurant that had been there quite a few years, giving it an ugly black and yellow paint job. Spacious is out and the building awaits its next tenant.
I'm going to do something I rarely do…I'm in a bit of a time crunch since I want to make dinner and then review a scheduled online tour, so I'll call a halt here, and pick up Part Two at Union Square then 16th Street west into Chelsea.
Check out the ForgottenBook, take a look at the gift shop, and as always, "comment…as you see fit."
11/29/20