By SERGEY KADINSKY
Forgotten NY correspondent
On the map of southern Queens the most visible grid-defying road is Rockaway Boulevard, which runs for 9.5 miles from the Brooklyn-Queens border at Eldert Lane to Meadowmere, where it continues to the Nassau County. It continues through the neighboring county as Rockaway Turnpike, ending in the village of Lawrence. Taking this circuitous route around Jamaica Bay enables one to travel from mainland Queens to the oceanfront peninsula without paying the Cross-Bay toll. Along the way, triangular intersections that were too small to be developed have been transformed into tiny parks, each with their own namesakes and stories.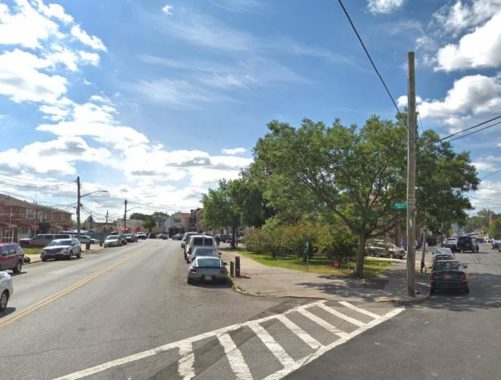 Legion Triangle
I could not find information on when exactly this .05-acre triangle received its name but this is where Rockaway Boulevard begins its gradual downhill run to the ocean at Eldert Lane. The triangle is named after the American Legion, a veterans' organization founded after World War I. It counts nearly two million members. I presume its naming to have taken place in the period between the world wars, when the American Legion was influential in lobbying for veterans' benefits, combating domestic leftist movements, and promoting patriotism. The west side of this triangle is on Eldert Lane, which marks the easternmost limit of Brooklyn. Kevin was here back in 2005.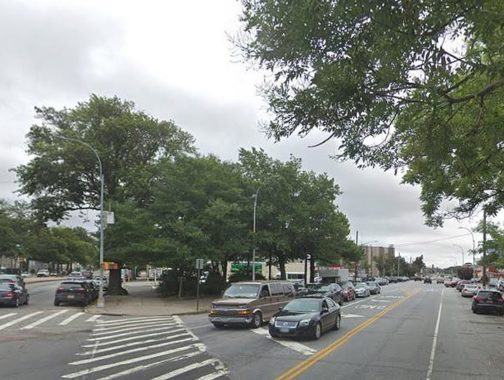 Lynch Triangle
An old and new name found at the intersection of Atlantic Avenue and Rockaway Boulevard, Rev. Lawrence E. Lynch was a local resident who was killed in combat in the Battle of Okinawa. This .138-acre park was named in memory of Lynch in 1949. During World War II he was assigned as chaplain the legendary Fighting 69th Infantry of the National Guard, where he earned the nickname Father Cyclone for his tireless efforts to comfort the injured and ill. Lynch put himself in danger when he ignored orders and jumped on a sinking ship to pray with men dying from their injuries. He was killed at age 38 on April 25, 1945, during the Battle of Okinawa, while administering Last Rites to a dying soldier.
Lynch was buried at the Redemptorist Cemetery, Mount Saint Alphonsus, in Esopus, New York. Although the triangle was named for Lynch in 1949, the sign carrying the name disappeared and the honor was forgotten for more than a half century. In 2018, Ed Wendell, President of Woodhaven Cultural and Historical Society, approached Councilman Eric Ulrich to have the triangle rededicated for Lynch. On March 10, 2019 the triangle was officially named for Lynch with a ceremony that commemorated his actions during the war.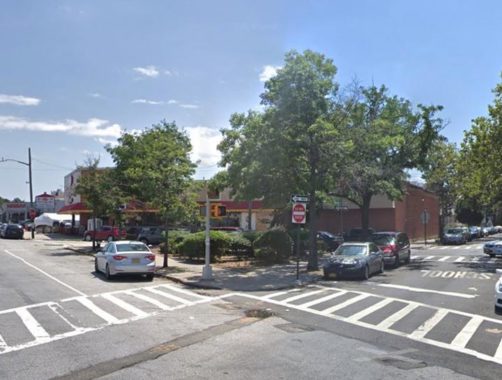 Dixon Triangle
This .079-acre triangle at 97th Avenue and 84th Street has me stumped. My default presumption here is that the namesake was a World War I casualty, as the city has more than a hundred plazas, triangles, squares and playgrounds relating to the Great War. But it could also be a local civic figure. Some maps have this site spelled as Dickson. On this block are the grid-defiant twins Culloden and Digby, which Kevin documented in 2018.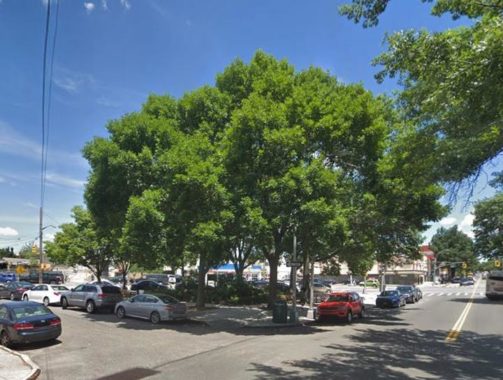 Ruoff Triangle
At 87th Street and 101st Avenue, the .054-acre Ruoff Triangle does not have a historical sign and should not be confused with Corporal Ruoff Square seven blocks to the east (see below). The namesake here is Leonard Ruoff, Jr. (1865-1924), a local undertaker and political figure. He served as the County Coroner from 1898 to 1904, and as County Clerk from 1915 through 1918. Ruoff was also a volunteer firefighter and member of the local Knights of Columbus chapter. I could not determine conclusively how the two Ruoffs were related.
Msgr. Leopold Arcese Triangle
Across the street from the Nativity of the Blessed Virgin Mary Roman Catholic Church, this .074-acre green space honors the pastor who served congregants in Ozone Park for 35 years. Monsignor Leopold Arcese (1887-1970) led the congregation during a period of church expansion and the building of schools. His biography appears in an online Parks historical sign.
Cpl. John Ruoff Triangle
The heavily trafficked crossroads of Liberty Avenue, Rockaway Boulevard, and Woodhaven/Cross Bay Boulevard is in the shadow of an elevated subway station facing the former Cross Bay Theatre, now occupied by Modell's sportswear. The .08-acre triangle here memorializes Corporal John Ruoff, the first Ozone Park resident killed in World War I.
The Cross Bay Theatre opened in December 1924 as a 3-screener until June 23, 2005. In this century, one may watch movies on a phone. Kevin visited this intersection back in 2009. A year later in a controversial measure to reduce pedestrian fatalities, the Department of Transportation put a barrier on Liberty Avenue crossing Woodhaven Boulevard. Once a busy east-west route under the elevated tracks, it has experienced a lot less traffic since then.
The elevated station here opened in 1915, with trains running from Ozone Park towards Brooklyn's Fulton Street El, terminating either at Fulton Ferry, or Park Row in downtown Manhattan. Following the removal of the old elevated line in Brooklyn, its Queens section on Liberty Avenue was connected in 1956 to the Fulton Street subway line. That year it was also given an extension to the Rockaways using a repurposed railroad line. In 2015 artist Ray King installed "Connections," a set of stained glass and stainless steel patterns evoking subway letter bullets.
Wellbrook Triangle
Continuing into South Ozone Park, which is really to the southeast of Ozone Park, the .008-acre triangle at 106th Street and 109th Avenue honors Corporal George J. Wellbrook, a local resident killed in World War I. In 1929, the Oxford Civic Association installed a monument here honoring him and six other neighbors who gave the supreme sacrifice. Prior to the introduction of the borough-wide street numbering grid, Oxford Avenue was the old name for 104th Street. The elevated station on Liberty Avenue nearby still has signs with its double name "104th Street-Oxford Avenue Station" Kevin has more photos of Wellbrook Triangle taken on his October 2018 visit.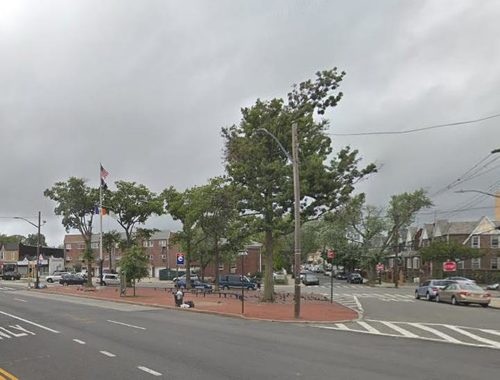 David O'Connell Square
The Parks Department is not very strict in naming squares and triangles. Although this .055-acre park is physically triangular, the name speaks of a four-cornered shape. The park was dedicated on Oct. 9, 1932, in honor of Brooklyn Rep. David Joseph O'Connell who was supportive of legislation benefiting veterans.
The local Veterans of Foreign Wars Post also adopted his name and planted six trees here in memory of those killed in the Great War. Prior to public office, O'Connell served as president of the Booksellers' League of New York. Born in 1868, O'Connell was elected to Congress in 1920. He sponsored trips by Gold Star mothers to military cemeteries in France where their sons are buried. He died in 1930.
Catholic War Veterans Square
Here's a rare religious symbol in a public park, and I'm sure that it can be argued that the stone crucifix here is just as much a historical symbol. Located at 116th Avenue and 122nd Street, this .006-acre triangle was formed in 1927 after the widening of Rockaway Boulevard. On September 25, 1938, this triangle was dedicated by the City Council as Catholic War Veterans Square. The namesake organization was founded in Queens in 1935 to represent American military veterans of the Catholic faith. Its founder Monsignor Edward J. Higgins was the pastor of the Immaculate Conception Church in Astoria. Historically the Ozone Park neighborhood has a sizable Catholic population descended from Italian and Irish immigrants.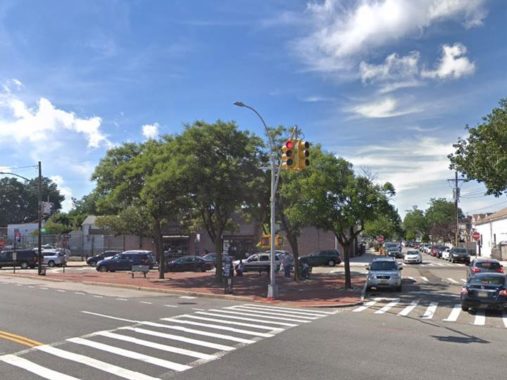 "Foch Triangle"
Officially the triangle at Foch Boulevard and 127th Street does not have a name so before the politicians jump in, I'll call it Foch Triangle after the road on its northern side. The boulevard's namesake is Ferdinand Foch, Marshal of France in World War I. In 1919, a new road constructed between South Ozone Park and South Jamaica was designated as Foch Boulevard in honor of the distinguished allied commander. Four out of five boroughs have streets honoring Lafayette, and an avenue in the Bronx for Rochambeau. Foch Boulevard is the only road in New York named after a French World War I commander. Should this triangle be given another name, Foch fans can still honor their hero at Foch Sitting Area, where Foch Boulevard crosses the Van Wyck Expressway, a mile to the east. One more thing: it's pronounced Fosh, so no, you can't Meet the Fokkers.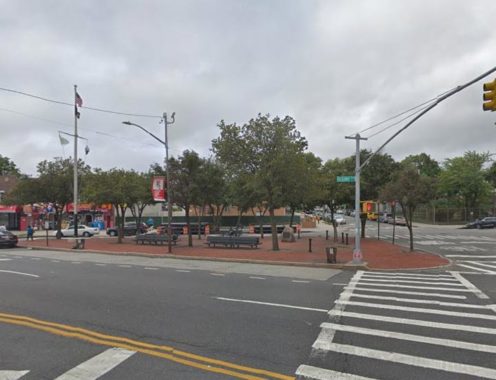 Sgt. Colyer Square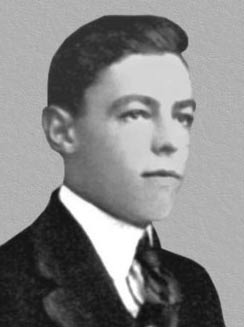 Sergeant Wilbur Colyer's name was assigned to this triangle at 120th Avenue and 133rd Street in 1931. The plaque installed here on Armistice Day in 1933 is still there on the boulder in the center of this .10-acre park. This Brooklyn-born resident of South Ozone Park posthumously received the Medal of Honor for his heroic actions near Verdun, France.
Colyer volunteered with two other soldiers to locate German machine gun nests. He advanced to a point where he was half surrounded by enemy positions. He killed the one enemy gunner with a captured German grenade and then turned this gun on the other nests, silencing all of them before he returned to his platoon. He was later killed in action. Sgt. Colyer and Corp. Ruoff probably did not know each other but they were both buried nearby at Cypress Hills National Cemetery. Volunteering with two other soldiers to locate machine gun nests, Sergeant Colyer advanced on the hostile positions to a point where he was half surrounded by the nests, which were in ambush. He killed the gunner of one gun with a captured German grenade and then turned this gun on the other nests, silencing all of them before he returned to his platoon. He was later killed in action.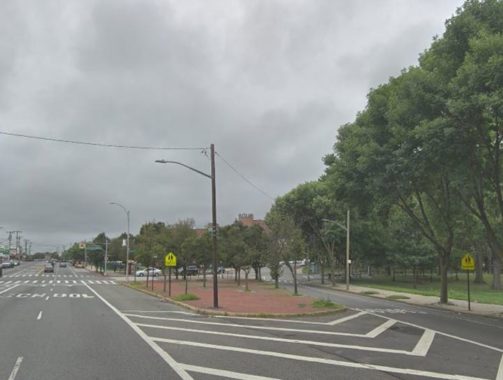 "Sutphin Triangle"
The easternmost traffic triangle on Rockaway Boulevard does not have an official name. I've named it after Sutphin Boulevard the major road that merges here with Rockaway Boulevard. It seems like an ideal place for a civic monument or sculpture but for now all it has are a dozen trees and red brick paving. A few yards away Baisley Pond Park has its own war memorial dated 1921. Sutphin Boulevard is older than Rockaway Boulevard, dating to the pre-colonial period when it linked the Native community in Jamaica with the Rockaways. The Sutphin family was prominent on the Jamaica civic scene from colonial times into the early 20th century. In turn their name originates from the Dutch town of Zutphen.
The exact honoree is likely John H. Sutphin (1835-1907) president of the Jamaica Savings Bank, Queens County Clerk, chairman of Queens County Democratic Committee. Brooklyn Daily Eagle has a detailed story from 1900 on Sutphin, with a portrait and depiction of his now-landmarked bank on Jamaica Avenue.
As is the case with most of New York's grid-defying roads, Rockaway Boulevard predates the arrival of the street grid. The earliest map that I've found online is the 1852 Matthew Dripps map that shows Rockaway Boulevard running on the same route as today. The three lakes to its north are Baisley Pond, Springfield Pond, and Conselyea's Pond. At the time, this was the only land route between mainland Queens and the Rockaways.
When it comes to honoring veterans and telling the stories of the city's tiniest parks on grid-defiant roads, take a walk on Meeker Avenue, or pause at Anthony Catanzaro Square in Brooklyn, or stay in Queens and pay tribute to Proctor-Hopson, Walter J. Wetzel, and Ira Underhill Travis.
Kevin Walsh has also played the triangular parks game, with essays on Chaplain Rock, Lowry, Garlinge, Zion, Lindsay, Cough, Studley, and Musical triangles.
It's a category that keeps on giving.
Sergey Kadinsky is the author of Hidden Waters of New York City: A History and Guide to 101 Forgotten Lakes, Ponds, Creeks, and Streams in the Five Boroughs (2016, Countryman Press) and the webmaster of Hidden Waters Blog.
Check out the ForgottenBook, take a look at the gift shop, and as always, "comment…as you see fit."
5/14/19